Disclosure: Thanks to Monterey Bay Aquarium for hosting our visit. All opinions are my own
---
Monterey Bay Aquarium is super famous and world-renowned for being one of the best aquariums in the country. Of course, we're a little spoiled in Chicago with the Shedd Aquarium, so I expected this to be similar, but it was a totally different experience. We visited during our California coast road trip from San Diego to San Francisco and it was one of the highlights of the trip. 
My 8 year old son Harry was excited to explore because in the movie "Finding Dory" the Marine Life Institute was based on the Monterey Bay Aquarium. Little Disney obsessed kids like mine will see a ton of similarities from the Pixar movie. Monterey Bay Aquarium definitely has a Pacific/West Coast feel compared to others we've visited and it's a really fun place to explore.
Read on for our tips on visiting the Monterey Bay Aquarium with kids.
Monterey Bay Aquarium Tickets
I definitely recommend buying your Monterey Bay Aquarium tickets in advance so you can bypass the long line at the entrance. Your General Admission ticket includes all feedings and shows. You can pay extra for behind-the-scenes experiences, such as special tours, diving and sleepovers. Discount tickets are available with hotel packages, AAA memberhship, military and more. Check out the ticket page for details. The behind-the-scenes tours are a pretty reasonable price and look awesome for kids, but we didn't have time on this visit.
Monterey Bay Aquarium Conservation
While many aquariums are controversial with animal rights activists, the Monterey Bay Aquarium maintains a huge focus on conservation. Humane treatment and rescue of marine animals is stressed in every exhibit, at the feedings and by the speakers. This is the major difference I noticed between Monterey Bay and other aquariums. They go the extra mile to create natural habitats, and in many cases will release rehabilitated animals back into the wild. Conservation is first priority here, so you can be confident your family will have an enjoyable experience at no expense to the animals.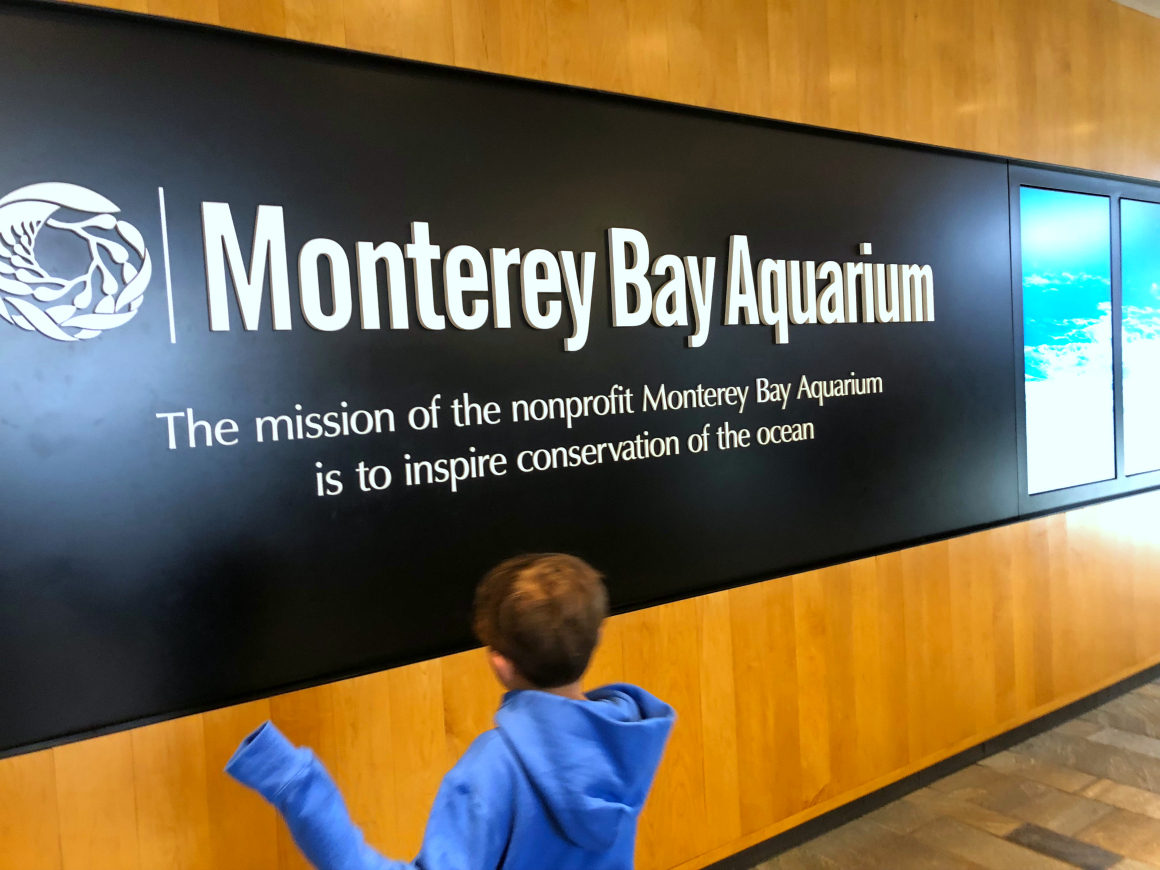 Planning Your Monterey Bay Aquarium Itinerary
As soon as you arrive, be sure and grab a schedule for the day. A highlight of visiting Monterey Bay Aquarium is watching the feedings. The schedule tells you where they are and at what time. You can go online before you visit and map out your day so you can catch the best feedings. All of the featured feedings are really cool, and you should definitely plan your visit around the feeding times.
Monterey Bay Aquarium does an excellent job of explaining the habitat and lifestyles of the animals at feeding time. This is also the best time to view the sea animals, as they are alert and excited. After eating, they tend to be less active.
We spent 3-4 hours at the aquarium and saw pretty much everything, but if you have more time I recommend doing the tour. There's also a cafeteria and a gift shop with really nice items.
Sea Otter Feeding at Monterey Bay Aquarium
Our favorite feeding was the sea otter feeding. This is one of the most popular feedings at the aquarium, so it gets crowded. My advice is to try to grab a spot at the upstairs viewing area 15 minutes before the scheduled feeding so you can get a spot at the glass. There are also TV screens showing the sea otter feeding, but it's fun to be up against the glass.
Trainers hide the sea otter food in toys so it's fun to watch them get their food. There are also outdoor viewing areas where you can see the wild sea lions and sea otters. It's easy and fun to go back and forth between inside and outside.
Open Sea at Monterey Bay Aquarium
Monterey Bay Aquarium's largest exhibit is the Open Sea, where you can watch through a 90-foot window. This feeding is only done once a day and you don't want to miss it. You watch on the screen what they're doing up top in the open ocean. They feed tuna, giant turtles, sharks and sardines while you watch the animals playing and eating. There's also a webcam if you want to get your kids excited before your visit!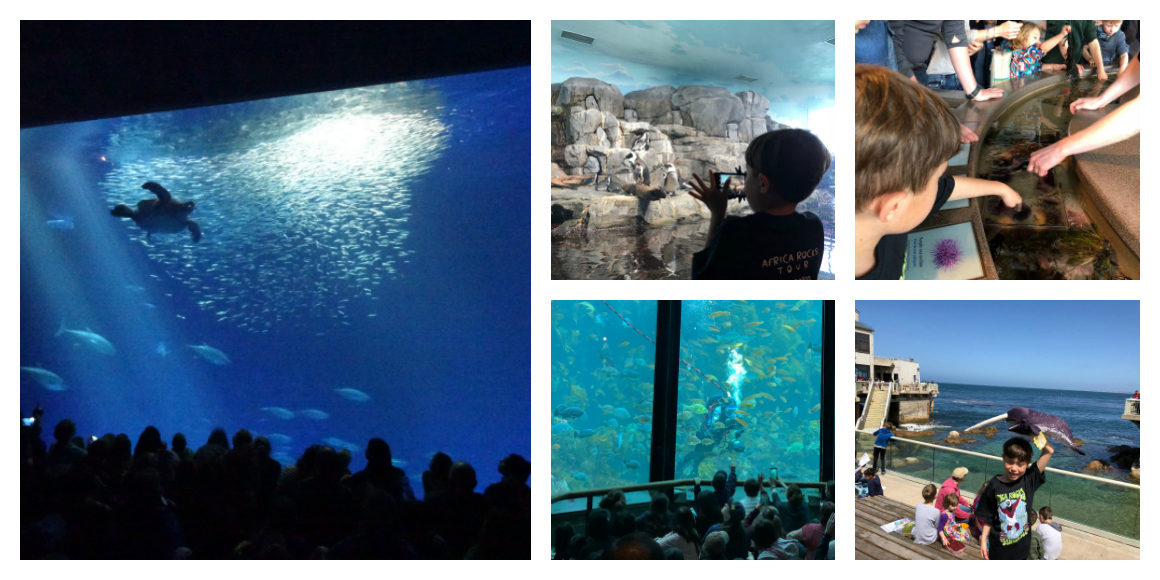 Monterey Bay Aquarium Shows
All day long the Monterey Bay Aquarium offers live shows on many interesting topics. We thought the shows would be a movie to watch, but it was more like a TED talk where an expert speaker gives a presentation. The show we attended on sharks was really cool, and only lasted 15 minutes. By the end, my 7-year-old was getting antsy, so I wouldn't recommend these shows for kids under seven.
Monterey Bay Aquarium Play Areas
For kids, you definitely want to go to the Splash Zone and the Rocky Shores where kids can touch stingrays, starfish, hermit crabs, and barnacles. Even the littlest kids will love a visit to Monterey Bay Aquarium. Unlike most aquariums, which can feel claustrophobic and dark, the Monterey Bay Aquarium has tall ceilings, wide open spaces, play areas, lots of windows and outdoor areas.
---

Headed to Monterey California? Pin this for later!