Cruising is our family's preferred vacation mode, so when reviewing our options for winter vacation, we decided to look at Christmas cruises. We've enjoyed multigenerational family cruises on the Celebrity Reflection as well as Royal Caribbean's Harmony of the Seas. When it was time to plan to the Shindler Family Cruise Escapade of 2017, we chose the Christmas sailing of Royal Caribbean Allure of the Seas. The Allure of the Seas is the second build Oasis Class Ship, in a series of four.
Allure of the Seas Arrival
The sky blue hull of the mega Allure of the Seas glistened as we pulled over the bridge, nearing Port Everglades, on Florida's I-595.  Kids, wife and mother-in-law all cheered as we approached the drop off point, in great anticipation of getting aboard our happy place. I, as usual, started crying happy tears, knowing that the next 7 days would write another great chapter in our cruise history book.
Bags taken, rapid check-in, the obligatory pre-cruise portrait taken, and we boarded through the Royal Caribbean Diamond Member entry point and we went from car to ship in under 10 minutes.  Talk about starting a vacation fast. Royal Caribbean knows how to get you on vacation, FAST!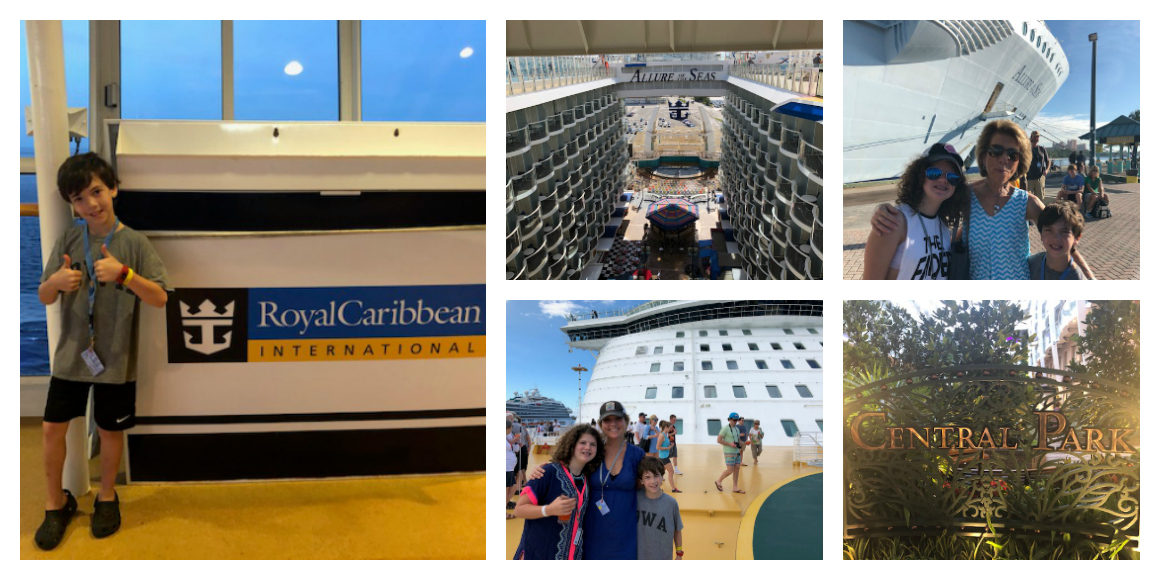 Allure of the Seas Neighborhoods
Exploring Allure of the Seas with kids is one big adventure. Each Oasis Class ship has a similar layout, but each one has a unique theme. In order to make this mega ship feel organized and smaller than it actually is, the Allure of the Seas is broken into seven neighborhoods. We boarded on the Royal Promenade which has the vibe of a high-end mall, with several venues, including:
The Café Promenade – great for quick bites and drinks!

Starbucks
Sorrento's – great for real Italian pizza
Rising Tide Bar – the world's first moving bar at sea
The Central Park neighborhood brings the outdoors in, with Royal Caribbean's interpretation of a park at sea. The open-air space has live greenery, singing birds, several restaurants with indoor and outdoor seating, high end stores and some creative bars.  There are walking paths which wind through the area, and one may feel they are in New York's Central Park….at sea. Some of the highlights of Central Park include: 
Chops Grille
150 Central Park – the most exclusive dining venue on the ship
Giovanni's Table
Park

Café

Dazzles dance lounge
BRITTO Art Gallery
The largest Coach store at sea
The Boardwalk neighborhood is an interpretation of a seaside boardwalk. It is always jumping, and a great place to spend hours for fun and relaxation. Boardwalk is great for family fun with the colorful original carousel, carnival games, casual eateries and retail outlets. Favorite spots in Boardwalk include:
Johnny Rocket's
Rita's Cantina
The Boardwalk Dog House
Aqua Theater amphitheater
Allure of the Seas Entertainment
The Allure of the Seas has endless entertainment options. During our Christmas cruise, the main show in the Amber Theatre was the Broadway Show of Mamma Mia. There are generally many shows in the main show room, but the featured Mamma Mia was amazing. Our kids continued singing all the songs, and made us download the soundtrack as soon as we got home. All of the shows are kid friendly, and most children rush out of dinner to catch one of the shows playing each night.
The water shows in the Aqua Theater have professional divers performing stunts from 10 stories above the deck. The aquatic acrobatic and synchronized swimming performances put the audience in AWE. Make sure to get to the shows early so the kiddos can get into the splash zone, but mom and dad may want to sit further back, so not to get drenched. It is quite amazing to see the water acts when the ship is at full speed in the open seas.
The ice shows are in Studio B on Deck 4. By night, professional ice shows are demonstrated, by day the ice show rink opens up for Free Skating.  There is so much entertainment on this ship; every family's desire should be met once or twice a day.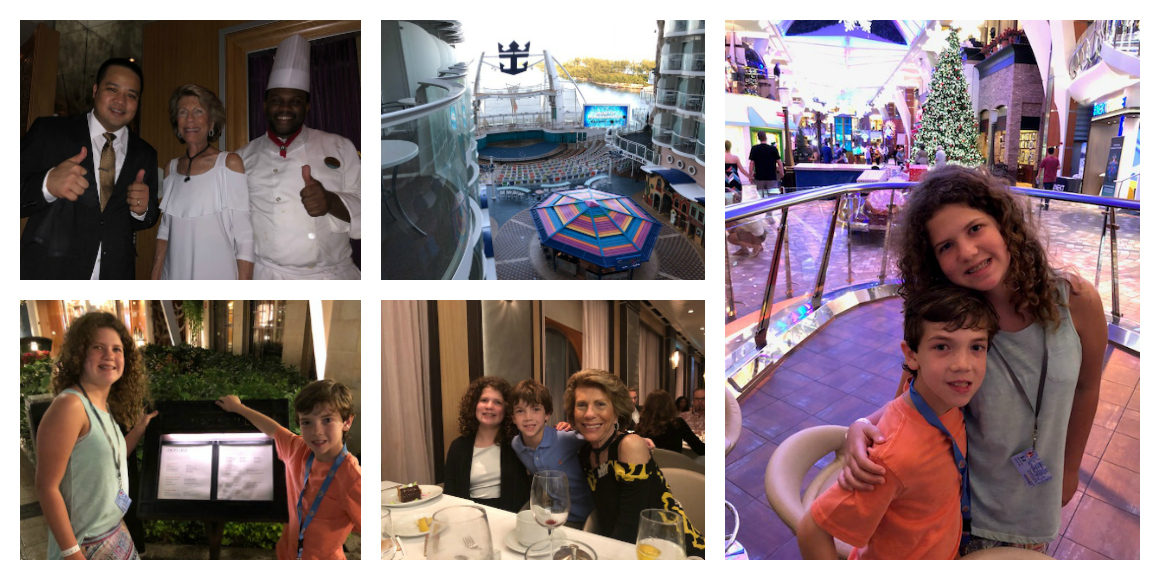 Allure of the Seas Dining
Dining on Allure of the Seas with kids is very inspiring. From a Kummelweck Roast Beef Sandwich in Central Park to a five-course dinner at 150 Central Park, every kid and kid-at-heart can eat to their heart's content. We ate 4 out of 7 dinners in the main dining room. It always amazes me how the chefs can cook meals for 6,000 people, and still satisfy special requests. Somehow, each meal comes out hot and perfect. My boy, Grant, says Royal Caribbean has the best chicken fingers! But when he is sailing, his palate is temped and satisfied with steaks and special pastas.
We also enjoyed dinner at Chops, our favorite steak house on the high seas. My daughter always orders a butterflied Filet Mignon and is already talking about visiting Chops on our upcoming Symphony of the Seas sailing. 150 Central Park was a treat for us and our kids. A five-course first-class meal where my kids were treated like royalty, as were their mom, dad and Nana. The other dining venue we visited was Giovanni's table. This Italian venue can easily compare to some of the best Chicago and New York Italian restaurants. The kids tried multiple entrées and they were so full, they didn't even have dessert.
There are so many dining options on Allure of the Seas, from a Brazilian Steakhouse to Mexican food. Fine dining to fill your tummy, and having great food, is spot on when sailing on the Allure. Don't forget the unlimited self serve ice cream cones!
Allure of the Seas Pools & Water Sports
Water, water, and more water.  Sailing on the ocean is not only where the water ends. My kids were in the water for 6 hours a day when we were at sea. I did notice the newly added life guards, and I also noticed they were attentive and great at their jobs. There is lots of water and lots of place to have fun and stay cool. By the time we returned back to Fort Lauderdale, Samantha was ready for some California Surf competitions. Don't miss these fun water attractions on the ship:
Two FlowRider surf simulators
H20 Zone kid's area with dedicated infant and toddler pool
Beach Pool 

with sun umbrellas and zero depth entry

Sports pool, where afternoon sports include basketball, badminton and water polo, while morning hours are dedicated to lap swimming. 

The Main Pool, two side-by-side whirlpools and more sun loungers than any other cruise ship at sea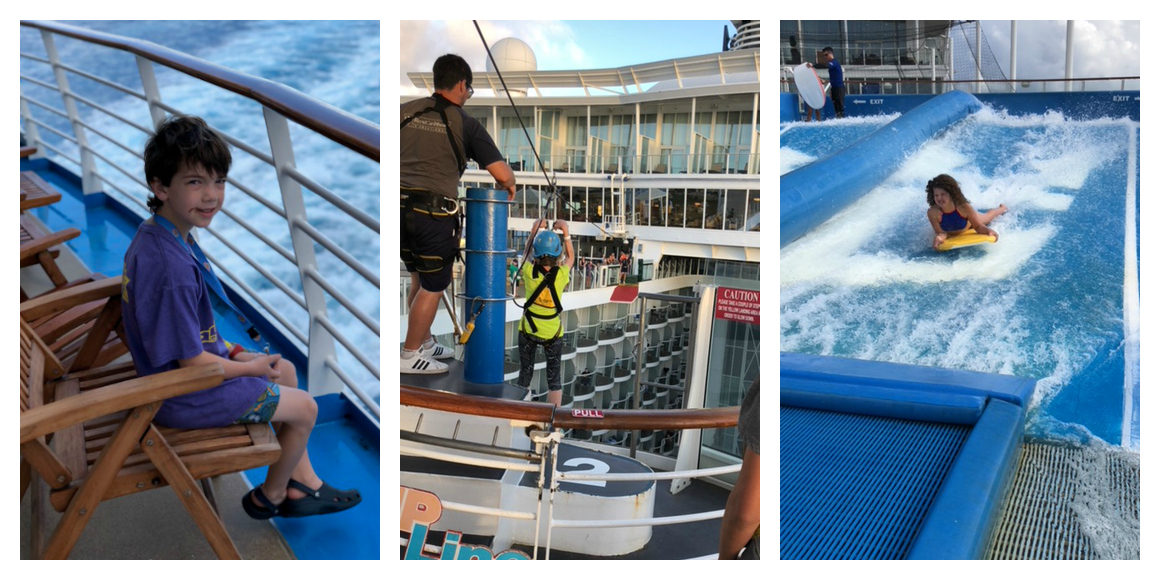 Multigenerational Family Cruise
This was a multi-generational trip, so we cannot forget Nana. With Samantha in tow, Nana braved the Zip Line over the Boardwalk. It was such a treat seeing my mother-in-law get over any fears she may have had, and launch off on her Zip Line adventure over the Boardwalk. Nana also took many spins on the merry-go-round with Grant, and they had heated competitions on the allure Dunes, the Miniature Golf Course. Next year, we look forward to seeing her ring the bell at the top of one of the dual rock climbing walls. – Check out the Multi-Generational Cruise on Harmony of the Seas
Allure of the Seas Cabins
Royal Caribbean's cabins are some of the biggest in the industry. We stayed in two adjoining Boardwalk facing balcony staterooms. The beauty of a Boardwalk balcony cabin is that you can watch all of the action from your balcony. You can see the aqua show, the zip-line, the action on the boardwalk, and even the ocean wakes. We view it as the best of both worlds, and our kids eyes glow every time they step out on the balconies. In our cabin, we were greeted with some amazing snacks, ranging from cookies and milk, to chocolate covered strawberries, cheese platters, and veggie trays. We loved the extra special bottle of champagne for mom, dad and Nana. Some other cabin options are interior cabins, ocean view staterooms with picture window, balcony cabins facing into the Central Park, Ocean view balcony cabin, and there are even two story suites with panoramic views.
Allure of the Seas Youth Program
The Adventure Ocean kids program is a well-monitored kids program. Kids are entertained from morning till night, so they can have an independent vacation from their parents, if they so desire. The Adventure Ocean program is split into different age groups, with age appropriate activities. Royal Tots is for the really little ones ranging from 6-36 months. 3-5 year olds are in the Aquanaut Program, 6-8 year olds are Explorers, and 9-11 year olds are Voyagers. Kids 12 and up have their own facilities, including areas called the Living Room, Fuel Teen Disco, and the Back Deck. There are areas for teens and tweens where they can feel like adults but still are supervised at all times. Royal Caribbean does offer "My Family Time Dining."  This allows for the kids to be served quickly in the dining room, and then Adventure Ocean staff comes to whisk them away for an evening program in Adventure Ocean.
Our Next Multigenerational Family Cruise
This ship packs so much spectacular action, it is difficult to experience it all in seven days. This is why we plan our next Royal Caribbean adventure before our current cruise ends. Every time we disembark, the entire family cries, but we have the excitement for our next year voyage. Stay tuned for our New Year 2018 sailing aboard the new Symphony of the Seas.
One word sums it up. The Allure of the Seas is "AWESOME!"
---

Looking for a great family cruise? Pin this for later!