In our quest to visit as many countries as possible while living in Europe, we occasionally travel off the beaten path to some obscure destinations. When researching our Central Europe trip we found that Bratislava, Slovakia is a nice stop along the Danube between the slightly more well known cities of Vienna and Budapest. Finding a lovely four-star hotel for an incredibly great price sealed the deal, and we decided to stop off for a night at The Loft—a fantastic, recently renovated place with a cozy atmosphere and first-rate accommodations within easy walk from the historic downtown.
Central Europe in the middle of winter can get pretty chilly, and since we were traveling over Christmas break, Bratislava was absolutely frigid. We had hoped to float lazily down the Danube on a two-hour boat ride, but of course they weren't cruising that time of year, so we took a late train from Vienna. Since it was late, freezing, and we weren't exactly sure where the hotel was, we hopped in a cab. This ended up being a very expensive half-kilometer ride since there was a "minimum charge" of 15 euro from the train station, but it was worth not having to drag our luggage through deep snow into the night of an unknown city. We lucked out that the second best restaurant in town was in the hotel, along with an in-house brewery and a lovely wine bar. Just what we needed to relax!
An unfortunate circumstance in our planning led to us being there on a Monday, when everything except restaurants was closed. That didn't stop us from making a long, windy trek to the highest point in the town where a medieval castle looms over Bratislava. We might not have made the hike if we had remembered to consult our trip planning spreadsheet, which clearly indicated the castle was closed, but the view was (almost) worth the climb.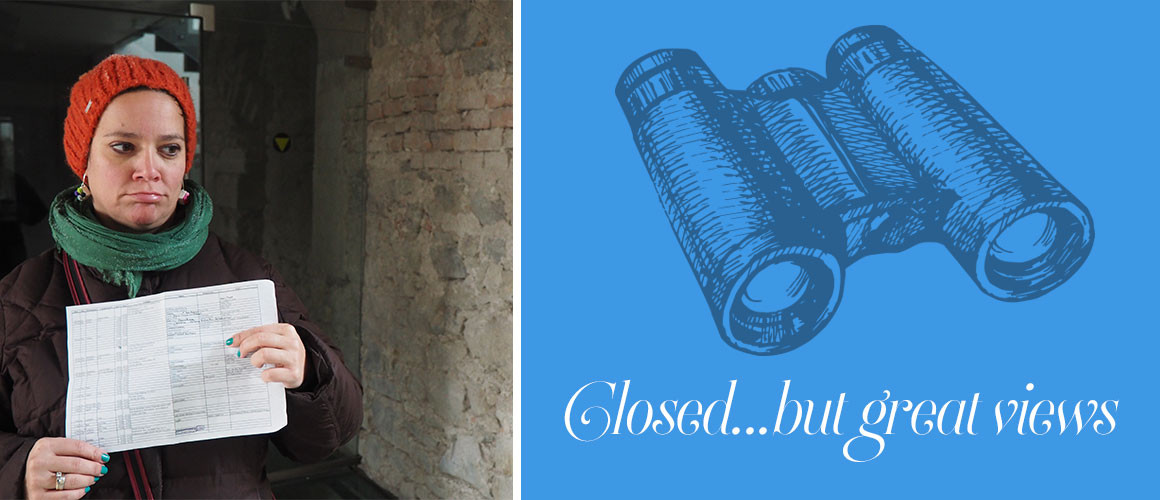 We also stopped—twice—at a cute little corner café at 19 Židovská to reward the well-chilled kids with steaming cider and hot chocolate. It's too bad we can't remember the name of the place, because the owners are a very nice young couple.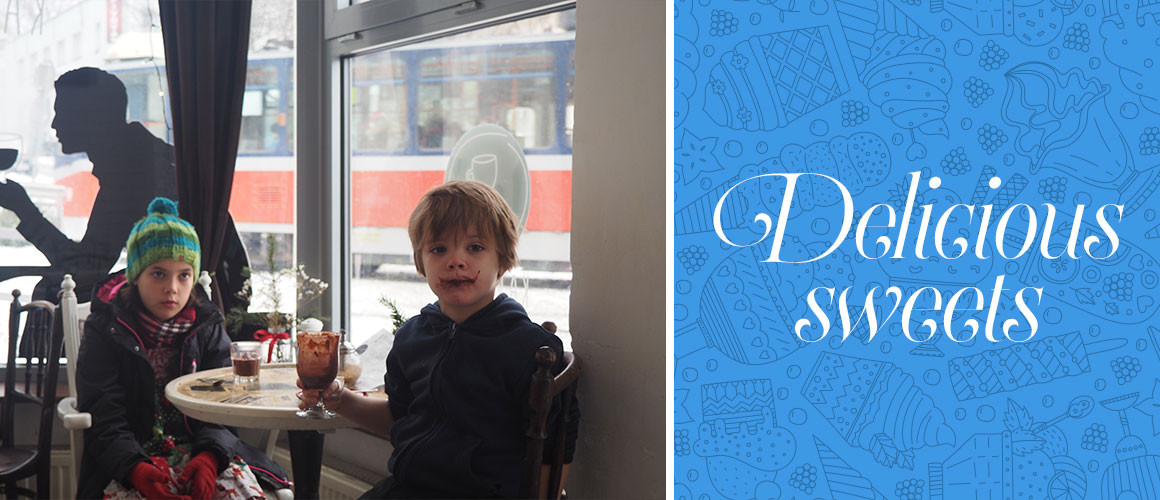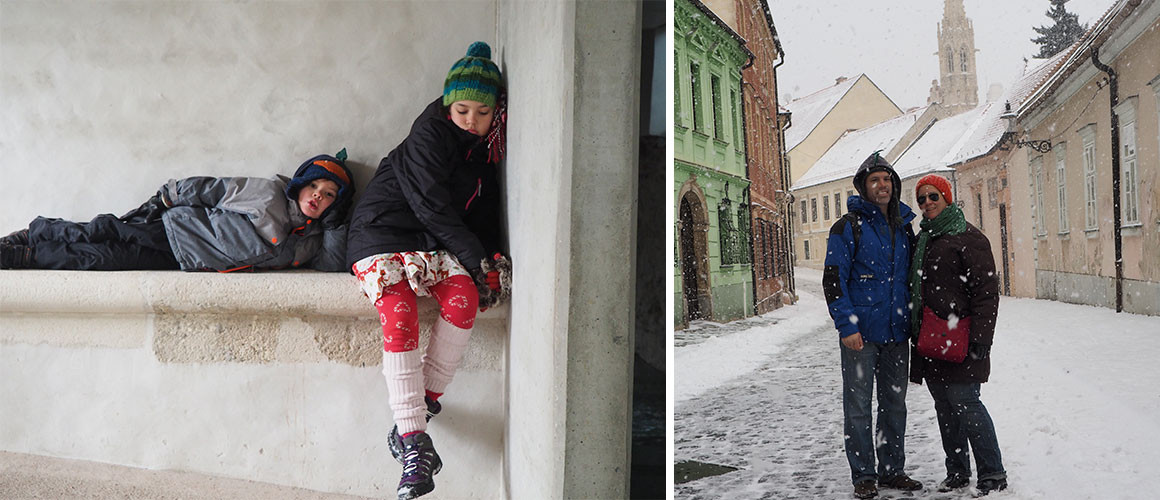 ---
As an additional treat for braving the cold without complaining, we decided to take the kids to the
UFO restaurant
. We expected a kitschy, touristy, alien-infested rip-off. Turns out that it's only named that way because of its shape, and it's actually an innovative, exquisite restaurant with a gourmet menu, amazing Slovakian wines, and the absolute
best
view of the city.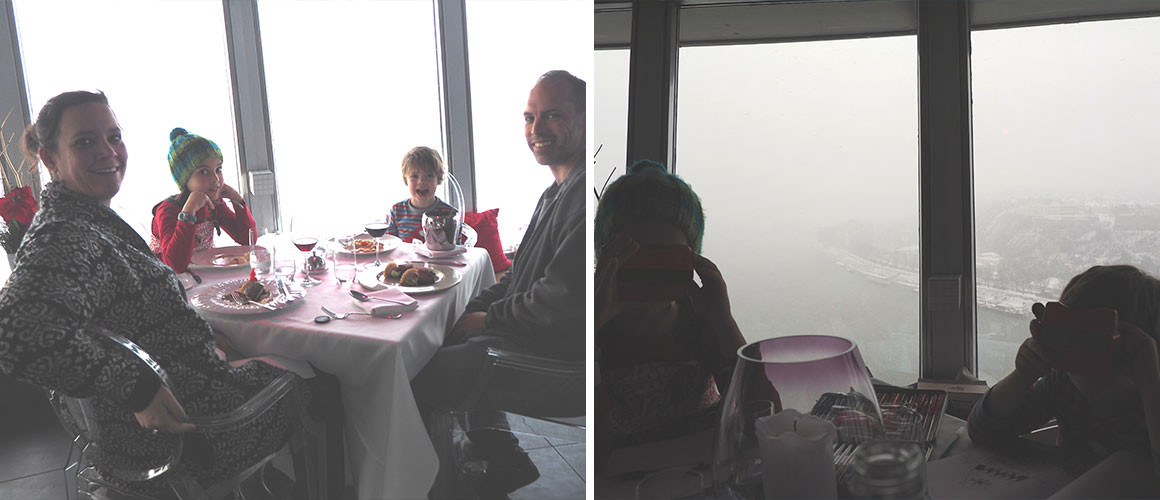 Who knew there were Slovakian wines? The kids' menu was beyond our wildest expectations, presented to them in picture format on a vintage Viewfinder! This was not the normal kiddie fare of burgers and chicken fingers, but a three-course menu with delicious choices like Salmon and Quail. We love that our well-cultured kids could share in the fine dining experience.
After a perfect lunch we headed back into the cold, stopping by to see the Church of St. Elizabeth, also known as The Blue Church. Designed in the Art Nouveau style, it was very different from most European cathedrals, and we really enjoyed having a look around. Since it was Christmas they had some beautiful and elaborate nativities set up as well. It was getting dark and we had another train to catch, but in our quick one-day stop over we felt that we were able to see some of the best Bratislava had to offer. If you are in this neck of the woods, we highly recommend adding this lovely capital city to your schedule and mark Slovakia off your well-traveled kids' list of countries visited!