The Breakers Palm Beach represents the ultimate in luxury for families who want an amazing resort that offers anything and everything without having to leave the property. My family and I celebrated my birthday at The Breakers this year, and we were delighted by how relaxing it was to check in and make the most of our time on the property.
As avid travelers, we are often reluctant to rely on a resort for dining, in large part because we want to get out and explore local options. However, we were blown away by the quality of the eight restaurants and bars at The Breakers Palm Beach. In fact, we were so impressed with the dining offerings during our stay that we never found it necessary to leave the resort for anything.
Click Here – Read all about luxury family vacations at The Breakers Palm Beach Resort
Here's where we enjoyed our favorite meals during our stay:
---
BREAKFAST/BRUNCH: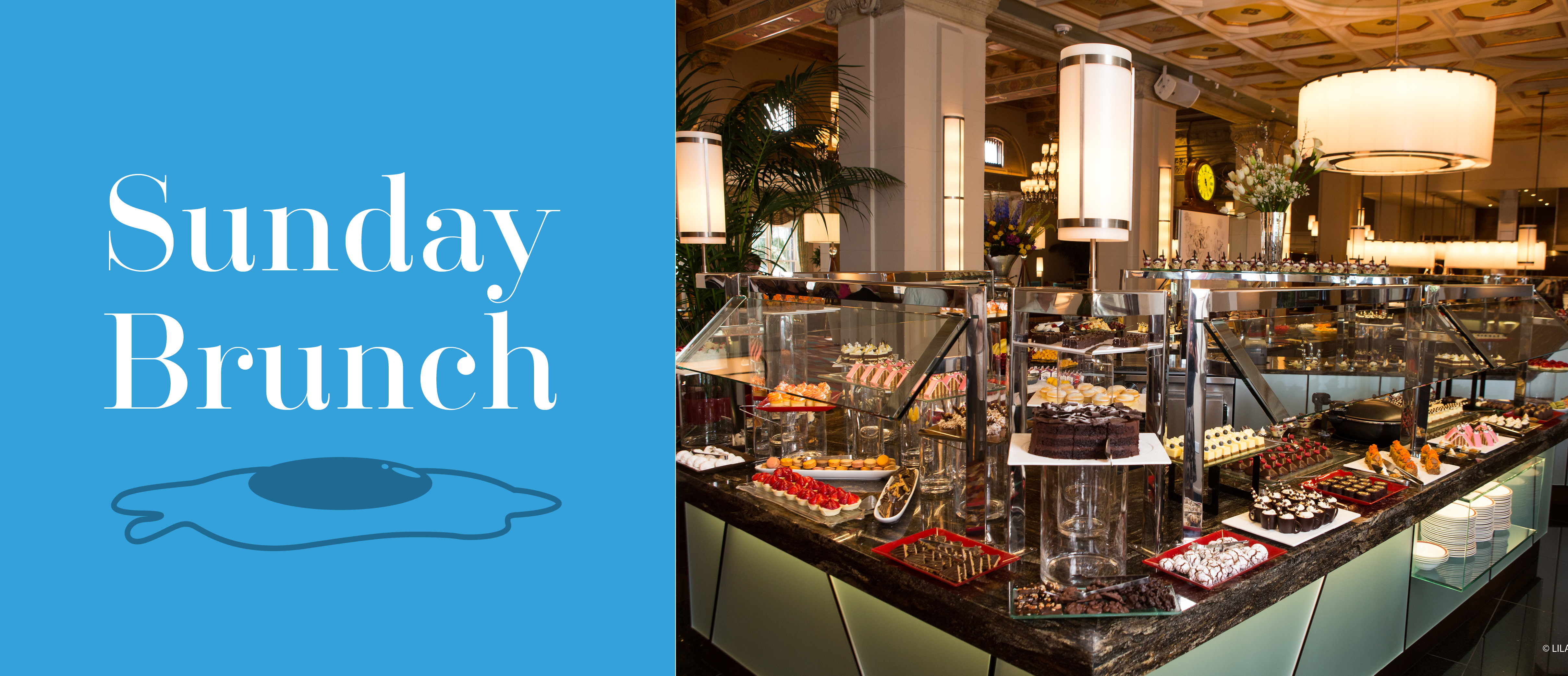 The Circle: Every hotel guest owes it to themselves to have breakfast in The Circle Room. In Palm Beach, Sunday brunch at The Circle is a tradition for locals and hotel guests. The elegant Circle Room has a magic to it that even my 5-year-old son Harry could sense as he admired the hand-painted ceilings and stared out the windows at the magnificent ocean views. Plus, the breakfast buffet is out-of-this-world featuring hot and cold stations.
We've eaten a lot of hotel breakfasts in our travels, and this buffet is hands down our all-time favorite. The variety of breakfast favorites was outstanding. We especially loved the pineapple-basted Virginia Ham, exotic fruits, made-to-order waffles, and delicious pastries all made in house.
The Beach Club Restaurant: This is a great way to start the day dining poolside with an oceanfront view for breakfast or lunch at The Beach Club Restaurant. The breakfast buffet is fresh and delicious. I highly recommend ordering fresh-pressed juices to accompany your meal. The bagels and lox on the buffet were my favorite for breakfast ,along with all of the fresh fruit and breakfast meats.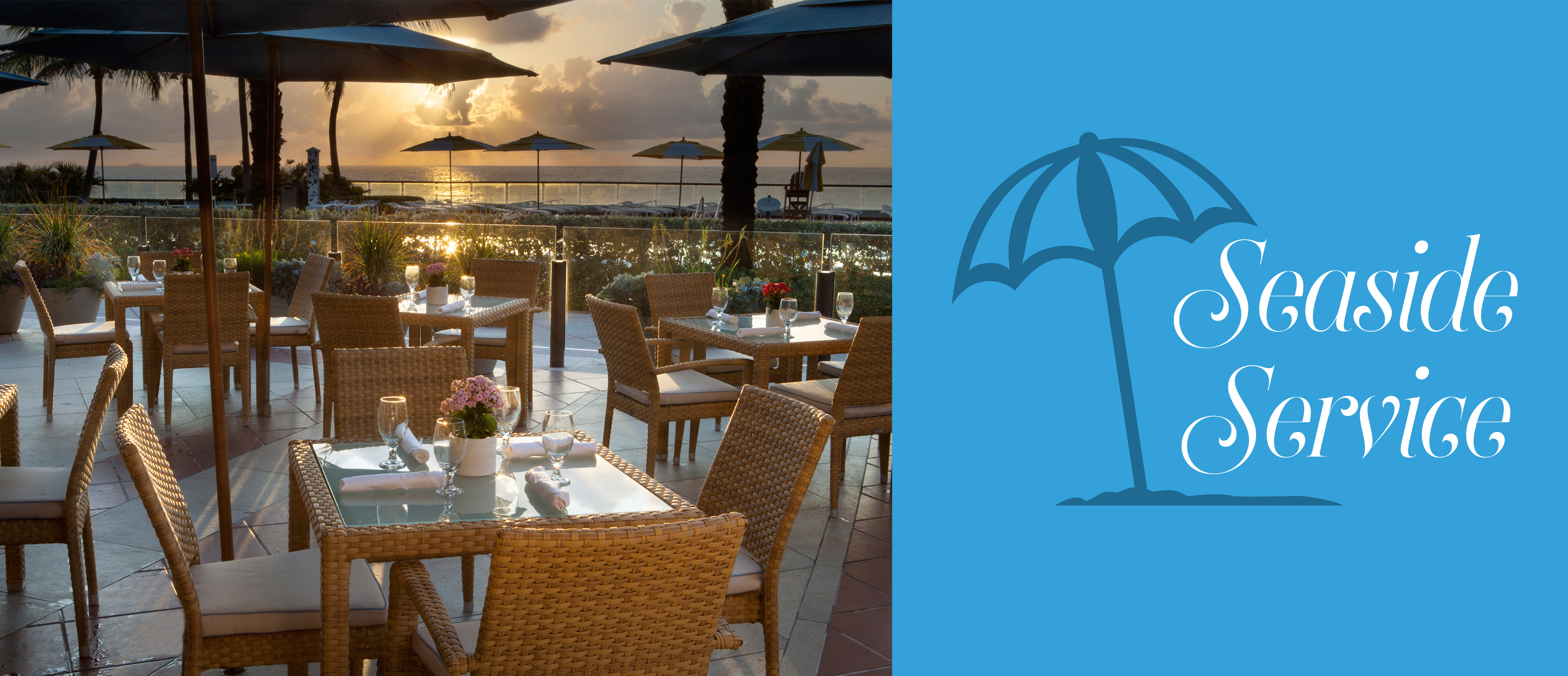 ---
LUNCH:
The Ocean House: This exclusive poolside restaurant is for hotel guests only. Grab a cocktail and some lunch on the patio of the Ocean House overlooking the pool or inside the laid-back beach house restaurant. Order refreshing cocktails or charge your energy with a cool glass of nitrogen-infused coffee. There's something for everyone on the menus, including a kids menu and a special gluten-free menu. We couldn't get enough of the Bulgogi beef tacos. The slow roast pork baguette and tuna poke bowl were our other favorites, along with chocolate chip cookies for dessert.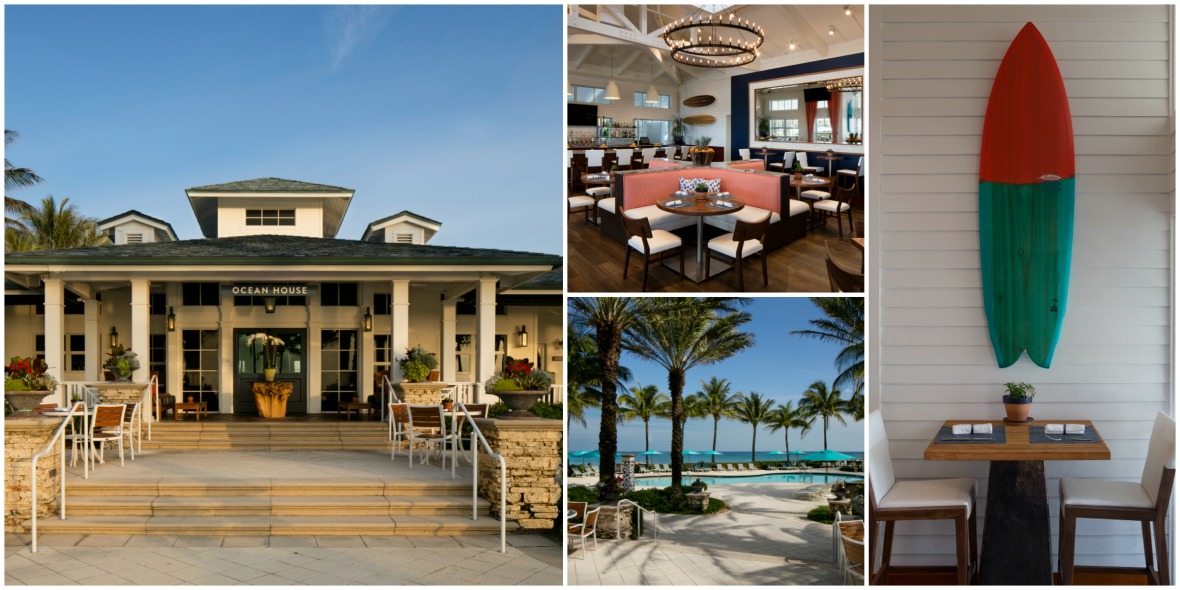 The Seafood Bar: I'm not sure what was a bigger hit at The Seafood Bar—the crab cakes or the awesome aquarium bar itself. My 5-year-old Harry could have sat at the bar admiring the fish all day long. With gorgeous views of the Atlantic Ocean and fresh-caught fish, this spot is a must for lunch or dinner!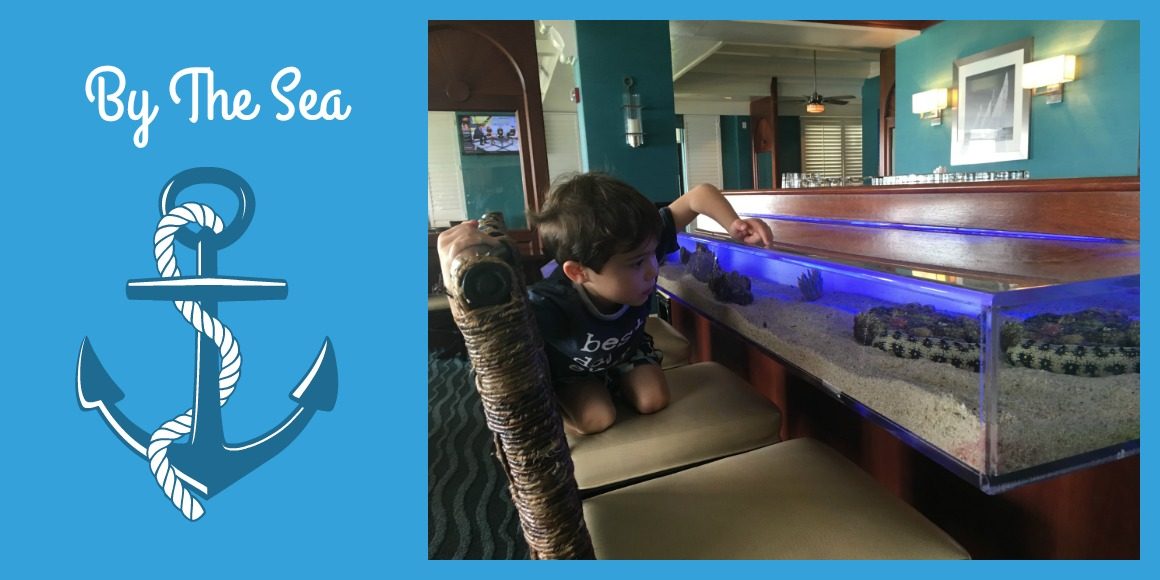 Click Here – Read all about experiencing the newly redesigned luxury Spa at The Breakers Palm Beach Resort
---
DINNER:
The Italian Restaurant: Connected to the resort's Family Entertainment Center, The Italian Restaurant serves classic Italian dishes in a relaxed atmosphere, perfect for families of any size. Kids can play in the play rooms or the arcade while waiting for their orders, and then pop in to join the family fun at dinner. We enjoyed a family-style birthday dinner at the Italian Restaurant and were treated like family by our servers. Harry ordered a very healthy pan seared snapper with brown rice, peas, and carrots kid's meal, and kept busy with his kids veggie appetizer and activities.
Everything we ordered was delicious:
antipasti burrata with heirloom tomatoes and kalamata olives

roasted Brussels sprouts with pancetta, garlic and parmesan

gorgonzola pear salad

shrimp scampi

garganelli valdostano pasta with chicken, mushrooms, sun-dried tomatoes and parmesan cream sauce
My favorite, though, was the classic cencioni bolognese made with veal, beef, pork, vegetables and cream. Because it was my birthday, we tried a variety of desserts, and each was sensational! We would have a hard time choosing a favorite between the snickers pie, homemade chocolate chip cookie ice cream sandwich, and homemade cannoli.
Flagler's Steak House: Hotel guests, golfers, and locals love to book reservations to eat in the elegant Flagler's Steak House. As meat eaters from Chicago who know a good steakhouse, we were delighted by the ambiance, stellar service, and our meals.
My husband and I hired a sitter and celebrated my birthday with an adults-only dinner date at Flagler's.
Everything we ordered was outstanding, here's what I recommend based on our experience:
Start with the sweet corn and lobster chowder and some classic cocktails

Order the shrimp scampi and heirloom tomato salad to share

For your main course, it's all about the surf and turf! I loved the Colorado lamb chops with lobster tail, and my husband ordered the prime bone-in fillet mignon topped with crab Oscar

As dessert, the key lime pie is sensational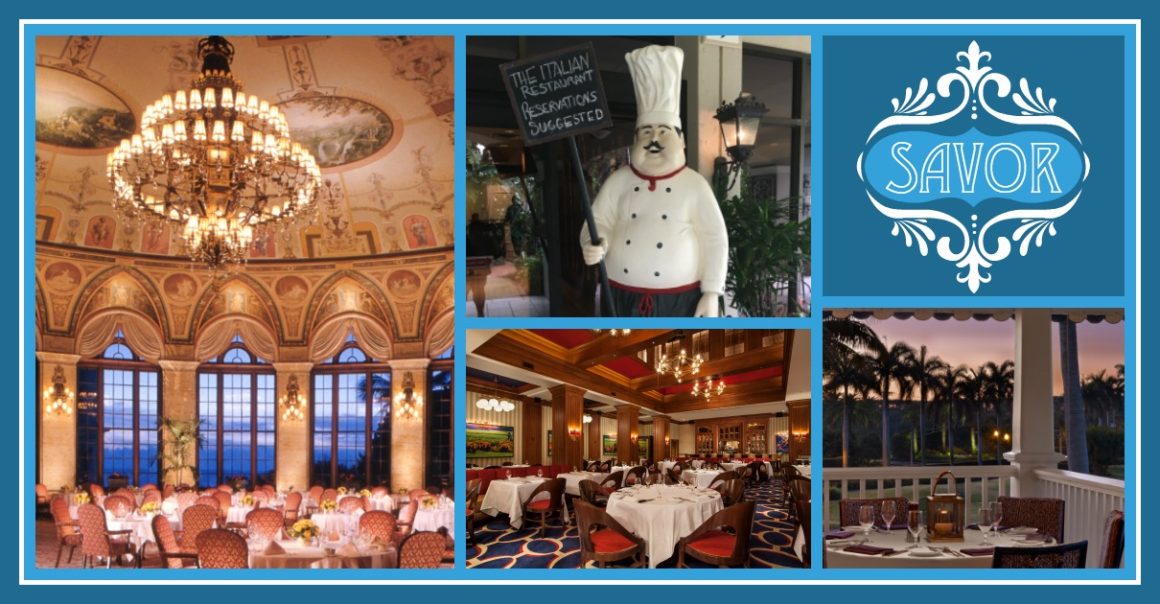 ---
Cocktails:
HMF: It's no wonder that locals flock to HMF, the cocktail bar in the lobby designed to be a nod to the cocktail hour with a modern twist. On the night we had Sitters In A Second, Inc. babysit Harry, we popped into HMF for a cocktail. The name HMF honors The Breakers' legendary founder, Henry Morrison Flagler, and the space is an ode to the classic "Palm Beach cocktail culture." We loved the lively music, craft cocktails, and 1940s chic style of the room and glamorous servers. The overall experience felt like walking into an elegant 1940s lounge. Unforgettable.
---
Want to remember this for your next family vacation in Palm Beach? 
Pin it for later!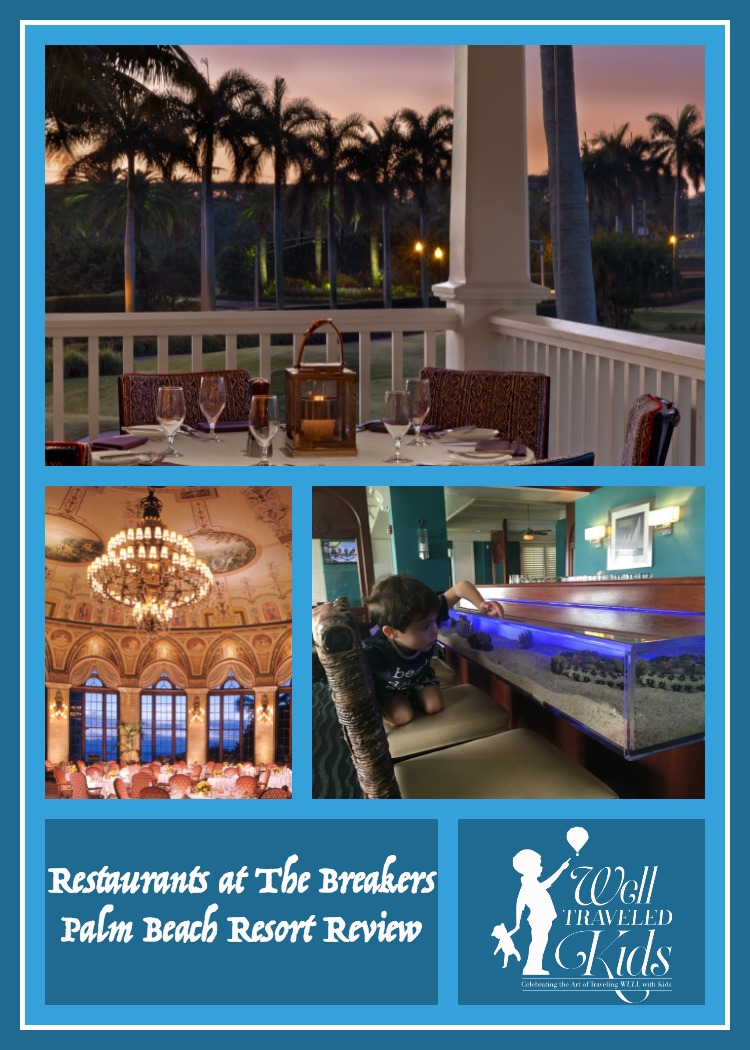 Thanks so much to The Breakers Resort for treating us to several of our meals during our stay! You made my Birthday trip extra special. As always, all opinions are my own.
---
Photos courtesy of The Breakers