We were in New York earlier this summer, just two weeks after the One World Observatory opened. My cousin, who lives there, had heard amazing things about the new space, so we decided to take his little boy and our 5-year-old son Harry to go see it. We figured it would be the perfect activity to check out in NYC with kids.
No need to explain 9/11 to your little kids before visiting.
Going into it, I didn't explain anything about 9/11 or why this building is so significant to Harry. He's only 5, and while some families may be ready to have that conversation with kids that age, we weren't. The observatory sits right next to the 9/11 Memorial, and if your kids are ready, you could use the Memorial as a jumping off point for a conversation about 9/11.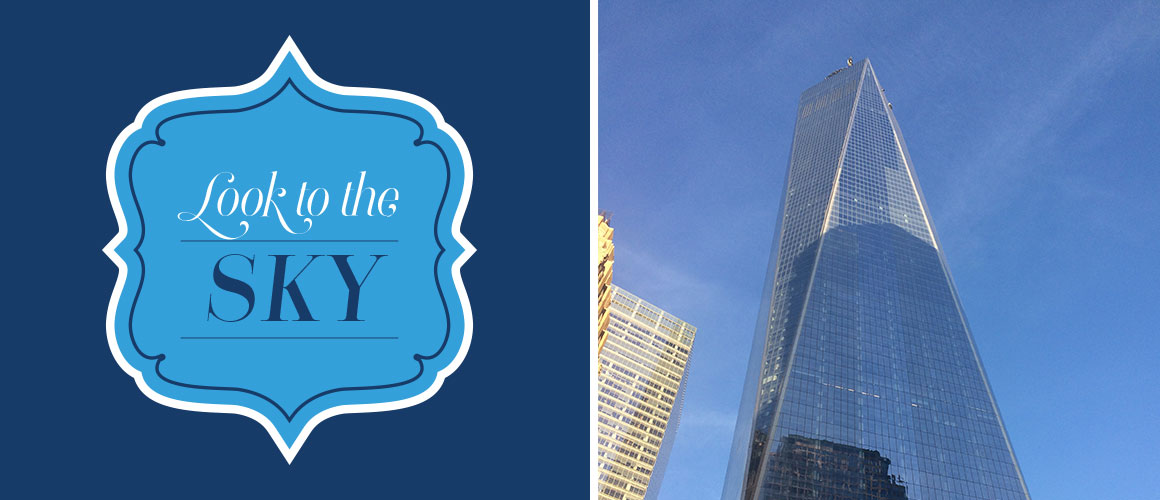 For older kids, knowing the history of 9/11 could be an important part of this experience. But if your kids aren't old enough yet, you can still take them to the One World Observatory confidently, and know that they'll get a lot out of it. It's an amazing way to see the island of Manhattan, and get some perspective on where you are and what you're going to do during your time there.
Sensational and inspirational experience!
I wasn't sure what kind of vibe One World would have, but let me say that it is sensational and very inspirational right from the start. The building begins in the bedrock of Manhattan, and features footage of city workers talking about how excited they are to build this new tower. An undeniable pride permeates the space as you work your way toward elevator.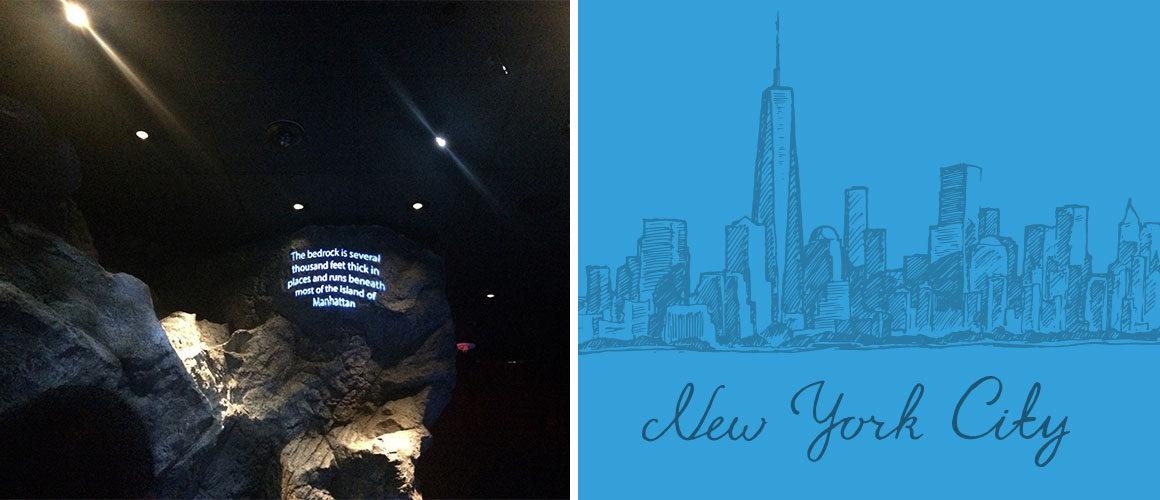 But before you set foot inside, make sure you follow these tips for exploring the One World Observatory in NYC with kids:
Plan ahead.
Entrances are timed, and the building only allows a limited number of people up each day. Tickets cost $32 for adults and $26 for kids. It's not a cheap ticket, but really—who goes to Manhattan to save money?
Pay for the iPad experience.
At $15, it was totally worth every penny. This iPad comes with a built-in compass and map of New York that lets you touch each building to get a 30-second video of its history. We rented two iPads, one for Harry and one for his cousin, in order to avoid a fight between them. It was so exciting for them to sit in the windows 102 floors above ground, and touch buttons to learn about the buildings they were seeing. It definitely enhanced our experience—especially for the kids. I'd recommend it for age, though. I spent lots of time watching the videos play out over Harry's shoulder.
Book your tickets for right before sunset.
That way, you get to enjoy daytime views of the city, and you'll see it all lit up and sparkling at night. I've made this recommendation to all my friends. Go an hour before sunset, and enjoy. We had a 7:30 p.m. slot and arrived on time. We went right through to security. The timeliness of it really impressed me.
Be ready for the Sky Pod Elevator film.
The elevators are covered in floor-to-ceiling screens. I didn't even notice them at first, but as soon as we started going up, a time-lapse film began playing. It opened with New York in the 1500s, and went through the centuries. Once the 1900s begin, you see buildings rise up all around you until present day. Then, the elevator doors slide open, and you're at the 102nd floor with the city spread out below you. It's the fastest elevator ride, and really makes you feel like you're in the middle of New York as it evolves over 400 years.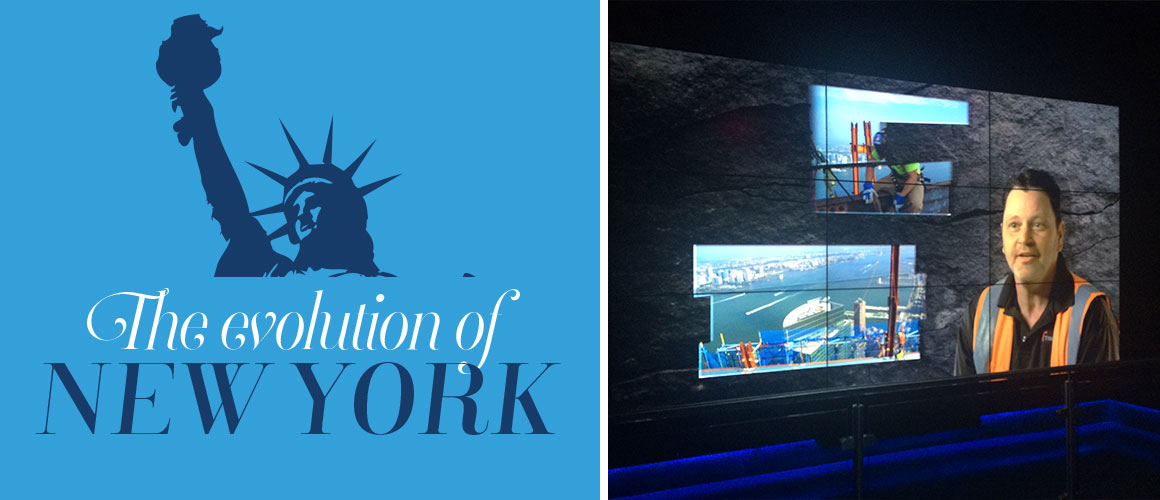 When we left at the end, there was no one in line to go back up, so we asked the elevator operator if we could ride one more time to see the movie again. He very kindly agreed, and we were able to really take it all in. On the ride back down, you see a different film that makes you feel like you're hang gliding over the city. That ride alone was worth the price of the ticket.
Feel the pride of New York.
There's an exciting and uplifting energy throughout the whole One World experience. You're getting 360-views of America's largest city from 102 floors up. And the entire observatory takes up three floors, connected by glass stairways. As you make your way from floor 102 to 100, you see a different section of the skyline at each level. It's incredibly modern, making use of all the newest technology. And the views and architecture itself are gorgeous. I've been to Rockefeller Center and the Empire State building, but One World tops them both. It's a very important piece of New York and American history.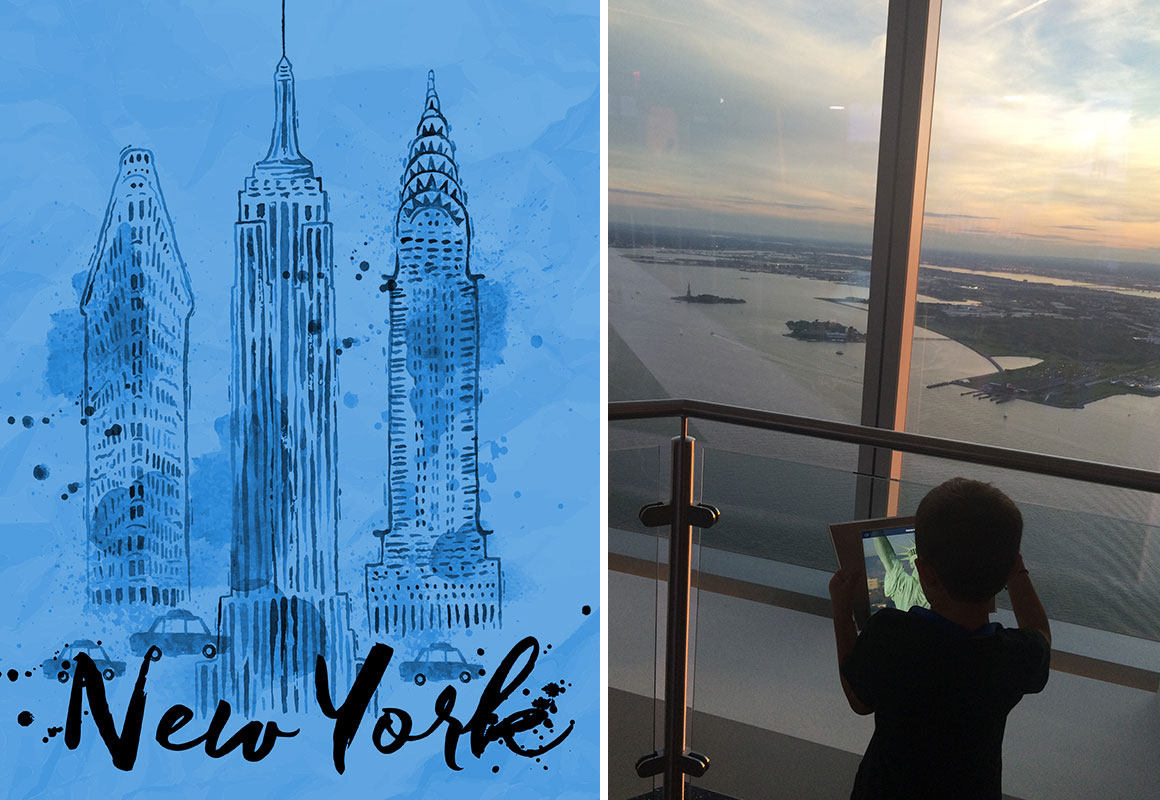 Take your time.
Once you're up top, you can stay as long as you want. We watched the sunset, and saw the lights of the city come to life. There's dining available on the 101st floor, so plan time for a drink at the bar or café (One Mix or One Café) and dinner or lunch at the restaurant (One Dine). When we return, I'll definitely make reservations for dinner, complete with fabulous views of the city.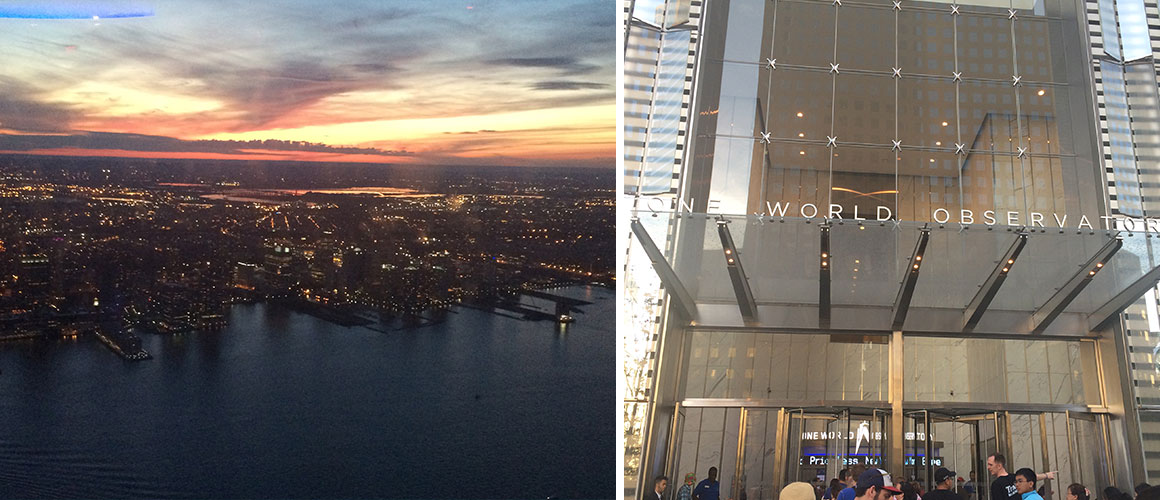 Like this Post? Pin it for later!