Disclosure: We were hosted for a complimentary dinner by Planet Hollywood Orlando. We loved experiencing the new Planet Hollywood Orlando and had a blast! All opinions are my own. Photos courtesy Planet Hollywood Orlando
Have you visited Disney Springs? One of my favorite parts of planning ahead for a trip to Walt Disney World is deciding where to eat as a family each day of our trip. There's no shortage of dining at the parks, but I'm noticing more of my favorite spots are outside of the parks.  For our most recent trips I've loved our meals at the wide variety of restaurants in Disney Springs. It's fun to plan dining where no park admission is required, dining hours are often open late, and I can make last minute reservations via my OpenTable account. This time we decided to try out the newly reinvented Planet Hollywood Orlando and see what's cookin'
Planet Hollywood Orlando Reinvented!
On our latest trip to Walt Disney World we were invited to grab  dinner at the reinvented Planet Hollywood Orlando. Planet Hollywood has been a staple at Walt Disney World for over 20 years. And, they just reopened after a year-long total gut rehab of the restaurant making it the coolest spot in Disney Springs. Multi-million dollar renovations have transformed Planet Hollywood's iconic globe into a four-story stargazing observatory with new dining spaces and an immersive theatrical dining experience unlike anything before.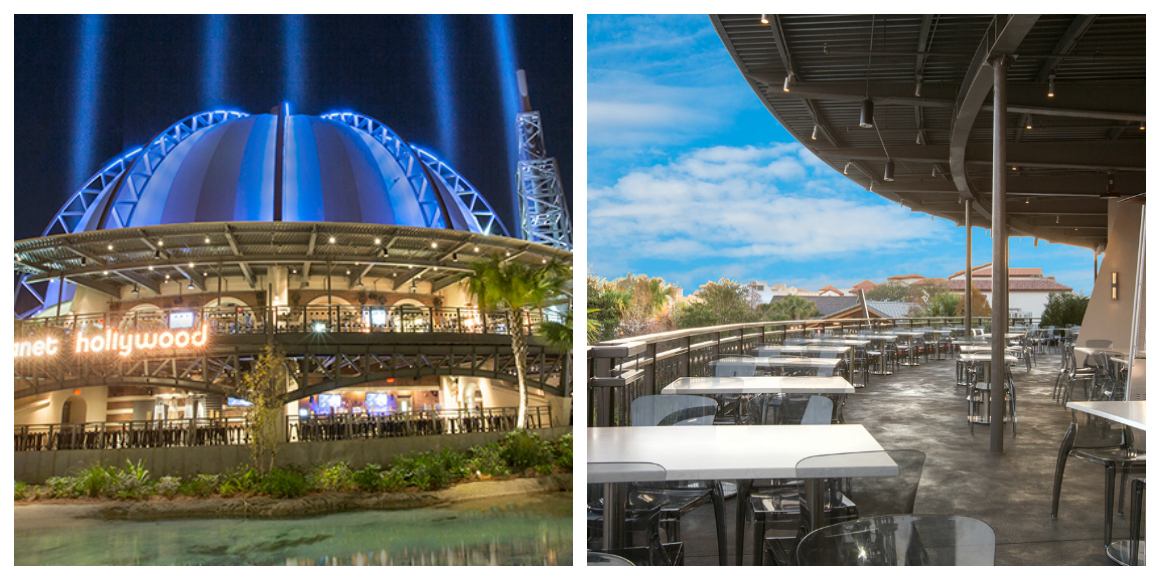 Awesomely fun atmosphere for the whole family at Planet Hollywood Orlando!
Planet Hollywood Orlando at Disney Springs made a huge impression on our whole family from the moment we walked in surrounded by new and old movie memorabilia and an amazing 4,500- square-foot-video wall. The big screen movie experience is absolutely mesmerizing while you dine. EXPERT TIP- Ask to be seated at a table with great views of the video wall for your entire party.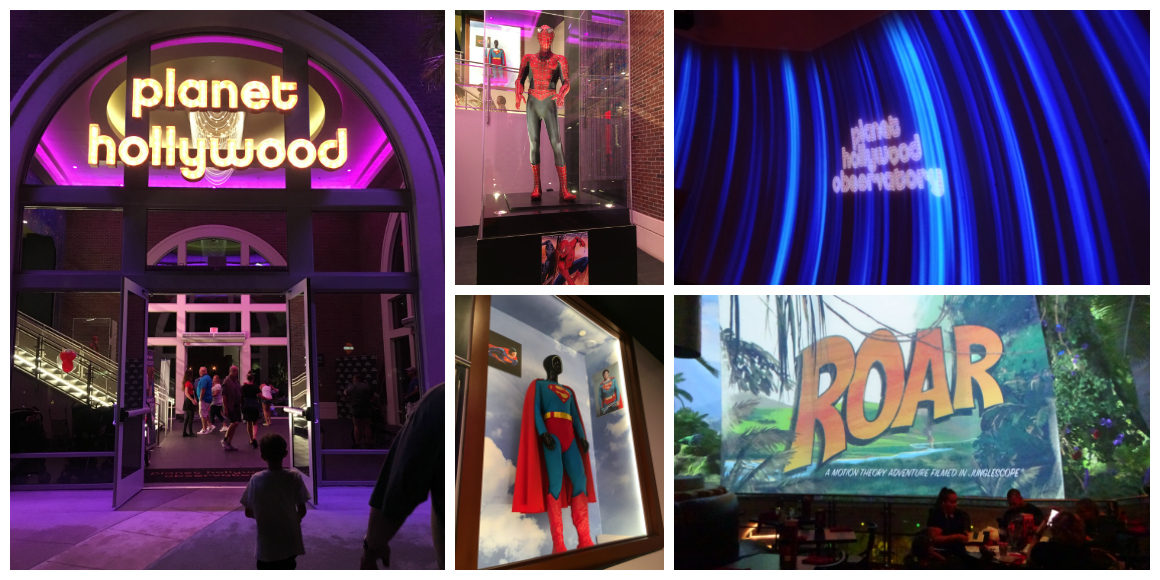 There's a new Guy in the kitchen at Planet Hollywood Orlando!
We came in for a late dinner after the parks closed and we were starving after a long day of rides and walking. Our server Aubrey took great care of us and recommended her favorite dishes. One look at the new menu and we ordered just about everything she suggested.
We started with the high roller sampler – an appetizer sampler presented on a Ferris wheel. Everything was so good! We also all split a huge salad. Next my husband and I split the two dishes Aubrey said were the most popular: LA Lasagna and the Bacon Mac & cheese Burger off of Guy Fieri's Big Bite Burger Menu. Both dishes were exceptional. My  son Harry loved the kids Burger and snacked on all of the additional food we had on our plates too. The dishes were so huge that we were happily stuffed by the end of our meal. EXPERT TIP- Portions are large. Consider sharing a few things so you have room to order the 12 scoop ice cream & gelato challenge for dessert.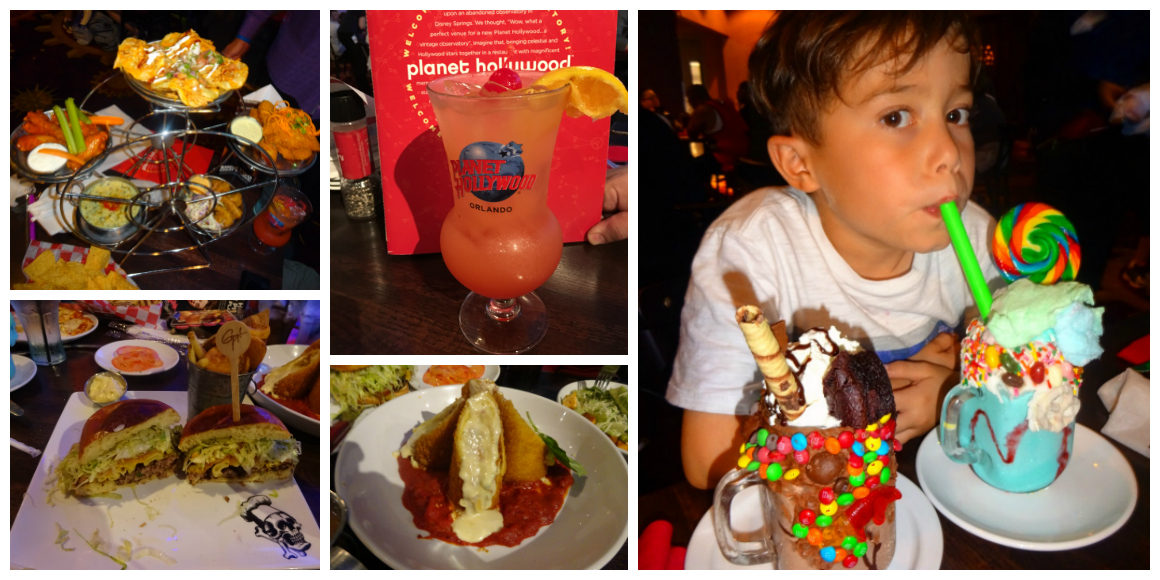 Don't skip the Super Nova shakes and cocktails at Planet Hollywood Orlando!
One of the best parts of the meal was the out-of-this-world Super Nova milkshakes and craft cocktails we ordered. Our drinks and meals were all show stoppers. Everything coming out of the kitchen was seriously Instagram worthy.
Planet Hollywood Orlando is the most fun family dining experience at Disney Springs!
We found our eyes glued to the giant screen during our meal as it was ever changing and they were always doing something different to entertain us. We watched movie trailers, sang along as a family with classic music videos to songs we all know by heart, fell in love with incredible unique animation stories, and we even had our names and faces up on the big screen.  Expert Tip – If you are celebrating a special occasion tell your server and request to be recognized on the big screen!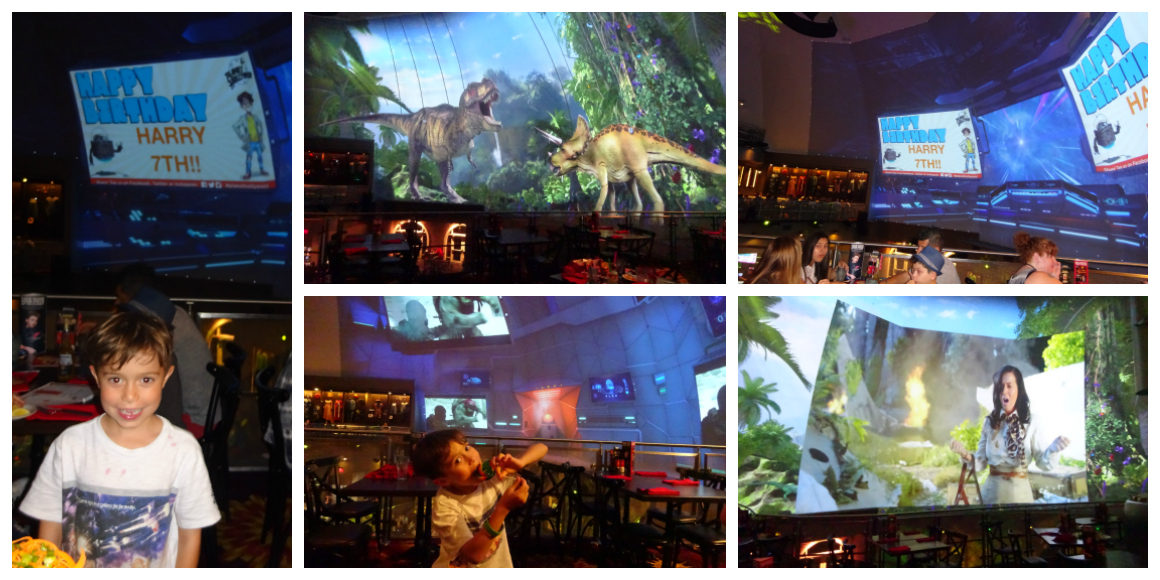 Memorable Disney experiential dining that's not to be missed!
We had an excellent dinner experience that was an absolute highlight of our Disney trip. We were astounded by how fun, unique, and modern the newly reinvented Planet Hollywood Orlando experience is for guests. That evening made a big impression on all of us and I've recommended it at least a dozen times in the few weeks since we've returned home.
I'm sure we will put Planet Hollywood Orlando on our regular Disney dining rotation for future vacations. We can't wait to return again soon.
Planning a Walt Disney World Vacation? Pin this and save it for later!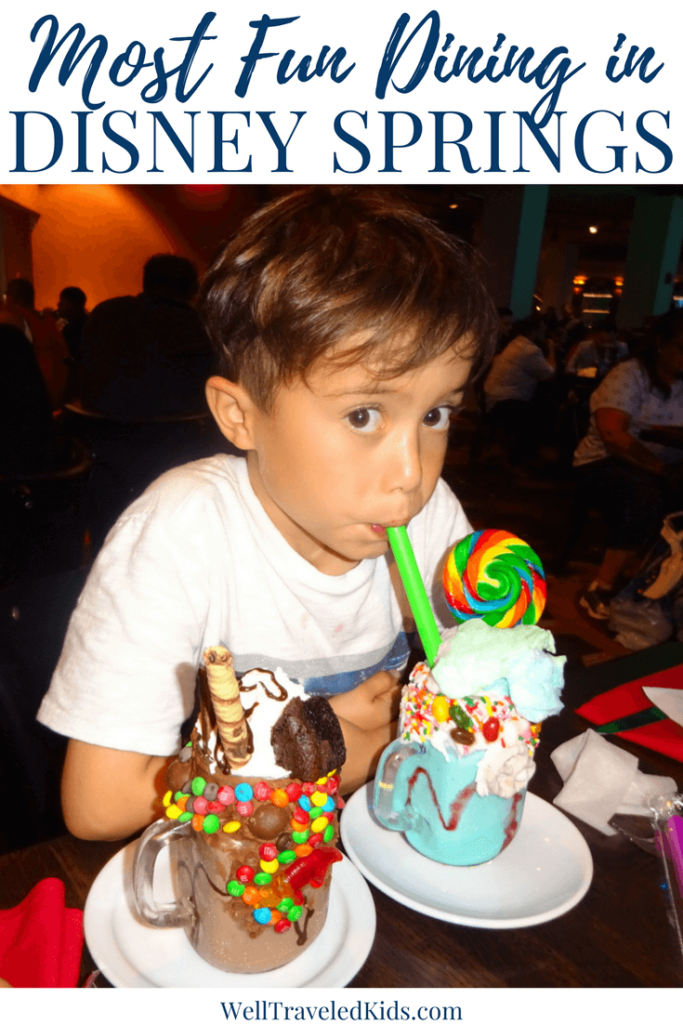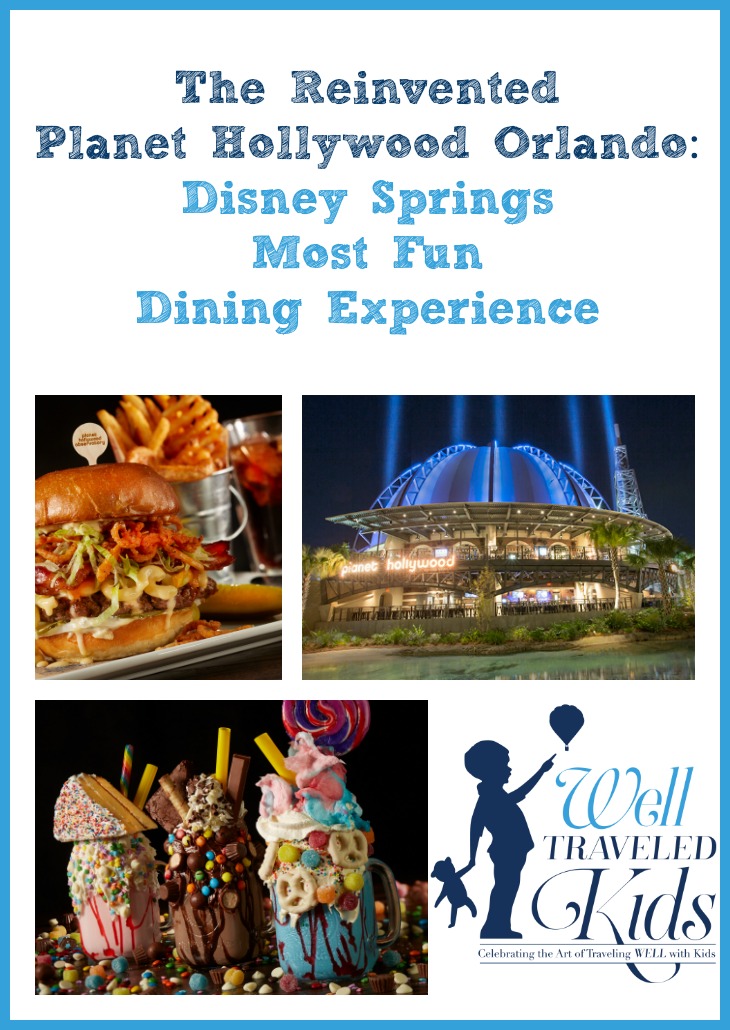 You Might Also Enjoy:
Disney After Dark: 10 Most Fun Disney World Night Rides
Transform Your Family Disney Trip into a Luxury Disney Vacation at Waldorf Astoria Orlando