As part of a recent trip to visit friends in Derbyshire, England, we also spent 3 days in London with our 9-year-old son and our 6-year-old daughter. You could easily spend weeks in London with kids exploring everything it has to offer! So we started planning well before our trip to make sure that we were able to maximize our short time.
So much fun to be had in London with kids!
We started by checking out children's travel guides and picture books about London from our local library. This is London by Miroslav Sasek was a particular favorite. Looking at books and travel guides in advance helped to prepare the kids for our trip and also created a lot of excitement.
Each family member identified two things that they wanted to see or do. We also talked to friends who visited or lived in London and got their advice. Interestingly, we got many recommendations to see the Tower Museum.  The kids took that off our list after a family member told them about some potentially scary features.
Here's our itinerary for 3 fun days in London with kids:
Day 1
We arrived in London by train from Birmingham and took one of London's famous black taxicabs to our hotel, the Mondrian London. It is a modern hotel located along the South Bank of the Thames River. We requested a room with a view of the river, which also included a gorgeous view of St. Paul's Cathedral. We loved watching all of the activity on the river from our room. We also enjoyed the spectacular day and night views of London. It is a very centrally located hotel, and we were able to walk to most of the activities we wanted to do.
The Mondrian London is a family friendly hotel. The concierge even has coloring books and games for the kids. Sea Containers restaurant in the hotel also has views of the Thames. They have a lovely Sunday brunch and children eat for free on Sunday.
Let's go sightseeing!
After checking in and grabbing brunch, we started walking west along the South Bank of the Thames River. It is quite touristy (think Times Square or Navy Pier) but the children loved it. There are multiple theaters, art installations, sidewalk vendors, food carts, street performers, and even a large sandbox.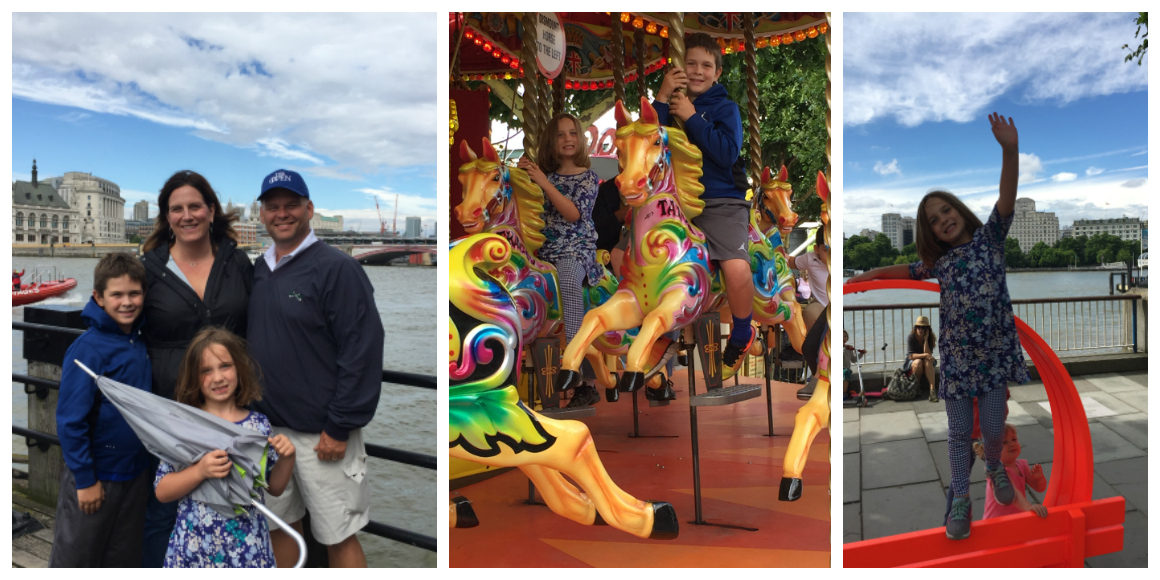 Next we crossed over the river on the Golden Jubilee Bridge and headed towards Trafalgar Square, our daughter's first choice of must see attractions. She had been captivated by pictures of people sitting on the lion statues surrounding Nelson's Column. On our walk, we passed Scotland Yard.
The National Gallery is located at Trafalgar Square. Although it was not on our initial list, we decided to explore it prior to our dinner reservation. It is a free museum and we spent 45 minutes looking at amazing tapestries  by Chris Ofili and then seeing multiple beautiful Impressionist paintings. Our daughter was very excited to see a Claude Monet painting that she had learned about in her art class. Although it was a spur of the moment decision to tour the National Gallery, it ended up being a highlight of our trip.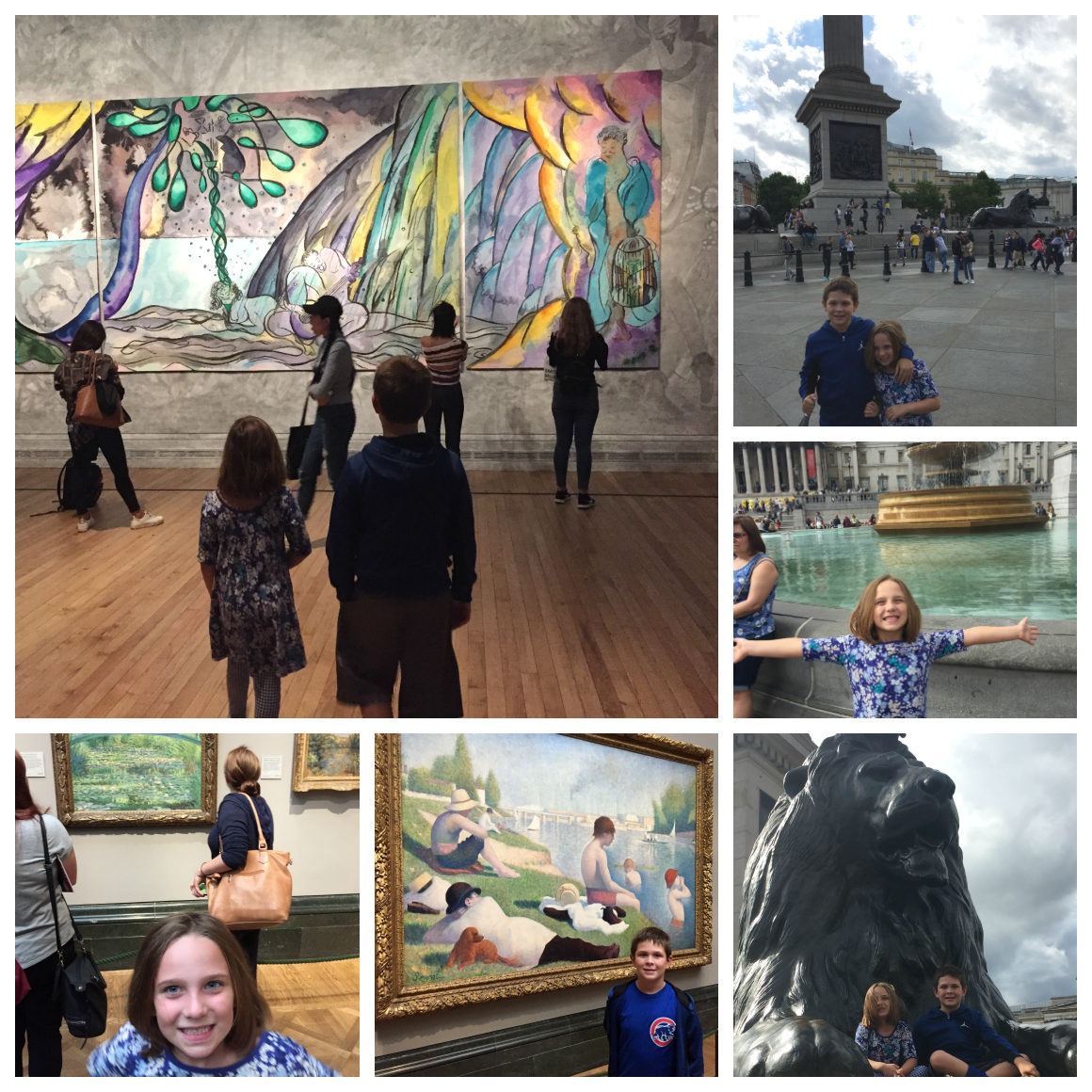 We then walked through Covent Gardens to Hawksmoor Seven Dials restaurant for a delicious Sunday roast dinner. We had been in England for a week before we arrived in London, so we had already had most of the foods on our culinary wish list including fish and chips, Indian, and bangers and mash. Sunday roast is another traditional British meal that we greatly enjoyed.
Day 2
The London Eye was a "must see" for our kids. It is right in the heart of a very touristy area, so I probably would have never gone on it if not for the kids. Ultimately, we are all glad that we did it. The views of London were amazing. We went in the morning on a weekday so the lines were not long. I would recommend visiting before 11 AM on a weekday.
You can buy tickets in advance which will save you waiting in the ticket line and you can get a 10% discount by buying in advance. It is quite expensive at $37 per person. They do have a fast track ticket available for $50 per person where you can avoid the long boarding line, but we did not think the extra expense was worth it. On a Saturday, though, it might be. When we came back from our trip, this was one of the highlights our kids enjoyed talking about.
We then crossed over the Thames River on the Westminster Bridge and did our own walking tour of Big Ben, Parliament, and Westminster Abbey. If we were traveling without children, I would have enjoyed exploring these areas in more detail given all of the amazing history. With children, however, we abbreviated our tour and we all still enjoyed it.

Afternoon tea was on my wish list, and we ended up at Harrod's department store for tea and then on to explore their amazing toy department.
We finished our day with an obligatory stop by Buckingham Palace. It did not disappoint.
Day 3
We started our day heading east along the South Bank of the Thames River. It takes you past the Tate Modern museum which is on my to do list for our next visit. We walked to William Shakespeare's Globe Theatre. Earlier in our trip we visited Stratford-upon-Avon and saw his birthplace, so we had a lot of fun discussing his life and his influence on modern theater. We then crossed the pedestrian Millennium Bridge with a view of the Tower Bridge in the distance. It took us to the base of St. Paul's Cathedral.
The British Museum was our next stop. We were excited to see the Rosetta Stone and a fascinating and very large collection of Egyptian, Greek, and Roman artifacts. This was another highlight of our trip.
Our family trip to London would not be complete without a tour of a soccer stadium.  My son picked Chelsea and it was a great behind the scenes tour.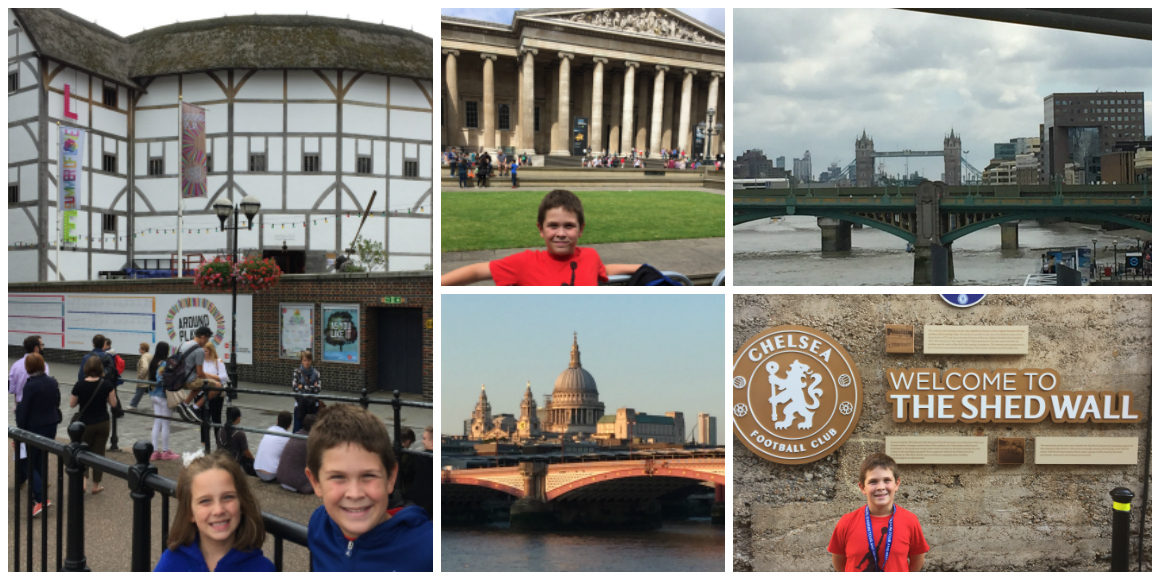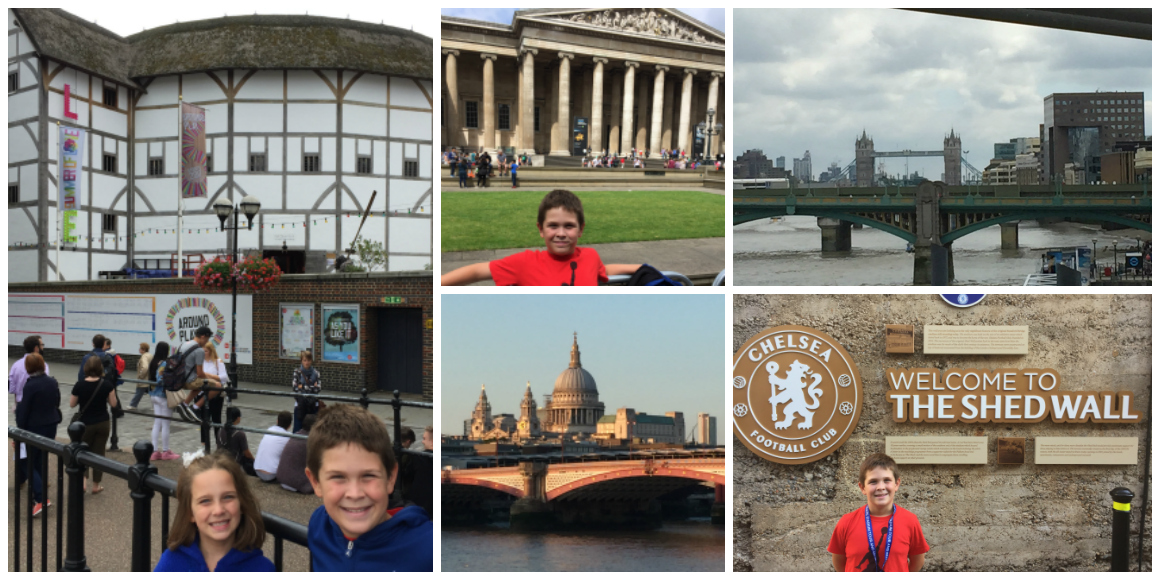 We were worn out after our adventures so for dinner we used a food delivery service recommended by our concierge and had amazing Indian food delivered from Est. India.
Day 4
Sadly, it was time to leave. We walked one block from our hotel to the Blackfriar train station and took an easy express train to Gatwick airport. We are already looking forward to our next London trip!
---
Planning a trip to London with Kids? Pin this and save it for later!