Growing up, the only thing I knew about family ski vacations was what I learned from watching movies set in amazing ski destinations.
Even though I didn't know how to ski, I always romanticized over the idea of staying at a gorgeous winter ski lodge surrounded by snow-covered mountains. I could picture the fun of winter hot tubbing and enjoying warm, boozy drinks at the fire pit while watching the skiers elegantly swish down the slopes.
My husband and I never learned to ski as kids and always felt we'd missed out on an amazing lifelong sport. So, last year, we decided to give our son Harry the gift of ski school in hopes that he could grow up and have the ability to ski as second nature, just like learning to ride a bike.
And because we loved that first winter ski vacation so much, we decided we should make it an annual trip.
For me as a non-skier, the fun is watching Harry advance on the slopes and checking out new ski towns and awesome ski resorts—all in search of the perfect winter retreat that reminds me of the ski lodges depicted in some of my favorite childhood movies.
Checking into a Dreamy Ski Resort
I wasn't sure my idealistic winter dream place really existed outside of the movies I'd seen until we checked into the Four Seasons Resort and Residences Jackson Hole earlier this year to take my son skiing for spring break.
There it was: an amazing mountain resort where I could snuggle by the fireplace in our room, hang in the steamy hot tubs surrounded by snow, or grab a blanket and order craft cocktails, champagne, and hot chocolate by the fire pits overlooking the ski slopes. It was all I'd dreamed about and more.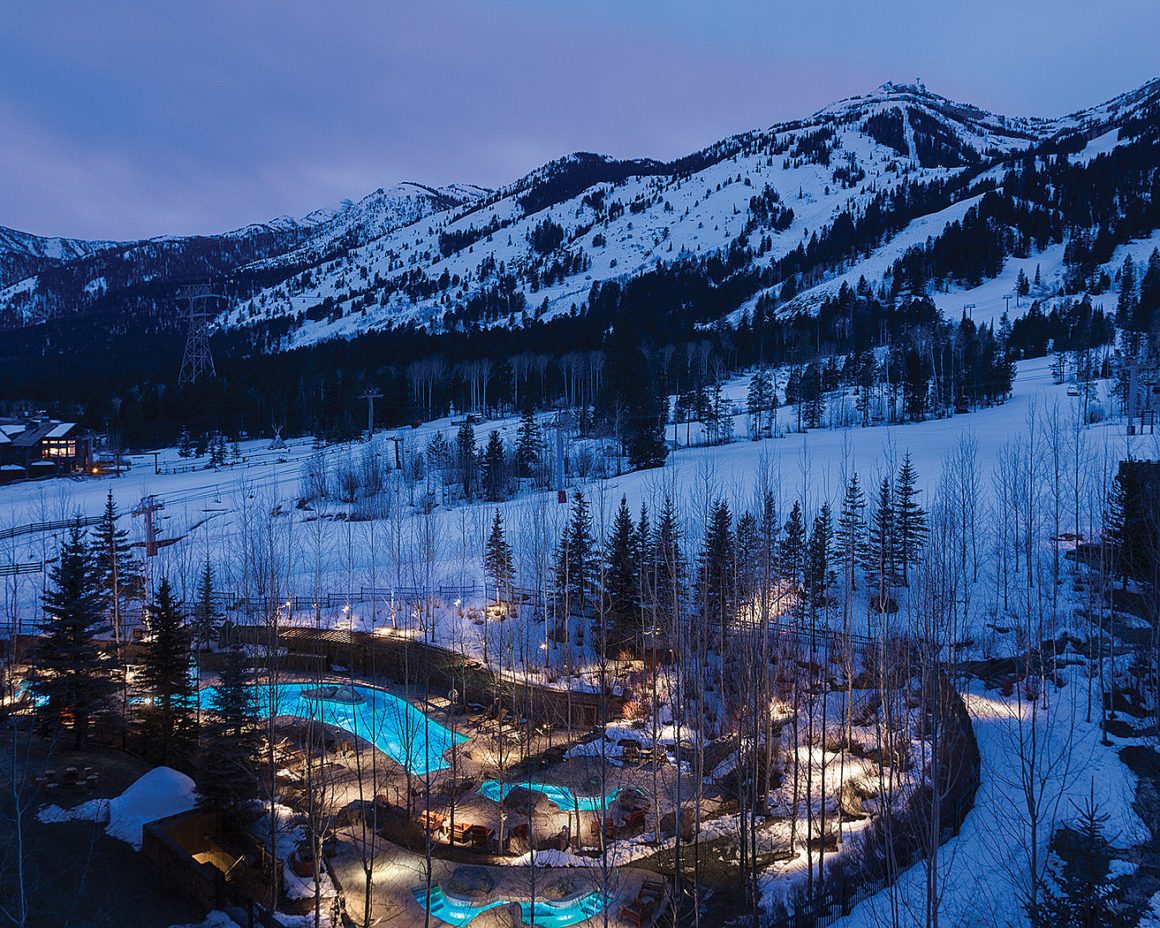 Here's why I recommend Four Seasons Resort and Residences Jackson Hole for the ultimate unforgettable family ski vacation.
Land in the Middle of Grand Teton National Park
We flew direct from Chicago into Jackson Hole Airport, and the minute we exited our little plane onto the runway, we were amazed by the beauty of our surroundings. The airport is located within Grand Teton National Park at the base of the Teton Mountain range.
Our trip from the swanky little airport to the gorgeous hotel was stunning. We drove through Grand Teton National Park and then past the National Elk Refuge where we saw dozens of Elk grazing in the fields.
Harry was so excited to see all of the animals on the sides of the road and made a game out of seeing who could spot wildlife first as we drove.
Exhale and Relax upon Arrival at Jackson Hole Mountain Resort
The Teton Village Resort area is about 20 miles from the airport, and the Four Seasons is located directly at the base of the of the ski slopes. Once I arrived at the hotel, I totally relaxed knowing my vacation was going to be an easy one.
Everything about our winter visit to Four Seasons Resort and Residences Jackson Hole was so perfect, it didn't even seem real at first. The hotel is the only Five Star/Five Diamond property in all of Wyoming and it immediately exudes an irresistible rustic luxury vibe.
We received a friendly welcome from the valet donning a cowboy hat and went inside to check in. Everything about the resort was warm and joyful, from the glowing fireplace in the entry to all of the staff who checked us in and showed us around.
We wandered up to our well-appointed and luxuriously decorated guest room, and immediately plopped down on the big comfy chairs in front of our warm fireplace. Harry darted out onto our little terrace to admire the views.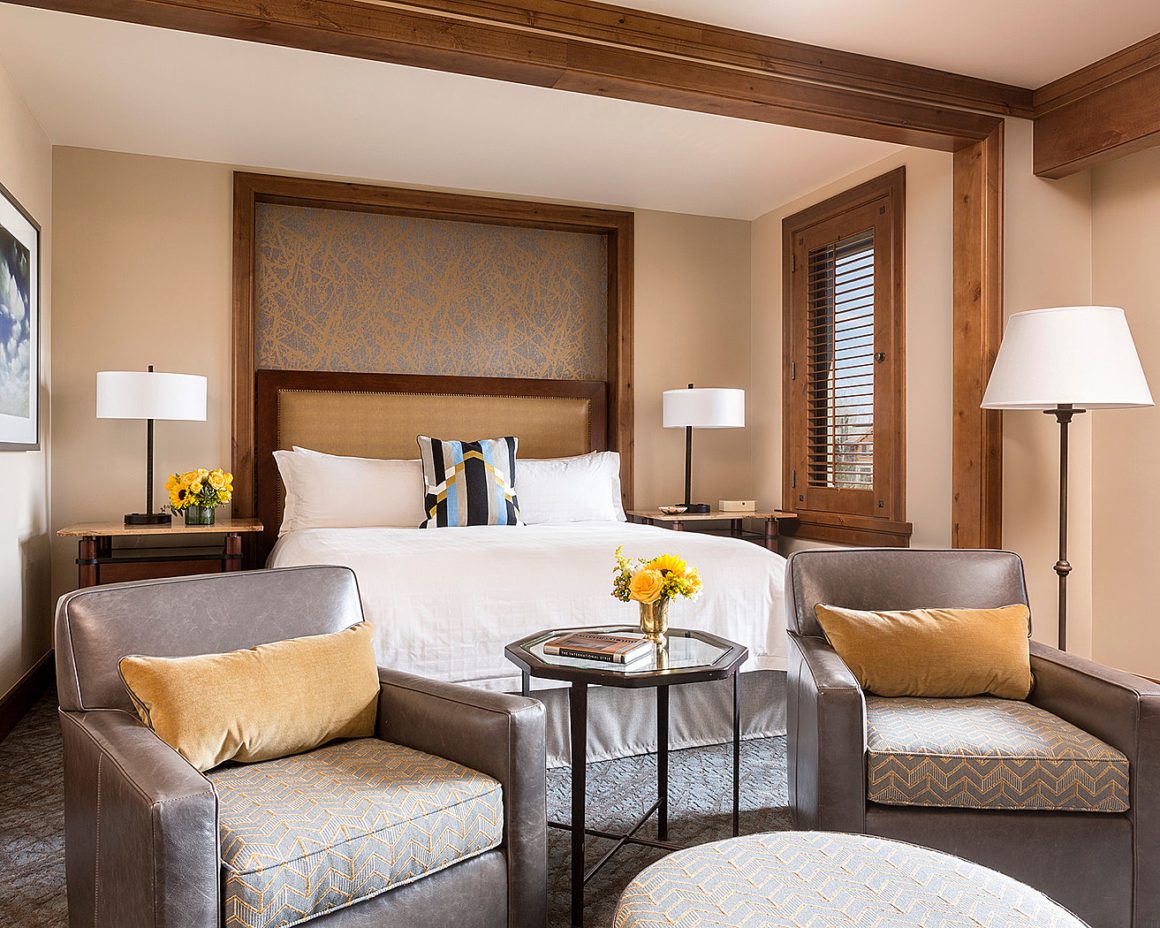 Home Sweet Home
Our love for our room never wavered from that first impression. Each night, we appreciated being able to cozy up in the intimacy of our own fireplace. The luxurious room also featured an enormous bathroom, huge closet for all of our gear and luggage, and tons of storage. We had an amazing king sized bed and just enough space to squeeze in a roll away bed for Harry. Families with more kids would likely need either a suite or multiple rooms.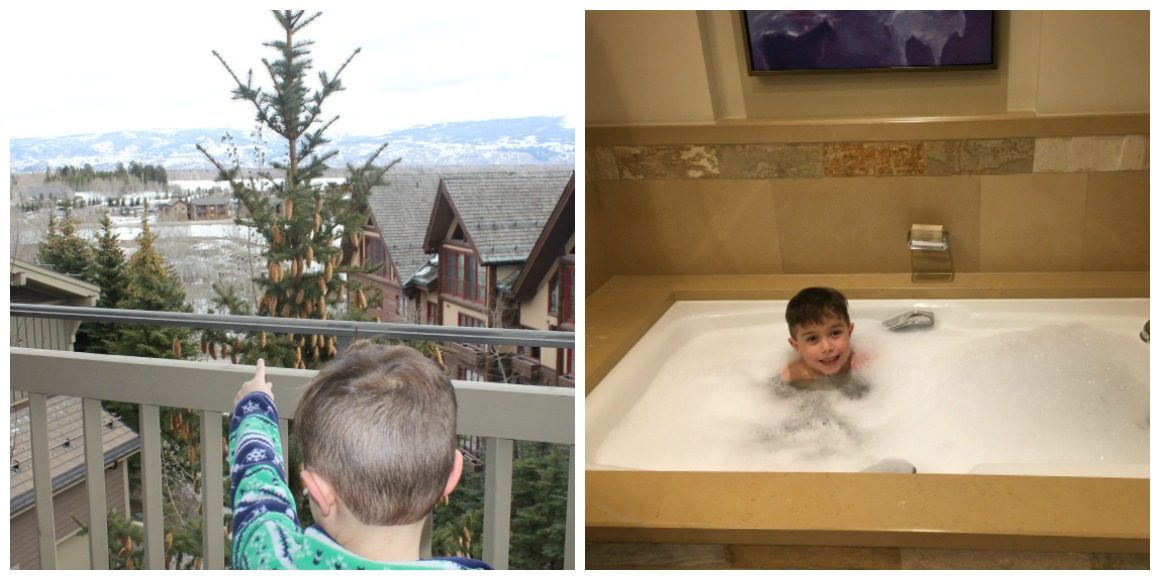 The room also featured updated technology, with new iPads next to the bed and a large flat screen TV that allows for smartphones to connect. We loved being able to watch movies in the room directly from our phone libraries.
We also used the iPad for everything from controlling the room temperature to ordering room service. You could even order special bedding and specify the type of mattress you wanted in  your room via the iPad.
Fire Pit and Hot Tubbing Dreams Do Come True!
After getting acquainted with our room upon our arrival, we put on our bathing suits and explored the resort with the goal of ending up at the pool. Our first stop was at the fire pits facing the bottom of the slopes. We ordered hot cocoa and cocktails with a few tasty appetizers, and watched the skiers glide to a stop at the end of the slope. Our friendly server offered us soft blankets to snuggle in and stay warm while we sipped our drinks by the fire.
Next, we browsed through the gift shops and spa, winding our way to the pool and whirlpool hot tubs where the staff was serving complimentary s'mores.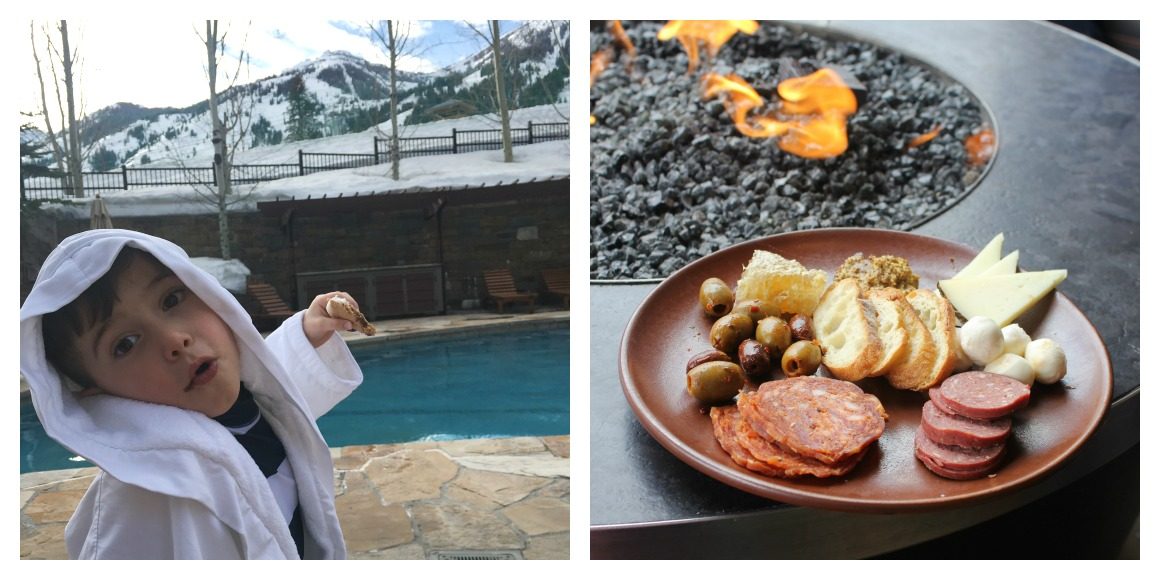 We chowed down on gooey s'mores and then put our robes in the warming closets while we jumped from the cold air into the warm pool and hot tubs. It was heavenly. As we relaxed together in the steamy hot tub, I realized I'd actually found the place that I assumed only existed in dreams and movies. And it was the perfect winter vacation spot for our family.
Location, Location, Location
It was immediately obvious to us that Four Seasons Resort and Residences Jackson Hole is the best spot to stay for skiing Jackson Hole. The resort is the only ski in / ski out property in Teton Village. Every morning, we would take the elevator down from our room to the second floor Base Camp where they stored Harry's ski gear.
It took only a few moments for us to check in and have one of the Base Camp team grab Harry's ski boots and get him strapped in correctly. Next, we'd gather his skis outside from another team member, and landed at the gondolas seconds later.
Jackson Hole Ski school at the Kids Ranch was only a 2-minute walk out the back door of the hotel. The prime location was so convenient I wouldn't have wanted to stay anywhere else.
Each morning after we dropped Harry at ski school, my husband and I enjoyed a little quite time over a delicious breakfast at Westbank Grill. We loved having our mornings to enjoy an out of this world breakfast with a terrific view of the skiers gliding down the slopes.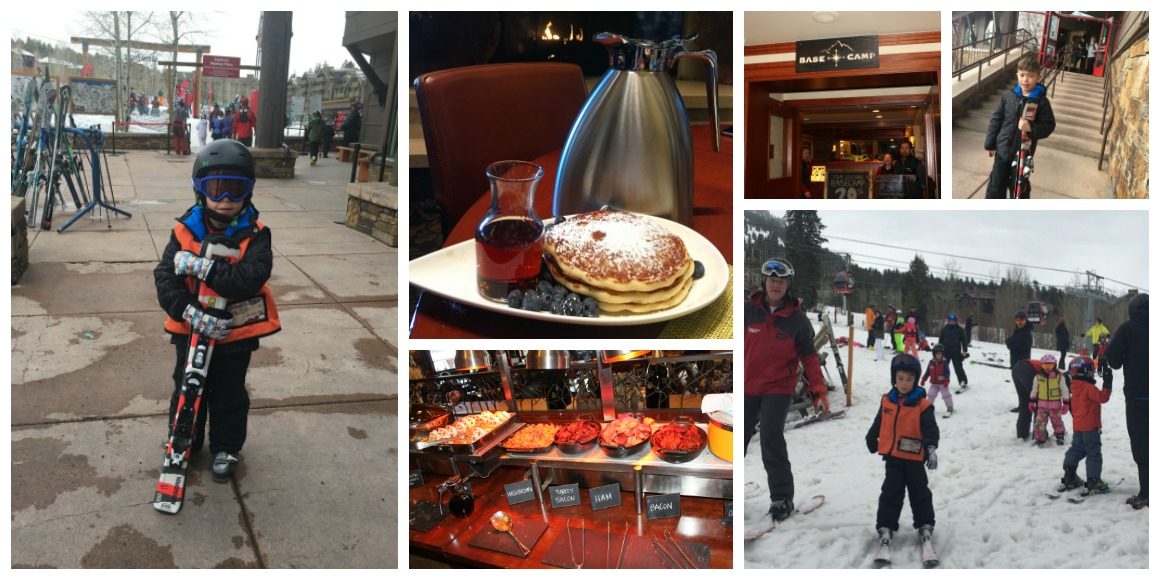 Après Ski Options Galore—Right in the Hotel!
We did something a little different each day after Harry finished ski school. One day, we went to the pool and whirlpool tubs for complimentary s'mores and a warm dip. We loved the towel and robe warmers poolside so that we could snuggle in warmth after jumping out into the brisk air.
Another day, we went to the Ascent Lounge and sat out on the patio at a fire pit with blankets, enjoying drinks and a charcuterie platter while we watched the late afternoon skiers come in.
Our favorite après ski spot is Handle Bar! It's Jackson Hole's most popular après ski spot—and for good reason. The patio is gorgeous, and the food at this restaurant by famous celebrity chef Michael Mina is out of this world. Elk chili nachos, a handlebar mustache-shaped pretzel, and s'mores with homemade strawberry marshmallows and chocolate caramel sauce were our favorite après ski treats.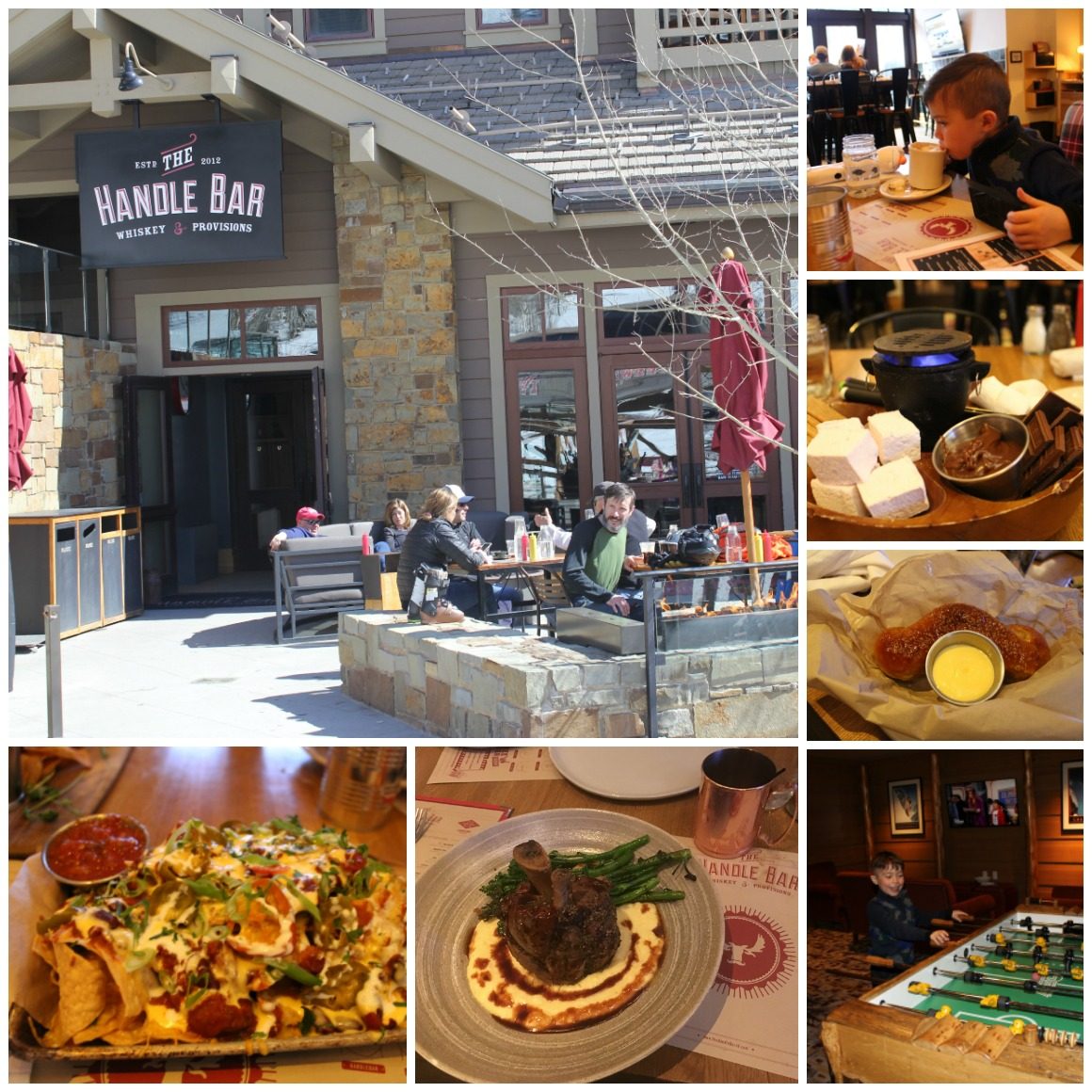 Harry especially loved that there was a family game room right down the hall from the Handle Bar where we could stop and play together after a good meal! 
Everything You Need is at Teton Village
Of course, we were curious about our surroundings and decided to explore the Teton Village area attached to the hotel and find a spot for dinner on our first night.
We landed in the Mangy Moose—a family friendly dive bar and restaurant that had an excellent menu for both adults and kids. Afterwards, we couldn't head back to the hotel without checking out the gift shop downstairs. Harry bought his first pocket knife, and then headed to the arcade to play some games before bedtime back at our hotel.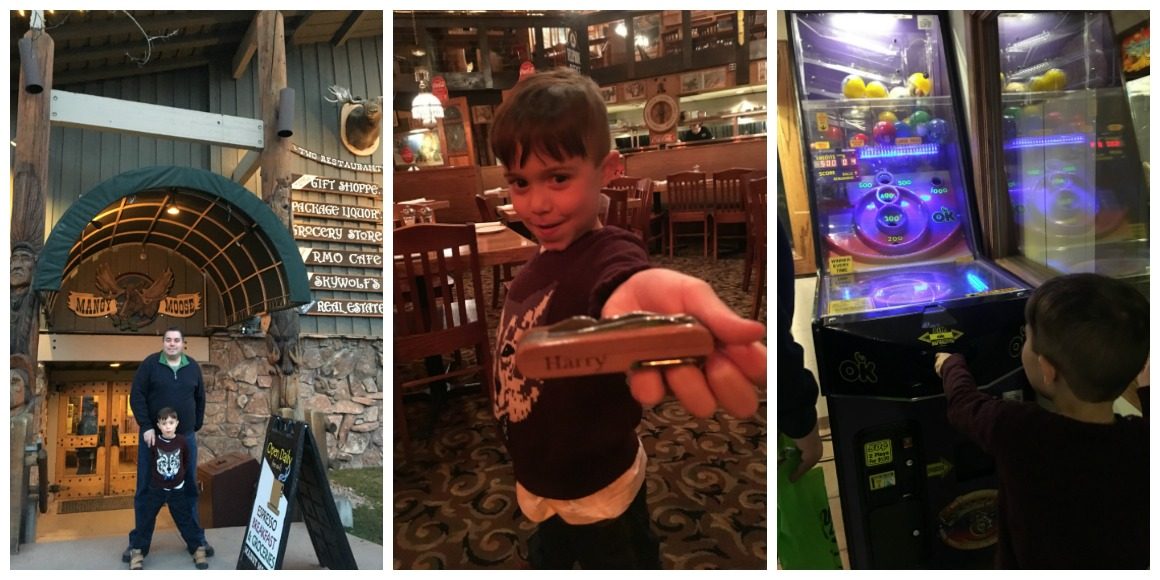 Waffles at 10,460 Ft.
On our first morning we woke up refreshed and ready to further explore our surroundings. I had planned for our first full day to be a family fun day before Harry started his ski school the following day.
And there was no better way to start than taking the aerial tram to the top of Rendezvous Peak, to Corbet's Cabin for delicious waffles at 10,460 feet. The aerial tram is located right out the back door of the hotel, so our walk was easy.
The journey up to Rendezvous Peak was an adventure. Packing into the large tram like sardines with tons of people dressed for skiing was a thrill.
Once we arrived at the top, the views were breathtaking, and the cold was intense. Harry loved playing in the snow banks above Corbin's Cabin before we went in to enjoy the world's tastiest waffles and hot chocolate in the tiny cabin.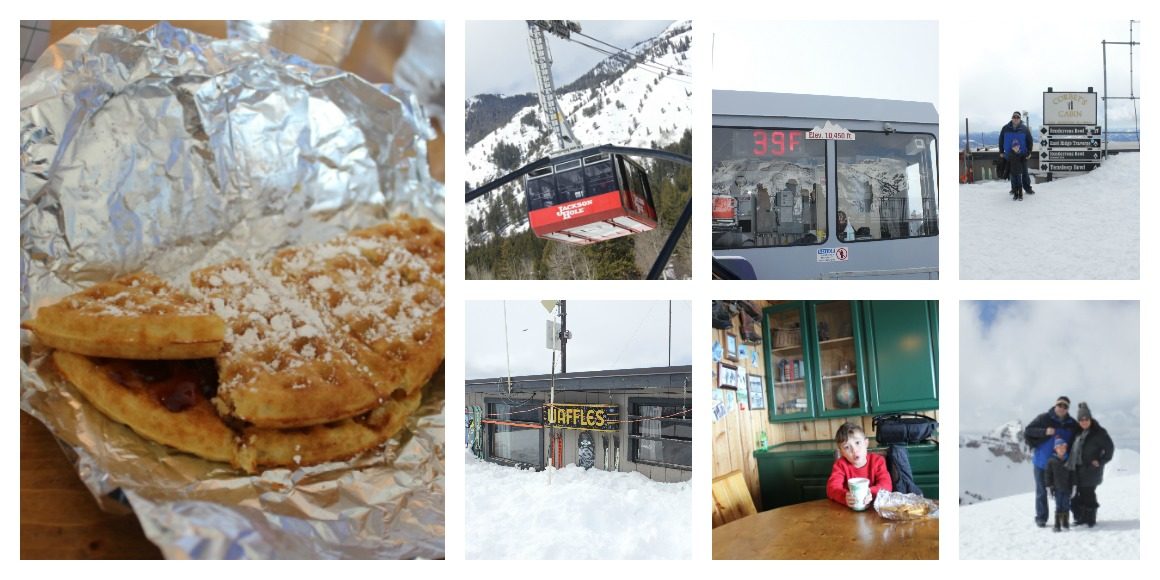 Spend an Afternoon in the Old West Town of Jackson
Next, we drove through the old cowboy town of Jackson—and promptly fell in love with it. A 20-minute drive from the hotel, we stopped at the town square, grabbed a few ski essentials and souvenirs at the shops, and snapped some photos at the iconic arches re-created each year from Elk antlers.

We found great toy stores, t-shirt shops, restaurants, taxidermy, and even a Starbucks. Probably our favorite memory that we made was dressing up like we were a part of the classic wild west and taking old time photos at Judge Roy Bean's Old Time Photos. What a blast!

Go on a Winter Safari at Grand Teton National Park
The Granite Canyon entrance to Grand Teton National Park is only a mile from the hotel. But in the winter months, only a few miles of the park are open for visitors. We drove in, scoped the area near the hotel, and then drove out and through the town of Jackson to the main park entrance by the airport. Park staff had cleared the snow for about 10 miles of the park for exploring during winter months.
We saw huge eagles, lots of elk feeding, and then lucked upon a moose that was drinking in a pond right next to our car. Quietly, we sat in our car with our cameras capturing beautiful photos.
The moose suddenly decided to charge down the road ahead of us, so we followed in our car and watched as it headed off into a snowy field. The incredible encounter was magical and exciting, enabling us to closely observe this beautiful animal in its natural habitat.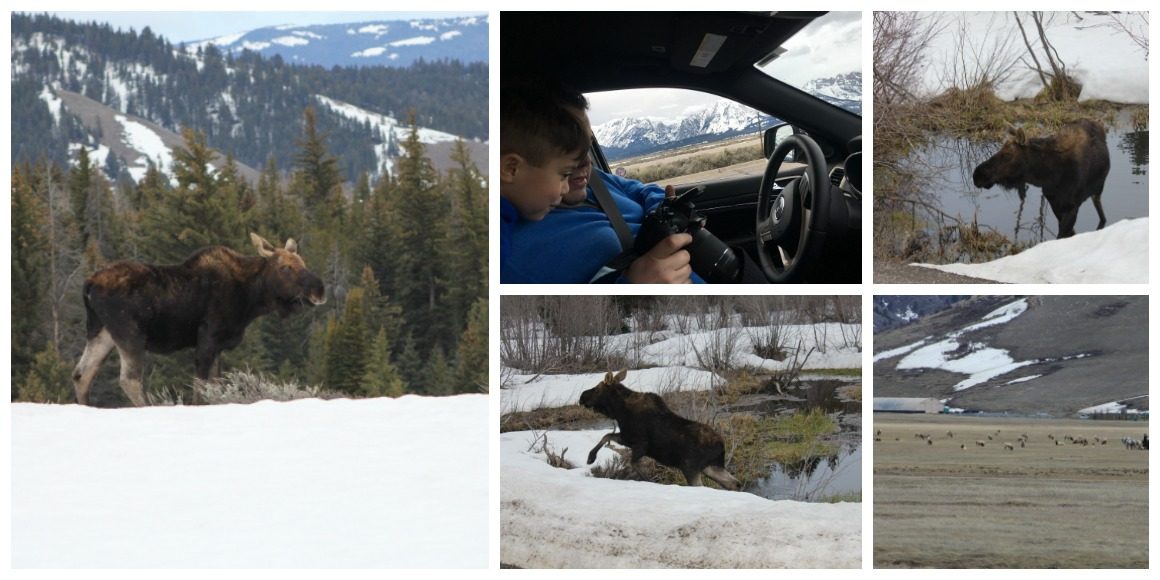 Besides seeing the animals, we loved driving the roads and seeing the huge amounts of snow on either side of the road around us. We took a little break on the way out, stopping inside the park at Dornan's Pizza Bar to feast on moose bread, pizza, and cocktails with gorgeous evening views of the Tetons.
An Amazing Night of Family Stargazing
The highlight of our time together at Four Seasons Resort and Residences Jackson Hole was the evening we spent stargazing with the hotel's resident astronomer. The clear skies of Jackson Hole are perfect for stargazing, and the resort offers a spectacular package that we will always remember.
Ryan, owner of Teton Skies and the resort's resident expert astronomer, taught us where to find the constellations, planets, milky way, and all we could learn about the beautiful Wyoming night sky. He set up a high-tech telescope in a dark area of the resort where we could clearly see stars we'd never see in our big city Chicago sky.
The resort made our experience extra luxurious by providing warm blankets and amazing treats for our party, including hot chocolate, elk chili from Handle Bar, a cheese and meat platter, and yummy desserts.
We loved every minute staring into the telescope learning about the twinkling stars and planets. I highly recommend this unforgettable experience to everyone.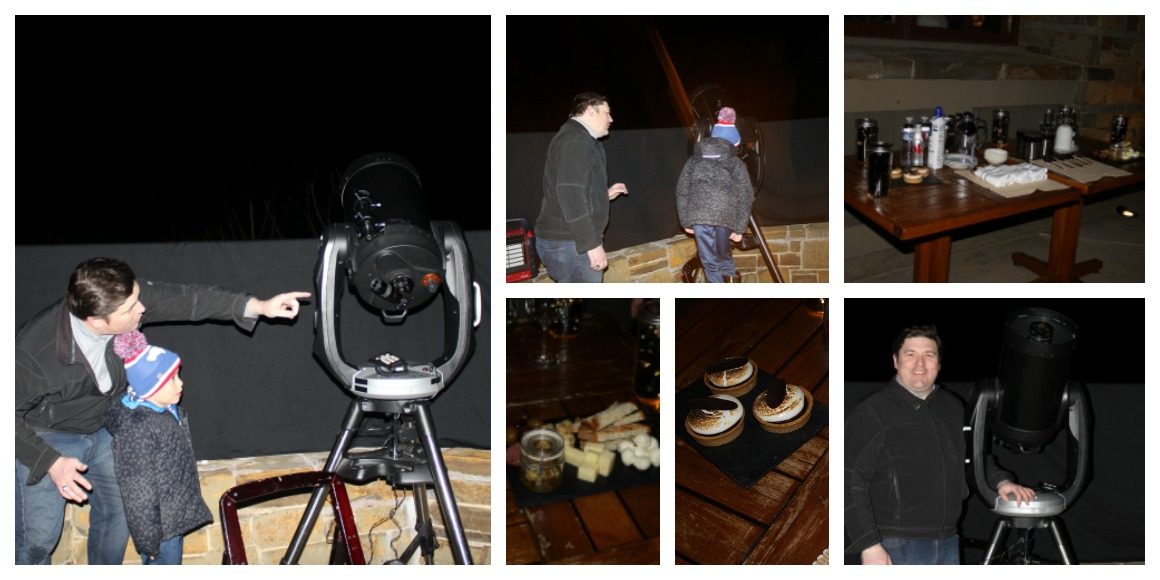 A Magical Winter Wonderland Vacation
In case you haven't already noticed, we had a terrific stay at Four Seasons Resort and Residences Jackson Hole. I'd recommend the resort to anyone planning a ski vacation to the area. I hope to return again both during ski season and during the summer to explore more of Grand Teton National Park and nearby Yellowstone National Park, too.
We returned home relaxed and happy, having had an out-of-this-world ski vacation in a luxurious, dream-like location. While Harry loved perfecting his ski skills at ski school, we also valued learning about the animals of the wild west and understanding more about the stars in our sky—all made accessible to us thanks to our memorable stay at the Jackson Hole Mountain Resort.
---
Disclosure: I was granted a discounted media rate, complimentary stargazing, and a few meals in return for this review. As always, all opinions about this amazing resort are my own!
---
Considering a ski trip stay at Jackson Hole Mountain Resort? Pin this for later!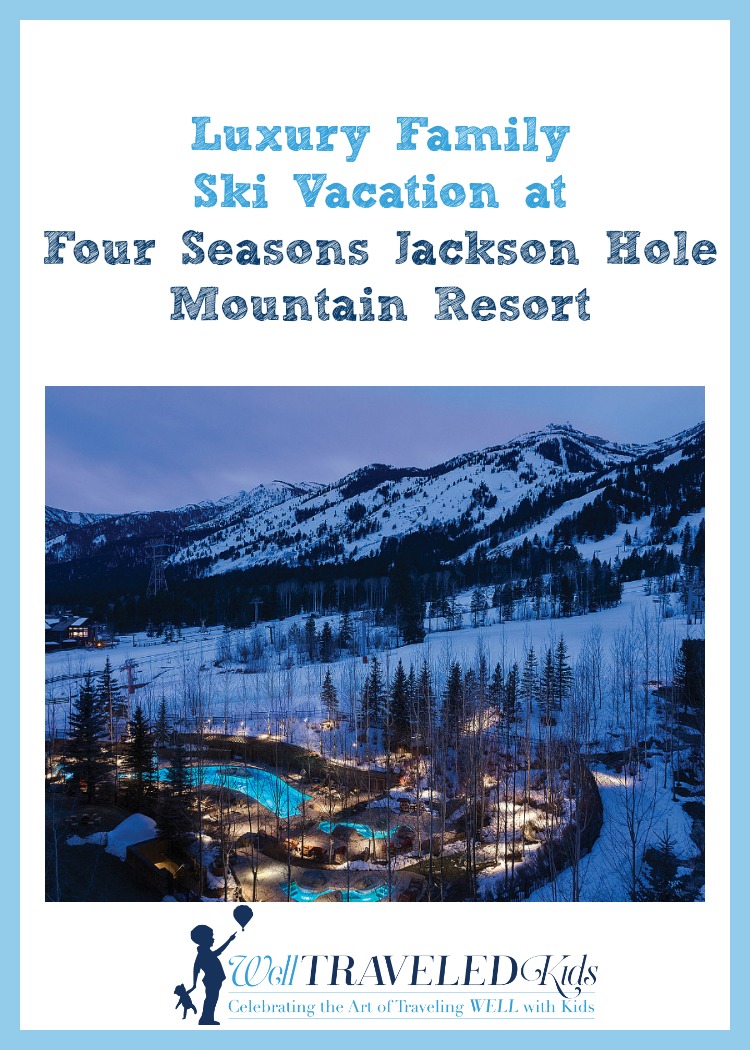 Photos courtesy of Four Seasons Resort and Residences Jackson Hole