Disclosure: Thanks to Dear Valley for hosting our family ski adventure for purposes of this review. We had a blast skiing together and Reagan loved ski school! As always, all opinions are my own.
---
For Spring Break, we decided to head back to Deer Valley in Utah. Why? Deer Valley has one of the best children's ski school programs in the country.
You see, my daughter Reagan is six years old. Her life is fairly comfortable on a daily basis. Ok, very comfortable. Therefore, I am worried about her developing the appropriate level of grit (particularly during luxury travel). So we learn to ski.
Skiing is a tough sport.
The gear is heavy. You're sweating. But you're cold. You're exposed to the elements and unfamiliar terrain. Your muscles are burning. You could fall off a cliff. The chairlift is no joke.  It's good for ya. An old fashioned dose of grit.
This year we were on a family trip with my sister and her kids at a ski-in ski-out lodge on the mountain. On the first day, we drove Reagan to the base of the mountain for ski school.
She was in the Reindeer Club which entails one instructor per four six-year-olds. We liked that ratio. Our first stop was the rental shop which was conveniently located right next to the ski school drop-off. The staff was exceptional and kind.
Ready to learn!
Reagan attended ski school from 10am to about 4pm. They go out skiing twice and have lunch in that timeframe. The cost per day is around $275. This fee includes instruction, lunch, and the lift ticket (rentals are additional).
Her group was led by a young, pretty instructor named Chrissi. I note this because Reagan typically responds well to princess-like instruction.
Reagan had a great first day of learning to ski. Mark and I stayed for the first 15 minutes to watch her ride the "magic carpet" conveyer belt up the smallest bunny slope and cheer her on during the descent. We were total stage parents. Lattes in hand. After we felt like she was comfortable and confident (we gave several thumbs up), we left to go ski ourselves.
At pick-up, Reagan raved about the pasta for lunch. Her teacher noted she would be ready for the next level of instruction on the following day (Beginner 2).
Reagan was a little hesitant on Day 2 (enter grit) because I think she was a bit tired (she had skied, gone sledding, and hot-tubbed the previous day) and was feeling left out (her cousins were skiing together with friends and a private coach as they are a bit older).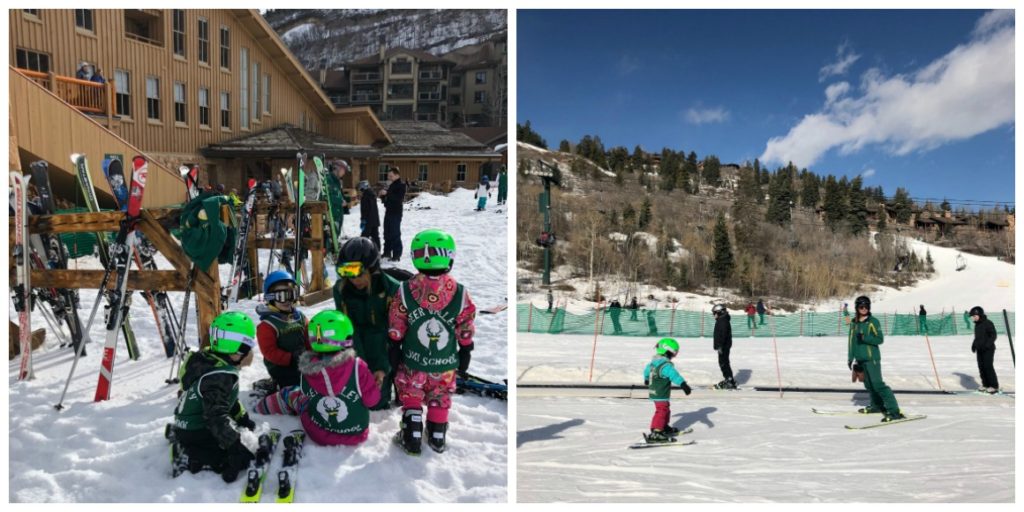 Spring Break is exhausting!
With a little coaxing (read: bribe), Regs was ready to hit the slopes with ski school on Day 2. This time she had a male instructor with 3 little boy peers. It went surprisingly well. Upon pickup, we were told that she had graduated from the bunny slope and skied a Green slope on the big mountain.
Hazzah! Her report card was adorable. I was most proud of the last little excerpt noting that she was "very polite." Thank you for noticing. What we lack in grit, we make up for in etiquette.
Bring on the grit!
On Day 3, we cancelled Reagan's final day of ski school (she was exhausted!) so she could ski with us. My husband and I took her down the bunny slope several times to gauge her body control and ability to stop.
All systems go!
We took her up the big chairlift and skied down a Green slope with her that was aptly called "Success." Daddy led the charge, Reagan followed, and Mommy was the caboose (it's the best position from which to scream like a banshee if anything goes awry–that's my job).
I was very impressed with what she had learned at ski school. It was a very special day skiing together and it would not have been so seamless without prior instruction.
Many heartfelt thanks to Deer Valley Ski School for hosting us on our luxury travel. It was the perfect family vacation. We'll be back next year. Grittier than ever.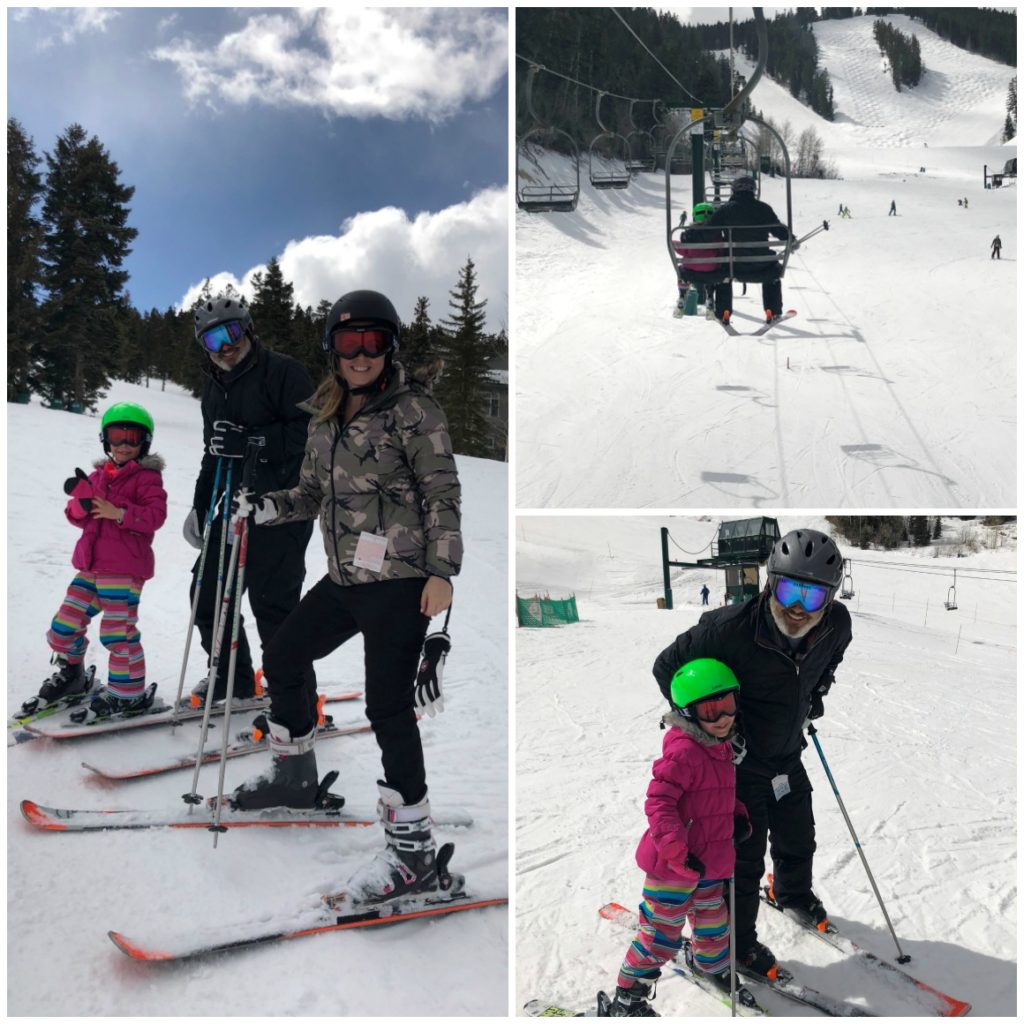 Like this post? Pin it for later!