Disclosure: I was provided complimentary ski school for my son in exchange for review. As always, all opinions are my own. Harry loved every minute of ski school, and I was extremely impressed with Mountain Sports Kids Ranch. Thank you to Jackson Hole Mountain Resort for an amazingly unforgettable learning experience and a wonderful Jackson Hole family adventure.
"Will my kid still love ski school?" I asked myself, as I planned our second-ever ski vacation and Jackson Hole family adventure. My husband and I decided that we wanted our little boy to learn to ski while he is young, because we had never learned as kids and have always felt like we're missing out on a lot of fun.
Last year, we enrolled our son Harry in his first ski school experience in Aspen, and he absolutely loved it. So, I planned us another family adventure ski trip this year, opting to explore Jackson Hole this time.
So did Harry love it as much as he did the first time? YES! Turns out, ski school is always a good idea for kids, even if they already have good beginner ski skills.
We had a wonderful Jackson Hole family adventure, and Harry had a blast at Mountain Sports School Kids Ranch Jackson Hole. Harry loved spending his days re-learning his ski skills. He greatly improved and was a confident skier after just a few days on the slopes.
My husband and I also were extremely impressed with the the quality of care and instruction all of the kids received. And we loved that the location is just steps out the back door of the Four Seasons Jackson Hole Resort where were staying.
Read on for the 5 reasons we know you and your kids will love ski school  for a Jackson Hole family adventure.
---
1- Easy and convenient equipment rental for kids:
We had a great list of kids ski items we packed so that Harry would be ready for ski school. However, we chose to rent most of his ski equipment, which was super easy. The Kids Ranch has a ski equipment rental shop right inside of the ski school. We rented everything we needed for Harry to look and feel like a pro on the slopes.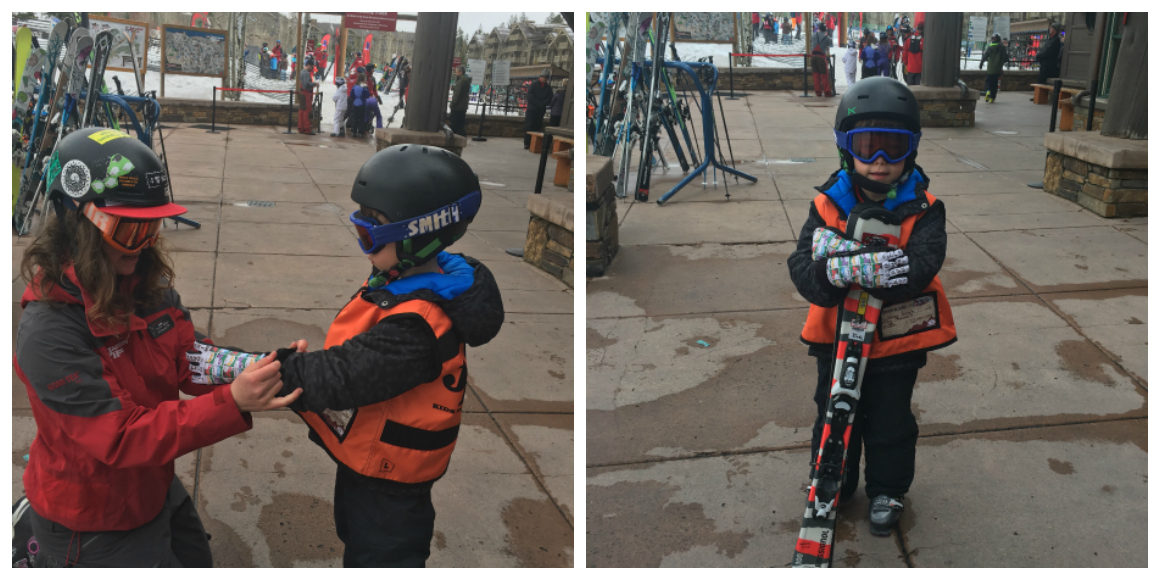 2 – Kids food allergies are taken seriously:
Harry has food allergies. It always makes me a little nervous dropping him off somewhere that food will be served. My favorite part of check in was telling the ski instructors that Harry had food allergies and watching them strap him into an orange ski school vest instead of a red vest. They take the precaution of color coding the allergy kids' ski vests. With the orange vest on anyone who hands him food will be aware of his allergies.
3 – Fantastic, easy-going instructors:
I noticed right away each day how patient all of the instructors were with the kids. They kept the kids in the practice area with the magic carpet each morning.  They made sure each kid had the basics down before they worked on any more advanced skills. I loved that they allowed parents to hang out off to the side and watch the kids learning their ski fundamentals.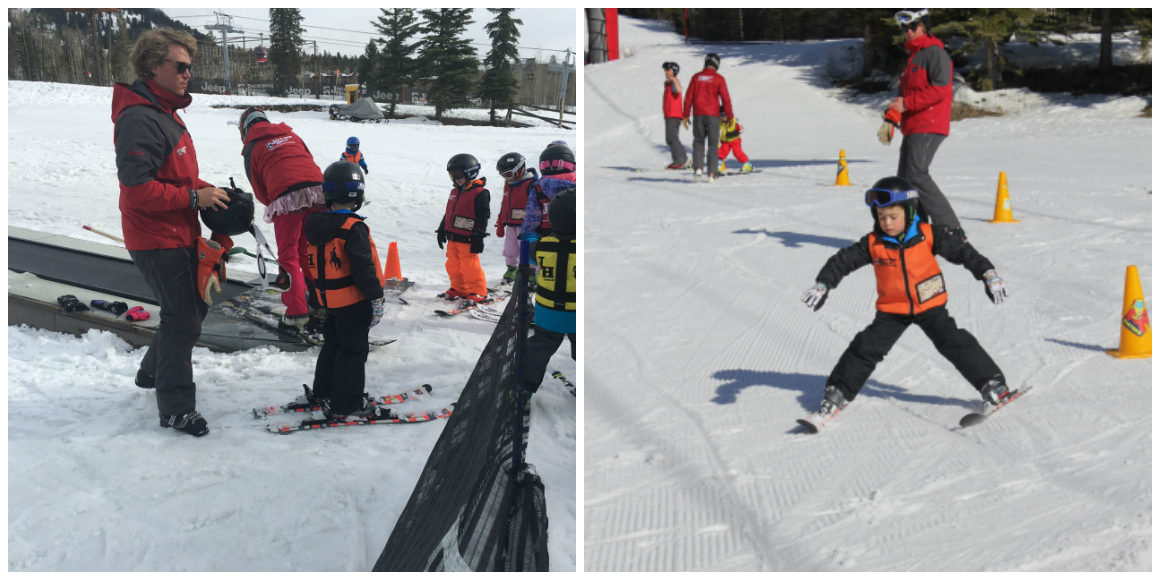 4 – Kids hit the slopes and ride the lifts with the experts:
Once the kids in Harry's group had their basic ski moves mastered, the instructors took them up the slopes to do some real skiing. We had a blast sitting at the bottom, watching Harry and his class finish their ski runs down the mountain.
One afternoon, my husband and I jumped on a gondola ride up to the top to grab a fantastic gourmet lunch at Piste Mountain Bistro.  There we watched the parasailors jump off the side of the mountain with the more advanced ski crowd. On our way back down the gondola, we spotted Harry and his pals skiing below us. They were much higher up on the mountain than we had expected him to be capable of going. It was thrilling to see how he was advancing so quickly with his ski school pals.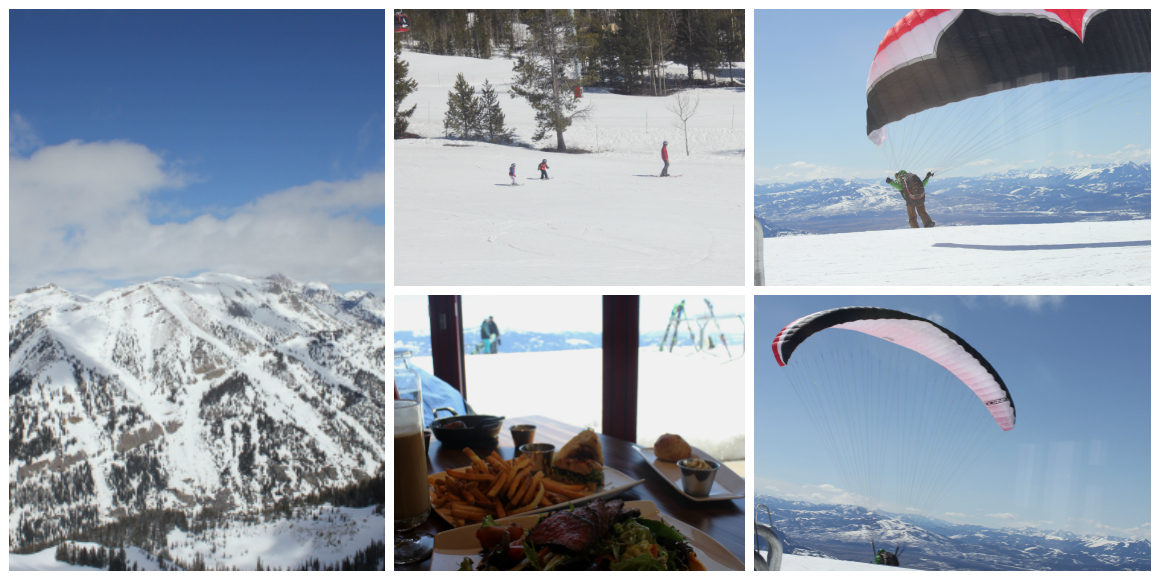 5- Finish the trip with confident and safe skiers:
At the end of Harry's ski vacation, he was truly a confident and safe little skier thanks to the instruction he received. He loved every minute at ski school. We all had a great family adventure in Jackson Hole and cannot wait to return.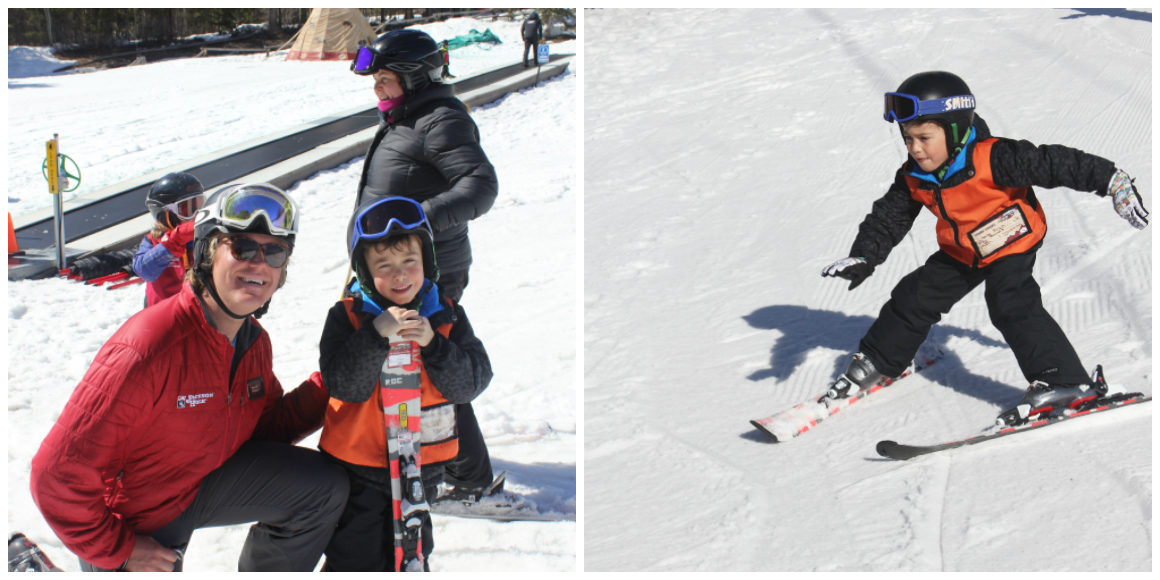 Click the images below to save them to Pinterest!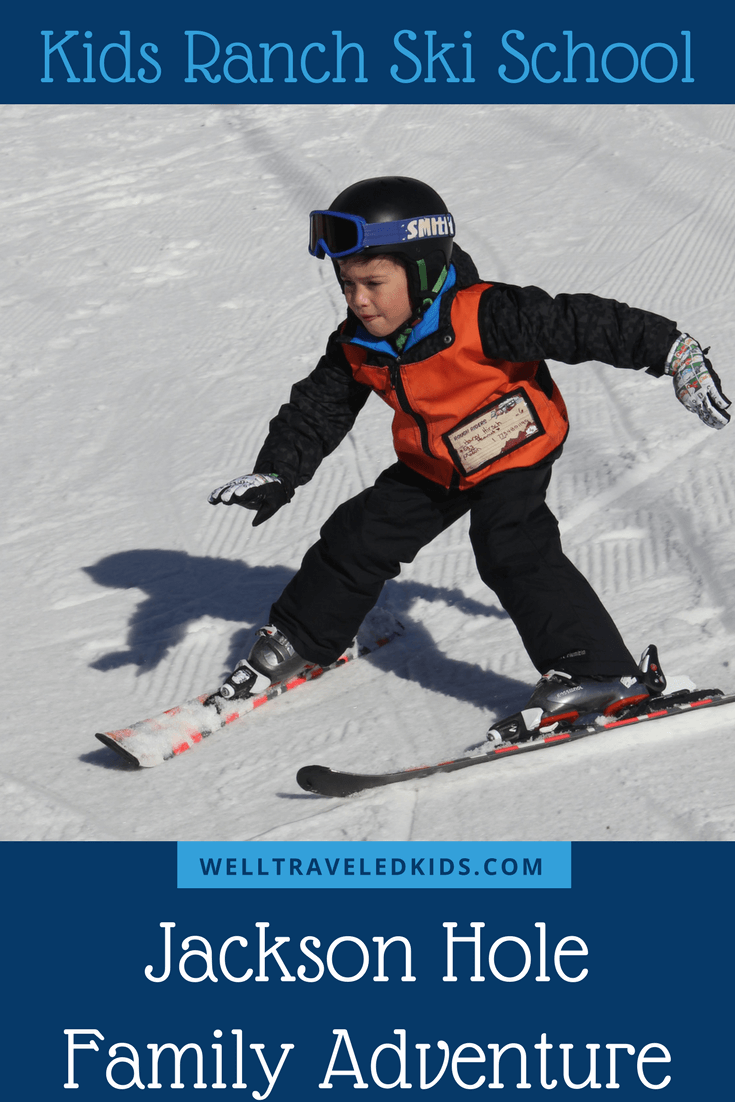 ---