Disclosure:We were hosted by the Waldorf Astoria Orlando  for purposes of this review. Thank you Waldorf Astoria Orlando for inviting us to join you for Enchanted Evenings, we had a blast and hope to return next year! Thank you to Sitters In A Second, Inc. for providing complimentary babysitting for purposes of this review. As expected, your sitters are just as fantastic in Orlando as every other city we've tried. All opinions are my own!
---
Anyone who visits Walt Disney World with their kids can tell you that after a couple of days at the theme parks with the whole family, they feel like they need a vacation from their vacation. This is especially the case in the heat of summer in Orlando. That's why with every Walt Disney World family vacation, I love to stay at a luxury, off-property resort and really relax after exploring the theme parks.
This summer, my 5-year-old son Harry and I hit the wall after two days inside the Disney Parks, enduring temps over 100 degrees each day. On our park days and for the two days after,  we were so relieved to be staying away from all the Disney chaos in the luxury family accommodations at the Waldorf Astoria Orlando.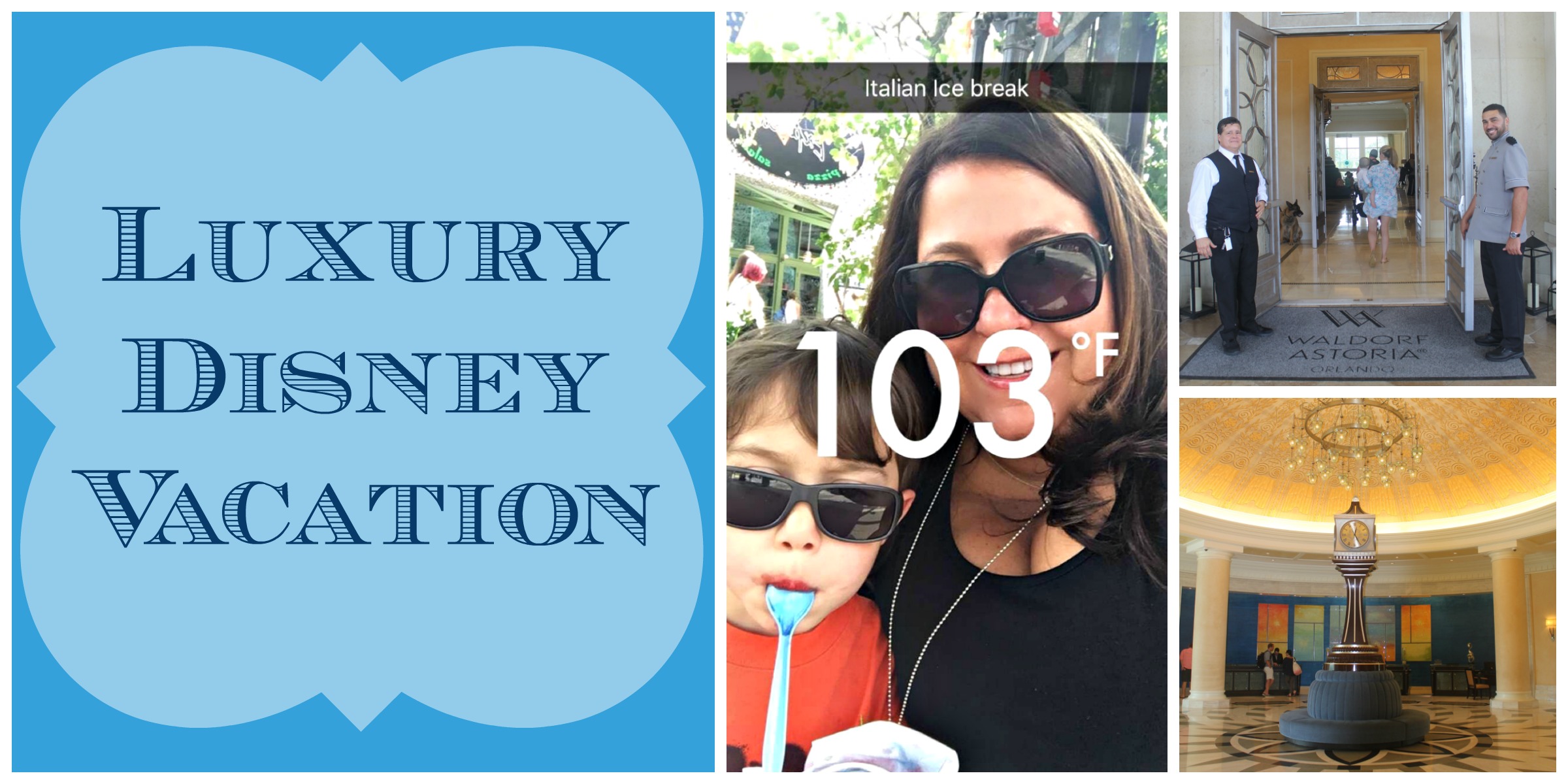 The Waldorf Astoria Orlando is located at Bonnet Creek, which is surrounded by Walt Disney World Resort and very close to the theme parks, but is not a Walt Disney World property. Both Waldorf Astoria Orlando and Hilton Orlando Bonnet Creek have become favorites for our family trips to Walt Disney World. We prefer to see Walt Disney World via a long weekend with park days on Wednesday and Thursday, followed by relaxing at an awesome resort Friday to Sunday before heading home.
Now that's my advice on how you turn your family Disney trip into a luxury vacation while making sure everybody has an amazing family vacation experience. Read on for why we recommend  Waldorf Astoria Orlando and Hilton Orlando Bonnet Creek over and over again to our friends traveling to Walt Disney World for the first time.
A magical oasis:
Located on a beautiful golf course within the Disney grounds, the Waldorf Astoria Orlando is a lovely, magical mirage just a few minutes away from the sensory overload of the theme parks and other Walt Disney World attractions. The convenient location close to the Disney parks allows for quick back-and-forth to the theme parks, which is crucial for families traveling with little ones.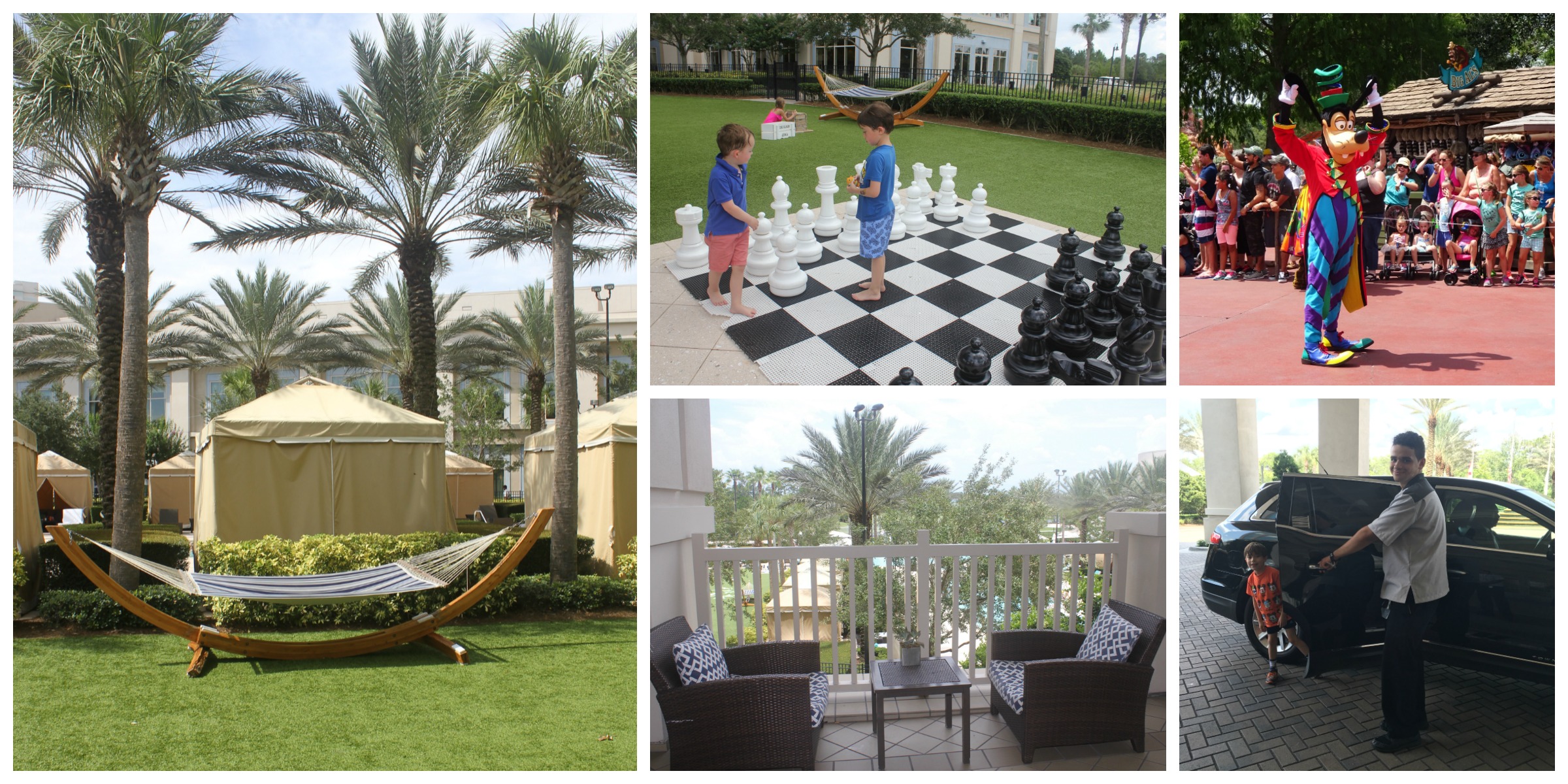 Easy transportation:
The resort offers complimentary shuttle service to the Disney parks at set times throughout the day and also has a line up of black town cars ready to take you anywhere at a moment's notice.
Spacious family suites:
Families of all sizes will have plenty of room to spread out in the luxurious family rooms and suites at the Waldorf Orlando. We loved settling into our two bedroom family suite at the end of a long day at the park with views of the fireworks from our balcony at night.
Curious about the room? Check out Harry's video tour of our room:
Pools and cabanas:
After two days of non-stop park hopping through Walt Disney World, Harry and I were ready to relax and play at the pools. We both love the quiet, relaxed pace of the pools at the Waldorf Orlando. Now, it felt like we were really on a luxury vacation. Relaxing poolside with my Prosecco popsicle summer cocktail, I would've never guessed that the Magic Kingdom was just down the street.
The summer sunshine and heat in Orlando is no joke. Even a day at the pool can be too hot at times. That's why Harry and I loved having a cabana poolside to escape the hot sun on our skin from time to time. The cabana made it more comfortable to relax and have lunch by the pool, and Harry always loves a little Disney channel on the cabana television.
For a little more splash action, we walked over to the Hilton Bonnet Creek Pool, which is connected by a path and features water slides, a lazy river, and kids activities all day poolside.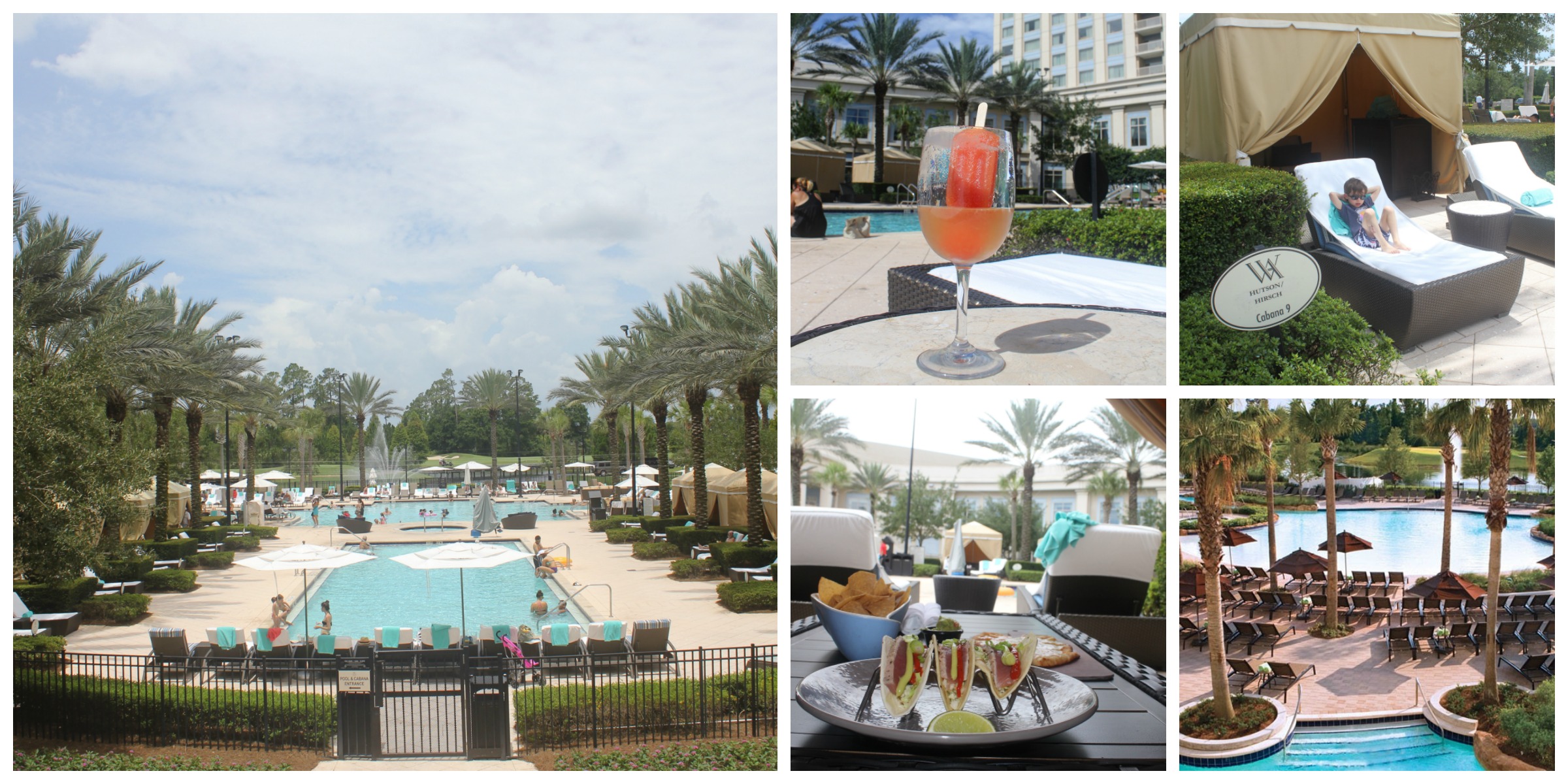 Delicious and healthy dining options for the whole family
:
Nothing beats ordering room service in your PJs after a long day inside the Walt Disney World theme parks. I was happy to feed Harry a little something nutritious before bedtime, and he loved the idea of eating late night in bed. The room service was also perfect for a quick breakfast before hitting the parks. What's better than starting the day with Mickey Mouse pancakes delivered to your room?

On the days we weren't rushing to get to the park, we made sure to get up in time for the grand breakfast buffet at Oscar's, which was easy to do even when we slept late because they were open till 11 a.m. Breakfast at Oscar's is a family favorite. Even when we often stay at the Hilton Bonnet Creek, we always walk over to Oscar's for breakfast. Complete with fresh juices, smoothies, fruits, meats, cheeses, homemade waffles, French pastries, Champagne and more, it's by far one of my favorite luxury hotel breakfasts of anywhere that we travel.
This was the 6th time we've stayed at the two Bonnet Creek resorts over the last two years, and it was fun that many of the friendly staff at Oscar's recognized us and welcomed us back.
---

Enchanted Evenings:
Waldorf Astoria Orlando runs a special weekend program during the summer months. Called Enchanted Evenings, the program includes special, low summer rates on weekend stays and awesome activities the whole family will love. The Waldorf invited us to stay for the weekend to experience Enchanted Evenings, and we loved every minute!
All summer long, the fun starts Fridays at 1 p.m. with Water Walkers at the pool. The Water Walkers were a huge hit with the kids. As soon as the pool staff brought them out, all of the kids rushed in to try this awesome experience of walking on water inside of a ball. Harry told me he loved it so much he pretended to be hamster.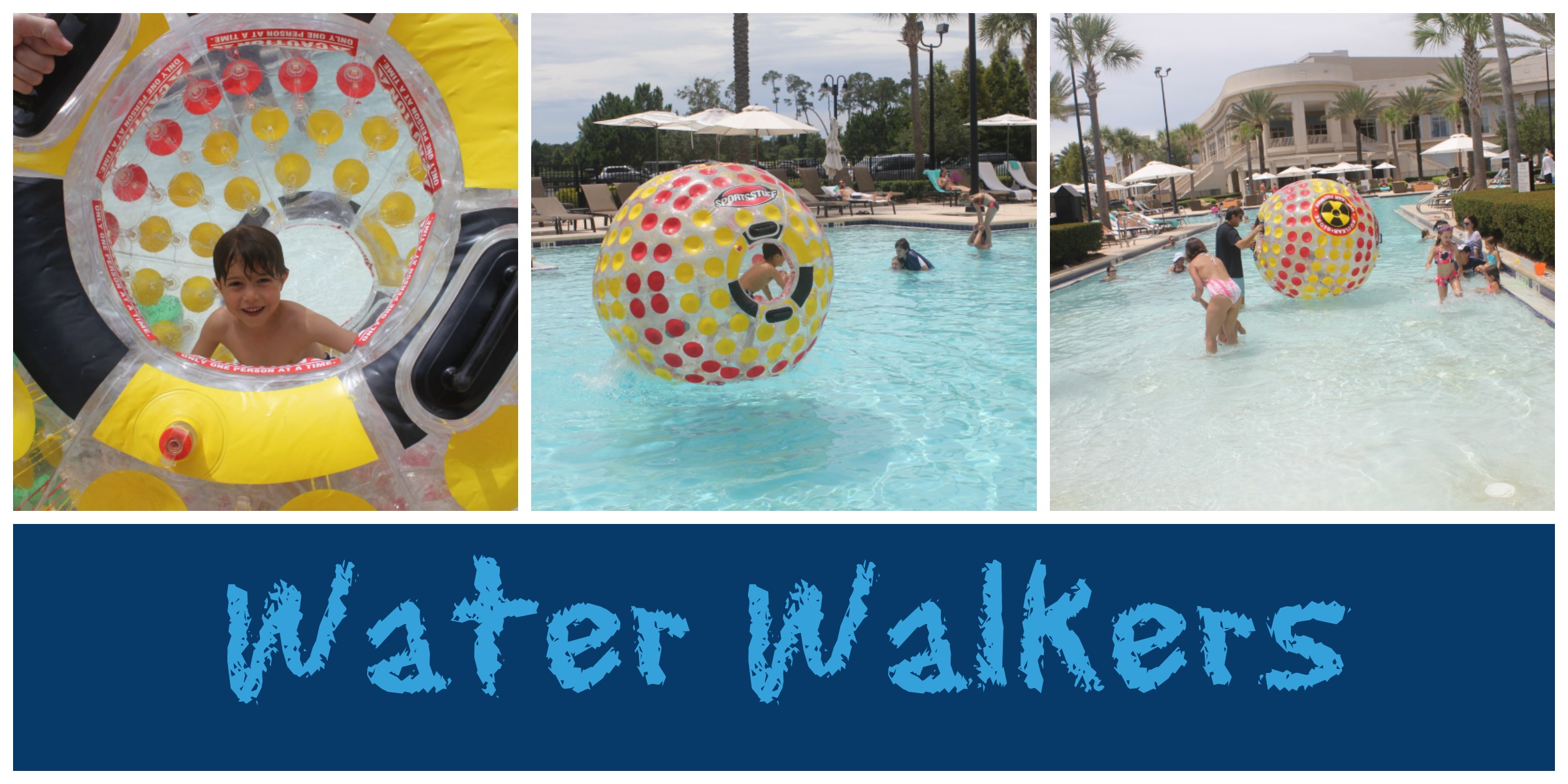 Guests arriving later in the day will kick off the weekend with a complimentary Champagne check in starting at 3 p.m.—no better way to kick off a luxury Disney vacation than with a complimentary glass of Champagne.
Next, we participated in a family scavenger hunt that took us all around the Waldorf and over to the attached Hilton Bonnet Creek, where we saw the annual cupcake contest, featuring what had to be the world's largest cupcake.
On vacation, ice cream is a must! The Friday afternoon Weird Science Ice Cream Social was a blast. We watched the hotel's mad scientist create magical ice cream flavors using liquid nitrogen and yummy treats.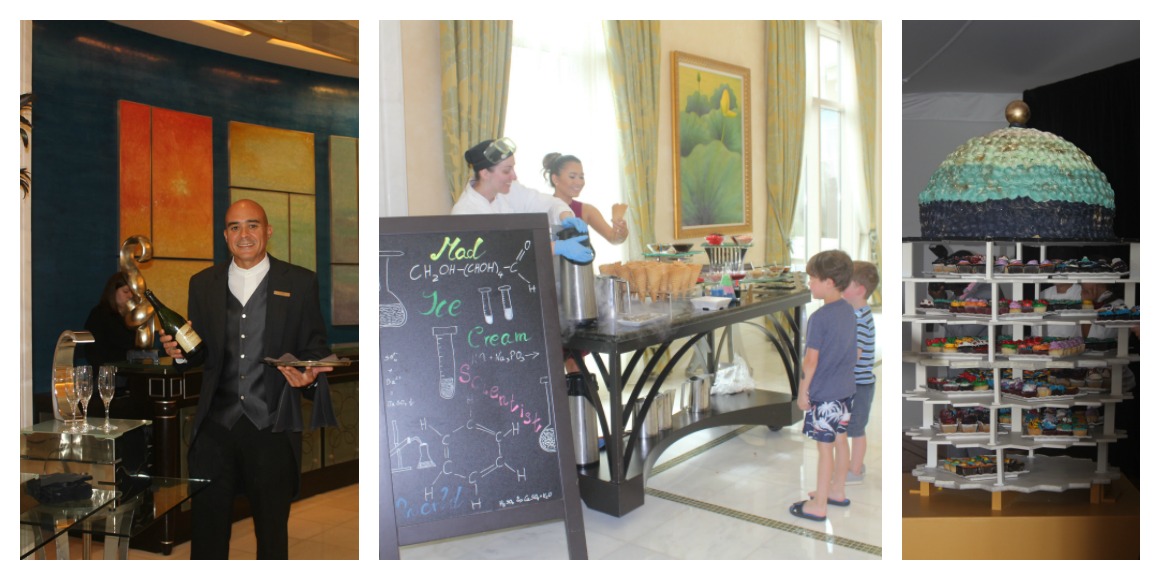 On Friday and Saturday nights, kids can experience Kids Club Astoria After Dark: Kids Night Out. Harry loved playing with the other kids at the fully staffed kids club and taking a break from parents to enjoy an evening just playing and having fun with other kids. The kids did all sorts of activities and crafts, had dinner, and ended the night making s'mores at the poolside fire pits.

While Harry was partying at Kids Club, I headed to the spa happy hour, offered on Friday and Saturday nights. I enjoyed a blissful pedicure while sipping Champagne and nibbling on chocolates at the gorgeous Waldorf Astoria Orlando Spa—a heavenly experience.
Next, I enjoyed an adult dinner at Bull & Bear, the resort's steakhouse. Everything—from the views of the perfectly groomed golf course, to the iPad they give you to view the full-picture menu, to the tasty dishes with artistic presentation—makes this restaurant stand out as a fabulous retreat from the craziness of Disney.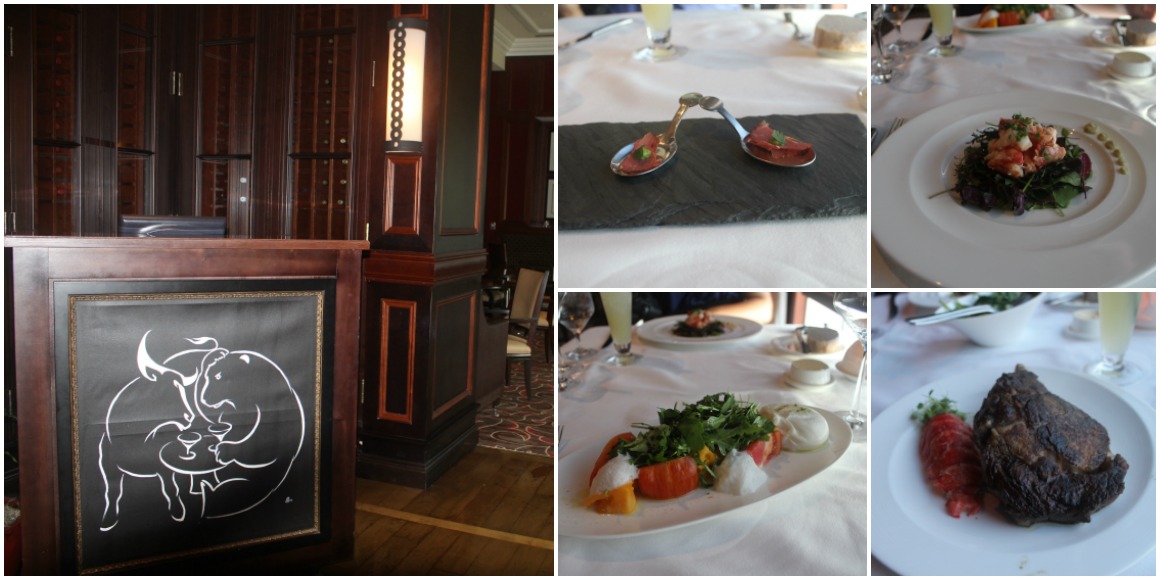 After the meal, l headed to Peacock Alley to enjoy live music and a dessert of decadent chocolates and fine Champagnes on the Bar du Chocolat before picking Harry up from the Kids Club. When we arrived back in the room each night, we were entertained in our PJs watching all of the parks' fireworks from our balcony.
The rest of the weekend was full of more pool and cabana time. On Saturday, we chowed down on the poolside tapas al Fresco at Aquamarine. The house-made naan and schwarma were out of this world!

We had an amazing time experiencing the Enchanted Evenings package at the Waldorf and would love to do it again next summer. The extra activities added to the fun and gave us new ways to bond as a family on vacation without having to leave the luxe resort.
We tried to fit in every activity offered during our weekend stay, but missed the family Drone Maze Race, poolside yoga, and the family Royal Tea. All the more reason to plan a trip back next summer during Enchanted Evenings!
---

Sitters In A Second, Inc.:
If you follow my travel writing, you already know that I love Sitters In A Second, Inc., and have worked with them many times over the past two years in several cities throughout Florida and California. Each experience with Sitters In A Second, Inc. has delivered outstanding child care for Harry, and I've always trusted the quality of background checks and security measures they do to make sure to send me only the best hotel babysitters in the industry.
This was my first experience using Sitters In A Second, Inc. in Orlando. When I booked my trip, I was thrilled that they regularly work within the Waldorf Astoria Orlando. I booked a sitter for a four-hour time slot mid-morning so I could have a break. I requested on my paperwork that they send a sitter who loves to swim with kids and is ok if Harry has a friend along.
When I submitted my babysitting request, I received a note back that said they did have the perfect sitter, who also happened to be a lifeguard, the morning I requested. They even noticed that I forgot to include Harry's allergies on the form, and asked if he was still allergic to eggs, peanuts, dogs, and cats. I was blown away that they remembered that about Harry, especially since they hadn't sat for him in six months, when we were in Palm Beach.
It's that kind of attention to detail that makes Sitters In A Second, Inc. stand out as an amazing child care company.
Harry had a blast playing with his friends and Amanda the babysitter all morning. Amanda took the boys to breakfast, played with them at the pool and in the room while I enjoyed a little time to myself, relaxing in my poolside cabana with another Prosecco popsicle cocktail.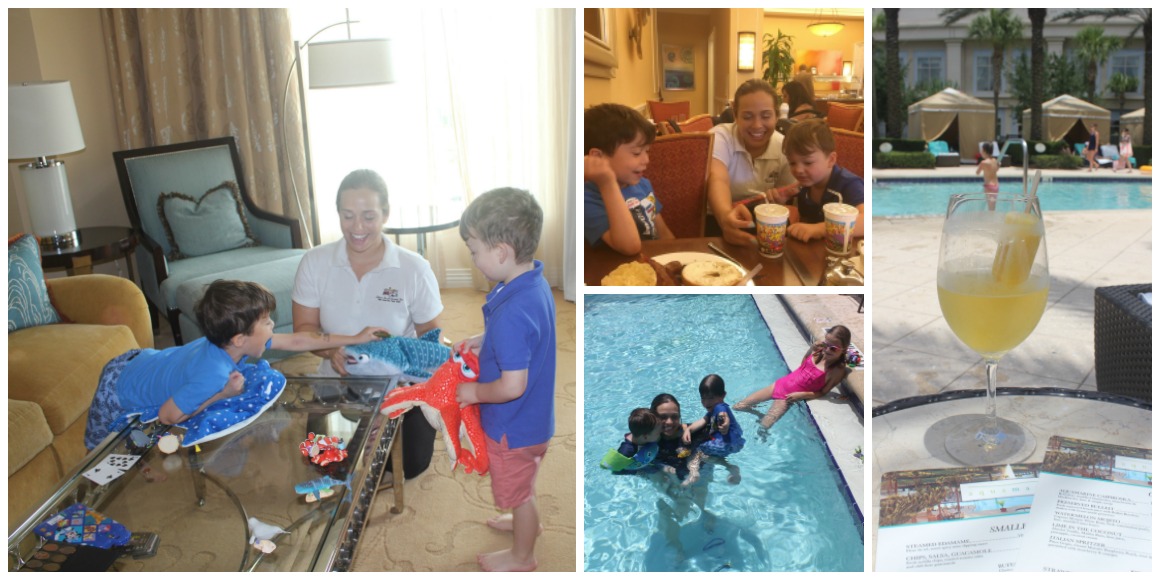 ---
Want to remember this for your next trip to Walt Disney World? Pin it for later!