For more than 100 years, Palm Beach has been the quintessential, luxurious South Florida vacation spot. The Kennedys and Hollywood royalty frequented the area, mingling among the gorgeous ocean front mansions, white sand beaches, and palm trees.
There are only a few hotel properties on the island of Palm Beach, and The Breakers Palm Beach Resort is by far the most famous. It had been on my bucket list of luxury family beach resorts for as long as I can remember.
Finally, I made it to visit Palm Beach, booking our family vacation stay at the Breakers Palm Beach for my birthday this year. I couldn't have made a better decision: The Breakers Palm Beach Resort is absolutely extraordinary and made for the perfect family birthday celebration.
There's so much to see and do during a stay at The Breakers, you will want to book a reservation for at least three nights to make the most of the resort. Read on for my tips on making the most of your first stay.
---
Plan to be wowed by all the little details that make The Breakers Palm Beach sensational.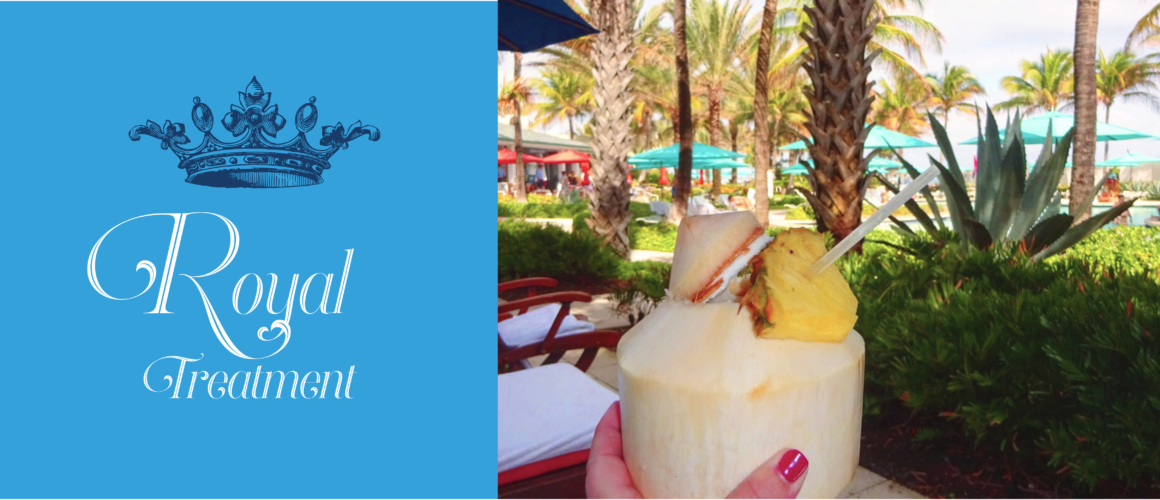 Top Notch Customer Service: It's clear that The Breakers understands that amazing customer service is key to making a luxe vacation memorable. The focus on happy stays begins even before arriving at the resort and continues throughout the entire experience.   
I received a pre-arrival text message from guest services the morning we departed Chicago for Palm Beach. I loved that they were already checking on me to make sure our vacation would be perfect. I sent a text back saying that we would be arriving late that night and wanted to make sure that our room would be feather-free because of our allergies. I also requested that housekeeping make the pull-out couch into a bed for my 5-year-old son Harry because he would likely be sleeping by our arrival.
When we arrived after midnight, everyone from the valet to the front desk to our friendly bellman treated us like royalty. We were thrilled to open the door to our room and find that all of my requests for the room had been carried out, and we could tuck Harry right into bed.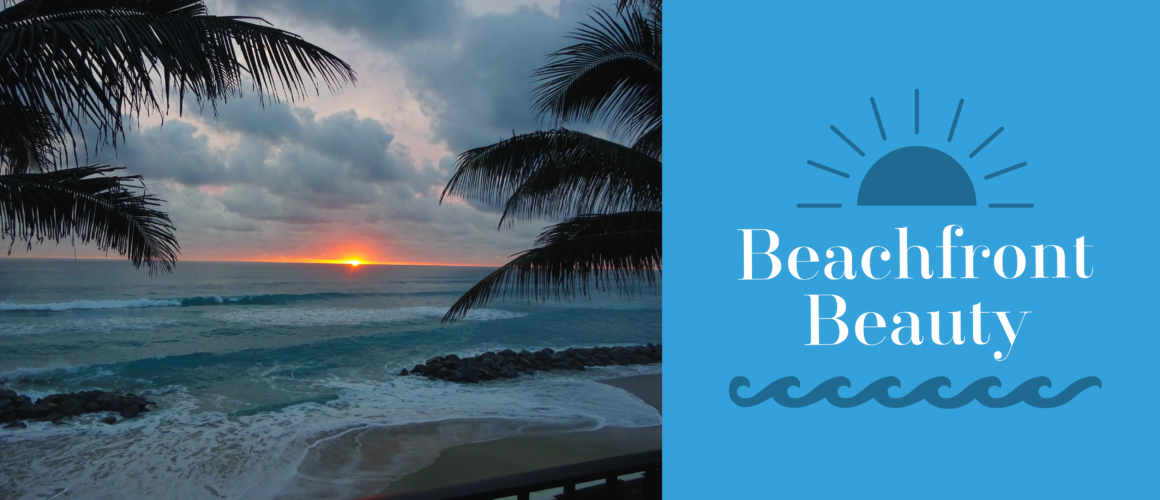 Beachfront Beauty: From the moment we cruised down the palm tree-lined drive and onto the stunning resort property, I fell in love with Henry Flagler's grand historic hotel.
Considered the founding father of Palm Beach, Henry Flagler built the original hotel in 1896. The present resort building was opened after two previous incarnations burnt down, and is every bit as stunning today as I can imagine it must have been when it was when built in 1926.
I love immaculately maintained historic hotels that the owners preserve to their original glamour. Henry Flagler's heirs still own the hotel, and the family commits a minimum annual investment of $25 million to keep the space pristine. When touring the property, my tour guide informed me that due to the annual spend, there's always something new and exciting each season when families return to vacation at The Breakers.
Marvel at the majestic ballrooms fit for royalty: Exploring the hotel is a treat and really transports you back in time to the fabulous roaring '20s. Note the hand-painted ceilings by artisans from Italy and gorgeous tapestries imported by Henry Flagler that adorn the regal ballrooms. I can see why celebrities like Sophia Vergara and Joe Manganiello chose this magnificent spot to throw an elegant Palm Beach wedding celebration last December.
Splurge on an oceanfront room: Our oceanfront room was entirely enchanting. Its balcony and floor-to-ceiling windows were poised literally right over the ocean. It was so beautiful at night because the resort lights up the beach with spot lights so that you can enjoy the beauty of the waves crashing on the shore. We loved sitting out on our balcony to enjoy the beautiful beauty of Palm Beach.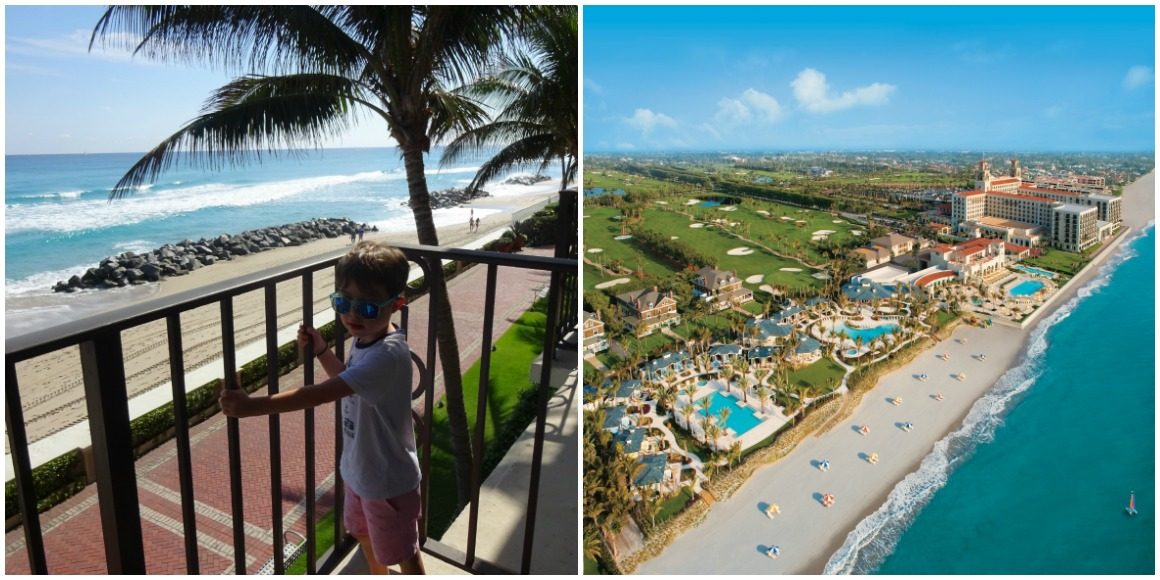 Normally we are not morning people, but with this view we made it a priority to set an alarm to catch the most glorious sunrise—a perfect way to start each day.
Explore the island of Palm Beach: The Breakers Resort boasts a 1/2 mile of private beach to play and build sandcastles. Bike rentals are available for touring the island or riding along the resort as a family. Take a walk or bike into town, and check out the local shops and restaurants.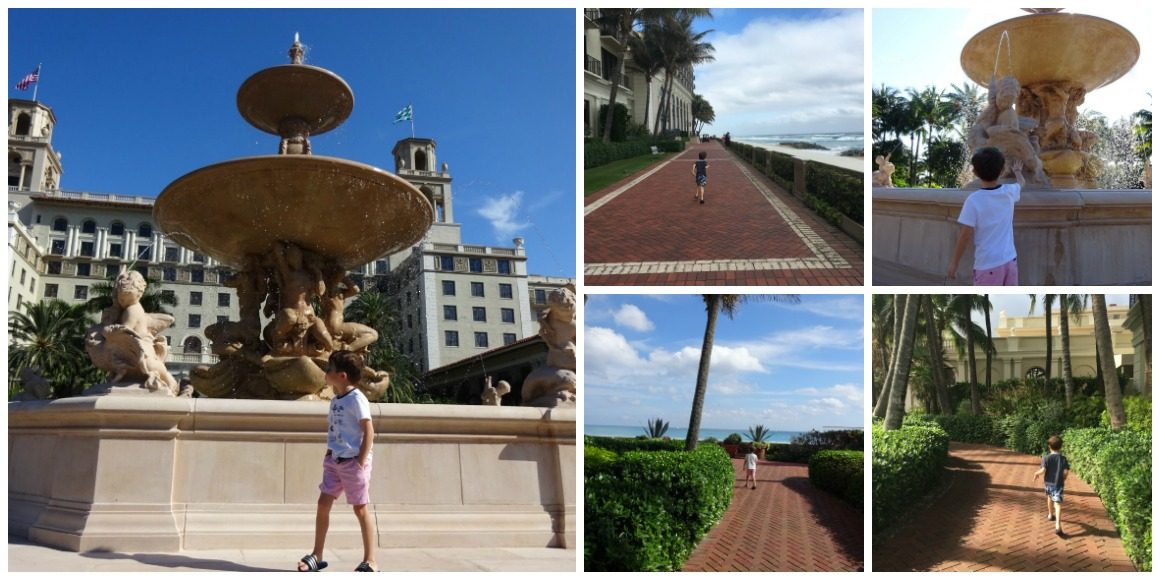 Stroll the beach walk throughout the property: Our favorite activity was strolling the beach walk around the hotel and checking out this gorgeous structure and pristine landscaping, as well as all of the beautiful pools and unique restaurants and shops.
---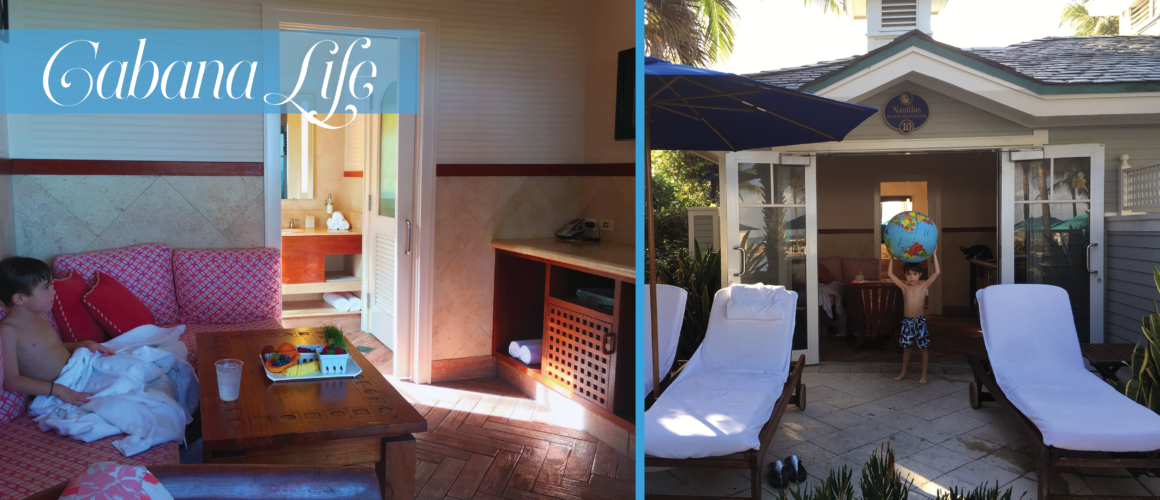 Relax and enjoy the poolside bungalows: There's no shortage of refreshing pools at the resort. On my birthday, we spent the day in one of the deluxe bungalows by the active pool. We ordered lunch from our friendly personalized concierge, and sipped on a variety of vacation drinks including a piña colada served inside of a real coconut, mocktails and spritzers for Harry, and a delicious lunch dining al fresco.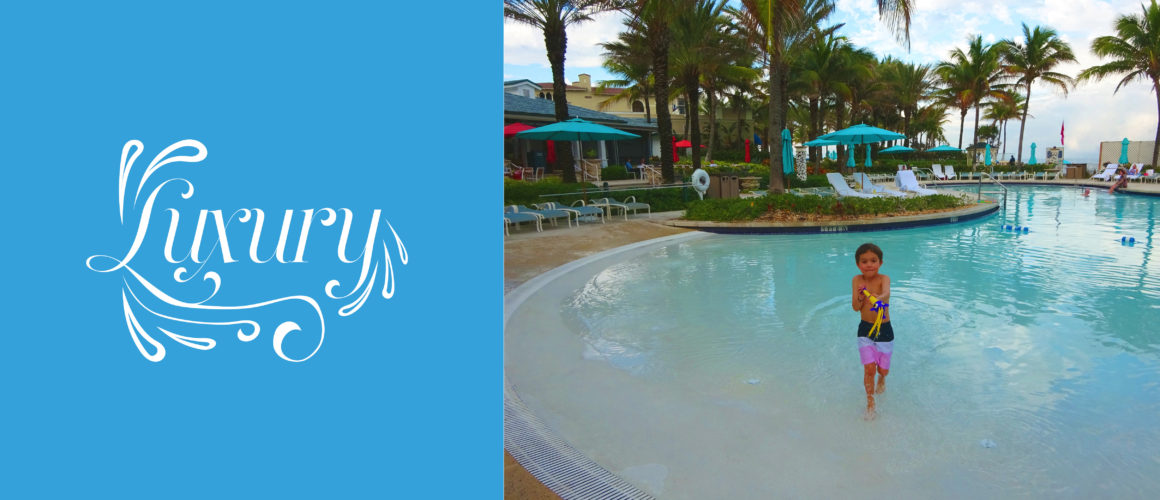 Then, we kicked back and watched some TV, and Harry played on the Playstation 3 games provided in the bungalow. The bungalow also had its own beautiful bathroom, complete with a private outdoor rain shower, which was Harry's favorite feature. I'll never forget how much fun he had dancing and singing in the outdoor rain shower.
Sign your kids up for Camp Breakers: Camp Breakers is housed in a very impressive Family Entertainment Center at the resort. Kids can sign up for a half-day or full-day experience. I signed up Harry for a morning of camp, and he loved it so much that he refused to leave midday and wanted to stay for the full afternoon session.
I found the Camp Breakers experience to be excellent. The camp counselors are all Breakers employees fully trained in CPR, AED, and first aid. The camp maintains a one-to-six counselor-to-child ratio for land activities and a one-to-four ratio for swimming activities. I was impressed with how organized each day's schedule for the camp is and how wonderful each of the counselors was with the kids.
The camp is divided into 2 distinct groups based on age: Long Boards and Short Boards. Each day is structured around components of Learn, Play, and Grow, and will include an icebreaker, fitness, crafts, education and a Breakers dining experience.
Harry attended on a sports-themed day. His counselor Leonard was fantastic. I popped in to spy as Leonard worked on crafts with the kids, played games outside and inside, hit the playground, played some sports, and dined in the Ocean House Restaurant as a group with the counselors at lunch. I couldn't blame Harry for wanting to stay all day. They were all having a blast together.
Camp is flexibly scheduled and priced per morning session (9:00 a.m. to 1:00 p.m.), and full-day session (9:00 a.m. to 3:00 p.m.), as well as evening (5:30 p.m. to 9:30 p.m.). Although I didn't use Camp Breakers at night, I did see lots of kids there in the evenings. I'd definitely consider this for a future stay to let Harry play with other kids while we head out to an adult dinner.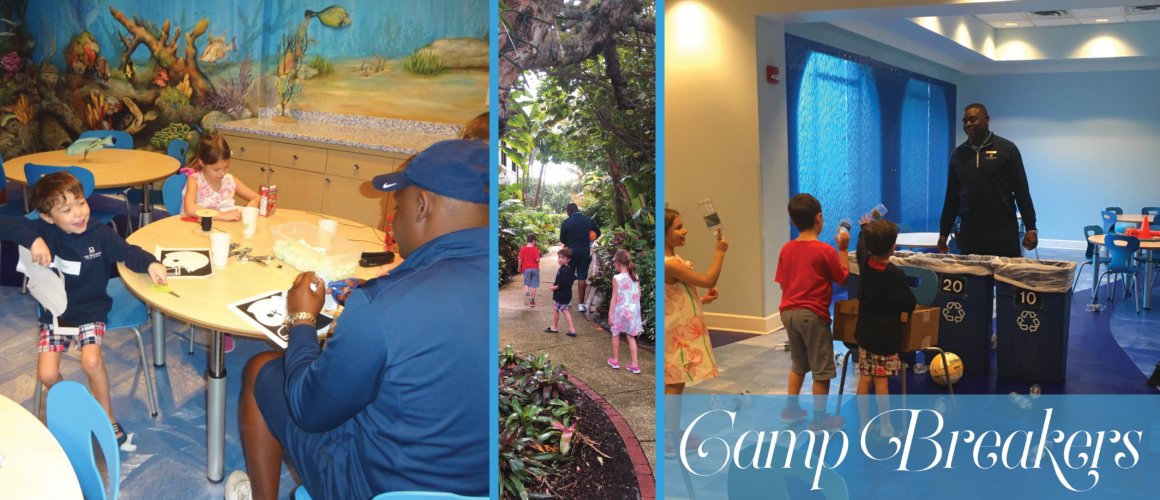 ---
Indulge in some quality time at the newly re-opened luxury spa:
While the kids are at Camp Breakers, be sure to treat yourself to a worthwhile visit to the newly renovated spa during your stay. The
dramatic $8 million renovation of
The Spa at The Breakers
exudes timeless elegance at the resort's coveted destination for personal renewal. It was so great, I wrote a post dedicated to my spa experience.
Click HERE — Read all about The Spa at The Breakers – You are gonna love it!
---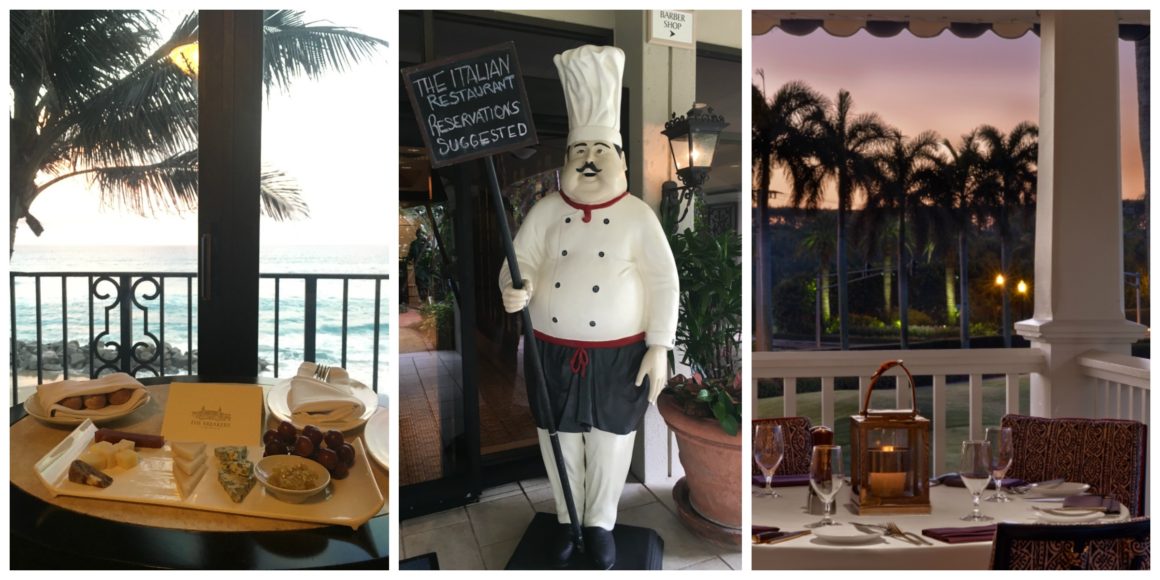 Feast: With eight restaurants and bars serving everything from cocktails to pressed juices, signature drinks to nitrogen coffee, there are many great tastes to enjoy while staying at the resort. Room service was a treat with our amazing ocean views. We were so impressed with the dining offerings during our stay that we never found it necessary to leave the resort for anything.
Click HERE — Read all about the dining options at The Breakers – They are all amazing!
Play together at the Family Entertainment Center: We loved spending time together at The Breakers' Family Entertainment Center. Not only is this home to Camp Breakers, but the 6,100-sq. ft. complex is open daily for families to enjoy together even if kids aren't enrolled in the Camp.
Helpful resort staff members float throughout the facility at all times while guests enjoy the arcade and playrooms for toddlers and bigger kids. The outdoor playground is state-of-the-art and includes an interactive game area that's loads of fun.
In advance of our trip, we hired Sitters In A Second, Inc. to come babysit on my birthday so that my husband and I could plan an evening at Flagler's Steak House to celebrate. Harry and his babysitter had a blast playing outside on the playground and in the arcade.

Check out the resort activities and entertainment guide for the most fun family: Each day at The Breakers, check the list of resort activities for families. Harry loved the animal stuffers event that was very similar to visiting a Build-a-Bear Workshop without leaving the hotel. Harry also loved the seashell splendor activity and glitter tattoos. Next time, we definitely want to rent bikes and do the guided bike tour of the island.
Go shopping: Hitting the shops at The Breakers was a big part of the fun while staying at the resort. I loved exploring all the boutiques and finding awesome clothing, gifts, and snacks. I purchased some gorgeous kids clothes at Coconut Crew in the Palm Court and shopped for new threads for myself and my husband at Ralph Lauren and Lilly Pulitzer.
Say YES to turndown service: The ending of each night at The Breakers is extra sweet with the delightful turndown service. Delicious custom-made seashell cookies were tucked on our pillow each night of all different varieties, including white chocolate, chocolate-dipped, or Meyer lemon. The perfect sweet goodnight kiss from the resort.
Want to Keep this for planning future luxury family vacations with kids? 
Pin it for Later!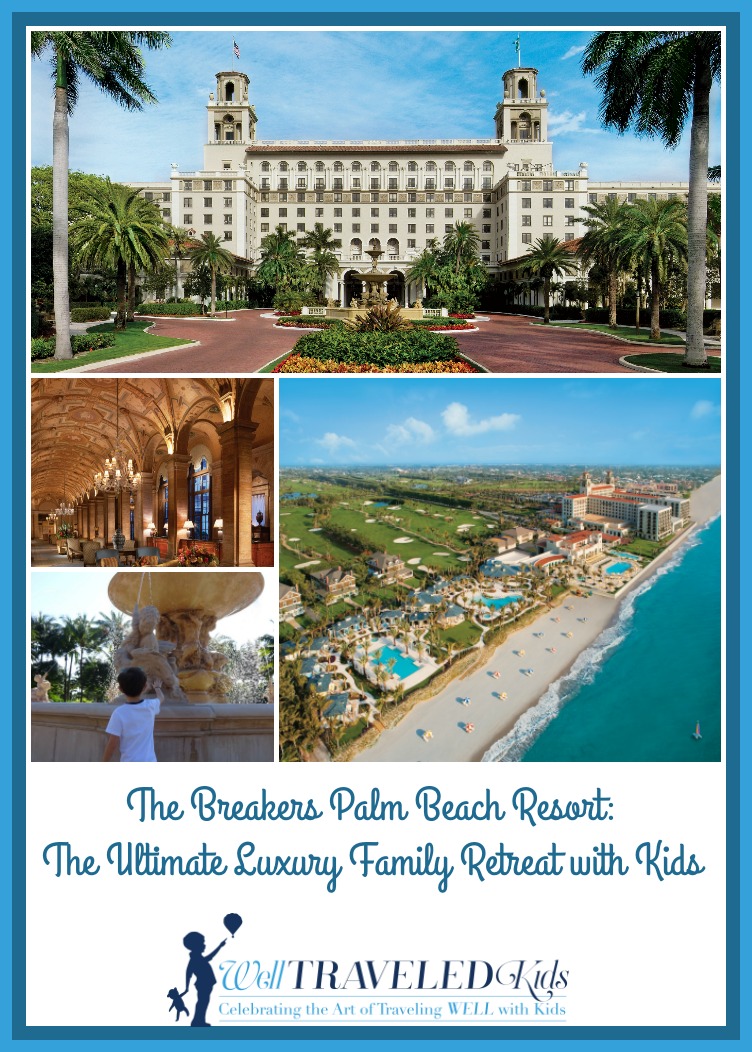 Thank You to The Breakers for the discounted media rate for our room. Thanks so much for the complementary visit to The Spa giving us several complimentary meals all  for purposes of review. We had a blast and it was a Birthday celebration I'll never forget! I can't wait to return again next winter and see what's new at this gorgeous resort.
---
Photos courtesy of The Breakers Palm Beach Resort