Ask any parent who's planning a family vacation what they want most when traveling with their kids. Deep down, I think we all want to plan an incredible family vacation full of memories that will last a lifetime. Traveling well with kids is easy to do with a little practice!
Here's some of my best tips for traveling well with kids on your next family vacation:
Plan ahead.
Visualize every step of the way — from packing to leaving your house for the airport to coming home. Start planning a week before your trip and make a list of everything you'll need. Add to your list every day as you remember little things.  You will have thought through everything by the time you head out on your family vacation. You're much more likely to have a successful trip with the kids when you've visualized it all ahead of time.
---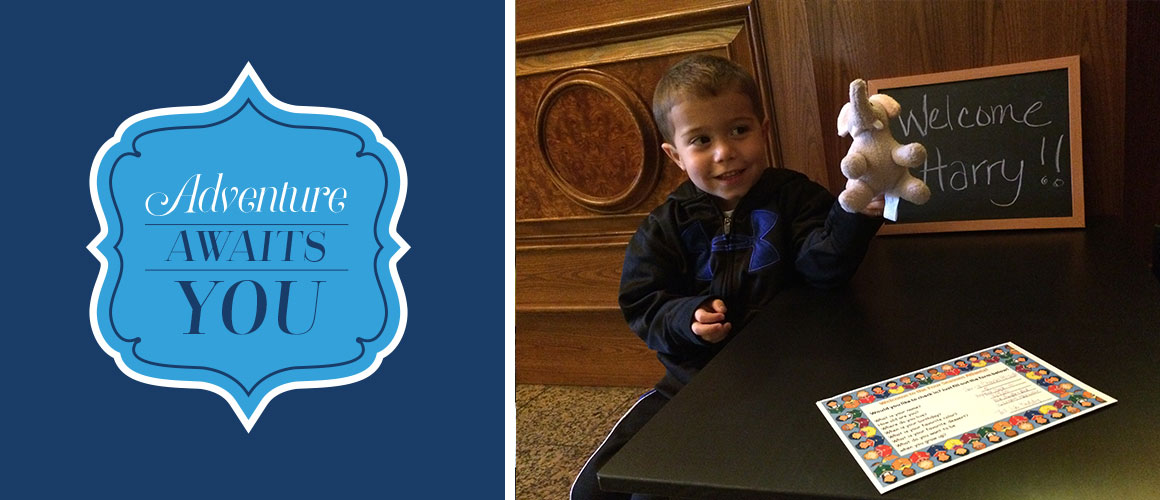 Connect directly with your hotel ahead of time.
Always call ahead and ask your hotel if they do anything special for kids. There are many fine hotels that go above and beyond to cater to families. Some of our favorite hotels have treated my son Harry like royalty during our stay.
Be sure to let hotels know if you're celebrating a special milestone as a family birthday or anniversary. Don't be afraid to politely ask for an upgrade.
Surprises are overrated when it comes to traveling with kids.
Rehearse ahead of time with the kids. Let them know a week ahead what the plan is. Walk through the entire experience. Surprising kids is exciting, but I've heard lots of stories where it has backfired and the kids are caught off guard making it not as fun as the parents hoped.
---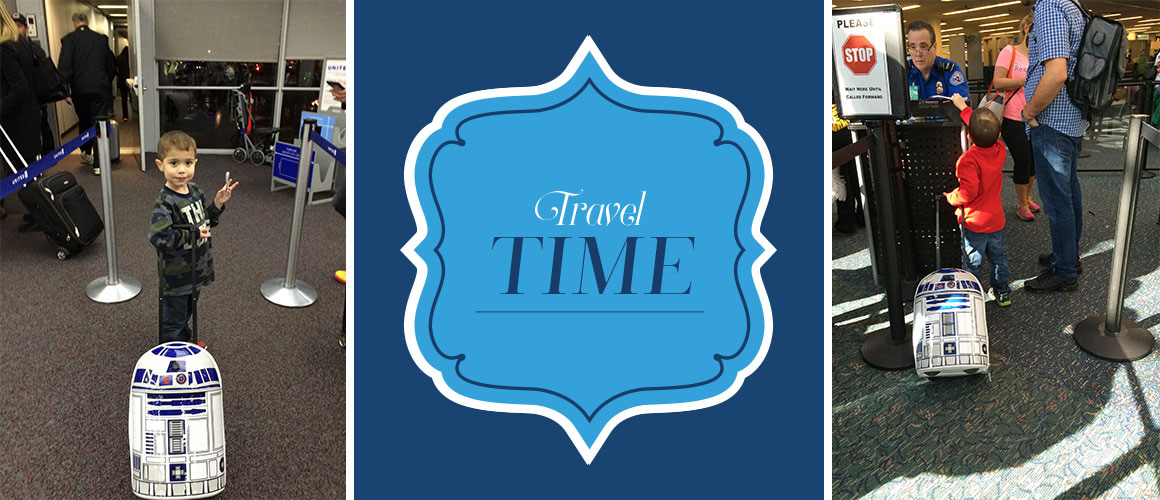 Kids should have their own bag.
My son Harry loves having his own suitcase.  Kids can help carry some of their own healthy snacks, activities, toys, cards and art supplies.
Click Here – See the 10 best items to pack for flying with toddlers!
Be prepared when flying with baby.
Come prepared with enough diapers, extra clothes, snacks, bottles and emergency medication to prepare for any unexpected flight delays.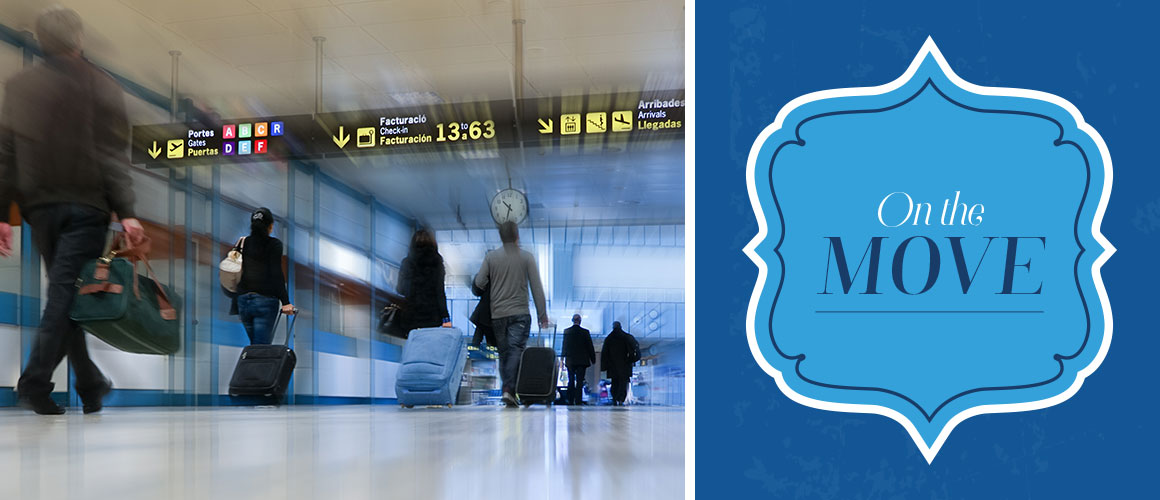 Bring along your favorite baby gear.
When flying with a baby, you can check all of your baby gear for free — stroller, car seat — and it won't count against your checked bags on United, American and most major airlines.
Click Here – Read about our favorite travel essentials for traveling with kids that you won't want to forget on your next family vacation!
Don't overschedule.
Sightseeing trips are great and it's good to have a list of things you want to do, but just pick a couple of things you want to accomplish each day and leave the day open to see through your kids' eyes.
Prioritize sightseeing.
Make a list of what adults prefer and another of what kids want to do. Do the adult activity first, and then the kid one next as a reward and they can run wild and have a good time.
---
Never underestimate the value of an off day.
We find everybody bounces back if you don't do two major sightseeing days in a row. Kids love to build sandcastles on the beach or splash in the pool and it makes for a more enjoyable activity time the next day.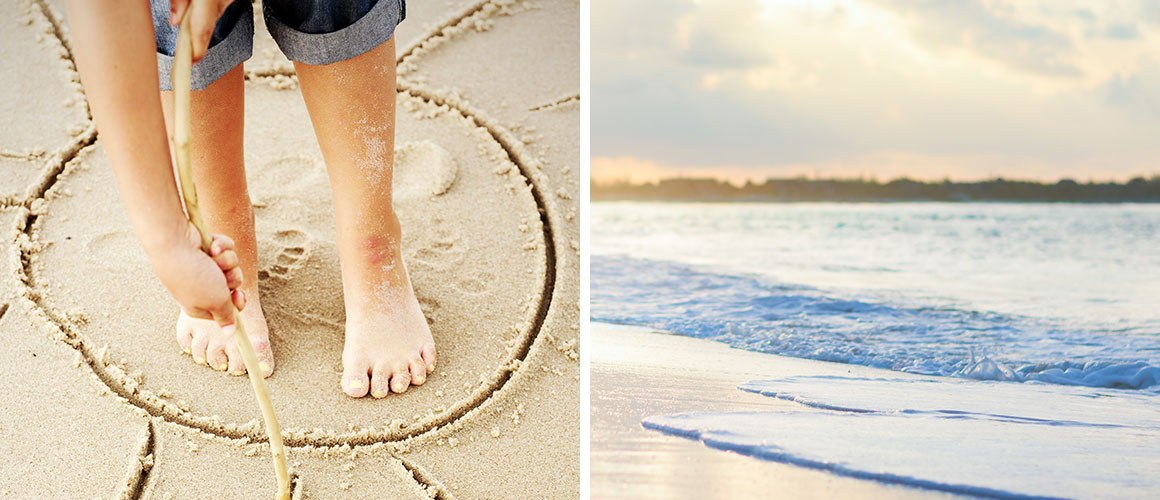 Remember you are all vacation.
Splurge for help to make it a family vacation and not feel like work. Hire a porter at the airport to help drag your bags. Rent cars with car seats so you don't need to bring your own. Book a spacious family suite so you can spread out and play with the kids. Maybe hire a hotel babysitter or book a resort with a fun kids club so that you can enjoy a date night.
Relax and be flexible. 
Anything can happen on a family vacation. Stay positive, relaxed,  and be resourceful if plans change or weather doesn't cooperate. Sometimes the best vacation memories are made from decisions made spontaneously when other plans fail.
---
Like this post? Pin it for later!