If you were to ask me to pick my easiest family vacations, I would have to say the two summers we rented a house with my parents and sister's family at the Beachwalk Resort in Michigan City, Indiana.  Now, a week in a house with your relatives may not sound like your idea of calm, but Beachwalk makes it easy, relaxing and enjoyable for small families or larger groups to spend time together or apart, outdoors or indoors,  engaged in all sorts of activities or just chilling out in a beautiful setting.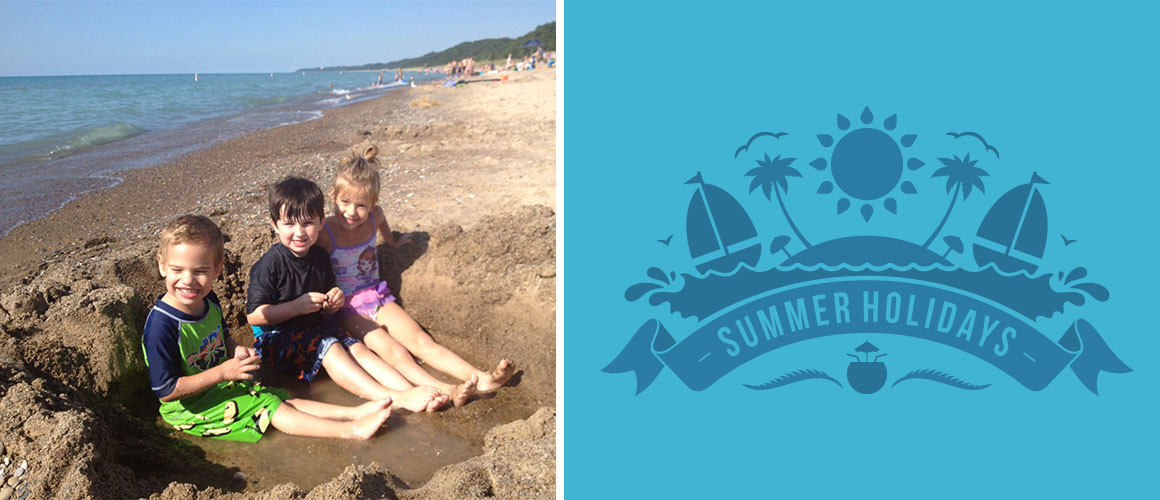 Beachwalk is a resort "village" of adorable, candy-colored beach homes. Some are used exclusively by their owners and many are available for rent. Our favorite, "Grandma's Cottage" (cute house names are mandatory at Beachwalk), had five bedrooms (including a bunk-bed filled dorm for all the kids), a big, open kitchen, and screened-in porch.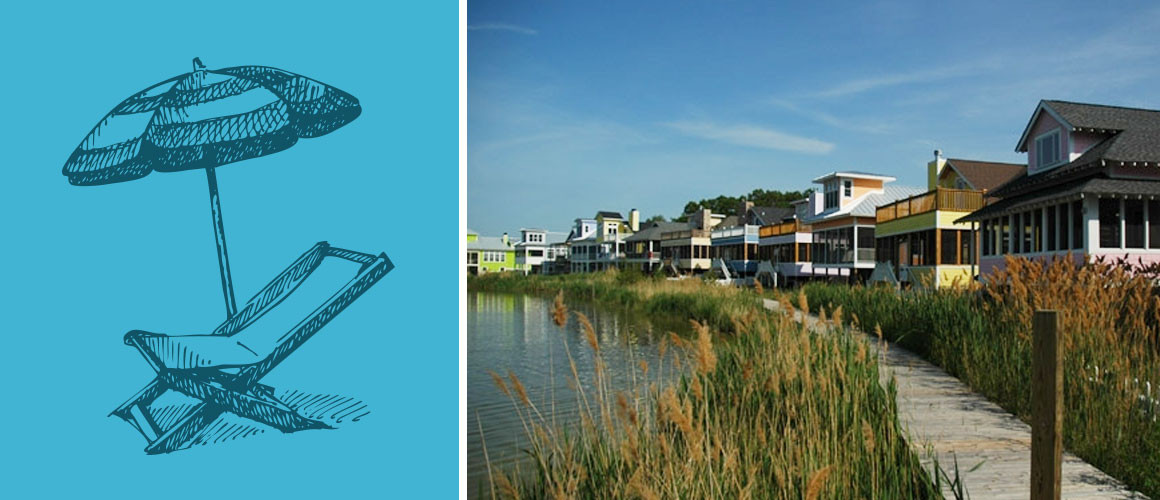 ---
Among the many rental properties along the shores of Lake Michigan, Beachwalk is special because it offers so much more than just a house.  In no particular order, here are my top ten reasons for renting at Beachwalk:
The Location.  Michigan City is only a couple of hours drive from Chicago, Indianapolis, Detroit, and all places in between.  One year I even drove my oldest back home for the day to attend her middle school orientation in the Northern Chicago suburbs – no problem!
The Beach.  Just across the road from Beachwalk is an expansive, almost untouched stretch of Lake Michigan shoreline.  Jump in the waves, dig in the sand, climb the dunes, and relax on a beach that never feels crowded no matter how many people are there.
The "Little Beach".  Right in the center of Beachwalk is its own private lake, complete with a family friendly strip of sand, rental kayaks, paddle boats, and stand-up paddleboarding, as well as docks for fishing.  It's perfect for toddlers or those windy days when Lake Michigan is too rough.
The Pool.  It's a big one and there are always plenty of other kids and families to play with.
The Cute Towns.  Driving north on the Red Arrow Highway brings you to New Buffalo, Michigan and other small towns with great family dining and shops.  Oink's ice cream and Redamak's hamburgers are not to be missed!
The Playground.  Kids of all ages can spend hours at the huge Beachwalk playground.  It has climbing structures, slides, rope swings and more.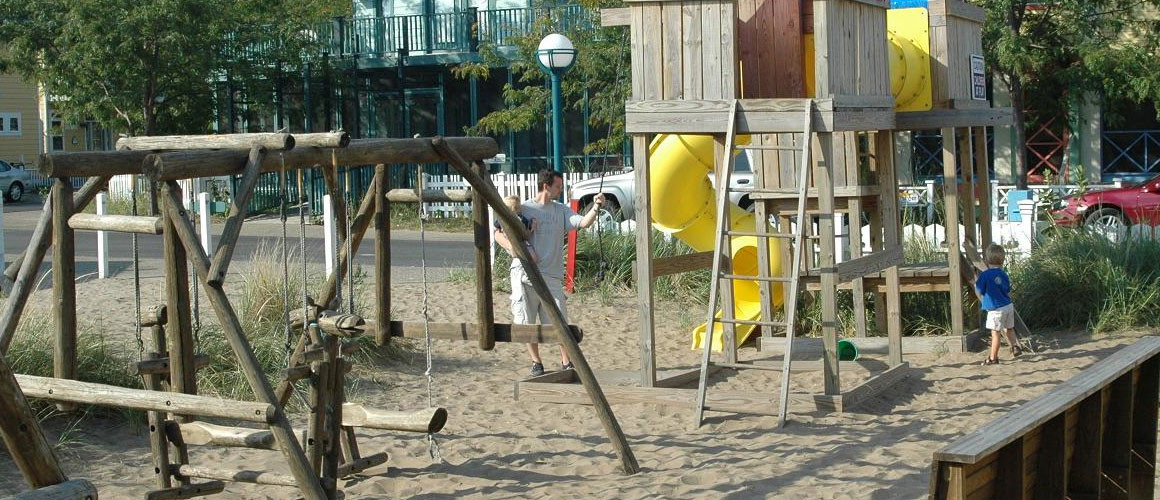 The Ice Cream Truck. Every night at 8 pm.  Need we say more?
The Attractions.  Michigan City's Washington Park Zoo is only a five minute drive from Beachwalk.  Two Children's museums  – the Curious Kids Museum and related Kids' Discovery Zone are close by in St. Joseph's, Michigan.   Blueberry picking is up the road outside New Buffalo.  Add in the bowling alley and movie theater and you have a great itinerary for rainy or chilly days.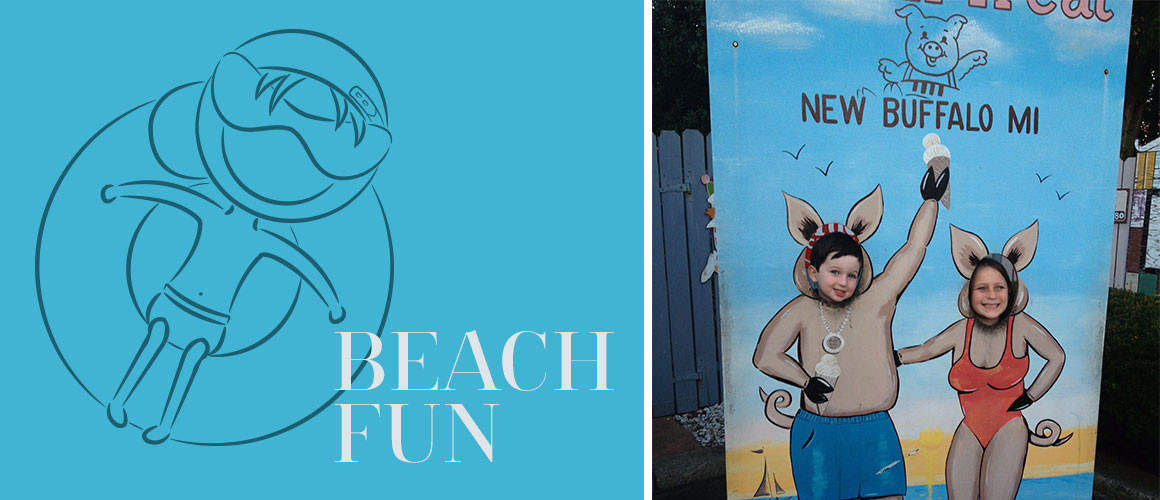 Living with 12 people for a week never felt crowded at Beachwalk.  It's truly an ideal vacation spot that requires little planning or schedules or structure.  And isn't that what vacations are all about?
---
Photo credit:
Playground (www.beachwalkvacationhomes.com)
Homes on the water (www.beachwalkvacationhomes.com)