When I found out that Chef Jean-Georges Vongerichten was behind the Kauai Grill at the St. Regis Princeville Resort, I had to make a reservation for my family. The Jean-Georges Steakhouse in Las Vegas and the Pump Room in Chicago (both Vongerichten creations) are two of my favorite restaurants.
There was no way we could pass up the Kauai Grill experience during our first trip not only to the St. Regis Princeville, but also to the island of Kauai. I scheduled our reservation for pre-sunset, so we could look out on the peaceful bay and lush foliage of the mountains beyond.
Immediately when my husband and I walked in, we picked up on the sexy, date night ambiance. The urban chic décor—all modern fixtures, round tables, and intimate lighting—made us feel like honeymooners.
But not exactly like honeymooners, as our four-year-old son Harry (a year shy of the St. Regis' kids club age limit) was tagging along with us. Harry has traveled his whole life, and typically he's very well behaved.
However, as any parent will tell you, four-year-olds aren't known for their predictability. As the hostess led us to our table, I crossed my fingers and hoped that Harry would be good. Looking around, I noticed that other families had brought their children, too—a date spot, but clearly children were welcome.
Our family of three couldn't wait to settle in and check out the menu. For something to sip on as we looked over the dinner options, my husband and I ordered pineapple mojitos—one of the Kauai Grill's signature cocktails. We planned to try other drinks, but they were so delicious, we ordered another round of the same.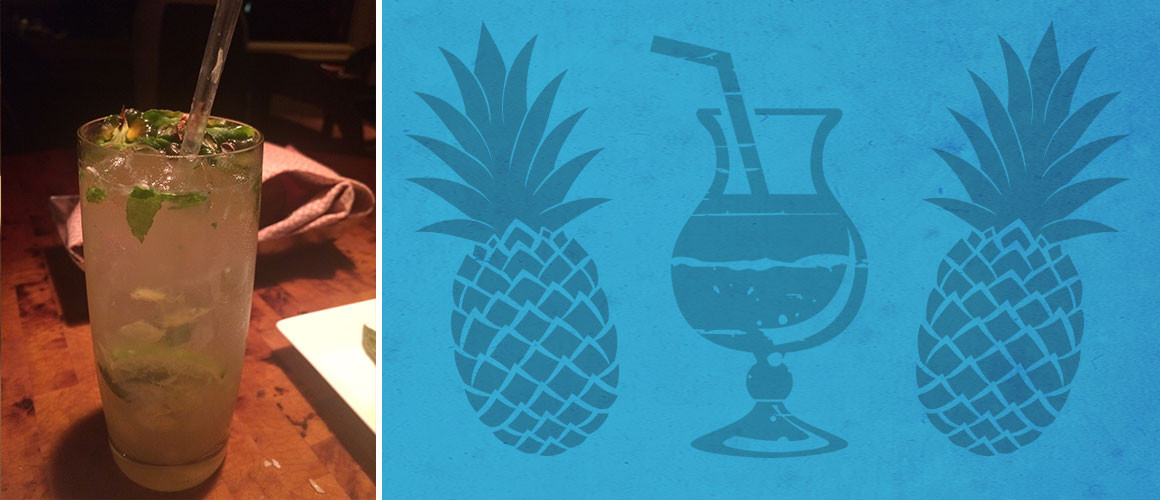 ---
Despite the romantic feel of the restaurant, I was surprised to see that they had
a kids' menu, full of kids' favorites but with a healthier twist
—grilled organic chicken, shrimp skewers, sautéed carrots, and more.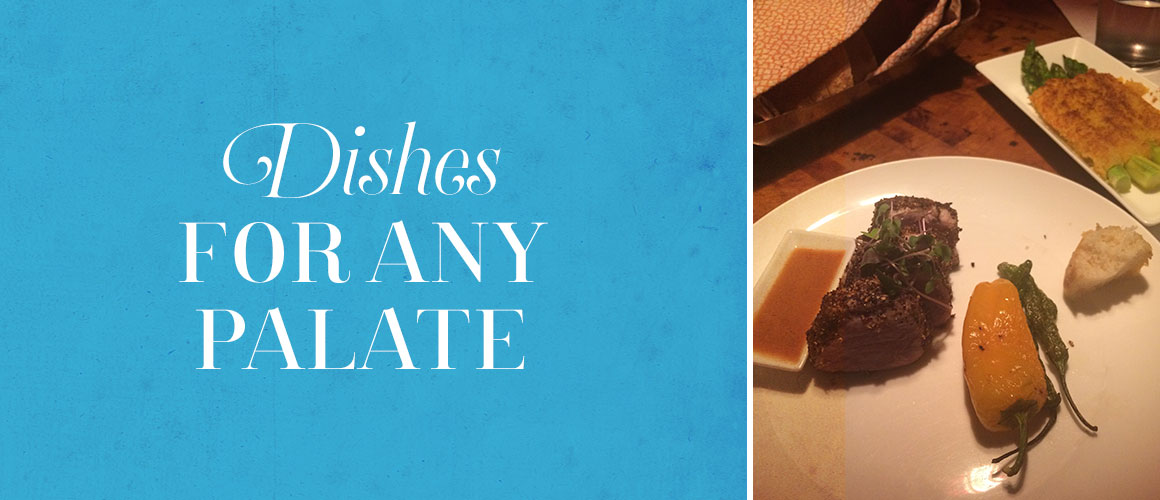 ---
Harry, ordered the grilled mahi mahi with rice. The chef was even gracious enough to prepare an off-menu side of cucumbers and carrots because Harry loves them so much.
My husband and I stuck with seafood, too—a must in Hawaii. I went with the sautéed hapu'upu'u, which came with a lotus root-radish salad dressed in sesame vinaigrette. My husband ordered the grilled Sichuan peppercorn-crusted bigeye ahi tuna. Absolutely memorable.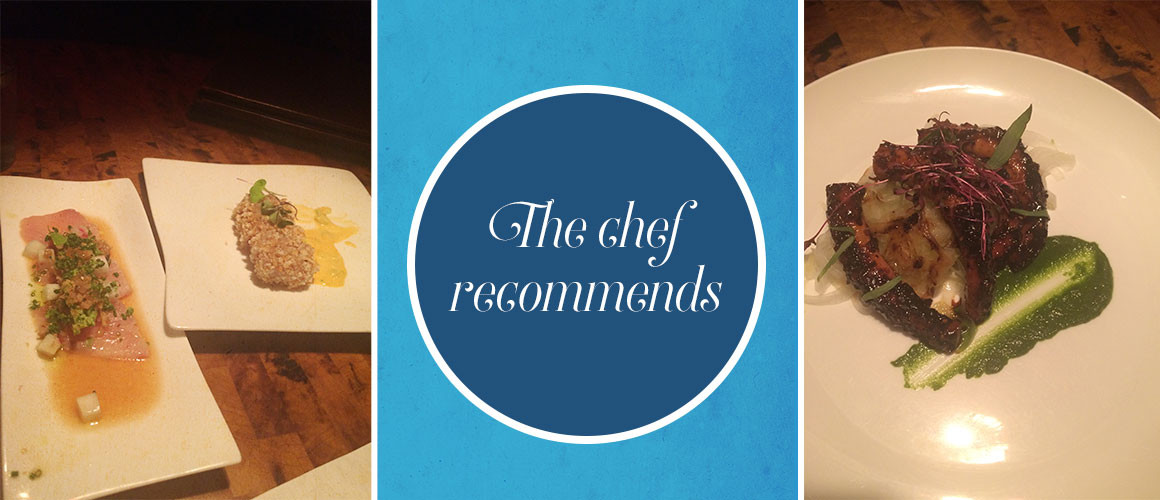 ---
For appetizers, we had Hamachi sashimi, rice cracker-crusted ahi tuna, and grilled black pepper octopus. Each item somehow tasted even better than the one before, and we were thankful for the waitress' guidance on staff favorites.
The waitress also recommended a side of grilled asparagus with lemon zest. The flavor was amazing—I only wish there were some place local I could find it at home in Chicago! And just as with the pineapple mojitos, we ordered a second round.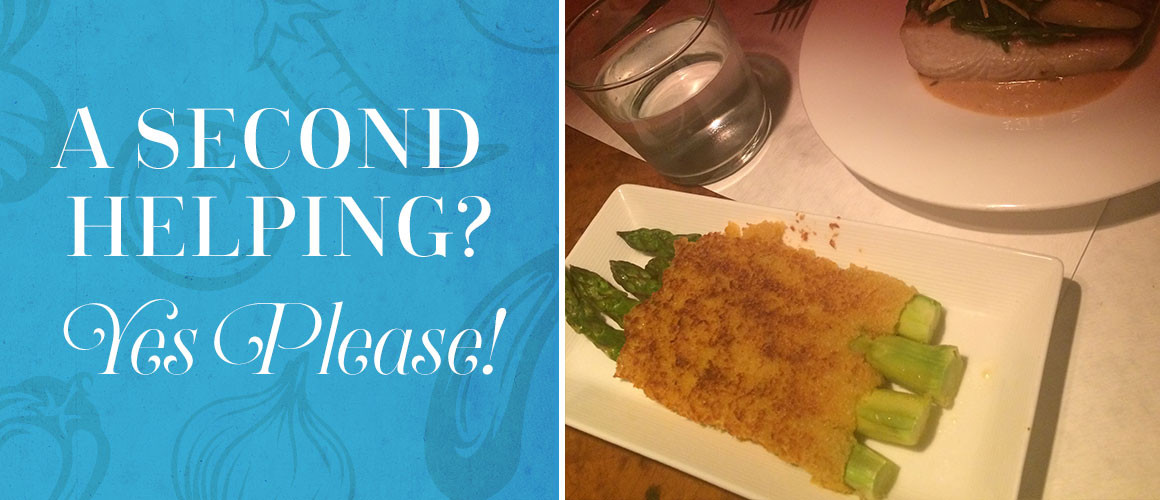 ---
Of course after dinner, it was time for dessert. Harry had fresh fruit while my husband and I split the salted caramel ice cream sundae topped with popcorn, peanuts and fudge. We'd go back for that alone.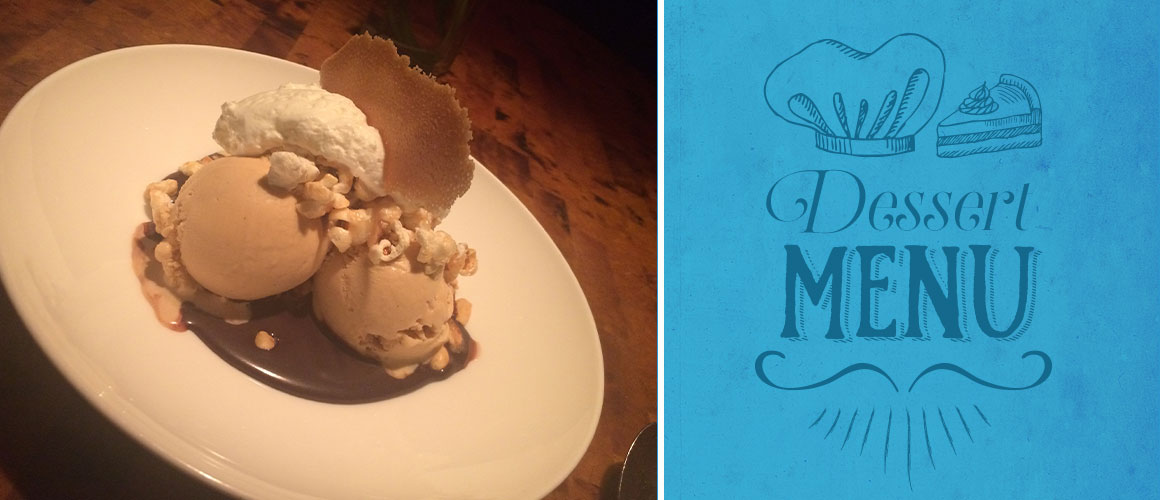 ---
Whenever we're on vacation, we pack a change or two of nice clothes for a fancy date night. Kauai Grill was the perfect spot—whether you have your kids with you or not.
You don't have to be a guest of the St. Regis to dine at the Kauai Grill.  Make sure to book an early dinner reservation so you can enjoy the sunlight sparkling on the Hanalei bay. There's nothing like fresh seafood in Hawaii, and the Kauai Grill definitely lived up to our expectations, in the most magically intimate setting.
We were guests of the Kauai Grill  for purposes of this review. As always, I give my honest opinions no matter who is picking up the check.