Are your Kids Gluten Free?
In the ten years since my two oldest girls were diagnosed with celiac disease, we had never traveled for more than two nights without access to a kitchen – until now. On our vacation to California in December we learned to ride all-terrain vehicles. We saw our first Joshua Tree. And, most significantly for me, successfully fed everyone a strict gluten free diet for a full week. It was a great gluten free vacation!
---

Traveling with a Gluten Free Child
When you travel with a gluten free child, you give up some spontaneity in exchange for peace of mind (and for kids who aren't always hungry and complaining). But as more restaurants and locations become "gluten free friendly," traveling gluten free is getting easier and easier.
Here are my top tips for vacationing with a gluten free family member, most of which also apply for any food allergy travel:
"Yelp" for Help.
Websites such as yelp.com and findmeglutenfree.com are the best source for finding local restaurants with gluten free options. Google "gluten free" and your chosen vacation spot and you are likely to find that someone has gone before you and checked out the best gluten free places to eat, and then blogged about them.
Pay for the Breakfast Buffet.
$30 for breakfast might sound like a lot, but it is often our biggest and most expensive meal of the day. After filling up on omelets, fruit, yogurt, juice and bacon, no one really needs more than granola bars and other snacks for lunch before dinner.
Find the Whole Foods

.
Or the Wal-Mart or Trader Joes or Target. I always make sure we have a fridge in our hotel room and then make a grocery run before our bags are even unpacked. I try to buy protein-packed foods like cheese and cold cuts and edamame to balance out the vacation-carb loading that is typical of travel. We've even been known to have lunch at the Whole Foods salad and sushi bar.
Go for the Tried and True.
I'll admit to feeling pangs of jealousy at pictures other families post on Facebook of "the coolest pizza joint in Arizona", or that gem of a restaurant they found by accident while heading somewhere else. These feelings usually occur when I'm headed to Chipotle for the third time in as many days. But we have learned the hard way that a vacation is not the time to take a chance or teach a new restaurant what it means to be gluten free. Better to eat another burrito bowl and feel great for more vacation fun.
Get it in Writing.
The first place we traveled after our girls were diagnosed was to Mexico. I found Spanish language cards explaining the gluten free diet and then worked with a fluent friend to make sure they said exactly what we needed ("cook in a clean pan with clean utensils" and "no seasoning besides olive oil, salt, pepper and lemon"). What my cards didn't say is "please do not stick a piece of decorative, uncooked pasta in the middle of my daughter's plain, grilled steak". Now, I also specify no garnishes, but that night, my daughter ate ice cream.
Do Disney.
Let me repeat: if your family has any food allergy issues, there is no place better to vacation than one of the Disney parks. Every time we have gone to Disney World, the attention and care for allergy-concerns has improved and the food selections have gotten better. I can put most of the above rules on hold at Disney because my kids can eat almost everywhere. And it is a wonderful thing.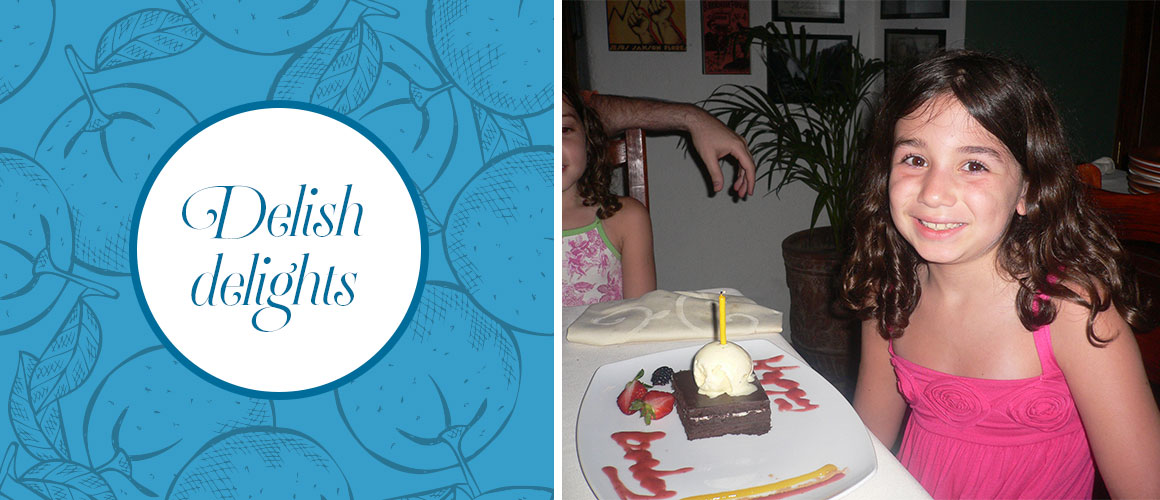 ---
As nervous as I was to leave the security of a kitchen the first time we traveled, every trip has made the extra planning and work worth it. Ten years later, I'm confident that we can go almost anywhere and keep the girls safe and fed and happy.
Like this post? Pin it for later!