Not all of the magic at Disney World happens in the parks. We like to rest for a day between park visits. Even on the days, we don't spend in the parks we like to find a magical experience. We usually choose those days to book a character meal at a Disney resort and sprinkle a little Disney fun into our day. We've tried almost every character dining experience at Disney World. Our new favorite character dining spot is at Disney's Ft. Wilderness Resort Campground. We love to enjoy an evening of dancing and dining at Mickey's Backyard BBQ at Disney.
Everything you need to know about Mickey's Backyard BBQ at Disney World
Why book a character dining experience?
Whenever my husband and I take our 5-year-old son Harry to Disney World, I book character experiences around our meals. We love character meals not only on our off days but especially on days we are in the parks. Not only is it nice to sit down after a long day exploring Disney, but the character dinners guarantee my kid gets character time without having to wait in line for hours at the park.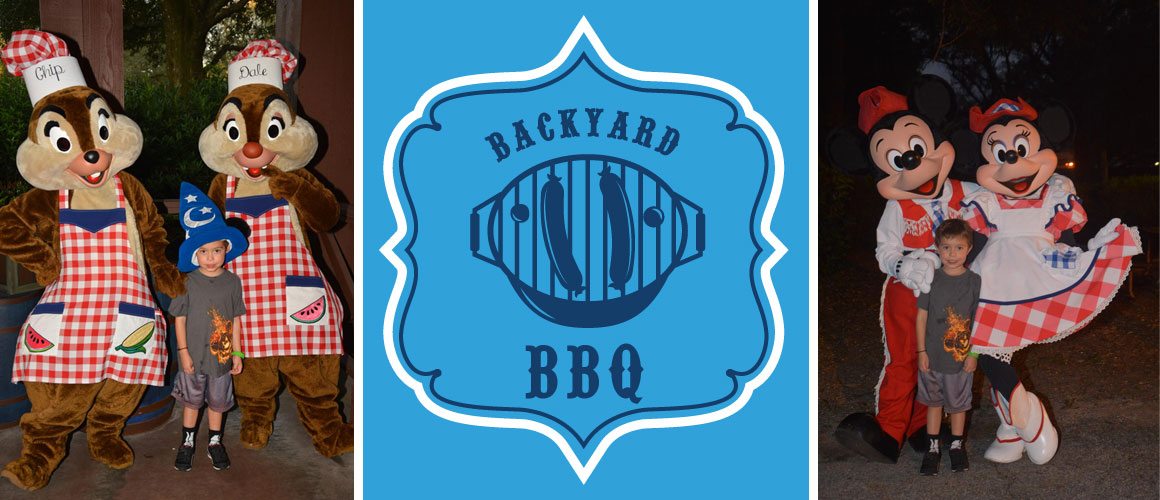 ---
How to Book Mickey's Backyard BBQ
On my most recent trip, I wasn't having luck on the My Disney Experience App finding a character dinner outside of the parks for our dates. I hated to give up hope, so I called the Disney Dining Reservation Line at (407) 939-5277.  I let the Disney experts find family-fun dining options based on my family's needs.
The My Disney Experience App is great, but sometimes it doesn't suggest every option available. The staff answering calls haven't led us astray yet. They've been knowledgeable and friendly every time I've called. They always are offering many ideas of what to do—including the night we spent dancing at Mickey's Backyard BBQ!

To be honest, I had low expectations for the barbecue. It's hosted at Disney's Ft. Wilderness Resort Campground ( I've never been much of a camper), and none of my friends had yet experienced it firsthand to fill me in on the pros and cons. The boy was I wrong, I shouldn't have been so quick to lower my expectations. This character dining experience is the BEST!
Get ready for a rootin tootin good time!
We boarded a quick boat from the Magic Kingdom to the resort. Then pulled up and saw the resort beach and gorgeous grounds. Next, we took a short walk to a huge, open-air pavilion at Fort Wilderness Resort Campground. As we walked up, we could hear the fantastic house band playing an energizing mix of country and pop.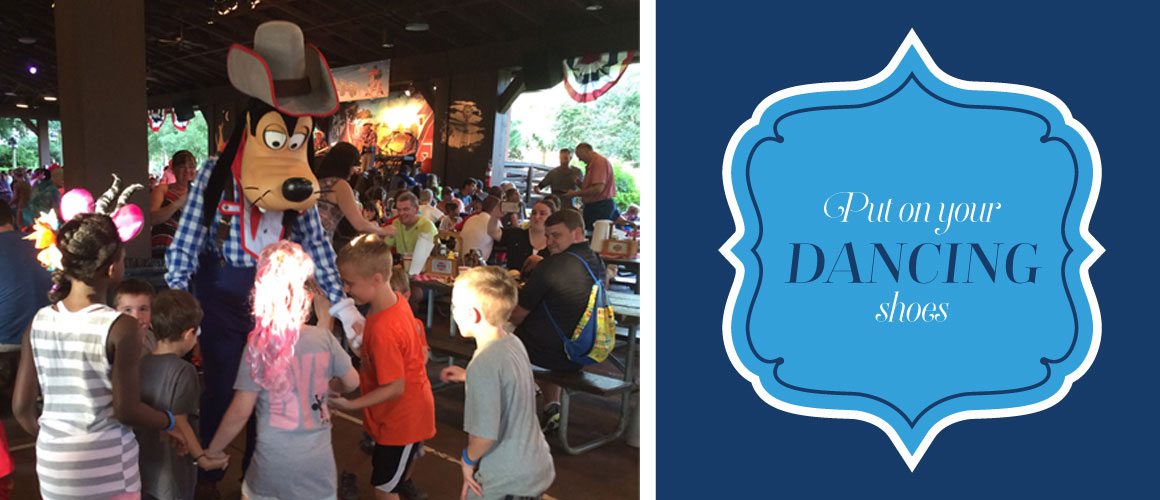 ---

Dancing with all our pals!
Goofy, Mickey, Minnie, and Chip 'n' Dale were our hosts all dressed up for a hoedown in cowboy hats and boots. They square-danced with the kids, playing and posing for photos as they went.
Harry loved the dancing, and I have to say that the characters did a fabulous job of getting the kids involved. Of all the different character meals we've attended in the parks and resorts (we've experienced almost everyone offered), this was my absolute favorite.
The character interaction and overall experience is awesome. I'd estimate that the pavilion holds at least 500 people, but despite the numbers, each kid gets interaction with the characters. That was perfect for Harry. He would rather dance and play with Mickey than have his photo taken with him. And most of the character meals we've been to have put more emphasis on the photo, with the characters stopping by the table only briefly for a snapshot before moving on to the next diners.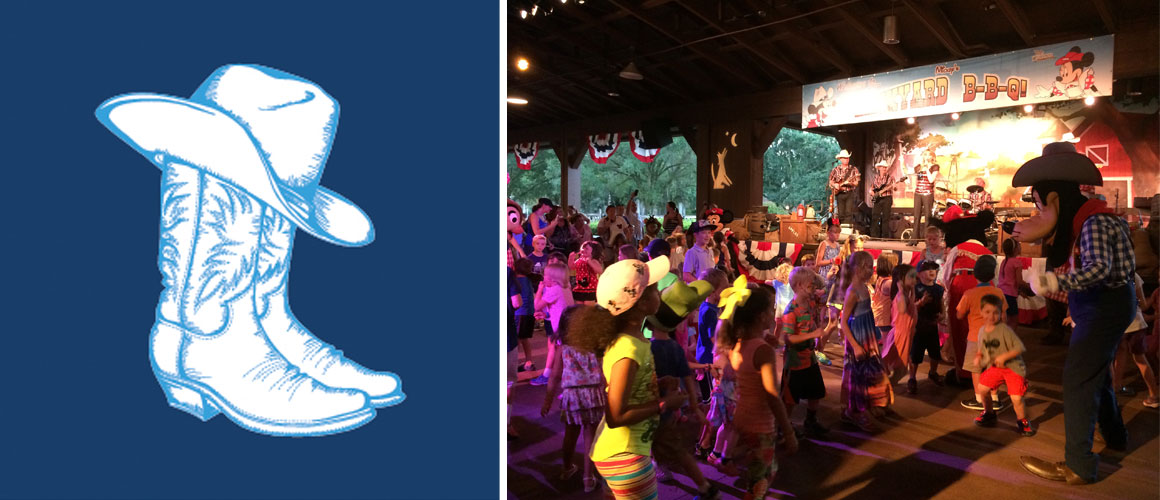 ---

Mmmm Yummy BBQ
The Mickey's Backyard BBQ food was an experience, too—a huge spread of barbecue favorites including macaroni and cheese, hotdogs, grilled burgers, ribs, chicken, and salads. Bartenders offered unlimited beer and wine for adults. Then for our unlimited dessert, kids plunged into the giant coolers filled with Mickey Mouse ice cream pops, popsicles, and cookie sandwiches.
Lots of photos with characters!
Eating dinner while being entertained by the band and funny entertainers along with the Disney characters made for a fun unforgettable outdoor camp experience. And my favorite part: Kids could line up for character photos whenever they wanted. There weren't set times for dinner and photography.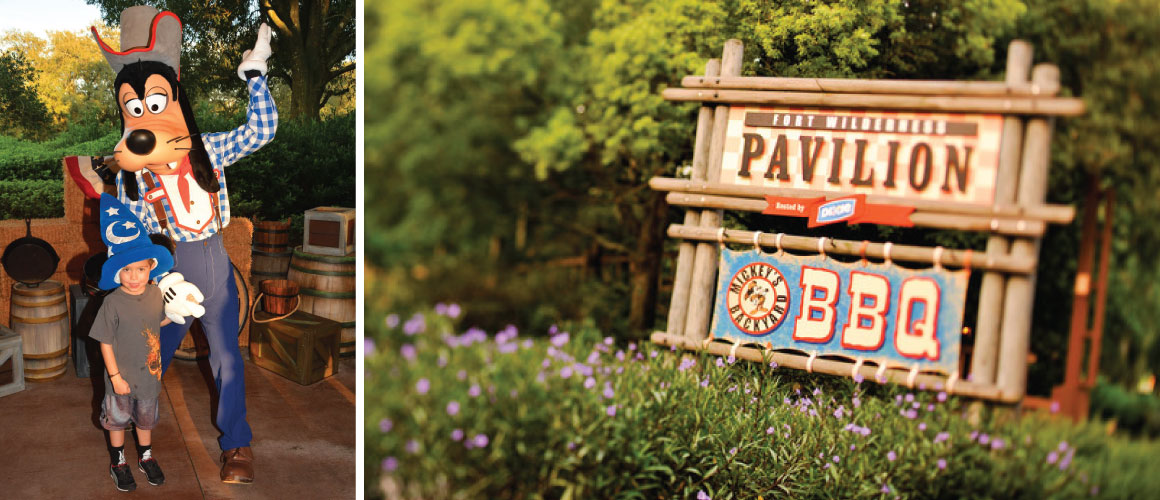 ---
I wanted Harry to eat his dinner first and used the characters as motivation to get him to finish his meal. That way, we didn't spend the night waiting in line hungry. By the time he finished eating the lines had died down and there was only a short wait to meet all his favorite pals, which Harry and I both appreciated.
So next time you're looking for a character meal or a non-park adventure, I highly recommend making a reservation for Mickey's Backyard BBQ at Disney. If it's full when you want to go, keep calling the reservation line daily because people cancel and re-book all the time. Enjoy, and let me know your family's favorite part of the night!
---
Photo credit: Disney
Like this post? Pin it for later!