Before kids, my husband and I went on nature adventures while traveling. We saw no reason to stop once kids came along. We try to incorporate adventure trips when we can.
Hiking with kids can be amazing! It is a great opportunity to get your kids outdoors and enjoying nature. We have gone on three different hiking trips on the past 6 months: Red Rocks, Colorado, Scottsdale, Arizona and Joshua Tree, California.
You may ask how do we do this with a three and half year old and one year old? Easy. We wear them on our backs. You can purchase specific carriers for hiking such as the Deuter Kid Comfort 3. This carrier has a 5 point harness as well as footrests for your child. There is even an integrated sun cover for those hot and sunny hikes. It also features an ergonomic design so it is comfortable for you to wear. We, however, use both of our Beco carriers: the Butterfly 2 and the Soleil. These are both easy to travel with because we can wear the kids in them while in the airport and they pack easily. They also offer the correct "M" support for the kids as well as the strap that goes across your waist to make it comfortable for you to wear. Both M and J get very excited when we tell them we are going hiking. Typically M even falls asleep on my husbands back during the hike which is a bonus because she has basically given up on naps.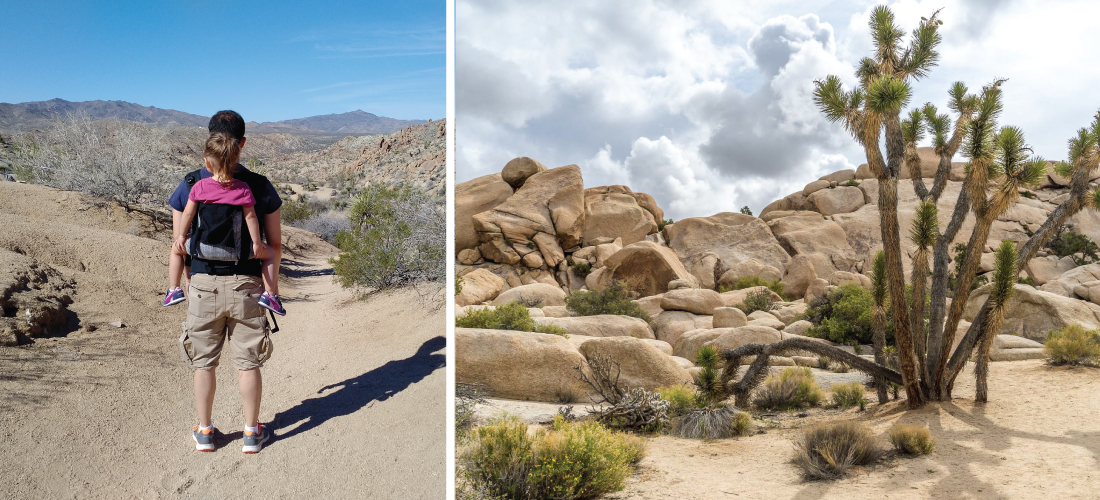 Here are some tips for hiking well with kids:
If there are multiple trails have your child help plan out the route before you start the hike.
Wear layers of clothes. Typically we start out early in the morning when it is cooler and it gets warmer as the day / hike goes on.
Make sure you bring enough water for everyone on the hike. Especially on those hot days.
Bring snacks in case their bellies get hungry so you don't have cranky kids.
Play games such as I spy with my little eye.
Create a scavenger hunt for the hike. It can be a fun way to keep kids entertained while searching for and learning new things.
Apply sunscreen before you go.
Make sure you have a structured or hiking carrier for your little ones.
Plan frequent stops if your child is hiking on their own.
Try to keep the hike length to under two hours.
Make sure your potty trained kids use the bathroom before you head out.
Don't forget to pack a small first aid kit of band-aids and Neosporin for those accidental trips and falls with little hikers.
Keep a positive attitude and your kids will have one too!
Have fun
---
Planning a family hiking trip? Pin these tips for later!