Close To Everything, Yet A World Away: 
This classic American family road trip has it all. Want a big city? Got it! Imagining a pristine stretch of Route 66? Can do! Craving some time at The Grand Canyon? This'll get you there. Curious to explore the Navajo Nation? Can't blame you. Itching to hike at Zion National Park? En route!
A road trip is the most classic of American family travels. Armed with a good map, semblance of a plan, tank full of gasoline, and wanderlust, you can hit the road and uncover endless wonders and wildly memorable moments for yourself and your family.
The classic American family road trip
For spring break this year, we decided to skip the typical beach vacation, which we truly do love. Instead, my husband and two kids took a chance on a road trip with another family. We were seeking a mix of big city wildness (Las Vegas) and vast natural wonder which (Grand Canyon, Navajo Nation, and Southern Utah).
The drive times are not nearly as long as you might think, and still we were a world away from everyday life back in Chicago. Hiking was restorative, and the kids loved it. The food we ate along the way was pretty darn good, and our lodgings were uniformly excellent. Read on for details on a truly classic American road-trip.
Road Trip Itinerary for Vegas, Grand Canyon & Zion National Parks
Day 1: Flight To Vegas  
We stayed in Henderson the first night at the Westin Lake Las Vegas, which is an excellent kickoff spot for the road trip which we started the next day. The Westin Lake Las Vegas offers dependable quality and comfort with a nice pool and surrounding outdoor area, which the kids loved.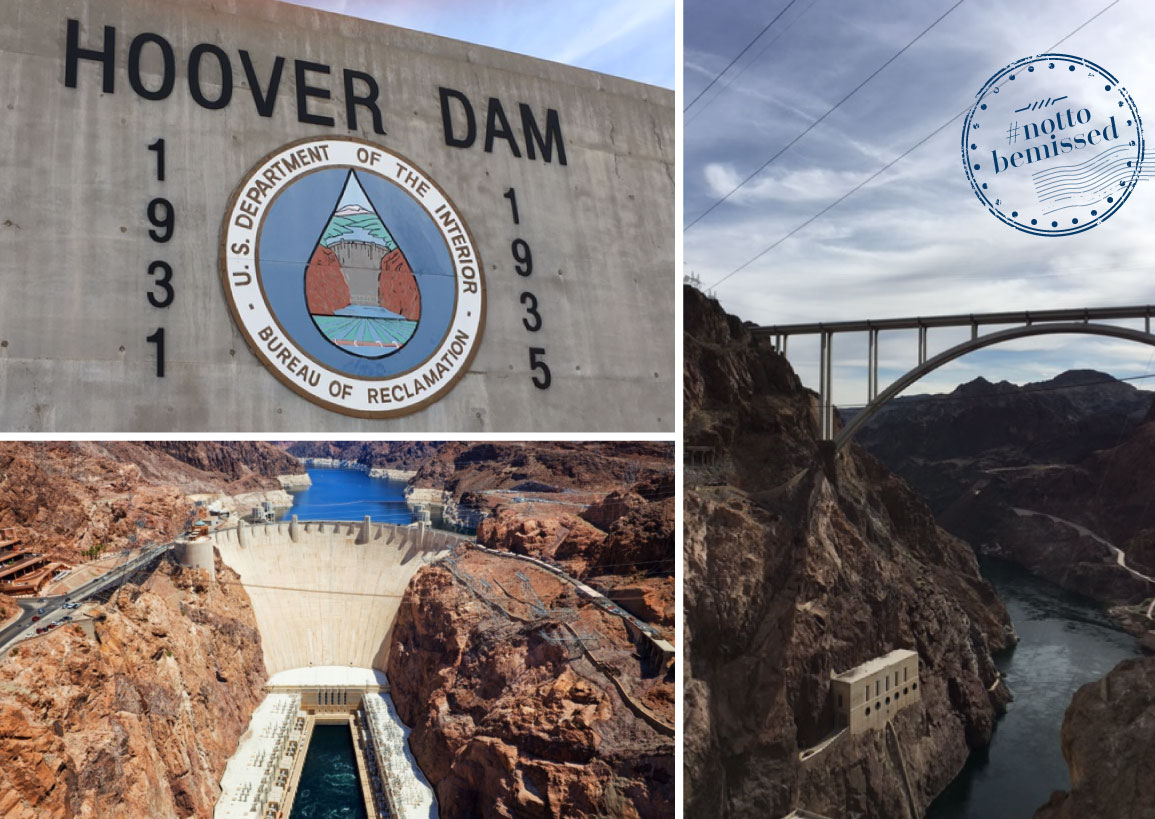 Day 2: Las Vegas to the Grand Canyon via the Hoover Dam and Route 66 
This is an open-road day. Leave time to explore The Hoover Dam, which is more interesting than you might imagine. It's possible to tour it if you want to learn about the engineering of the dam or simply walk and take in the feat of engineering that it truly is. There's also terrific public art at the site. From the dam, take Highway 93 toward Kingman, connect to Route 66 toward Williams, and then take Highway 64 to Tusayan.
A vast open road in the most classic, American sense, you will pass tiny towns that once were hubs of speculation and commerce. As tumbleweed blew across the road, we enjoyed the drive and made a bee-line to Tusayan.  Tusayan is the town that sits exactly outside the South Rim of Grand Canyon National Park and offers gas, food, and lodging.
For this trip, we opted to stay at the Best Western Grand Canyon Squire, which proved to be a worthwhile choice. The hotel was under major renovations, and our room was very large and well-appointed with a Pullman kitchenette (ample fridge, microwave, sink, and prep area), granite counters, and comfortable beds. It also had a spacious, brand new bathroom with a step-in shower and trendy sliding barn-style door. The buffet breakfast makes getting out of the room and into the park quick and painless. When I asked our housekeeper when the room had been renovated she said "Monday." It's possible we were the first people to stay in this brand new room.
Day 3: Splendor in the Grand Canyon
Grand Canyon National Park can get very crowded. Park at the visitor center, and talk with a ranger about the best way to visit with your family. Our weather was sunny and truly a high desert spring day. We decided to hike a portion of the famous Kaibab Trail to the Ooh Ah Point.
Hiking is intense at the Grand Canyon. If you're serious about even a part-day hike, be sure you have a backpack with water and snacks for everyone, along with anything else you need. The Kaibab Trail cuts into the canyon wall and begins with a series of narrow switchbacks. It travels straight down, thrilling and challenging as the drops along the trail are steep and potentially dangerous.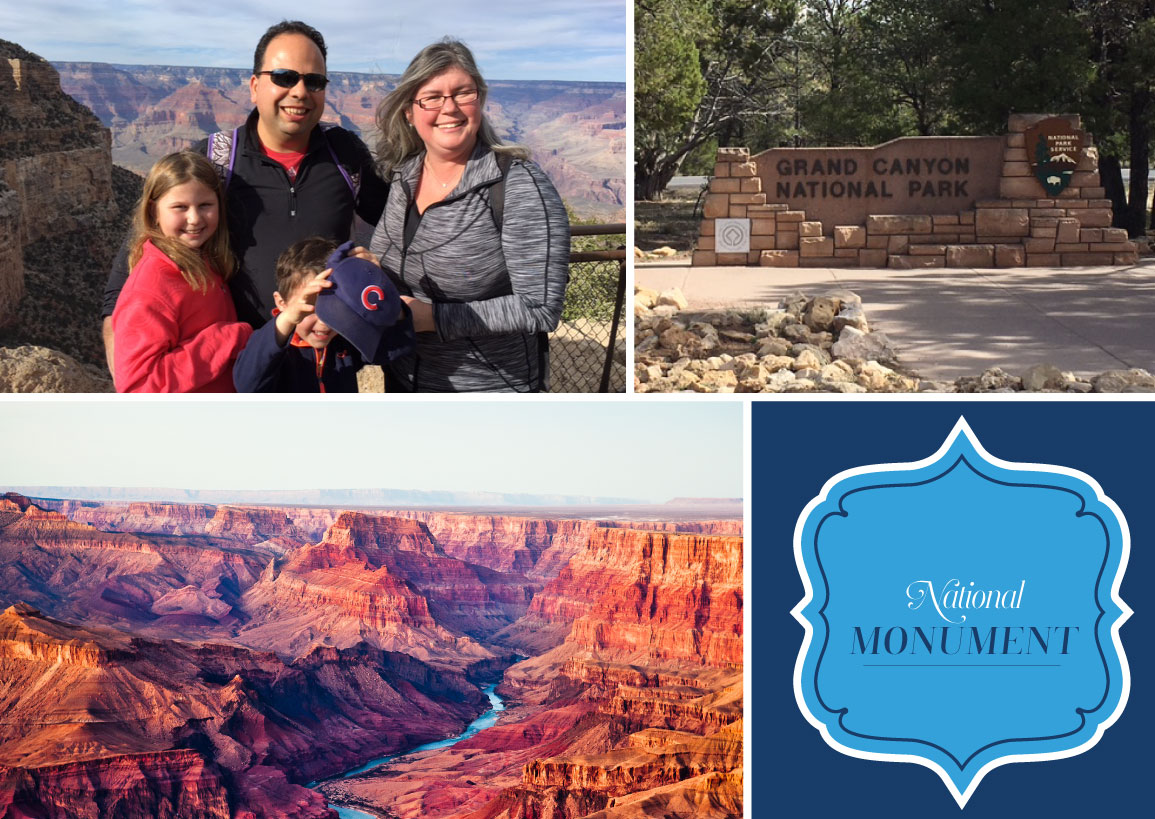 Hiking
We taught our kids to walk along the wall side of the trail and to step very carefully on the sandy, loose gravel. The hike down creates a sort of euphoria; however, the mules coming up the trail were a helpful reminder of that which goes down must go up in the Grand Canyon.  
The ascent hike is very challenging, and a steady pace with water breaks to take in the vast vistas were important for our crew of four adults and four kids. Once atop the canyon, the euphoria returned, and we delighted in knowing we had spent several unforgettable hours enjoying an iconic hike that most people only dream of doing.
Grab a bite
We took a late lunch at one of the cafeterias in the park—decent food options, though not anything world class. You can also bring your own food if you prefer.
After a day of exploring the rim of the park, (including the Kolb Photography Studio, the ice cream parlor that sits perfectly poised on the rim, the El Tovar Lodge, the Hopi House, and more), we had a modest dinner at a pizzeria in Tusayan. I was feeling lightheaded and short of breath due to elevation (approximately 6,800 ft.), which caught me by surprise. Travelers may wish to prepare for this if planning to hike and spend some time at the canyon.
Day 4: Magnificent Driving from the Grand Canyon through the Painted Desert, Navajo Lands, and Page, AZ
Our drive eastbound on Highway 64 took us along the canyon and gave way to a perfect highway headed toward Cameron. At Cameron, there's a Trading Post with a very large, tourist store. Behind the store is a Navajo-run dining room, which offers good meals including traditional Navajo dishes. We liked Fry Bread with Navajo Stew. The dining room overlooks an absolutely spectacular red rock gorge. We found the servers to be friendly and eager to answer questions about the Navajo and area in general.
Once we fueled up, we drove the magnificent and vast highway 89 toward the Navajo town of Tuba City, which is perched on a mesa. The Navajo signs and wind blowing atop the mesa fascinated us and gave the place a wind-swept, otherworldly quality. Tuba City residents take pride in the fact that many of the famous Navajo Code Talkers who helped the United States win World War II were from the area. There are a couple great displays about the Navajo role in the war. One is at the Burger King (of all places!) and the other is at the Tuba City Trading Post.  Walk through the sales area of the Trading Post and in the back is a concise, didactic display honoring the truly patriotic Navajo people who contributed so much to this country's freedom.
From Tuba City we drove along Highway 89 taking in the massive, gorgeous Echo Cliffs to Page, where we stayed the night at the centrally located Days Inn and Suites. Page is an excellent stop if you want to visit Antelope Canyon, which is a Navajo Nation National Park and a photographer's paradise. In order to visit this slot canyon, you must go with a Navajo guide.  The day we visited there was a windstorm which prevented us from climbing into the canyon.  The best bet is to reserve your guide in advance and hope the desert winds don't change your plans.  
Page Arizona
Page is an interesting town. Not surprisingly, there is a large Native American population as well as a large infrastructure in place to support recreational visitors to Lake Powell. Page is very much a town where people stop to load up on essentials and go on their adventures.
We enjoyed a fun dinner at Big John's BBQ, a converted gas station that boasted massive smokers, excellent barbecue by the pound, tasty sides and ice cream, and a good selection of beer. The night we dined there, we enjoyed a live country band and people two-stepping around the many picnic tables. It was a really fun atmosphere that gave us a strong feeling for the New Wild West!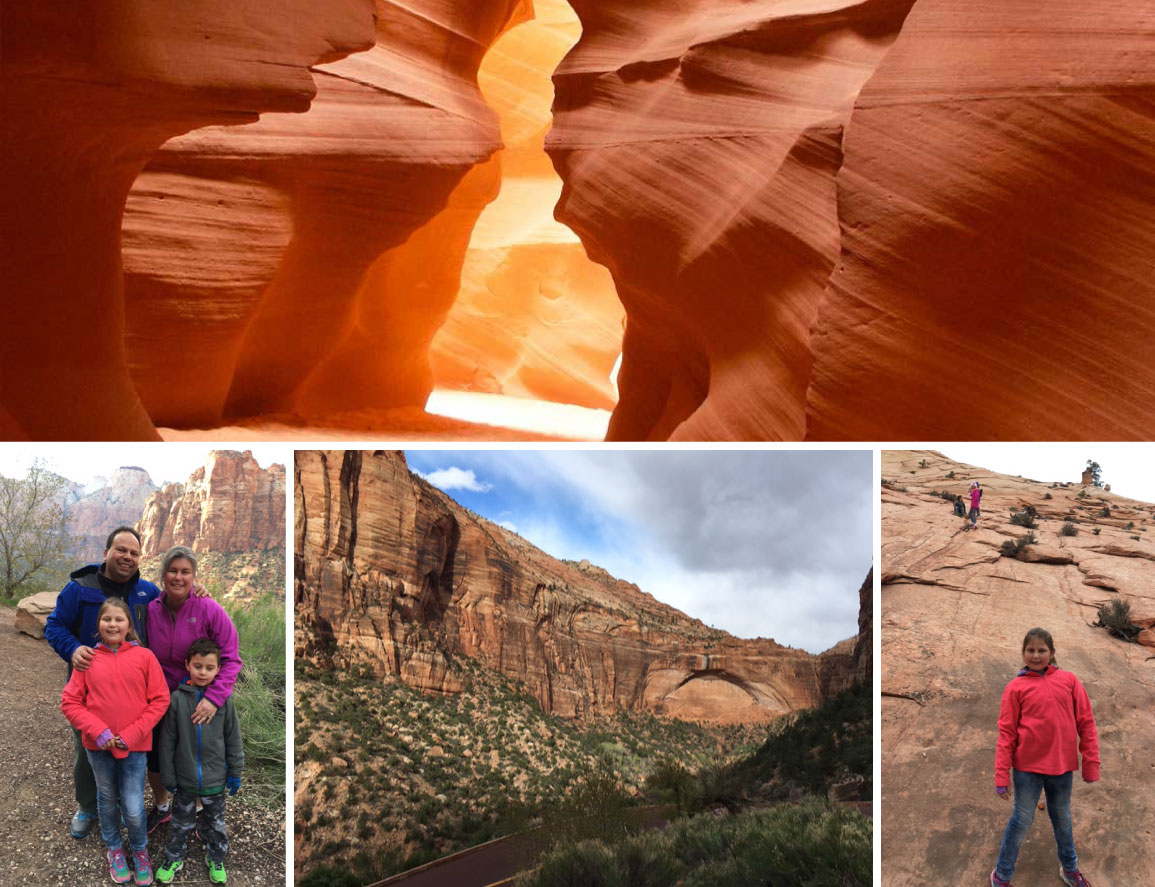 Day 5: Glen Canyon Dam, Vermillion Cliffs, the Grand National Staircase, and a Spectacular Approach into Zion National Park
Like its Lake Mead/Hoover Dam cousin, the Glen Canyon Dam is a feat of engineering. The road (highway 89) from Page toward Zion National Park runs along the dam, giving visitors a chance to appreciate the vastness and power of a hydroelectric dam. It is also possible to see the impact of climate change and the lower water levels.
We took some photos here and continued on our way toward Zion through the area called Vermillion Cliffs, which truly are vermillion and beautiful. Along the southern portion of the Grand National Staircase is a vast wilderness and the site of many paleontological digs. Stop at Kanab for a meal or snack and stretch your legs.
Zion National Park
Eventually, you reach the eastern gatehouse of Zion National Park. And very quickly the road becomes one of the most wonderful roads you can drive in America. It goes up, up, up through the most spectacular tunnels and brings you to an area where you can park on the side of the road and explore checkerboard mesas and striated sandstone slopes, which are tons of fun to get the wiggles out of car-bound kids. This first activity in Zion tells visitors there is beauty and fun to be had here.  
In Zion Park we stayed at the Desert Pearl Inn, centrally located in Springdale—the town just outside the western gate of the park. The Desert Pearl Inn provides casual luxury perfect for a family. Rooms are spacious, have high ceilings, and feel almost loft-like. Each room also has a Pullman kitchenette so breakfast and snacks were easy to put together for our group. Everything in this hotel is high quality, and the space is relaxing. We had a first-floor poolside room, which was ideal as we exited the glass door onto a nice patio and into soft grass overlooking the pool area where there is also a large whirlpool. The views of the cathedral-like red rock formations are spectacular and visible in every direction. The Virgin River runs along the property as well and brings a zen-like quality to many of the rooms at this Lodge.  
For dinner we enjoyed contemporary Southwestern fare at Bit and Spur—good for virtually any eater/diet. They also accommodated our children's desires easily. It can be busy, so make a reservation in advance.
Day 6:  Eden-like Hiking in Zion, Emerald Pools, and the Narrows
To fully enjoy Zion National Park, park at the Visitor Center and carry a day pack. Car traffic is prohibited during high season, and the National Park Service runs natural gas busses in and out all the major stops in the park. We focused on getting to the central lodge and planned to hike from there.  
Unlike the Grand Canyon, Zion National Park has a wide variety of hikes for every skill and interest level. As we were with young children, we opted for moderate hikes and walks. Those seeking greater challenges can hike the Bight Angel Trail, which is a serious hike and not suggested for kids due to steep drop-offs, sheer paths, and high altitude.  
Ready to hike
For our first hike, we took the Kayenta Trail, which connects to the Emerald Pools Trail. These are classic Zion Park hikes. Kayenta takes visitors high above the Virgin River and into a curved canyon area where run-off from streams waterfalls into central pools. There's an Eden-like quality to this area, and we enjoyed taking breaks on huge boulders, enjoying the water passing around us along with a good snack of fruit, nuts, and chocolate.
The Emerald Pools trail eventually leads back to the main lodge area where we enjoyed a perfect outdoor lunch. There's a lot of seating outside with grand vistas that make any simple sandwich seem like a feast apres hike. Not wanting to miss a thing, we decided on another great walk after lunch.
The Narrows
This time, we took the shuttle bus to the last stop and walked deep into the park to see the start of the "Narrows" a slot-canyon hike that prepared visitors attempt wearing waterproof shoes and pants. Hiking The Narrows entails hiking in the Virgin River. It's possible to camp there under the stars and enjoy the beauty from the shores of the river. It's truly fun to see the beginning of this unusual hike, and talking with people returning from their hike in the river was also memorable.
Once we had our fill of the park, we returned to the Desert Pearl where we jumped in the hot tub for a little apres hike soak. For dinner this evening, we tried Oscar's Café, which had really good Mexican and Southwestern fare. We dined outside under heating lamps, truly enjoying our meals.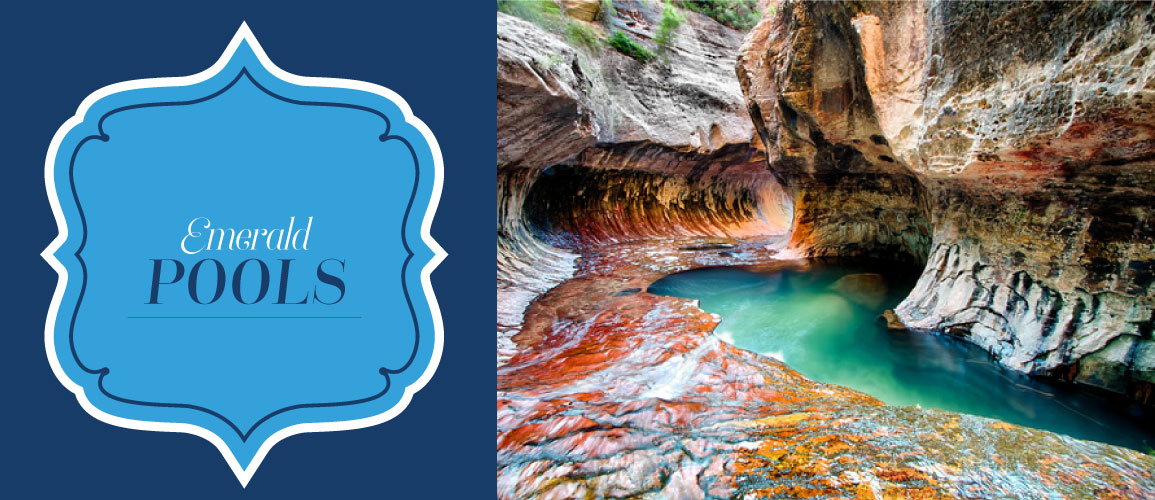 Day 7:  A Repeat Hike (So Good We Had to Do It Again) and the Valley of Fire
With just a few hours left to enjoy Zion Park, we decided to do the Kayenta/Emerald Pools hike again. Our kids loved it and begged to do it one more time. We didn't disagree and enjoyed that walk the same as we did the first time.  
After lunch, it was time to leave Zion and Springdale and begin our drive back to Las Vegas. It was a quick drive to St. George and then on to the Las Vegas area. But one more great nature stop beckoned before we made it to The Strip. Valley of Fire State Park is an absolutely wonderful place to drive along a landscape that appears more like Mars than Earth. We made a point to head to this park so we could all climb and hike around the fabulous red rocks that make the area so visually distinctive. Within the park are several excellent pullouts clearly marked for visitors to enjoy. But with limited facilities, be sure to bring water and note the bathrooms are clean but rustic.  
Heading to Vegas
On leaving The Valley of Fire, we knew the natural portion of our trip was concluding and yielding to the most outrageous portion of the trip: Las Vegas. In the late afternoon, we arrived at the Mandarin Oriental Hotel and checked into our ridiculously sumptuous rooms.
Once we were settled in and refreshed, we opted for dinner at Bobby's Burger Palace, where we enjoyed a variety of burgers and fries and re-charged ourselves before heading out to see the sites on The Strip.
Strolling the Vegas Strip with kids is fun. It provides great people watching, and each casino allows families to walk through and take in their kitschy shows. We especially liked the choreographed fountain at Bellagio and the ice cream parlor just off the lobby. The kids really liked the "world's largest chocolate fountain" near the parlor as well. The throngs of people, beautiful lobby, and glug-glugging chocolate fountain made for enjoyable fun.

Day 8:  Las Vegas With Kids
We started with an easy continental breakfast at a nearby café. There are many options just beyond the hotel on The Strip; choose the one that satisfies your family. We then headed to the Downtown Container Park—a nifty place boasting a great playground, lots of unusual shopping in boutiques situated in shipping containers, and more. This great family spot also has extremely clean bathrooms, plenty of snack options, and security that keeps a close eye on youngsters playing in the fenced-in playground.
Vegas Buffet
For lunch, we acted on a hot tip another traveler offered us: "the best buffet in Vegas" at the Silverton Casino and Hotel. It also featured a huge saltwater fish tank with mermaids. Buffet?  Mermaids? We had to go see for ourselves. Back into the car, we went to the south end of The Strip to The Silverton Casino – a clean and relatively quiet place with a classic, very good, Las Vegas Buffet. It was very inexpensive and quite good. Following lunch we went to the salt water tank and sure enough, they do have mermaids! It was an absolutely hilarious piece of kitsch that had our kids rolling their eyes and debating whether the mermaids were real or not.  
Vegas at night:
In the evening, we splurged to see "The Beatles – Love," a Cirque du Soleil show at The Mirage. It was fabulous. We loved it. The kids loved it. We found discounted tickets online and enjoyed balcony seats with perfect sightlines for all the action.
George Martin put together the music while Cirque du Soleil handled choreography. Mirage has plowed more than $100 million into this theater where every seat has a great speaker and view.  It was a show we won't soon forget and well worth the money to see it.
Day 9:  One More World Class Day in Las Vegas
Finally, our classic American family road trip must come to an end. The good news is that we booked ourselves on a redeye back to Chicago.  So, we had a full day to enjoy The Mandarin Pool. Then take high tea in their tea lounge.  And, still have time for the Las Vegas Pinball Hall of Fame, where we managed to spend more money on vintage pinball games than gambling. Our trip was a ton of fun, offering a perfect mix of natural and artificial wonders. We all left with a feeling that it would be fun to come back and visit again.

---

Thinking of taking a similar classic American family road trip? Pin this for later!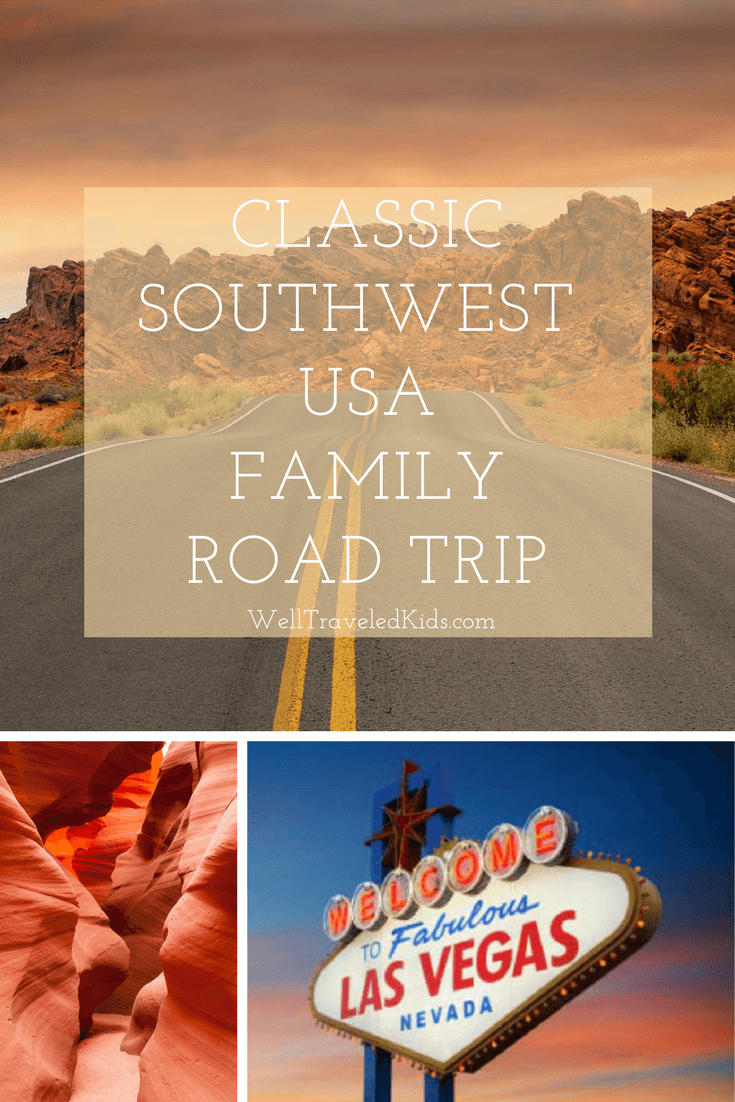 ---
Photo Credit:
Hoover Dam
,
Grand Canyon
,
Antelope Canyon
,
Emerald Pool
,
Welcome to Las Vegas
,
Las Vegas Skyline
,
Zion National Park