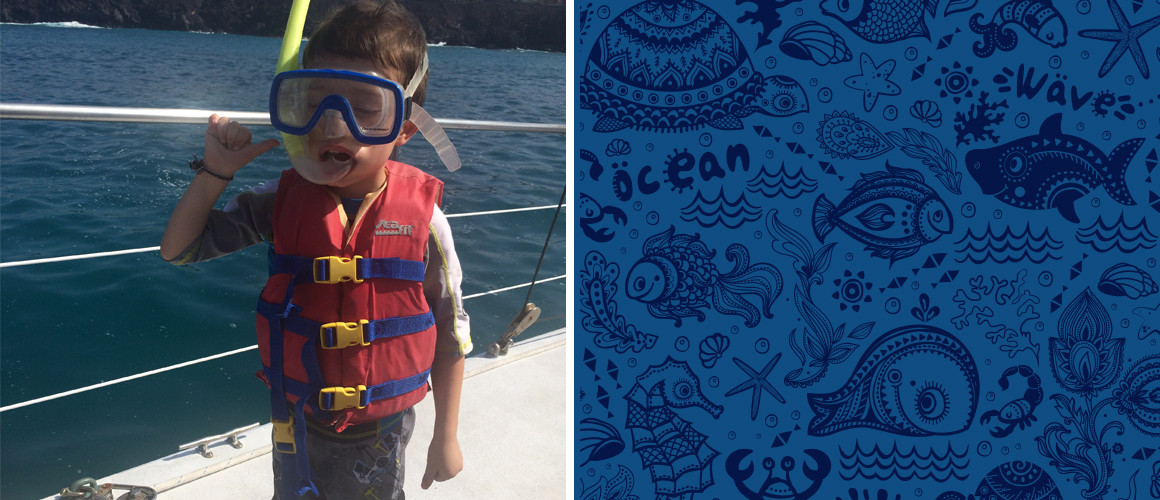 ---
This January, we flew to Hawaii for a few weeks to escape the cold Chicago winter and enjoy some sunshine, sand, and surf.  My research for our first trip to the Big Island of Hawaii had me excited about all of the options available for fun activities near our resort. One adventure that I didn't want to miss was a family snorkel cruise. This would be my 4-year-old son Harry's first time snorkeling and the Waikoloa area of  Hawaii was an absolutely beautiful setting for a first snorkeling experience. Because we were staying at the
Hilton Waikoloa Village
, we were fortune to have
Hawaii's Best Snorkel Cruises
 located nearby our resort.   We booked our trip and set sail for a morning snorkel cruise on the speedy SeaSmoke Catamaran and our family loved every minute!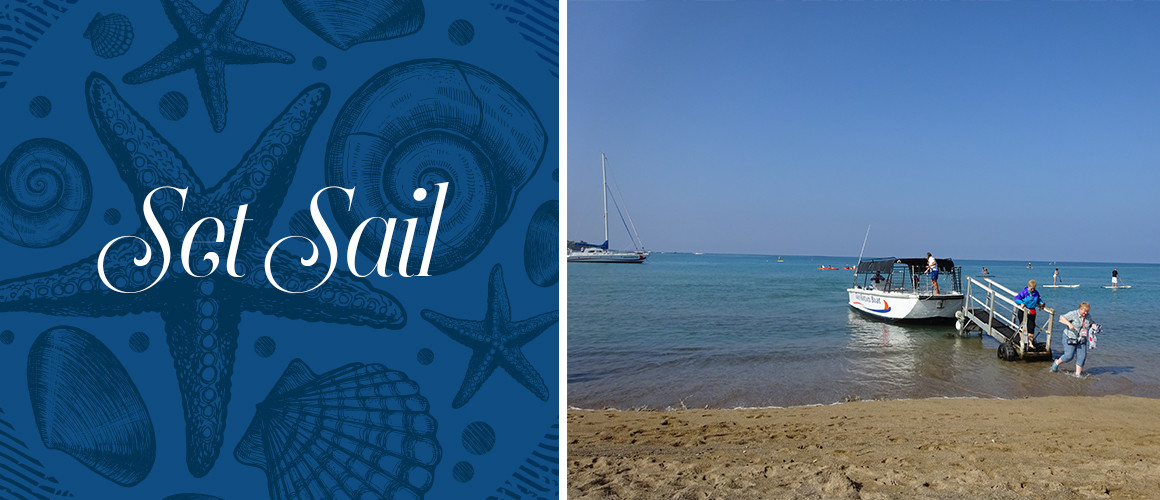 Friendly Bus Pick up and Drop off at the resort: We boarded a bus at the Hilton Waikoloa Village that drove us over to the beach where we would board the SeaSmoke Catamaran for our 4 hour snorkel sail.  Aboard the bus we met several others from cold parts of the world  who exchanged chilling tales of snow and record low temps.  We quickly bonded since we were all excited to be trading in the cold for a gorgeous day of snorkeling at sea in Hawaii.
Enjoy a 5 minute Glass Bottom Boat experience: Harry loved launching by water and riding in the glass bottom boat over to board the Catamaran.  Although we didn't see any fish, Harry loved seeing all of the bubbles and sand through the glass bottom of the boat.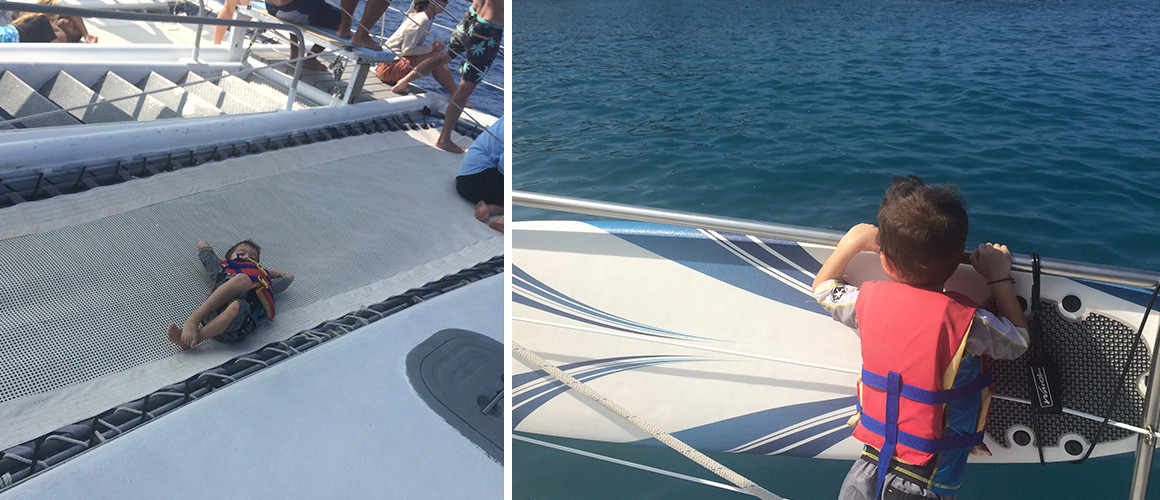 ---
Outstanding and Family Friendly Crew:
The crew is really extraordinary! While boarding the glass bottom boat I dropped my entire tote bag and my camera into the ocean. I was stuck on the ramp with people lined up behind me and couldn't react quickly enough to save my stuff.  One of the crew members saw me panic and ran into the ocean and grabbed everything.  My camera was ruined but he saved it quickly enough that I was able to retrieve my memory card with all of the photos from our trip.  I was so very grateful.  Once aboard the catamaran the crew made our day at sea fun and safe.  They taught us about the area, whales, fish, sailing, and safety.  Harry received extra special attention since he happened to be the only kid on our cruise that day. They even gave him a shot at steering the boat for a bit!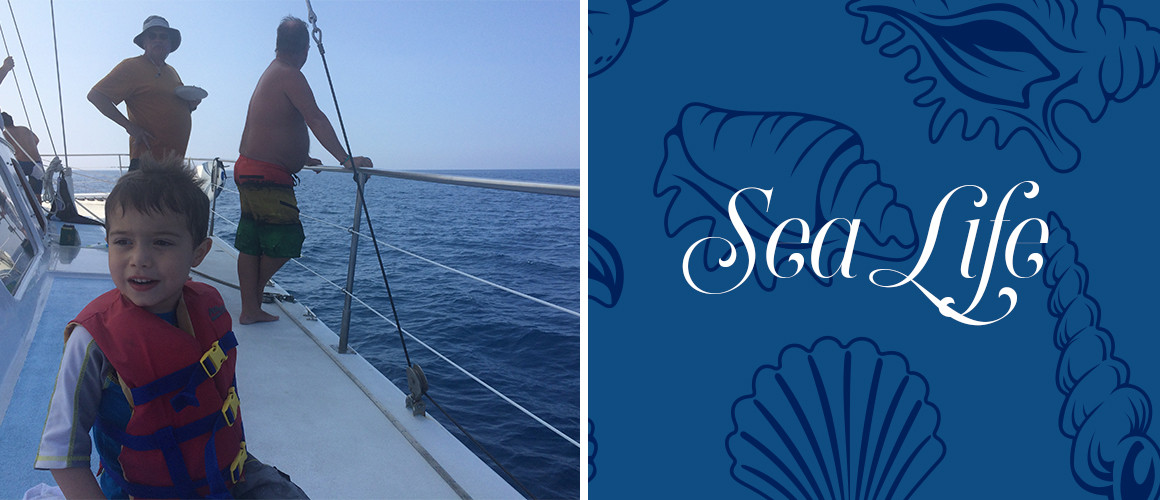 ---
A friendly day at sea:
 We loved the laid back feel of this snorkel cruise.  We spent the day listening to great tunes while mixing with others and enjoying the warm sunshine.  Harry quickly became the mayor of our boat and made friends with everyone telling them all about his adventures on the 3 islands he had visited during his 2 weeks in Hawaii and how happy he was to be away from the freezing Chicago temperatures.
Humpback Whale Watching: Fortunately, we set sail on a January day when the water was smooth as glass.  The perfect conditions for superb whale watching.  We saw numerous baby and mother whales playing together.  Young and old were all fascinated by their beauty.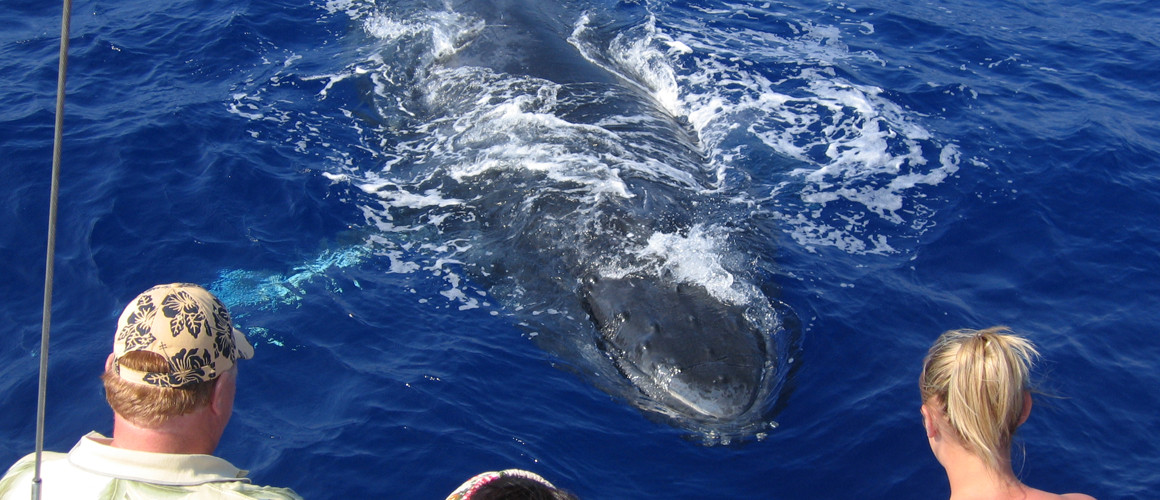 Snorkeling: Gearing up to go into the ocean, Harry was excited and a little scared. Since this was his first time, we waited to be the last ones off the boat so that we could  let him take his time getting down into the water from the stairs.  The crew recommended that we grab a boogie board for him and have him lay across it and just dip his face in to see below.  This was great advice for a fist timer!  Harry was scared at first but ultimately very proud of himself for putting his face in to explore the coral area below. He loved using his mask and breathing through the tube.
Breakfast, lunch, and drinks for all: We were treated to yogurt and cinnamon buns for breakfast and a deli lunch. Drinks were flowing all day with alcohol served to adults only after snorkeling. I must say they certainly make one deliciously mean Mai Tai!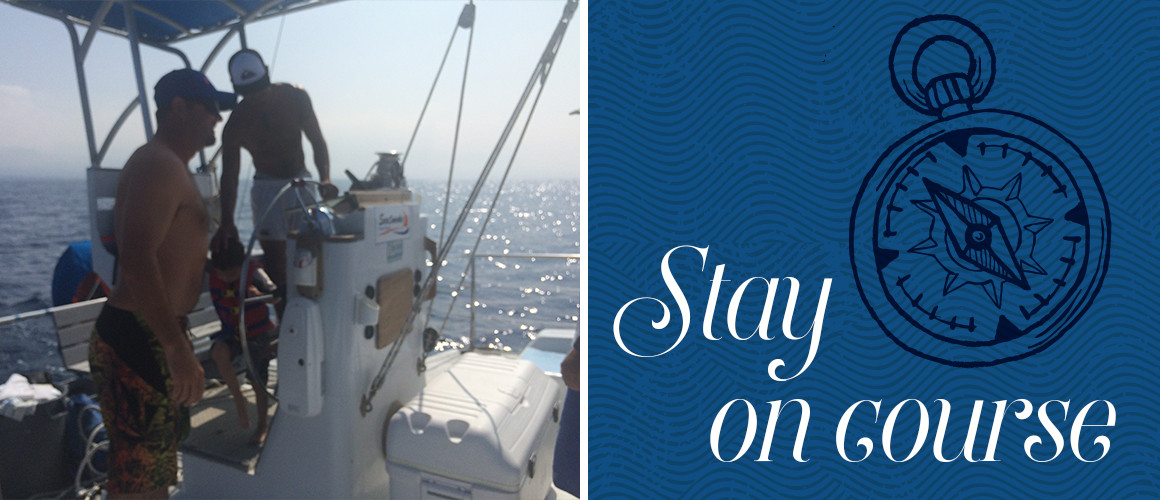 Fun for all ages: The crew said that every cruse is different and the amount of children on the boat depends on the time of year.  As the only kid on the boat that day, Mayor Harry had the time of his life on our snorkel cruise. He made friends with everyone and was treating the crowd to selfies on their cameras for souvenirs of their day at sea with Harry. Everyone on our bus was on a first name basis by the return trip home and we shared stories of our favorite parts of the adventure. We all agreed it was a fantastic experience and one we would recommend to all of our friends traveling to the area.
We were guests of Hawaii Ocean Sports on the snorkel sail for purposes of this review. As always, I give my honest options no matter who is picking up the check.