Pursuit is a partner of Well Traveled Kids. All opinions are my own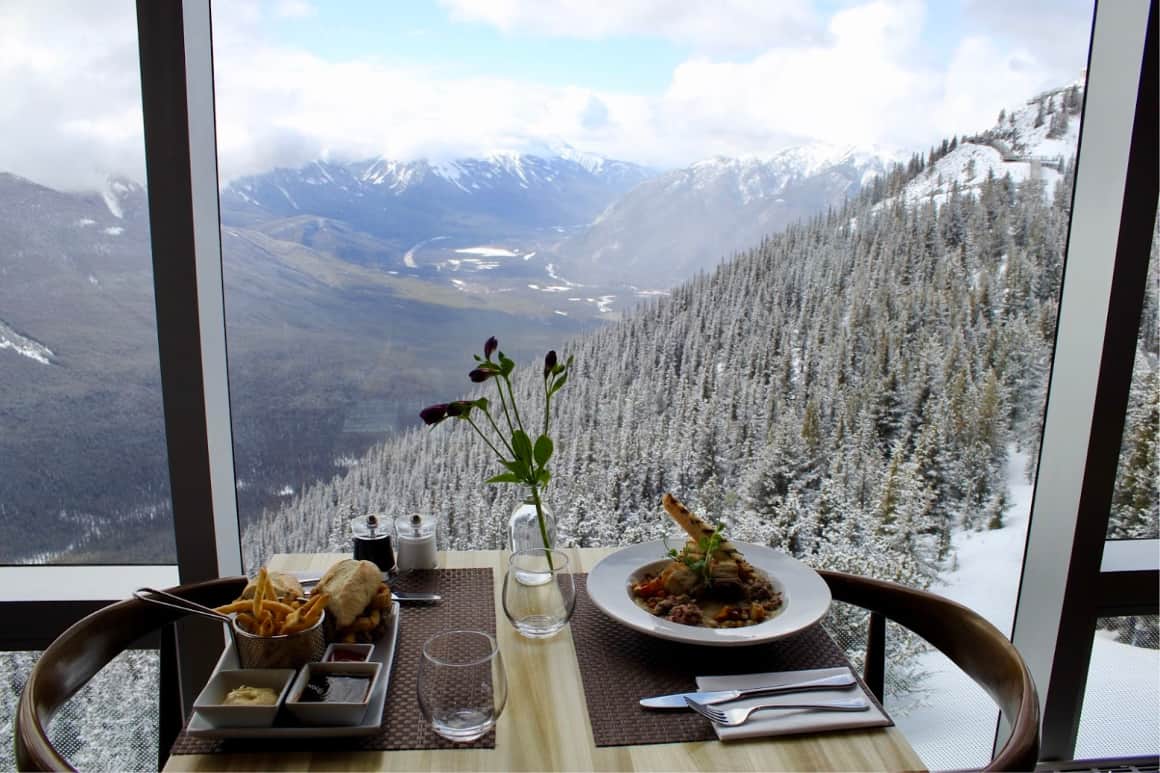 "People who love to eat are always the best people." – Julia Child
What can I say, my family loves to eat! One of my absolute favorite reasons to travel is trying local foods and restaurants. Dining out in places I visit has always been a passion of mine. I love researching unique places to enjoy local flavors when I travel and it's so fun to include my 8-year-old son Harry in the planning. He loves to spend time with me on Instagram and google exploring possibilities for our vacation eats. That's how we found Sky Bistro in Banff!
The Best Scenic Restaurant in Banff
As we prepared for our spring break ski trip to Banff, Harry and I spent time looking up the best restaurants in Banff, the most scenic restaurants in Banff, and the best Banff family restaurants. The one Banff restaurant that kept showing up on everybody's list was Sky Bistro. So we knew we just had to check it out. Trust me when I say it blew away our already high expectations!
CLICK  TO READ Ultimate Spring Break in Banff National Park with Kids
We made a reservation for lunch and we LOVED everything about our afternoon at Sky Bistro. In fact, we all agree Sky Bistro is a must-try one of a kind Banff dining experience. #nottobemissed
Planning a family vacation to Banff?
There are so many reasons why you must experience Banff's Sky Bistro Restaurant when you visit Banff! We really felt it was the best restaurant in Banff. Before I share my review of Sky Bistro I want to explain what a fun experience dining at Sky Bistro is for the whole family from start to finish.
Continue reading to see why we think Sky Bistro is one of the best places to eat in Banff!
How to get to Sky Bistro Banff
Sky Bistro is the most scenic restaurant in Banff perched at an altitude of 7,510ft on the summit of Sulphur Mountain overlooking the Canadian Rocky Mountains. There is only one mode of transportation up to the Sky Bistro restaurant and that is by riding on the Banff Gondola.
Sky Bistro Parking
There's a huge parking lot at the visitor center for the Banff Gondola, and on a busy day I've heard that it fills up quickly. However, on the day we visited during our spring break trip to Banff it was snowing and visibility wasn't great when we arrived so there was plenty of parking. We parked in the front of the lot and walked into the Banff Gondola visitors center. They do provide a free shuttle during the summer months that departs from two locations downtown (they always recommend leaving the car behind and taking shuttles or Banff's very affordableRoam Transit.)
As we grabbed our tickets to go up the Banff Gondola we looked at the TV screens showing the lack of visibility at the top of Sulphur Mountain. Luckily the attendant selling tickets said he thought the snow would be stopping soon and that Sky Bistro was so delicious we should head up the gondola anyways for our lunch reservation. So we did!
Riding the Banff Gondola with kids
My family loved the exciting ride on the Banff Gondola. On the way up it was snowing like crazy and it was fun to look out and see how the snow was clinging to one side of the Aspens on the mountain and not the other side. We looked down upon the trails up Sulphur Mountain below us and were amazed that so many people were hiking their way up to the top even in the wind and snow.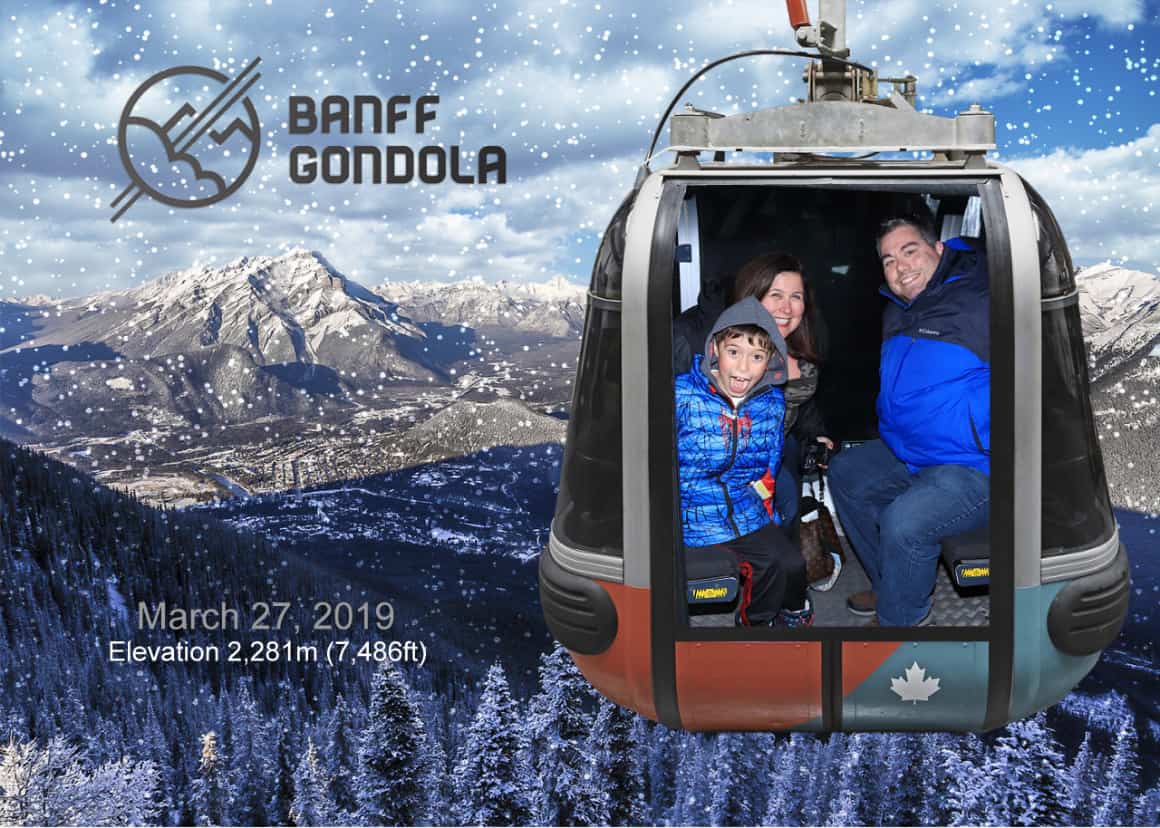 The Banff Gondola ride is easy with kids. It's safe and big enough for a family to ride up together. And, its a super memorable way to arrive for an unforgettable lunch or dinner experience!
The highest restaurant in Banff
Sky Bistro is located on the third floor of the Banff Gondola summit. We exited the gondola and headed up the stairs for lunch. The moment we arrived at Sky Bistro we were in awe of the floor to ceiling mountain views. Even on a day when it was snowing and visibility wasn't terrific the views were stunning.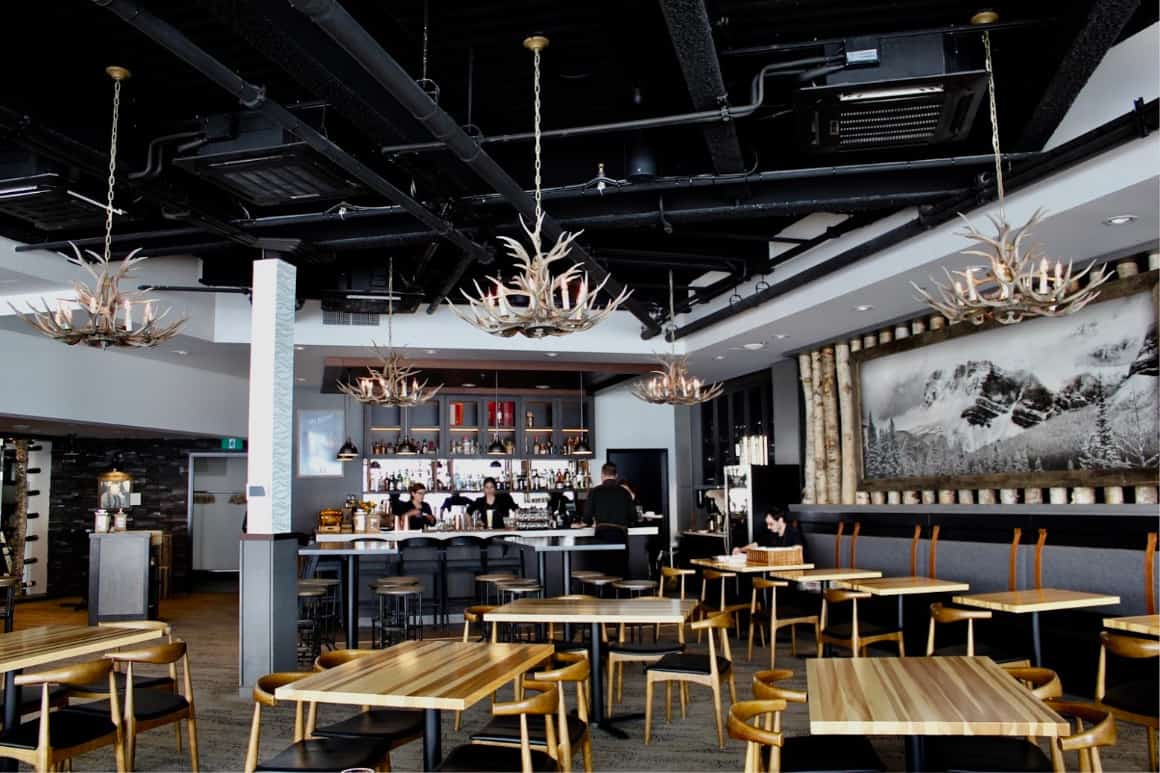 I'd hoped to snag a window seat but those were all two tops due to fire code. They seat families back a bit but views are spectacular throughout the restaurant. We scored a 4 top one row back from the window. It was so fun to watch the movement of the clouds and the mountains pop in and out of view as we sipped cocktails and gazed at the local Canadian menu.
The small menu at Sky Bistro is exceptional. It's obvious a lot of careful consideration and creativity went into creating the menu that offers all the best Canadian fresh ingredients sourced from local farms and paired with distinct Canadian flavors. Even the beer list and the spirits used to make the craft cocktails are all local Canadian favorites many from Banff and Canmore.
Everything we experienced at Sky Bistro was high quality and delicious! We started off with one of their signature appetizers honey duck wings with a Suskatoon berry compote. These wings were outstanding. I didn't tell my son Harry he was eating duck and I just put a couple of wings on his plate and told him he'd love it. After he'd licked his plate clean I told him that he'd just loved eating duck! He proudly asked for more duck please!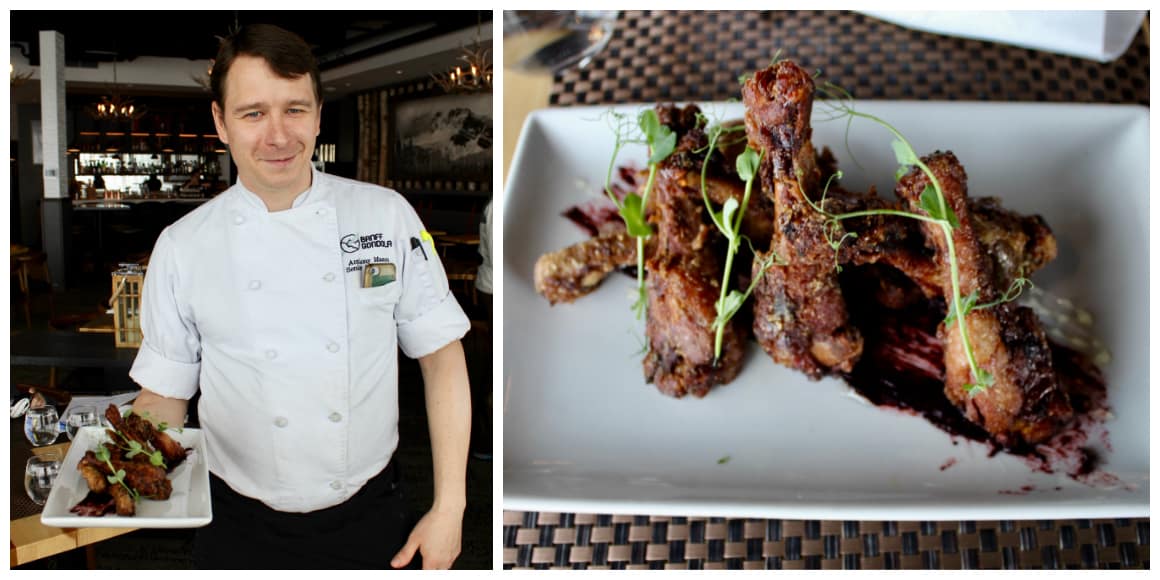 Sky Bistro is great with food allergies. When it was time to order for Harry our server brought out the chef to make sure everything he selected off the kids menu was egg free and nut free. I loved this attention to detail!
For lunch my husband and I decided to split two dishes that sounded perfect for a cold snowy day. We ordered the Alberta Prime Rib Dip and Sanson's Pork Stew made with Free range boar sourced locally from Bear and Flower Farms. The chef came out and explained that the cooks all visit the farm and pet the pigs. The entire kitchen is passionate about cooking this dish and that was super obvious from the first bite.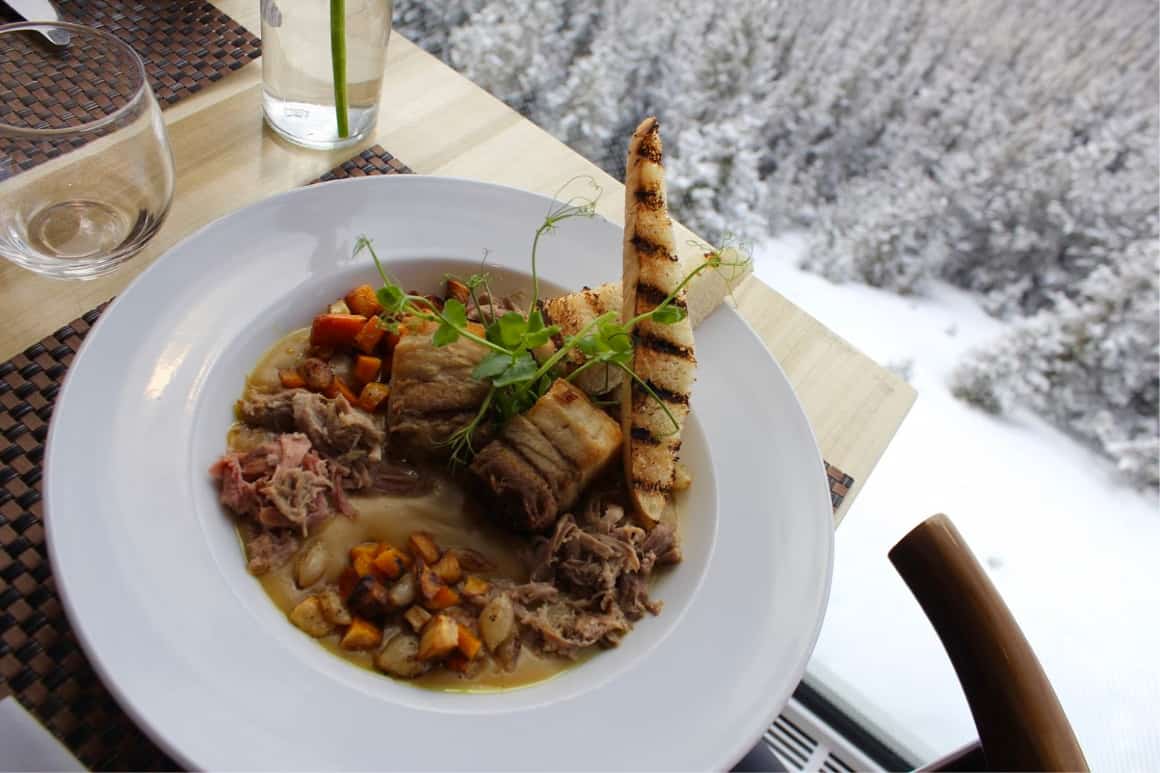 We loved both dishes but Sanson's Stew was the clear winner for out-of-this world flavor! We loved the savory sauce and all of the root vegetables mixed with the different preparations of pork and pork belly.
For dessert we had a variety of yummy Canadian maple treats. We devoured the maple fudge and the maple tart almost as soon as saw them! Harry loved his allergy safe worms and chocolate pudding too!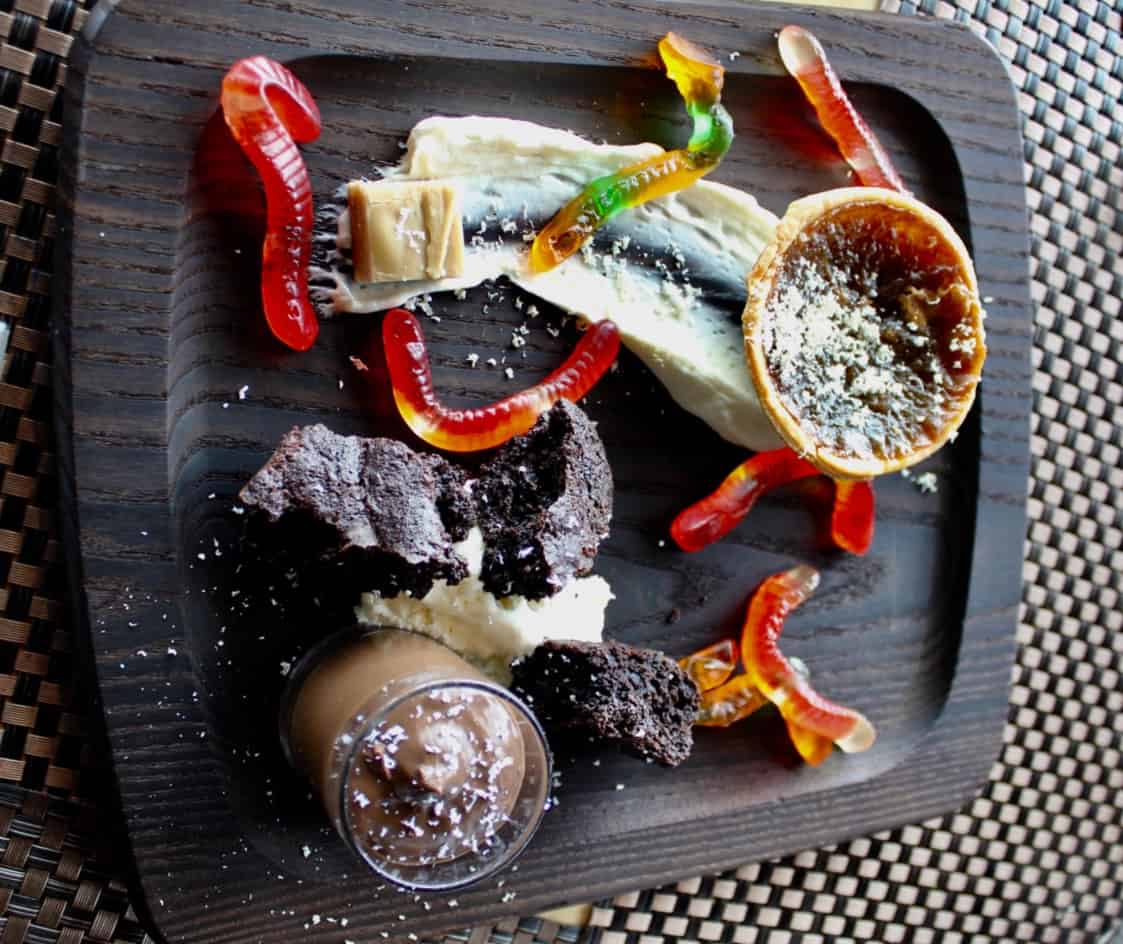 My review of Sky Bistro is a perfect 5 stars for the terrific dishes, attentive service, and the gorgeous scenic Banff mountain views. The most unforgettable part of our Sky Bistro experience is how the views kept changing during our meal. At some points there would be very low visibility and then it would stop snowing and the sun would blast the clouds apart and we would see that we were surrounded by the most beautiful Canadian Rocky Mountains right outside. It was mesmerizing.
Sulphur Mountain Boardwalk and Rooftop Observation Deck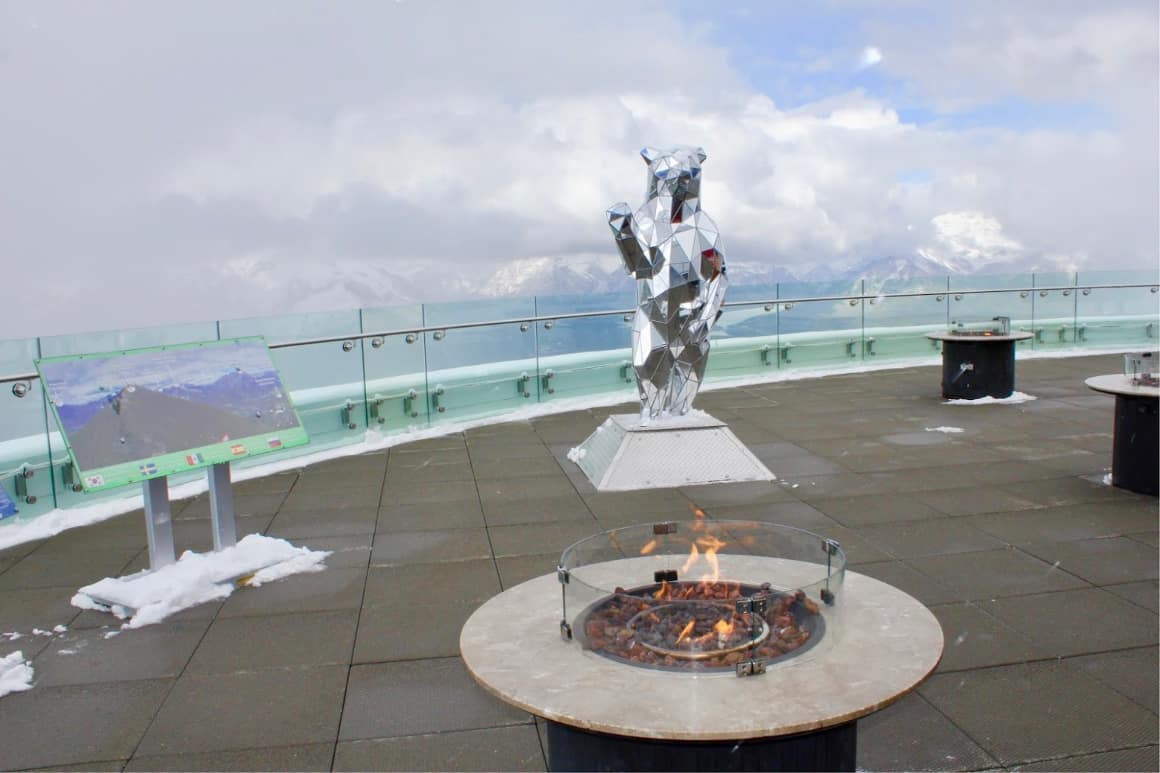 After our tummies were full with our tasty Candadian lunch we decided to explore a little. From the restaurant there are so many options for fun. We chose to watch the hikers on the Sulphur Mountain Boardwalk from afar and head up to the 360-degree rooftop observation deck. By the time we made it to the roof the clouds and snow from earlier were gone and the visibility was incredible. We were surrounded by the Canadian Rocky Mountains and it was absolutely heavenly.
I could have spent hours up on the observation by the firepits with the sunshine on my cheeks just staring out in every direction. But Harry was anxious to hit the gift shop and ride back down the Banff Gondola! He couldn't wait to see the views from the Gondola now that the snow had stopped.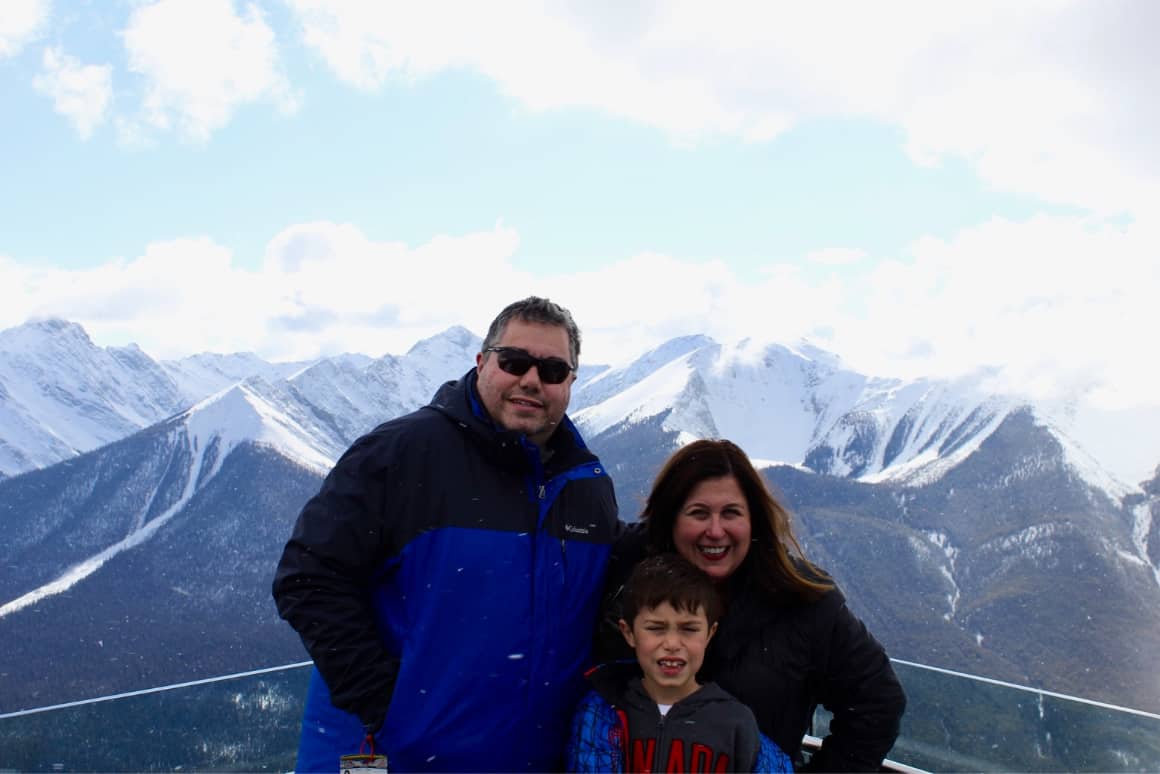 The ride down was incredible and we took lots of photos of the alpine views as we drifted down closer to the bottom of the mountain. Harry loved the Banff Gondola and was devastated to learn that he couldn't ride up and down over and over again all day long. So we bought him the official photo when we exited at the bottom so that he'd always remember what a fun day we'd all just shared.
We can't wait to return to Banff!
There are so many reasons why we can't wait to return to vacation in Banff National Park. Sky Bistro and Banff Gondola are at the top of our very long list of favorite things to do in Banff! We hope to visit in the summer or early fall next time and see the views in a whole different season.