Disclosure: We partnered with Runner Bean Tours and Palau Dalmases flamenco show during our trip to Barcelona for purposes of review. As always, all opinions are my own.

What to do in Barcelona with kids:
Barcelona is a great city to visit with kids. We explored Barcelona with our kids this summer and enjoyed the easy to navigate city with so much to offer for families.  In just a few days we saw all the top sites including Sagrada Familia, Park Guell and so much more.  
Barcelona also offers great cuisine and our family loved dining and finding great local foods during our visit!  We also explored further and traveled out of the city one day for a day trip to Girona, which was a wonderful small town.
We booked a private tour guide of Barcelona with Runner Bean Tours during our visit. Our guide was great, and the kids loved their special activity books and Runner Bean backpacks.  
We experienced a private walking tour of the Gothic Quarter.  Everyone had a favorite part, but my kids especially loved the Giants Museum and our guide, Tati, teaching them to order candy in Catalonian in the oldest candy shop in Barcelona.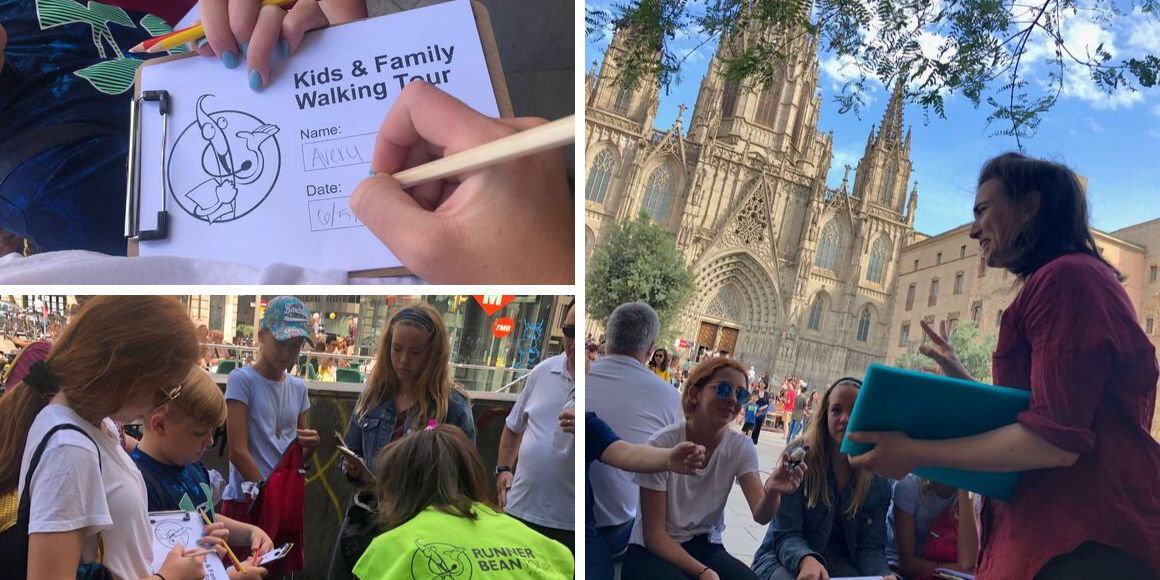 We are so happy that we booked a  walking tour for kids with Runner Bean Tours, since it offered so much to engage the whole family!  We learned all about the history of the area that we would have missed without a guided tour.
Where to stay in Barcelona with kids
Finding a hotel with great family rooms and a rooftop pool made our stay in Barcelona wonderful! While exploring Barcelona as a family we stayed at the Hotel Jazz.  We loved it because the family room was a perfect size for our family of four, and we loved that it included breakfast. The family rooms are all corner units, and there was so much natural light. Also, the kids loved the rooftop pool, which was a great place to relax after a long day of touring.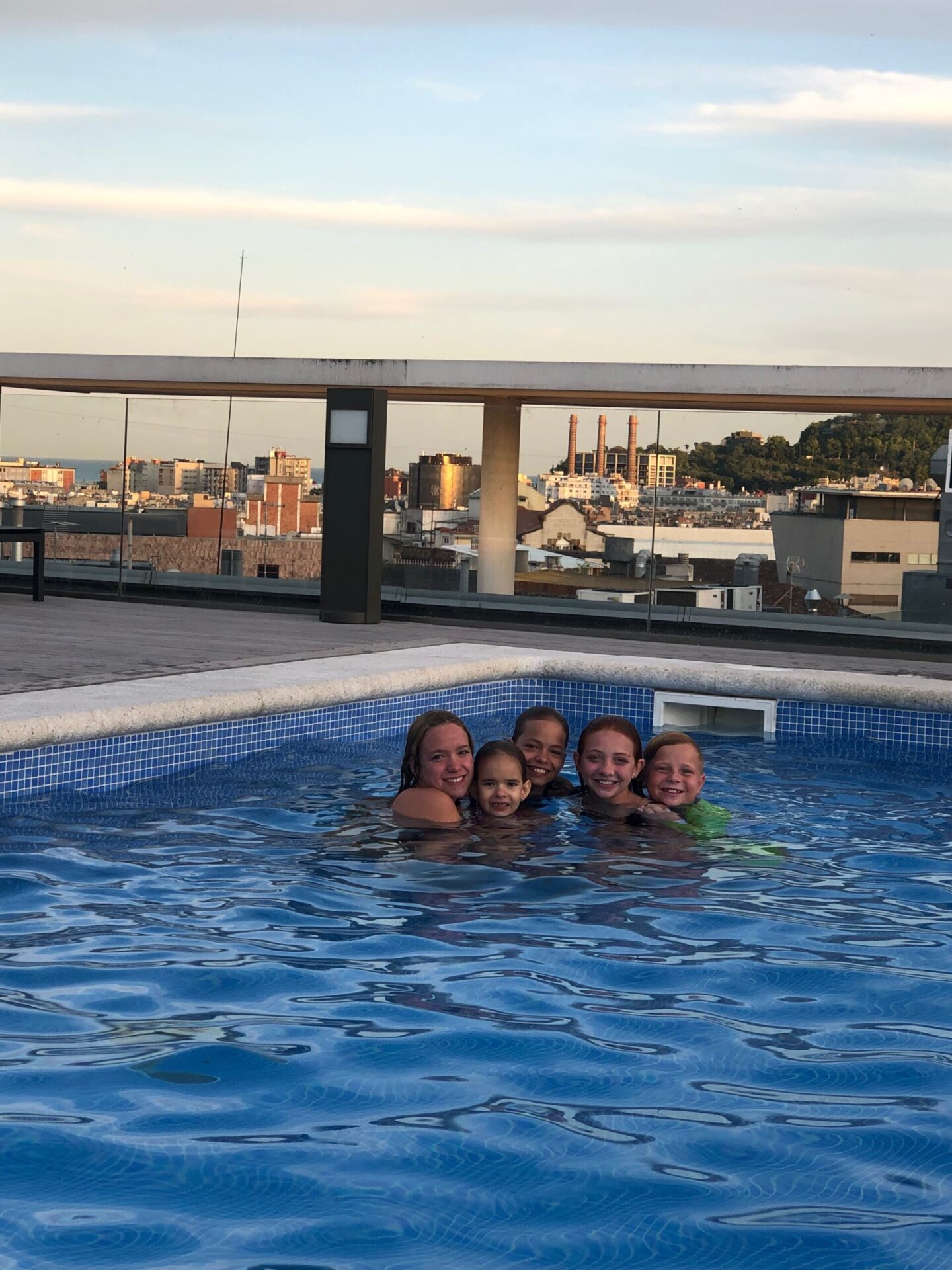 They also had a bar and food on the rooftop terrace where we were able to order food one night and enjoy the sunset view.  So relaxing!
Seeing a Flamenco show in Barcelona is a MUST
We loved seeing a Flamenco show, and Palau Dalmases is amazing!  We loved the small intimate setting.  We chose the early show before dinner which included a drink, but they also offer later shows that include tapas.  The kids got to sit in the front row! The dancers were outstanding, and the location was perfectly close to many wonderful restaurants in the Gothic Quarter.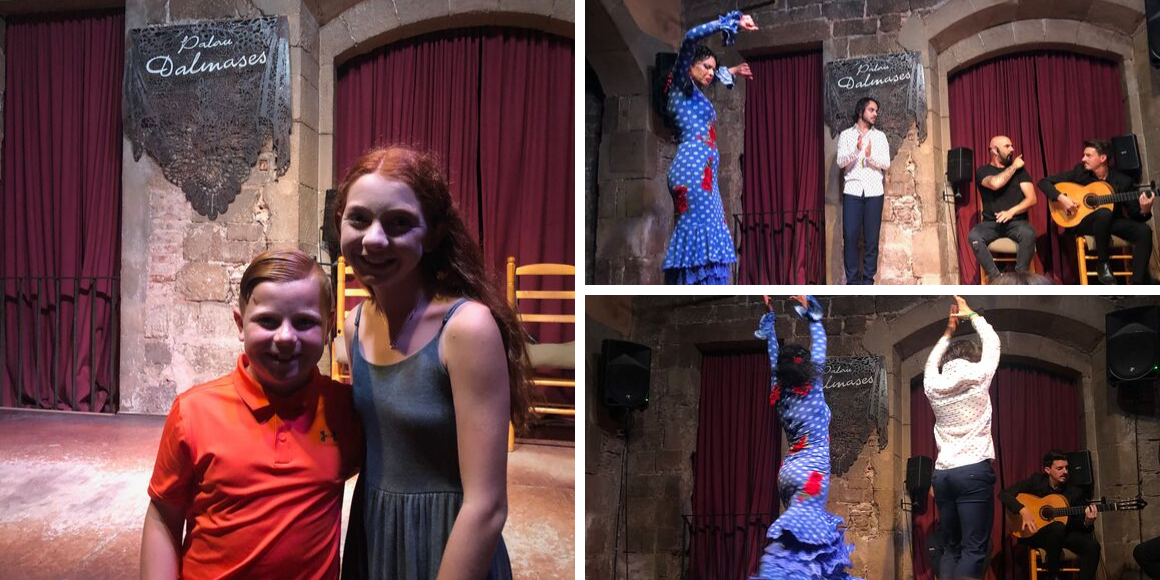 Family friendly dining in Barcelona 
Family Friendly dining in Barcelona is a bit of a challenge. We wanted to try local cuisine but also knew that the tapas style might not be a great fit for our little picky eaters.  Plus, we were a group of nine, so we wanted to have reservations planned ahead of time.  
We were pleasantly surprised by all the great food we tried in Barcelona.  Our first night we made a reservation at Don Kilo and enjoyed some of the best Italian food ever!  It was delicious and authentic we felt like we were in Italy. We also loved going around Boqueria Market and getting sandwiches and fresh smoothies.  We regularly asked local businesses for their suggestions, so we were able to stop in and make a reservation for the following evening.  
We did try the tapas a few times, while the kids enjoyed some gelato.  That seemed to work best for our group of super picky eaters!
Barcelona was a great city to visit with the kids and we would love to explore cities in Spain
. 
What is your favorite city in Spain to travel with kids?