Disclosure: Many of the companies mentioned in this post partnered with Well Traveled Kids for purposes of review and many did not. I only share my own opinions. We loved Banff and can't wait to return! I highly recommend spending Spring Break in Banff with kids!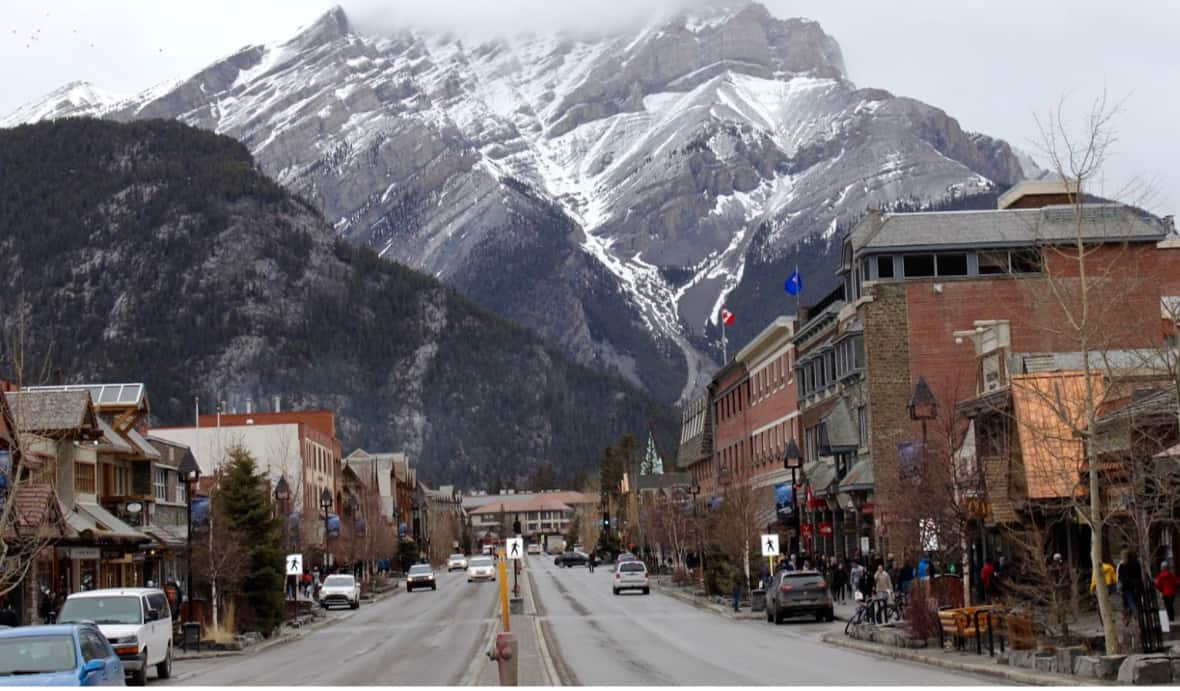 Bucket List trip to Banff
Banff had been on my bucket list forever! Gorgeous photos of the majestic Canadian Rocky Mountains have been luring me to Banff ever since I can remember first laying eyes on them. So when I finally started looking into planning a family trip to Banff, spring break seemed like the perfect time to visit Banff National Park. As I researched a Banff family itinerary, I found so many reasons to spend Spring Break in Banff with kids! So, I booked our luxury Banff vacation hoping that it would be as good as the photos I'd fallen in love with and it was AMAZING! 
In fact, we loved Banff in Spring so much that we are returning to Banff for Spring Break this year!
Would you like us to plan your luxury Banff vacation? Click here Email Sarah for the best Virtuoso luxury Banff Hotels and tours!
Read on to see why I highly recommend visiting Banff with kids…

Family trip to Banff National Park with Kids
The beauty of Banff National Park is so much more than just taking in the stunning views in the Canadian Rocky Mountains National Park. Heading to Canada is especially wonderful for kids from the United States because they experience so many of the subtle differences that make visiting Canada special. 
Things outside of their everyday routine like reading the road signs and watching the speed on the car kilometers, weighing things in grams, paying with Canadian currency, checking the temperature in Celsius, learning all about bears and bear safety both in town and on the ski slopes. It's wonderful how these unique experiences stick out in a kid's memory as lasting special differences from home. 
We live in Chicago and a direct flight to Calgary to visit Banff is quicker than flying to California. My son Harry loved that only a short flight away he was in another country watching the road and figuring out our speed in Kilometers vs miles. He brought home each and every Canadian coin and a few dollars also to show his class his awesome foreign currency. He loved using the metric system in everything we did and googling conversions on my phone. And his absolute favorite piece of Banff education was learning about bear safety and the locals' stories of instances when bears would come into town looking for food or when bears would wake up from hibernation and end up on a ski hill with skiers!
Spring Skiing in Banff: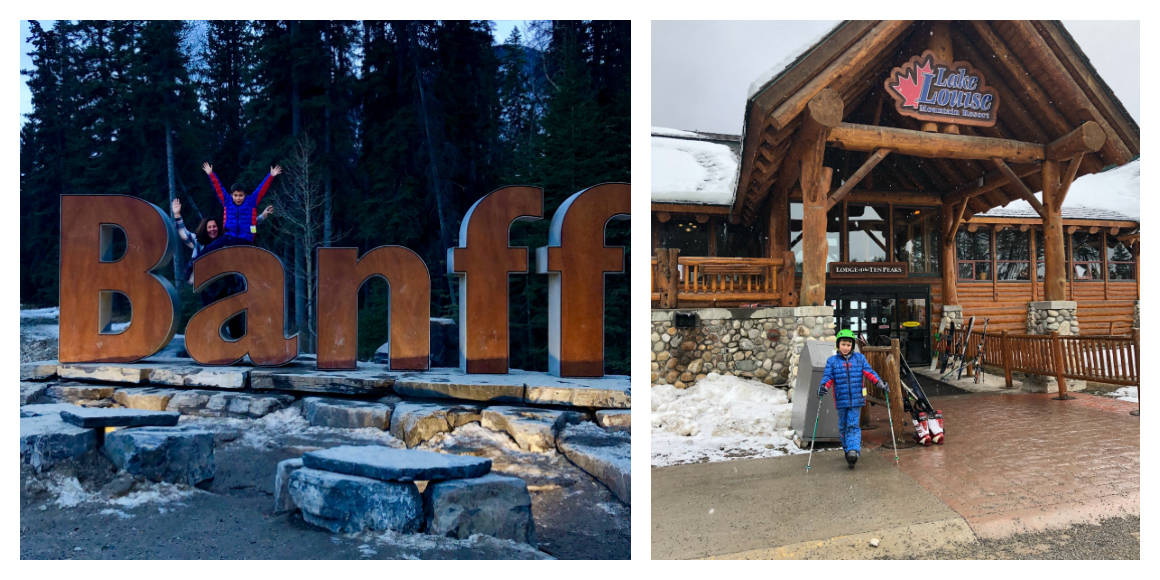 Banff spring ski season is legendary for great temperatures, amazing mountains and fresh powder. I've had friends who love to ski Canada and when they ski Banff they always rave about what a terrific experience it is to ski the Big 3 in Banff. The Big 3 are the 3 famously awesome Banff Ski Resorts that include Mt. Norquay, Banff Sunshine, and Lake Louise Ski Resort.
My husband and I never had the gift of learning to ski as kids. We've always wished we had learned to ski when we were little, close to the ground, and not afraid of falling. So, it's important to us that we give the gift of ski school to our son Harry each year in hopes it will be a lifelong sport. It's become our annual spring break tradition since Harry was very little to visit ski resort towns and put our son into ski school every year. It's allowed Harry to keep up his ski skills and since we don't ski, it gives us a little time to connect while he's having a blast on the slopes.
Lake Louise Ski School for Kids 
For this trip, I chose Lake Louise Ski Resort because I liked all that they had to offer in their children's ski school programs. They offer both private lessons and group lessons for kids. I chose to enroll Harry in group lessons so that he'd have other kids to ski with each day.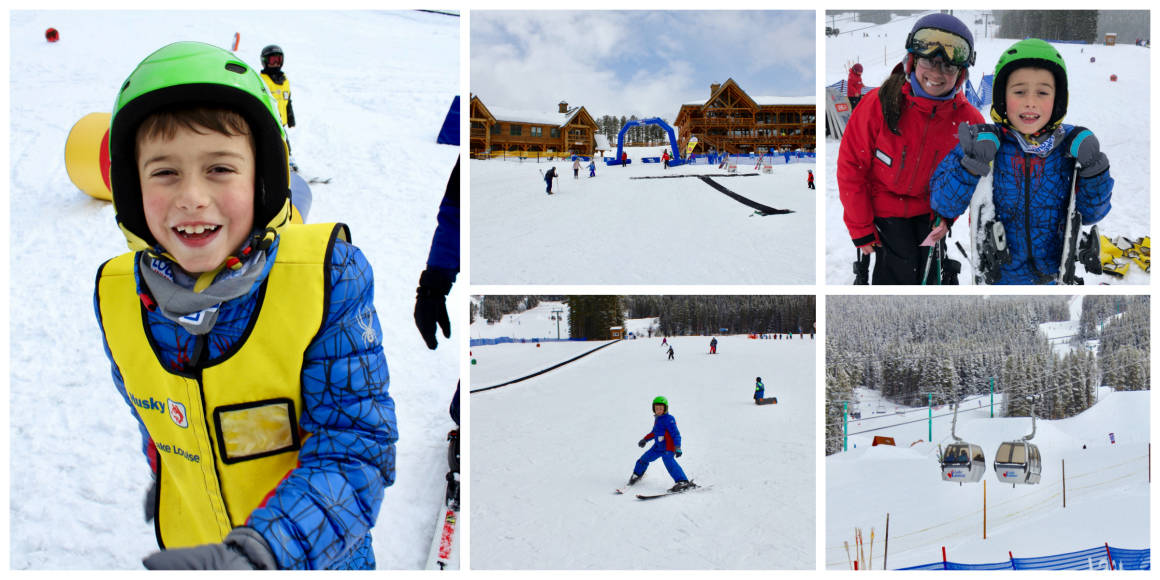 Harry loved the Lake Louise ski school for kids. Every day he was grouped with a small handful of kids at a similar skill level and spent the day skiing the slopes.  
I loved how Lake Louise ski school cared about food allergies and safety for the kids in the program. They were careful with the kids both on the slopes and off. Harry has food allergies so this is always a concern when I drop him off any place that food will be served. They were very careful at lunchtime every day to make sure he received an allergy-friendly lunch.
Harry made amazing progress with his skiing skills and advanced to a new group each day. He loved the group ski instructors and picked up a few new friends by the end of each day. 
Click Here to Read About The Best Scenic Restaurant in Banff
The elevation at Lake Louise Ski Resort is higher than the others. We were amazed that when we visited it would be snowing in Lake Louise but raining when we drove into Banff. I was excited to learn that spring ski season at Banff goes till May at Lake Louise Ski Resort. How awesome is that!?
This year when we visit we hope to go back to Lake Louise ski school and also make time for Harry to ski the Big 3 and visit both Mt. Norquay and Sunshine Banff mountains too!
Family-friendly things to do in Banff with Kids- 
When Harry wasn't skiing we found so many fun things for families to do in Banff during our stay. We loved strolling each of the unique little towns of Canmore, Banff, Banff Springs, and Lake Louise. It's fun to pop in and out of the shops and find all of the best photo spots in Banff! 
Top 3 favorite things to do in Banff:
There were lots of great things to do in Banff and these three experiences really stand out to me as the best things to do in Banff with kids. 

Riding the Banff Gondola 
The Banff Gondola ride is an absolute must if you want to take in the breathtaking views of the Bow Valley mountain ranges. As we rode up the mountain it was snowing and a gorgeous climb through the aspens to the mountaintop. Once we arrived up top we had a blast shopping, dining, and taking in the beauty of incredible mountain ranges that surrounded us. It stopped snowing on our ride back down the mountain and with clear visibility we were in awe of all the mountains and animals we could see below us as we traveled back down. I highly recommend a ride on the Banff Gondola for families!

Banff Upper Hot Springs
We visited the Banff Upper Hot Springs on a cold evening after a long day of hiking in Banff. Harry was so excited as we walked up to the historic spa and bathhouse and saw the steam coming off the pool with the beautiful views surrounding us. The hot water from the springs was so soothing on our muscles and feet after a long day of hiking Banff. We all felt so relaxed afterward! Harry and I stopped in the gift shop to get some Banff Upper Hot Springs bath salts to take home. I wish we'd purchased more because they were amazing and we used them all up quickly for both the healing qualities and the memories of our fun Banff vacation spot!

Tubing at Lake Louise Ski Resort
My husband and I don't know how to ski, but we loved going tubing as a family at Lake Louise Ski Resort in the afternoons when we would pick Harry up from ski school. The adrenalin rush of the tube park was incredible! I cannot wait to go tubing in Banff again this year and I highly recommend this as great family fun in Banff!
Best family-friendly places to eat in Banff with Kids
Coming from the United States I always find it extra fun to try Canadian foods on our family trips to Canada. We love stopping at the local grocery stores and picking up chips, candy and snacks that are unique to Canada to snack on in our hotel room and on the road. 
There were plenty of things to eat in Banff that stood out as special to our family. The best family-friendly restaurants in Banff included menus with items like fondue, s'mores, beaver tales, maple everything, and poutine! 
We enjoy visiting nice restaurants on vacation and we honestly found all of the best restaurants in Banff to be family-friendly and every place we visited offered a kids menu. We explored the best places to eat in Banff, Canmore and Lake Louise and every meal was truly outstanding. We found that the best Banff restaurants really cared about sourcing ingredients locally and many noted the local farms, breweries, and distilleries on the menu so that we knew we were enjoying local treats!
Here's our List of Top Banff Restaurants:
The best Canmore restaurant we visited is Grizzly Paw Brewing Company. Grizzly Paw uses local mountain water to make refreshing handcrafted beers and sodas. Their burger menu is incredible and they use 100% fresh Alberta beef to create some of the tastiest burgers I've ever enjoyed! The kids had a blast ordering flights of freshly brewed homemade sodas!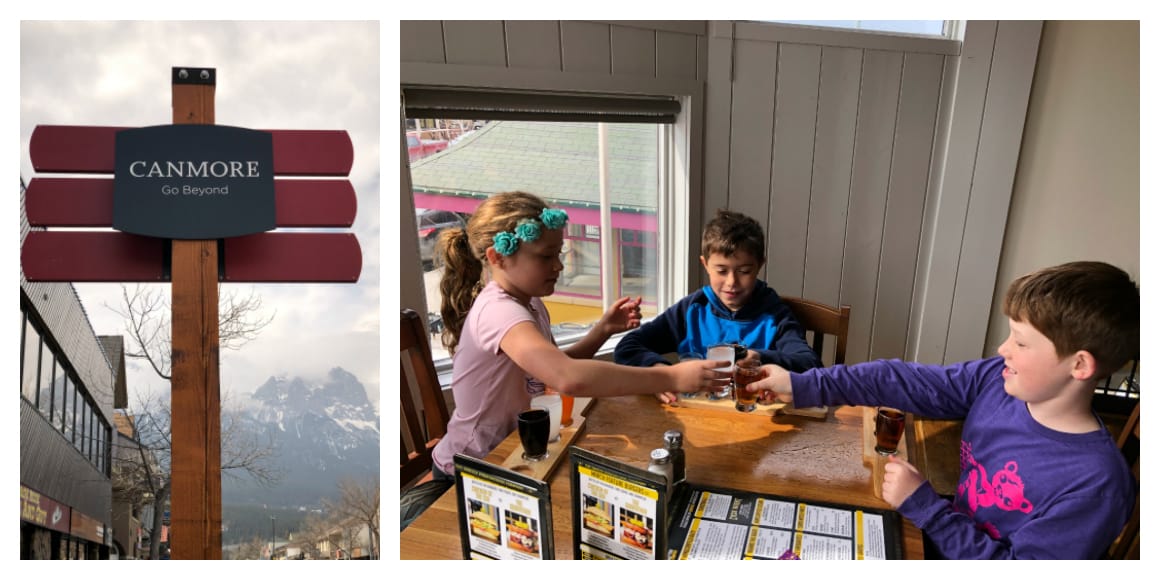 Our pick for the top Banff restaurant is also the most scenic restaurant in Banff, Sky Bistro. Everything about our visit to Sky Bistro was unforgettable! The spectacular mountain views, out-of-this world service, creative farm to table menu, fabulous cocktails made with local spirits, delicious dishes, decadent desserts and the attention to every little detail make a visit to Sky Bistro a must for families visiting Banff. We can't wait to return this year! My husband and I are dreaming about devouring the locally raised pork stew again!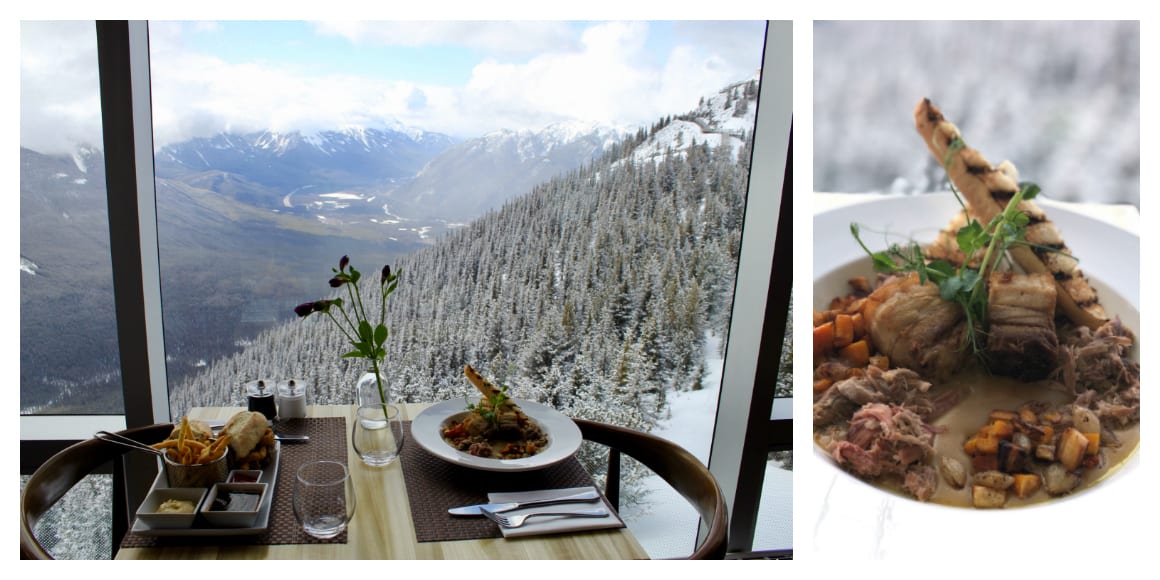 Other favorite Banff restaurants include The Maple Leaf Grill and Lounge where I fell in love with the warmth of the restaurant, the creative menu and all of the fresh local ingredients. Everything we ordered at The Maple Leaf was yummy and I especially can't wait to return for their spicy and sweet Jalapeno Maple Duck Wings and the best-ever spaghetti!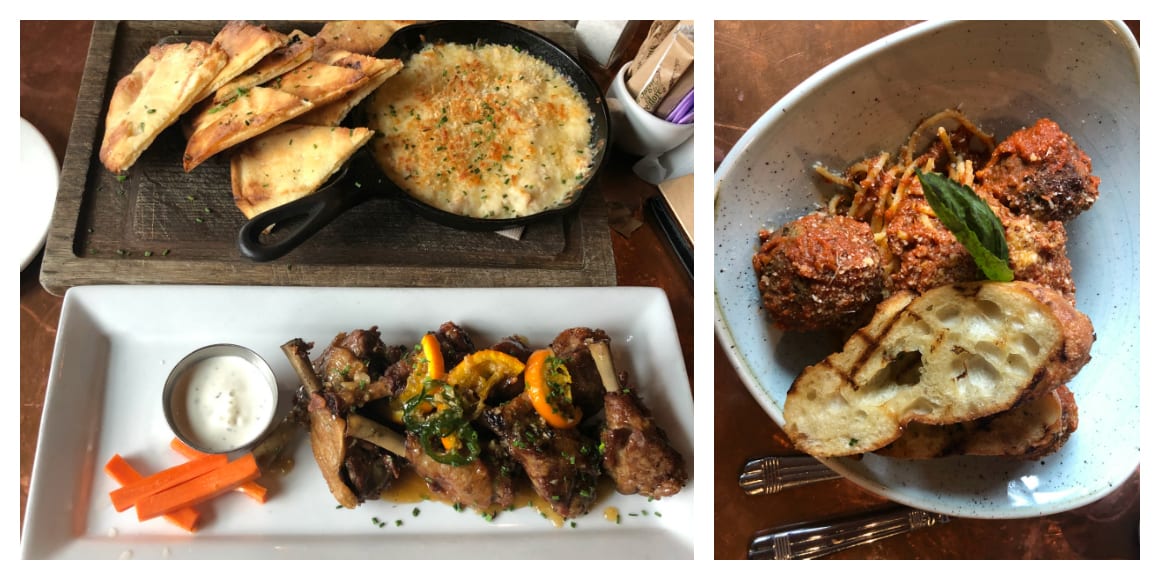 We also loved Banff's Park Distillary Restaruant that serves 100% local handmade spirits and campfire cuisine. This restaurant creates original cocktails made with small-batch spirits made with glacial waters distilled in-house. Everything on the menu is campfire inspired and delicious. We loved the Cheese & Whiskey Fondu, Park Poutine, Homemade cornbread with maple butter, bison burgers and rotisserie chicken. 
Other great places to eat in Banff include Beaver Tails Pastry for a delicious and famous Banff dessert, the highest Starbucks in Canada at the top of the Banff Gondola, and of course a few obligatory stops at Tim Hortons for coffee and donuts!
We have several favorite restaurants near Fairmont Chateau Lake Louise since we stayed there during our visit to Banff. During our stay, we tried all of the restaurants at Fairmont Chateau Lake Louise Resort. Based on our experiences, I highly recommend dinner at Alpine Social. Our dinners at Alpine Social were locally sourced and outstanding. They are excellent with food allergies and really know how to cook a great steak. We had a blast posing for souvenir pictures in their photo booth and kids staying in the hotel eat free at Alpine Social.
Enjoying a meal in the Lakeview Lounge is the quintessential Fairmont Chateau Lake Louise experience. Sipping a cocktail or hot chocolate in this iconic lounge truly is a must! We loved soaking up the extraordinary views of Lake Louise and Victoria Glacier while enjoying an après ski cocktail, bubbly french onion soup, and the beauty of the giant picture windows in this historic castle hotel.
Another one of our favorite Lake Louise Restaurants was at The Post Hotel. My husband and I went for breakfast one day after we dropped Harry at Lake Louise ski school and loved it so much that we returned for lunch the following day! Everything was so tasty, we can't wait to return!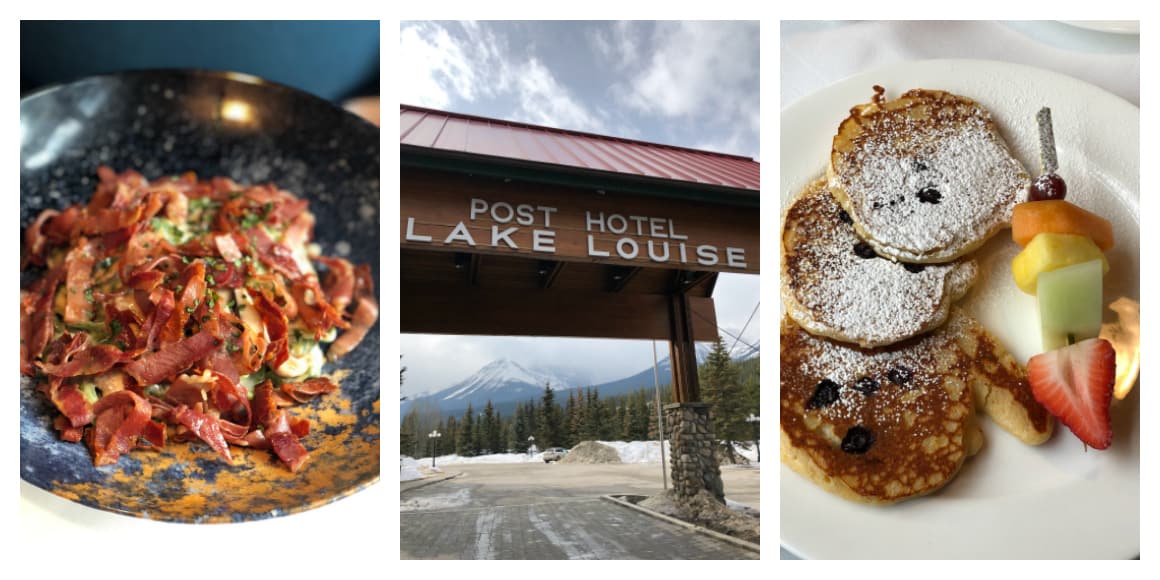 Things to see in Banff with Kids
There are lots of amazing things to see in Banff. On the drive from Calgary to Banff, you might be lucky to spot horned sheep on the sides of the road or the famous Canmore bunnies on your drive through Canmore. 
It's fun to stop in Banff Springs and explore the historic Fairmont Banff Springs Castle event if you aren't staying there. When we visited in the spring there was a frozen waterfall right by the castle that had lots of tourists walking on it and playing near it. I personally thought they were crazy, but it was fun to see!
Driving the Icefields Parkway towards Jasper is stunning. We loved looking out our windows and making lots of stops at lookout points and hiking areas. What I remember as the most spectacular is seeing the Crowfoot Glacier, Bow Lake, Bow Glacier, Bow Summit and Peyto Lake.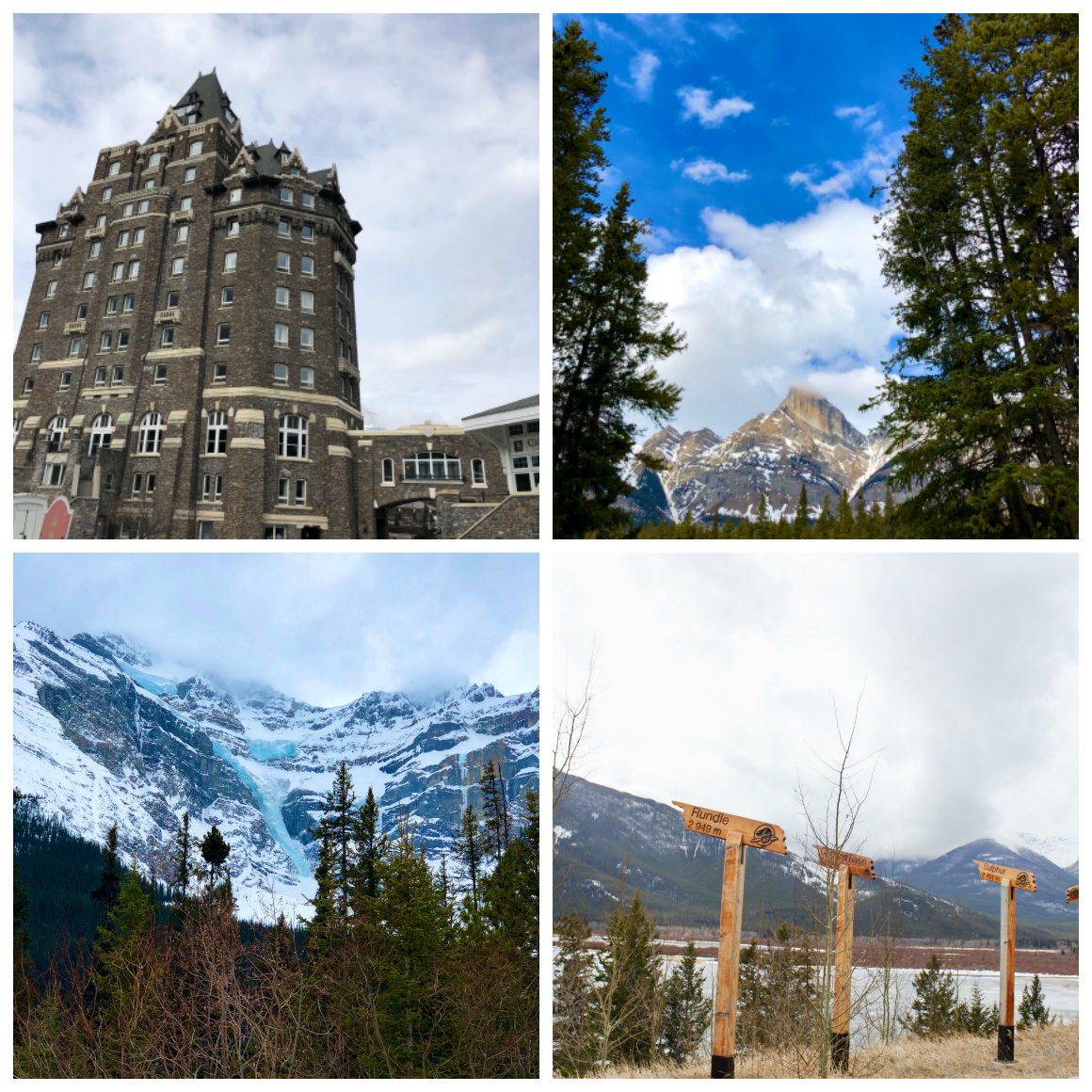 Hiking in Banff with kids
Hiking in Banff is a must for all ages. There are hikes for all skill levels including easy hikes that lead to exquisite natural beauty. We loved hiking to see frozen waterfalls, glaciers, and beautiful mountains. 
Tips for hiking in Banff with kids: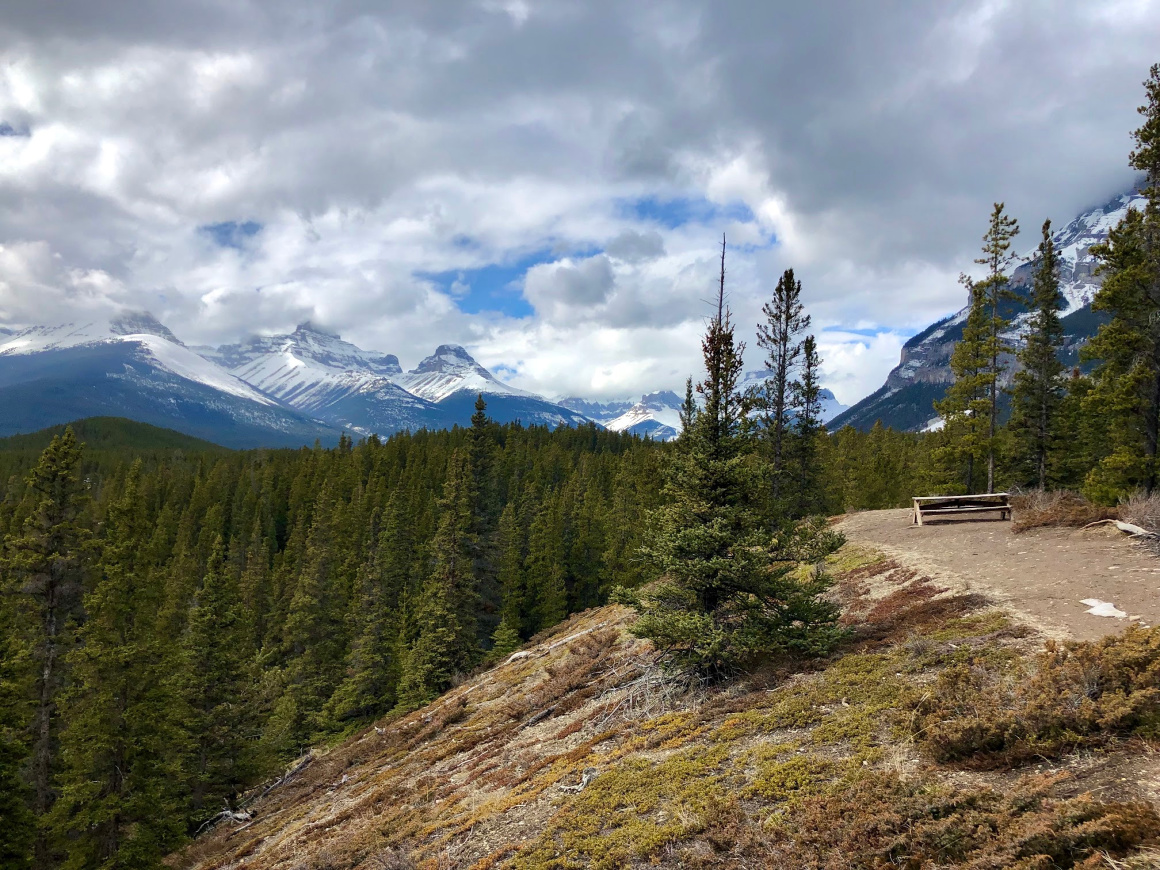 It's pretty easy to find fun paths to hike in Banff that kids will love. Here are some tips I recommend based on our experience hiking with kids in Banff.
Be sure to the bathroom before you leave. Bathrooms might not be available where you hike.

Bring a good camera. The scenery is so sublime you will want high-quality photos.

Wear boots, if you have hiking boots with good traction I recommend those.

Pack water and snacks for everyone.

Start early, especially in the winter and early spring when days are short.

Bring toilet paper and hand wipes to wash hands. Some hiking areas we visited did have little toilets but most didn't have toilet paper or sinks with soap.
Where to stay in Banff with Kids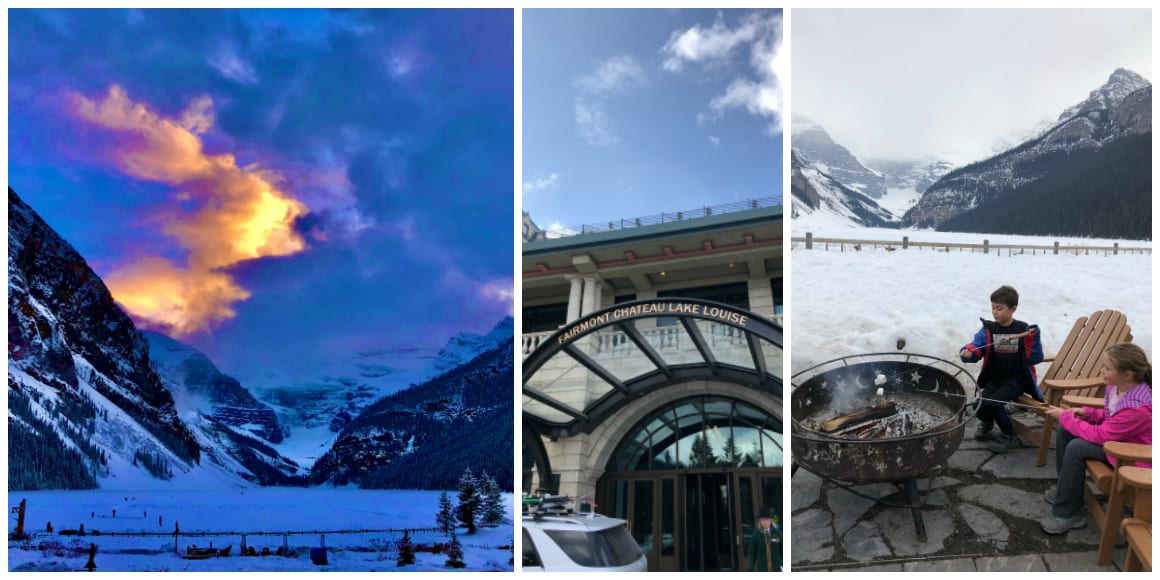 When I planned my family trip to Banff, I looked for hotels and resorts that would offer us a luxury Banff hotel stay with kids. I was impressed to find that Banff has numerous kid-friendly hotels. The best Banff luxury resorts are the famous historic Fairmont hotels in Banff Springs and Lake Louise. We chose to stay at Fairmont Chateau Lake Louise Resort because of its location close to Lake Louise Ski Resort. We really enjoyed our stay in the historic Lake Louise Castle and would recommend it to families looking for a classic castle hotel with great family dining options, nightly s'mores, hot tub, a fun indoor pool and magnificent views of Lake Louise. I do hope to try the Fairmont Banff Springs Resort and maybe a few additional luxury family hotels in other locations around Banff this year when we visit.
Would you like us to plan your luxury Banff vacation? Click here Email Sarah for the best Virtuoso luxury Banff Hotels and tours!