Disclosure: This is not a sponsored post.We did not receive anything in return for listing the businesses mentioned in this post. We simply enjoyed our western family road trip vacation and wanted to share our tips and itinerary so other families can experience the same fun we did! 
The American West is a theme that permeates American art, literature, culture and so much more.   It was with great eagerness we planned our western family road trip. It was a family vacation that threaded us from Jackson Hole, Wyoming through Grand Teton National Park to Yellowstone National Park and across Wyoming to the Rocky Mountain National Park.  This turned out to be a trip filled with adventure, wildlife and magnificent scenery and natural phenomena.  Read on to learn more about how we structured our days on the road.  
Day 1:  Flight Jackson Hole, Rent A Car, Acclimate to Altitude
We kicked off our trip by flying from Chicago to Jackson Hole, WY.  If you have never flown into Jackson Hole you are in for a treat.  The landing approach takes you low over gorgeous country – mountains, waterways, lush grassy pastures until we landed at the cutest, smallest airport which boasts fewer gates than I can count on one hand.
 It also helped that the sun was setting and a full moon was rising over the Tetons.  As we deplaned and walked down the ramp to the terminal which is about the size of a small suburban strip mall, we smelled the freshest mountain air.  It was good to be in Jackson Hole.
Explore Jackson Hole
Take a day in this charming town to acclimate particularly if you are sensitive/prone to altitude sickness as I am (though thankfully nobody else in our family is).  Take things slow the first day. You will be at very high altitudes for much of this trip.   
Explore the town square and eat a great meal at any of the restaurants that surround it.  Shop at Lee's T's which has an impressive selection of touristy t-shirts.  Lee's hires artists to design shirts that become instant traveler classics.  
Take a little time to stop into the Jackson National Fish Hatchery. Volunteers at the hatchery will happily show you how they raise Cutthroat Trout from egg to fry to full-sized fish.  These fish are then used to stock rivers and lakes in the area including waterways that belong to the Native Americans in the area.  Children will especially enjoy seeing the tiny trout fry in large cement holding tanks.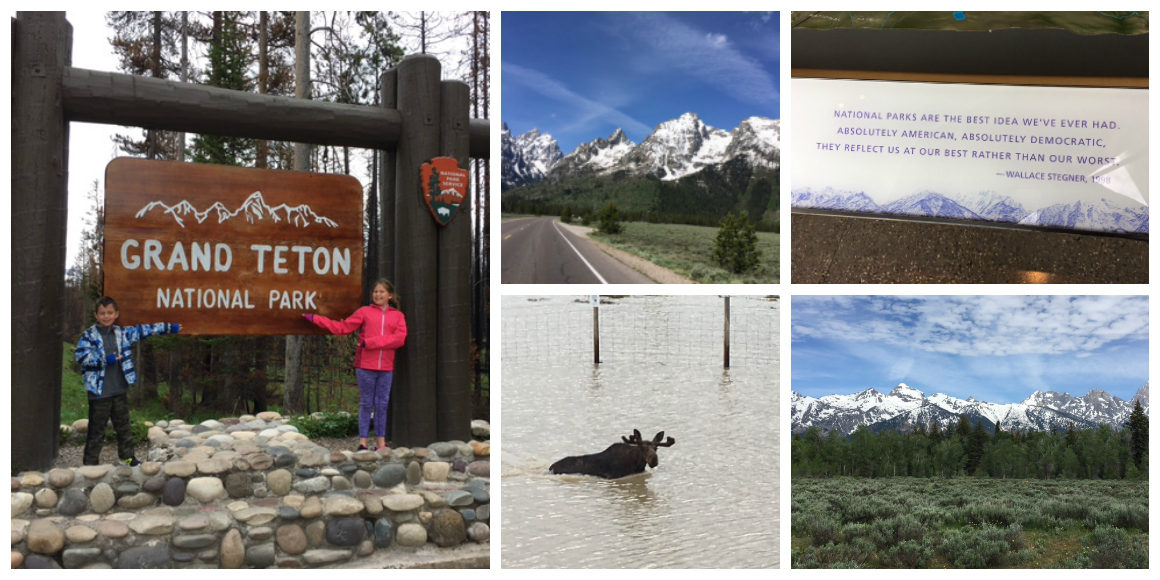 Day 2:  Exploring Grand Teton National Park and Jackson Hole
In the morning grab breakfast and pick up picnic foods at the very well-stocked Albertson's grocery on the edge of town in Jackson Hole and head to Teton National Park.  
Begin your visit at the Craig Thomas Visitor and Discovery Center.  This stop has fantastic displays to help give context to your day in the park.  With the help of friendly and knowledgeable park rangers you can plan your hikes and tours so that you have an unforgettable day in Grand Teton National Park.   
Return to Jackson Hole and enjoy a lovely dinner at any of the casual restaurants in town.  The center of town is a lively place, there was a "shoot-out" at 6PM where actors portrayed a typical scene from the Wild West, our kids thought that was big fun and they also enjoyed a dip in the hotel pool before bed.  

Day 3:  Drive North Through Grand Teton National Park to West Yellowstone
After breakfast we checked out of our room and drove straight north through Grand Teton National Park to Yellowstone National Park.  The two parks are north/south neighbors and this drive is a summer drive in that the roads are often closed in the winter.  
Welcome to Yellowstone
Heading into Yellowstone we immediately began to see the presence of steam vents and smoky outcroppings that are the signature geologic give-away of Yellowstone at 8,000 feet along the Lewis River. In late June snow still was piled along the highway! It was spectacular to see this and the rushing river along the road.  
Next, we then drove toward the Old Faithful area of the park which is the epicenter of the caldera.  Something I had not realized is that Yellowstone is largely the top portion of a mostly dormant volcano and all the geysers, steam vents and wild rushing water are bubbling up from miles below in the earth in this most remarkable place.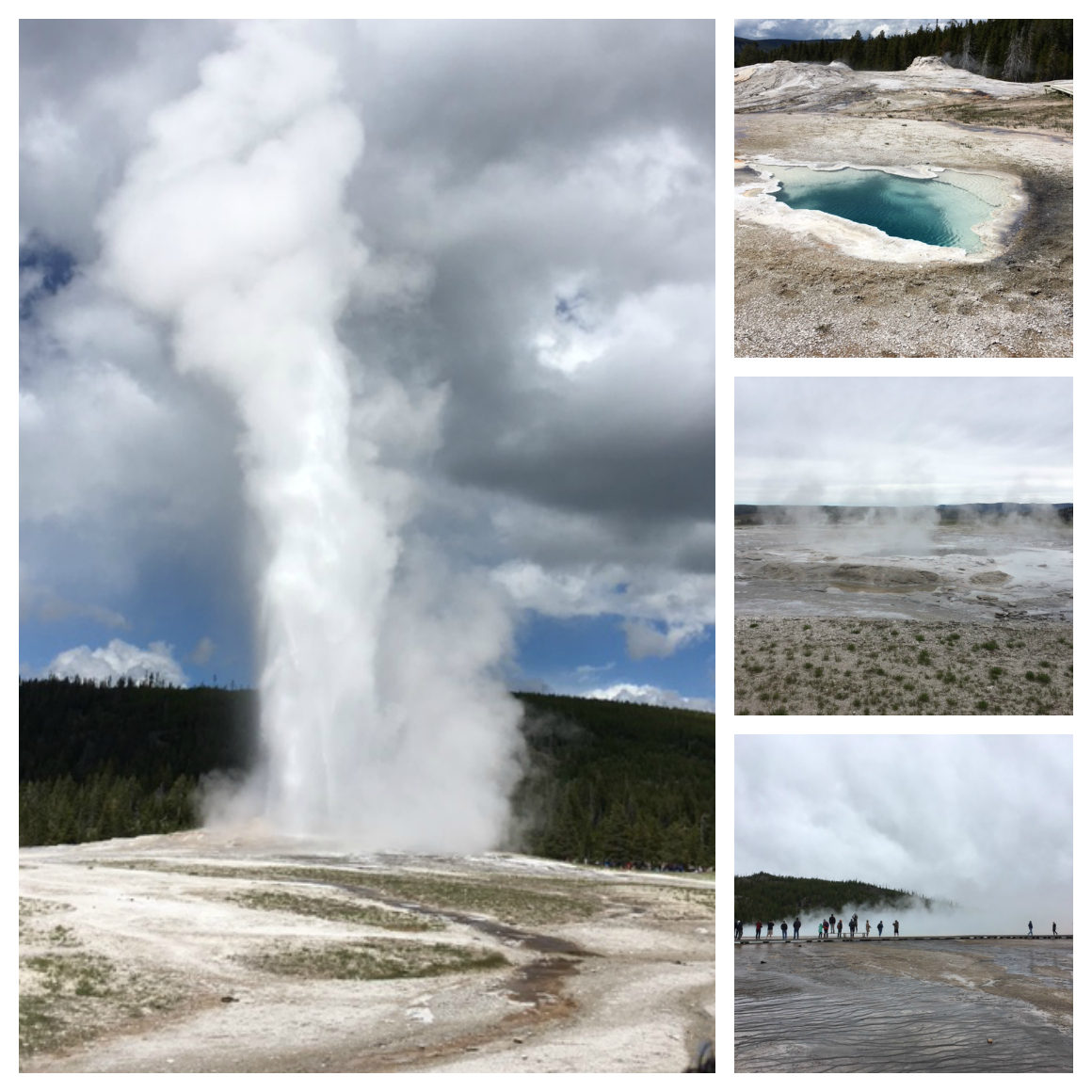 Take some time at Old Faithful to watch it erupt.  The Park Service estimates each eruption within about a 10 minute window of accuracy.  Next have an ice cream in the Old Faithful Lodge which just smacks of history. With its fir trunk beams complete with real live Uinta squirrels begging for snacks in the lobby (it must be simply impossible to keep them out of the building).  Recharge in this area and head toward West Yellowstone town via the road that takes you past Midway Geyser Basin, The Fountain Paint Pots and the Firehole River.  Save these for exploring tomorrow.  
Head towards West Yellowstone:
On the way to West Yellowstone you will probably encounter one, and it won't be the last, traffic jam due to bison on the road.  There is a very large herd of bison who enjoy life on the side of the road headed to West Yellowstone.  You will want to stop and watch them do their bison thing which is lots of walking around, tending to young bison calves and just chilling.  
It's all set against a seemingly fake, yet oh so real, backdrop of lodgepole pine forests that stretch as far as the eye can see, alongside glimmering rivers just filled with trout and bird life.  When you take the time to stop you will see it all, feel the wind in your hair and feel grateful that President Teddy Roosevelt and his buddies advocated for making this the first National Park.  
The drive is short to West Yellowstone – a town that is touristy and kitchy and worth a night or two as it is an excellent spot for sleeping and heading in and out of Yellowstone.  The hotels in West Yellowstone cater to the tourist trade.  They are all good enough though none will blow your doors off in terms of luxury.  We used ours as a base camp of sorts.  
We enjoyed seeing the old Madison Hotel where the front desk clerk invited us to see the handful of "original rooms from the early 1900's" and she proudly noted that they have running water and electricity now.  If you want to see an honest-to-goodness Western Frontier hotel stop by the Madison Hotel.  
West Yellowstone got started in full when the Union Pacific Line finally came through and had a depot in the town to bring early visitors to Yellowstone. The town has a funny mix of rugged western town (wide streets so omnipresent snow can get plowed), vintage tourist shops selling all the things tourists look for, and plenty of simple restaurants to feed the masses.  We especially liked a dinner we had at the Three Bear Restaurant which has a small salad bar, good all-American food and a friendly western vibe as locals eat here with tourists contentedly.  
The Yellowstone Historic Center is a very nice museum located in the original Union Pacific Depot and offers a thorough display of how this part of the West was settled and developed and how visitors have come to this place for more than 100 years.
Day 4:  Explore Yellowstone National Park (Drive The Lower Loop Road)
The Geyser area of Yellowstone is the lower southwest quadrant of the park and it was just too good to see once.  So on this day, using West Yellowstone as our base of operations, we made a point to visit the Firehole River area, The Fountain Paint Pot at the Lower Geyser Basin, the Midway geyser Basin and one more trip to Old Faithful as it is just too good to see only once.  
The ground just burbles and bubbles with all manner of hot, sulphury water that is just well worth seeing.  And here and there elk wander in and around all of this almost as if they were actors in a play.  And when the elk aren't wandering around the marmots enter the scene and create great hilarity wherever they are.  And when the marmots are not on scene there's invariably a pronghorn gazelle or bighorn sheep or grizzly bear there to delight you in nature.  As long as you follow the marked pathways, make a little noise so you don't surprise a bear and generally respect nature you will be re-paid a thousandfold in experiences at each and every stop along the way.  
When we were ready to press on from Old Faithful we drove to the Bridge Bay Marina to see Yellowstone Lake, one of the highest altitude lakes in the world.  Stop and skim a few stones into this pristine, very cold water.  And follow the road to see the remainder of the lower Yellowstone Loop road which brings you to the Yellowstone Canyon – a massive waterfall and rocky outcropping that is the stuff of an Albert Bierstadt painting.  Visit Artist Point and marvel at the grandeur of nature and once again, find yourself grateful at the prescience of mind President Roosevelt had to protect this land so that future generations could enjoy it to the fullest.  
Return home to West Yellowstone via the lower loop road.  Here you'll see no end of bison and hopefully bears, and elk and so much more along the way.  Seeing the animals in their natural habitat never gets old.  This is what we came so far to see and Yellowstone delivered!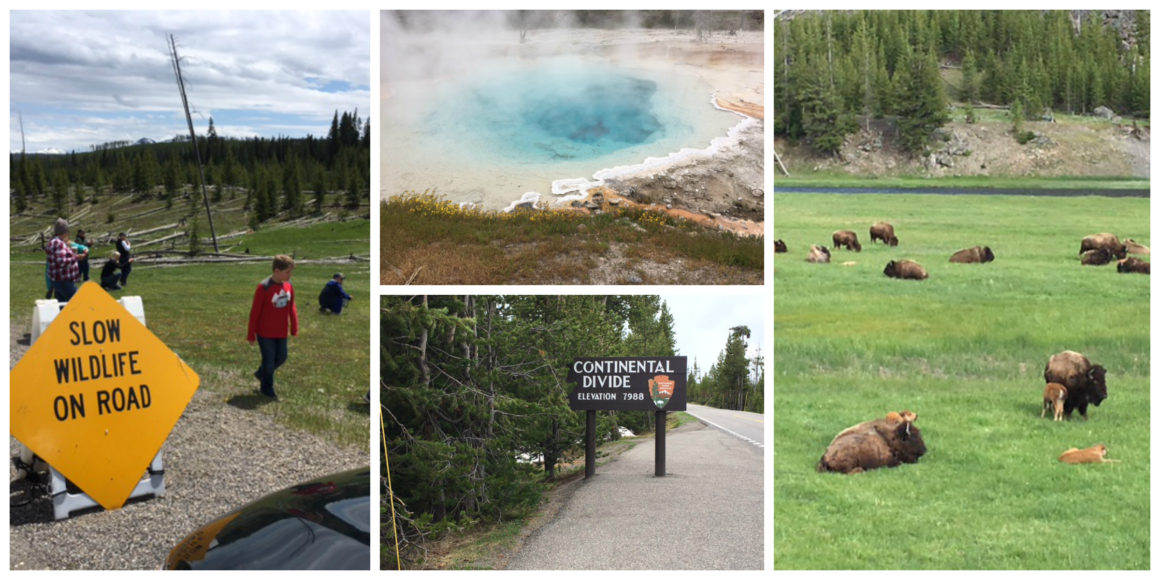 Day 5:  Drive North Through Yellowstone National Park to Gardiner, Montana
In the morning we packed up and headed back into Yellowstone National Park and took the left fork in the road just past all the bison pasturing.    Make a beeline to Mammoth Hot Springs to have lunch, climb high and far on the mineral outcroppings of these vertical hot springs.  The National Park Service provides extensive wooden walkways in this area so you can walk safely and explore the surrounding heights.  
Mammoth is a good place to spend a few hours contemplating the natural beauty of the area and all that it holds for visitors.  Elk wander around the area and almost seem friendly enough to pet, but do keep your distance as they are still wild animals – we had to keep reminding ourselves of this fact.  
From Mammoth we headed down into the valley – a very short, but pretty, drive of a couple miles – to Gardiner, Montana, a little western town of 700 people that is small on population and big on sky, mountains and nature. Here you can see the Roosevelt Arch, schedule adventures through a wildlife outfitter and just take in the atmosphere of a small, Montana town.  
Gardiner Montana
This is a town that only has motels, cabins and small accommodations and we stayed at the Riverside Cottages where we rented an efficiency with a view of the rushing Yellowstone River.  This quaint motel is run by transplants from Texas.  Eddie and Laura are good hosts and can help you plan local adventures—this is a great place to try rafting, fishing or horseback riding.  
Our room was brand new and boasted a kitchen a terrific bed and brand new hideaway sofa bed and a memorably good view.  We bought groceries at Gardiner Market and found everything we needed to enjoy this little town as the locals do.  The Riverside Cottages also have a very nice deck, grill and hot tub overlooking the Yellowstone River which we completely enjoyed.  
Check out Cowboys Restaurant  for excellent barbeque and local atmosphere.  We liked Cowboys so much we ended up eating there twice during our stay.  This was a place where local Montanans, in their big cowboy hats, leather sport coats and boots step out.  Cowboys also has accommodations if you are shopping for a place to stay.
Day 6:  Do Adventurous Outdoorsy Things Around Gardiner, Montana
We earmarked this day for adventure and we found it.  We booked a couple hour trail ride through Wilderness Connection  The Wilderness Connection Ranch lies about 6 miles out of Gardiner and is nestled into a high valley that is the simply made of the stuff that Montana fantasies are made from.  
We rode our horses high on the Stermitz Ranch (they have more than 2000 acres of private land) and we rode so high (at about 8,000 feet) it began to snow.  The silence and wind in the trees was magical.  We rode along a ridge to a high point where we could take in the surrounding mountains and even managed to surprise a family of antelope grazing on grass.
I will never forget the feeling of nature in this place and how our children loved being in a beautiful remote wilderness with friendly guides who told us about the area.  If horseback riding is not of interest you might consult with Flyingpigrafting.com as they can arrange rafting or fishing excursions out of Gardiner.
In the evening after dinner we explored the gravel road leading out of Gardiner and had a lot of fun when we happened upon a few bison just hanging out in the road.  
Day7:  Explore America's Serengeti En Route to The Rodeo Capital Of America (Cody, WY, That Is!)
The remaining portion of Yellowstone that we saved for last as we had heard it was just that good was the Lamar Valley Road.  Smart move on our part.  Set out early so you have the best chance of seeing animals and say so-long to Gardiner and head back to Mammoth where you then turn left (east) and begin one of the best drives in the United States – the Lamar Valley Road.  
This road was referred to as "The Serengeti Plain" of the United States by a park ranger I talked to about it.  And this road delivers on wildlife.  In one drive we saw bears with cubs, antelope, pronghorn, bighorn sheep, foxes, birds of every variety, wolves, marmots, bison and more.  It was simply spectacular.  Take your time, plan to stop a lot on the side of the road and be sure to hike the steep path to Pebble Creek which leads to a magnificent, small lake you can hike the perimeter of.  What a way to conclude our days in Yellowstone National Park!  
Once out of the Park we took lunch at the adorable and tiny Cooke City, MT which makes Gardiner seem like a metropolis.  There are a couple good lunch spots here.  Grab lunch and stretch and then take the breathtaking Chief Joseph Highway to Cody, WY.  
The Chief Joseph Highway will also not disappoint you in terms of scenery and the Western sense-of-place that until now had only seemed like something in the movies.  Do take a moment to read the history of Chief Joseph and the Nez Perce Nation.  It is not an easy story but it is an important story and it was along this byway that significant, and somewhat difficult American history took place.  We felt the power of the place and could sense why people fought for it and how it is a holy land to Native Americans who know it with a familiarity that newcomers could only imagine.  
Cody Wyoming
The highway eventually loosens up into swooping switchbacks gently lowering drivers into charming Cody, WY.  We stayed at the Cody Hotel which is a really nice hotel directly across from the Cody Rodeo Grounds (more on that in a moment).  While in Cody we visited The Buffalo Bill Center of the West which is actually 5 museums in one.  
This is a must do with children.  This complex is the home to a museum about Buffalo Bill – he was a heckuva showman! It also is home to a remarkable firearms museum, a natural history museum, a museum of Western art and a museum of Plains Indians.  Even if you don't have time to really study it all you should make a point to visit this beautiful and fascinating center and take a little time to get to know more about the West from a true Western point of view.  
Rodeo
And at some point you will need food as you are absolutely must attend the Cody Nite Rodeo.  Have an easy, and very good dinner, at Bubba's BBQ which has great bbq and a surprisingly excellent salad bar if meat is not your thing.  
Then be sure to get your tickets and head over to the Cody Nite Rodeo  you can buy tickets anywhere in town and have the best time watching rodeo in the self-proclaimed "rodeo capital of the world".  Throughout this trip, and especially in Cody, I felt as though I was inside a story in National Geographic Magazine.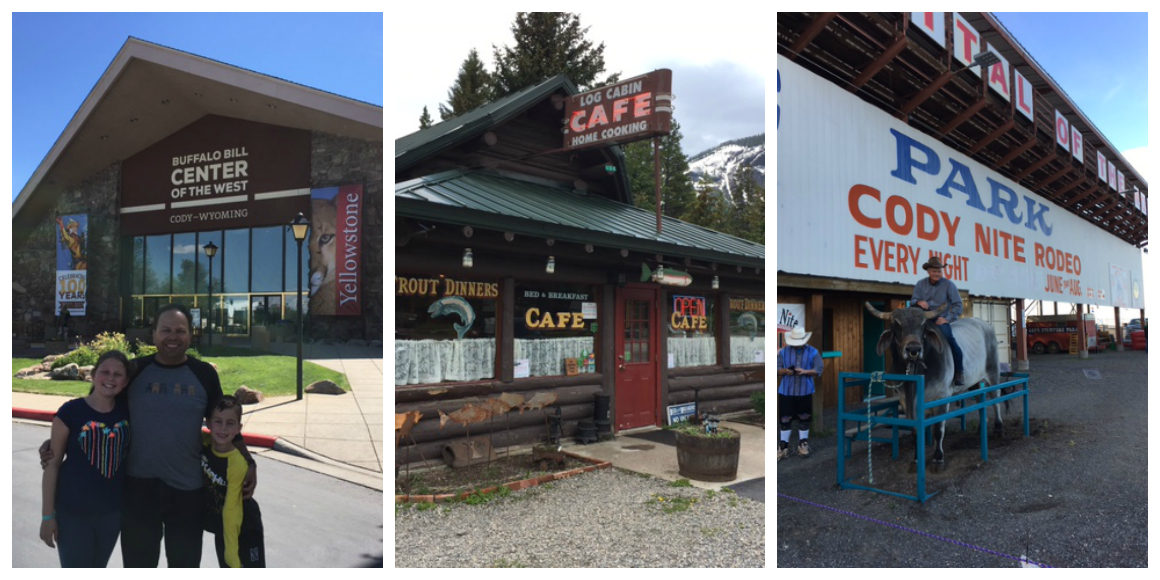 Day 8:  One Big Drive Across Wyoming to Ft. Collins, Colorado
From Cody to Colorado is a big drive.  We made it in about 6 hours as we stopped at Thermopolis (and interesting town along the way), and in Casper to pick up lunch. Perhaps the most thrilling portion of the drive was The Wind River Scenic Byway which is between Thermopolis and Shoshoni and runs along the Wind River Reservation.
After Shoshoni the road opens up to something more like a runway and in some places there simply was no stated speed limit so drive carefully but you can make up time on the long stretches along massive cattle ranches and soon enough you will find yourself in Colorado.
We decided to spend a night in Ft. Collins, Colorado.  This is a fun little city with many great cafes, more craft breweries than anyplace I had ever been to and a healthy street busker population which keeps the public entertained on every street in the Central Old Town area.    We completely enjoyed the young atmosphere and had a good dinner and tour before heading to sleep as we had one more National Park to visit on this trip.
Day 9:  Sneak A Very Cool Hike in at Rocky Mountain National Park
In the morning we wasted no time and zipped from Ft. Collins to Estes Park which is about an hour away.  At Estes Park we rented a boat on Lake Estes, had lunch in town and got good counsel from the Visitor Center that we should make haste and head into Rocky Mountain National Park to the Alpine Visitor Center.  
What a great drive that was!  The road just goes up and up and up until we reached the Alpine Visitor Center at 12,000 feet.  Trust me, you, like everyone else, will be panting in the thin, cool air.  And best of all you can climb higher from the Center and get a true sense of the majesty of the Colorado Rockies and wow, just wow.  You will love this experience.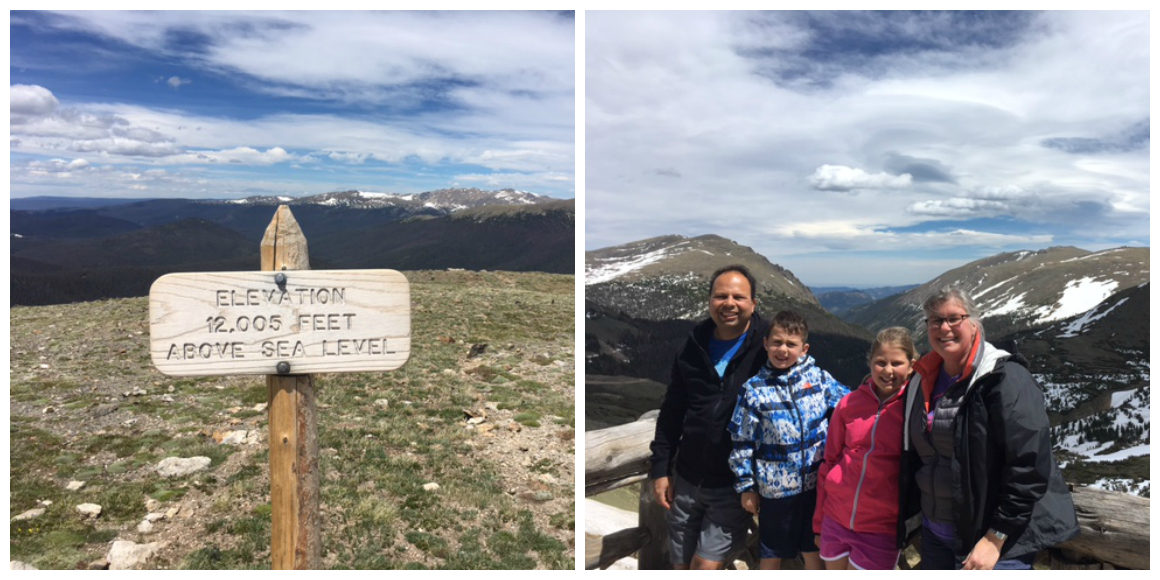 I won't lie, coming down from altitude felt great.  We all felt oddly powerful as we descended and we completely enjoyed the switchback turns in the highway.  From Estes Park we made the easy drive to Boulder where we had a fabulous dinner at the Pearl Street Mall and then we drove on to Denver where necessity required we stay close to the airport as we had a morning flight to catch back to Chicago.
Our heads were filled with memories of big skies, fresh air, rushing rivers,animals of every type and a sense of America that one can only gain when the mobile devices have no signal and one can truly focus on the natural beauty within our fine country.
Planning your own Wild Western Family Road trip? Pin this for later!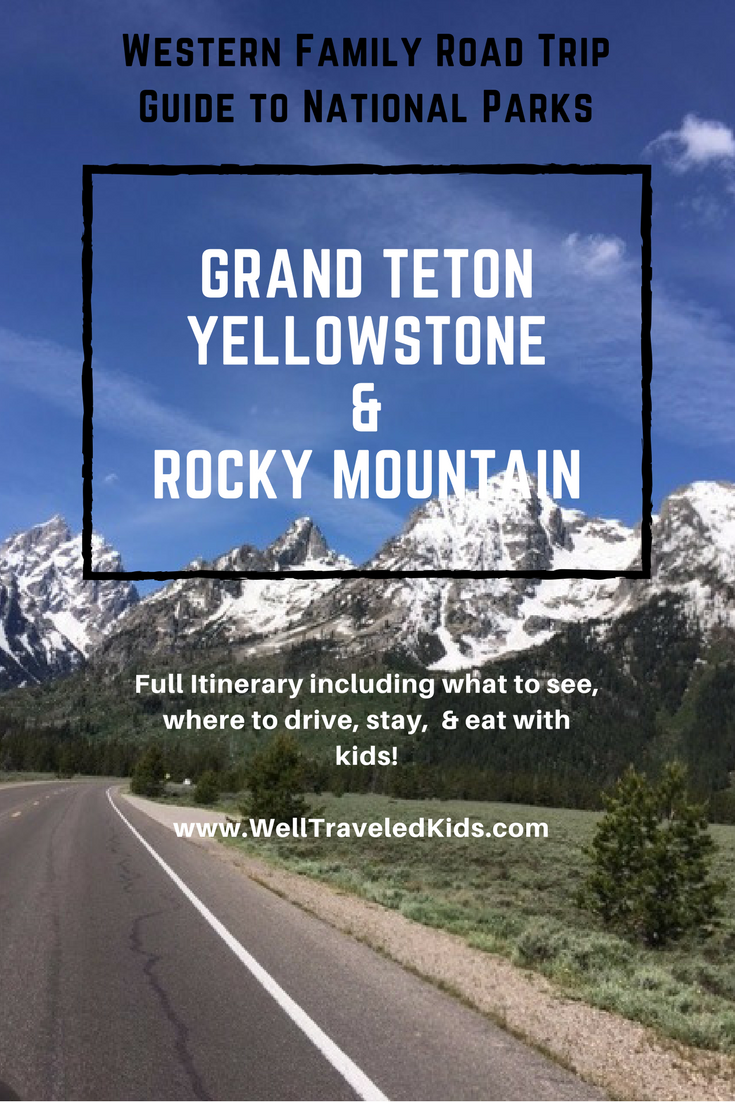 ---
Disclosure: We did not receive anything in return for listing the businesses mentioned in this post. We simply enjoyed our vacation and wanted to share our tips and itinerary so other families can experience the same fun we did!