Thinking About A Visit to Las Vegas with Kids?  It's A Great Idea (Really, It Is!)
With good reason many parents are unsure if a trip to Las Vegas with kids is a good idea.  When a place revels in a "what happens here, stays here" ethos it does cause parents to wonder how a visit might work.  We wondered the same for our family.  But when a spring break week presented an opportunity to visit some national parks we decided to go for it and stay in Las Vegas.  With kids.
Our first concern was where we might stay that would be clean, comfortable and spare us needless connection to completely drunk people, call girls and packs of women and men hunting for good times.  
Understated Luxury
We found such a haven at the Mandarin Oriental.  Located on the Strip in a great spot, the Mandarin Oriental proved to be a complete surprise and delight to us.  This hotel has no casino.  Because it has no casino it does not smell like cigarette smoke, does not have thousands of random people traipsing through it 24 hours a day, has no "scene" and is not a destination the way the casino hotels are.  
When you arrive at the Mandarin you arrive in a very modern and private porte cochere.  From there you are whisked up to the 23rd floor Sky Lobby which boasts the most marvelous view of the Strip and surrounding areas.  The floor-to-ceiling windows entice each visitor to stare at the never-ending stream of people below.  Even the massive, and I mean massive, Aria digital sign becomes almost something of a contemporary art piece from this tranquil aerie.  The view is quite simply mesmerizing.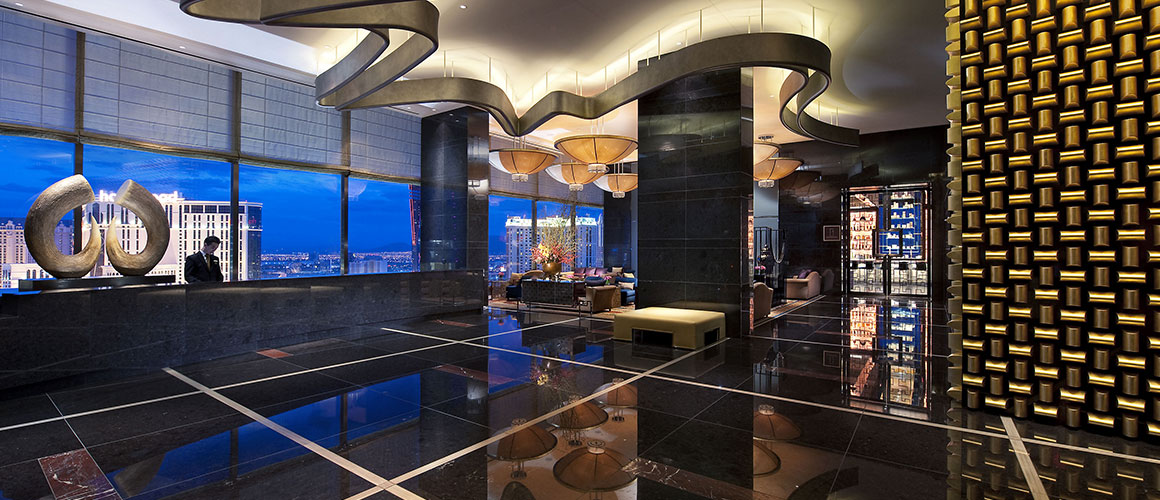 ---

A Room With A View (And Then Some)
Once checked in you descend to your wildly well-appointed room between the 4th and 22nd floors.  Each room is more than 800 square feet and offers great beds, enormous windows, egg-shaped soaking tubs and separate showers, a valet cabinet so that items requested get delivered there versus a knock at the door (or a doorbell ringing) which could wake napping little ones and more multimedia than a high-end stereo store.
The finishes in each room are absolutely solid and wonderful. Wood, stone, soft fabrics and tile are masterfully blended to create a feeling of contemporary serenity and complete luxury with just enough Eastern style to make things interesting.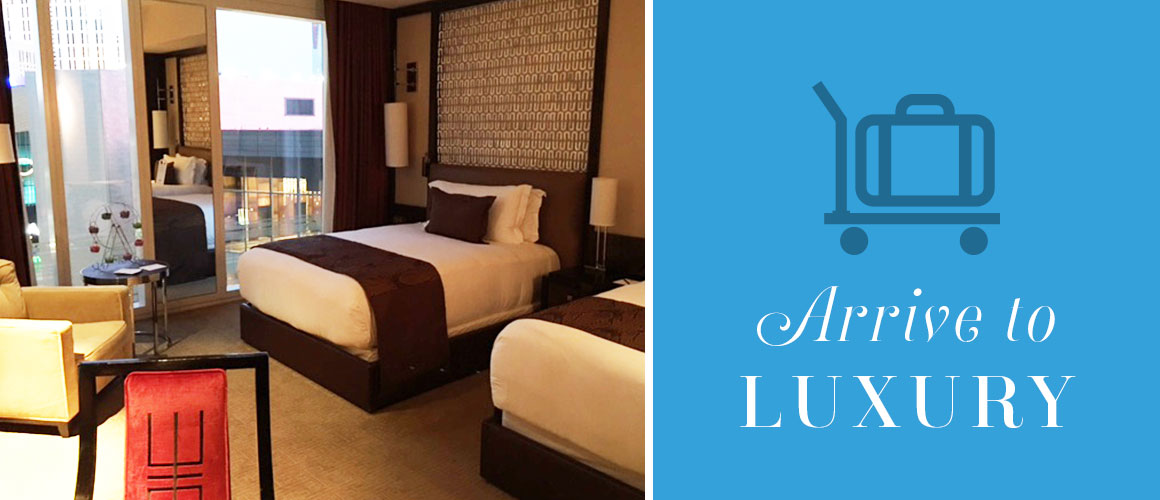 ---
One note, there is only one room per floor that offers two double beds so plan accordingly as these sell-out quickly.  The hotel is happy to bring roll-away beds if needed to accommodate a family.  They also are happy to let guests unpack the mini-bar and replace items with essentials like milk, snacks or medicines.  This is a nice touch that makes travel with children a wee bit easier.  
The rooms are perfectly quiet so you can sleep and the black out drapes allow guests to control just how much night light to let in.  This is a good thing.
Staff That Truly Cares For Guests
Beyond the basic physical comforts the Mandarin Oriental rooms offer, there is a ready-and-willing staff eager to help each guest have a great visit.  During our stay I was continually impressed by the caliber of the staff.  From the doormen, to the bellmen, to the front desk staff to the tea lounge staff to the pool deck staff, every person we interacted was so kind, so helpful and so on-point it was just delightful and a comfort.  I truly felt each staff member felt it was their obligation to see that we had a great time and that we were comfortable.  Their service orientation was commendable and impressive.  
At check-in they offered our kids a special form to complete.  Surprise, surprise, during our stay our kids received a few delicious treats like a gorgeous fresh fruit display and a charming carousel stocked with baskets of sweets and candies. These treats reflected the responses our kids wrote on these forms regarding their favorite snacks and drinks.  These small gestures impressed our kids and made them very happy to be at the Mandarin Oriental and also helped them feel welcome.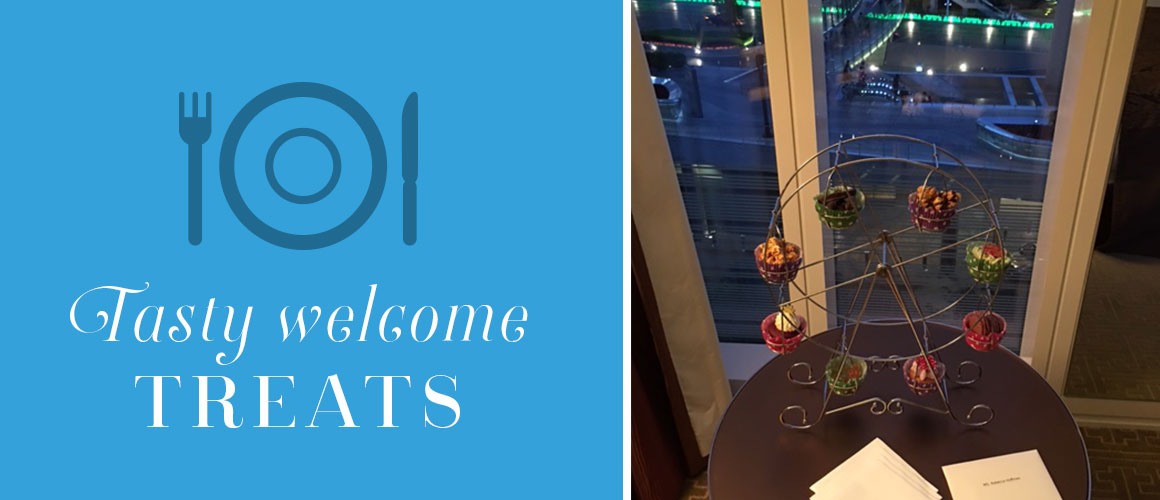 ---

A Beautiful Pool
As for amenities, The Mandarin Oriental has a beautiful, laid-back pool deck.  Hotel guests check in at a small desk where there is complimentary bottled water and fruit for everyone.  Pool staff then set up chaises for each guest.  The pools are narrow and beautiful and there are two hot-tubs as well.  
The entire area is walled by glass panels to ensure high winds do not bother bathers.  There's also a nice view of surrounding hotels like New York New York which adds to the sense of place.  A small café serves light menu items to everyone poolside.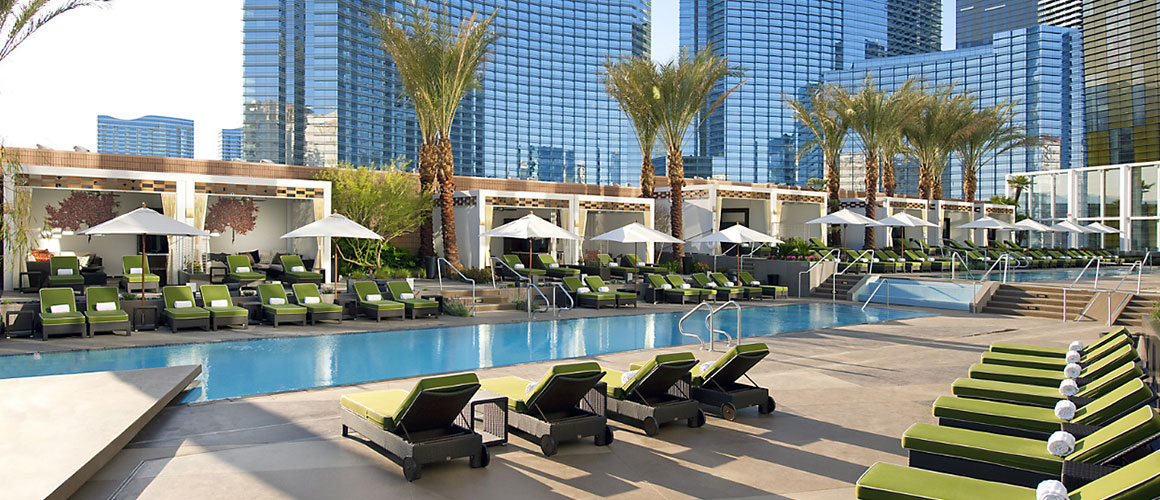 ---
One day I noted two people who "snuck" into the pool area and overheard a staffer very kindly explaining the Mandarin policy that only registered guests and owners had access to the pool deck.  She handled this situation masterfully and it made us feel safe knowing the staff was in command of the people at the pool.  
As a side note I observed that all the major hotels sell "DayLife" passes to their pools so the people at the pool might not be actual hotel guests.  At the Mandarin this option is simply not available which is really ideal for families as the deck is low-key, the staff knows who is supposed to be there on any given day and the scene is never chaotic or inappropriate.  
High Tea:  An Unexpected Treat in Las Vegas
On our last day we enjoyed high tea in the Mandarin Tea Lounge in the hotel lobby.  With massive windows looking out over the bustling Strip we enjoyed a delightful, relaxing and refreshing tea service.  
There are adult food options in addition to a children's tea which has food offerings that a youngster would like including pb&j cut into fun shapes, turkey and cheese popsicles, scones and gorgeous almost too-beautiful-to-eat pastries which brought big smiles to our kids' faces.  The tea service is relaxed and is as good for adults as it is for kids.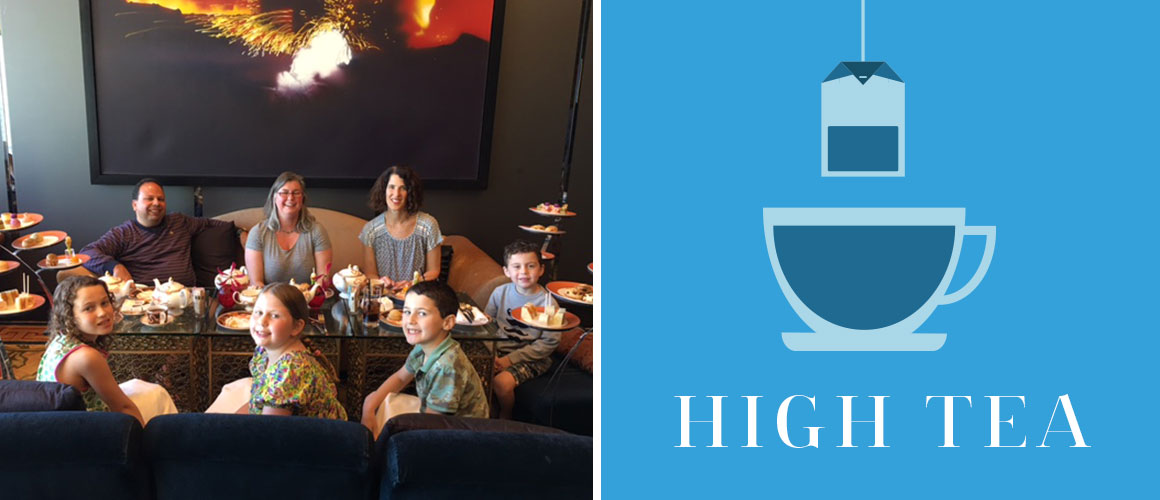 ---
The adults enjoyed absolutely delicious savory bites including a fabulous curried chicken salad and sweets that were just perfect.  The Tea Lounge enjoys the massive view of the Strip and the sublime setting provides a fun contrast to the crowds parading at street level with drinks so large some require neck straps (I'm not making this up).
Our visit to the Mandarin Oriental was memorable and we were sad to leave when it was time to check out and fly home.  Las Vegas proved itself to be a family-friendly city thanks to this fine hotel.
Tips for Making the Most of Mandarin Oriental Las Vegas with kids
Tell them you are planning to bring kids when you make your reservation.

If you want two double beds be sure to make your reservation well in advance of your stay as there is only one of these room-types on each floor.  

Be sure to work in time to enjoy the pool as the Mandarin pool is really lovely and well worth some time in a chaise and a splash in the pools.

Reserve a tee time and enjoy a most unexpected and refined activity with your family.

Utilize the concierge to help you plan for shows or other activities if you are unsure of what is appropriate for your family.  
Have a blast in Las Vegas with your kids! We sure did!
Like this post? Pin it for later!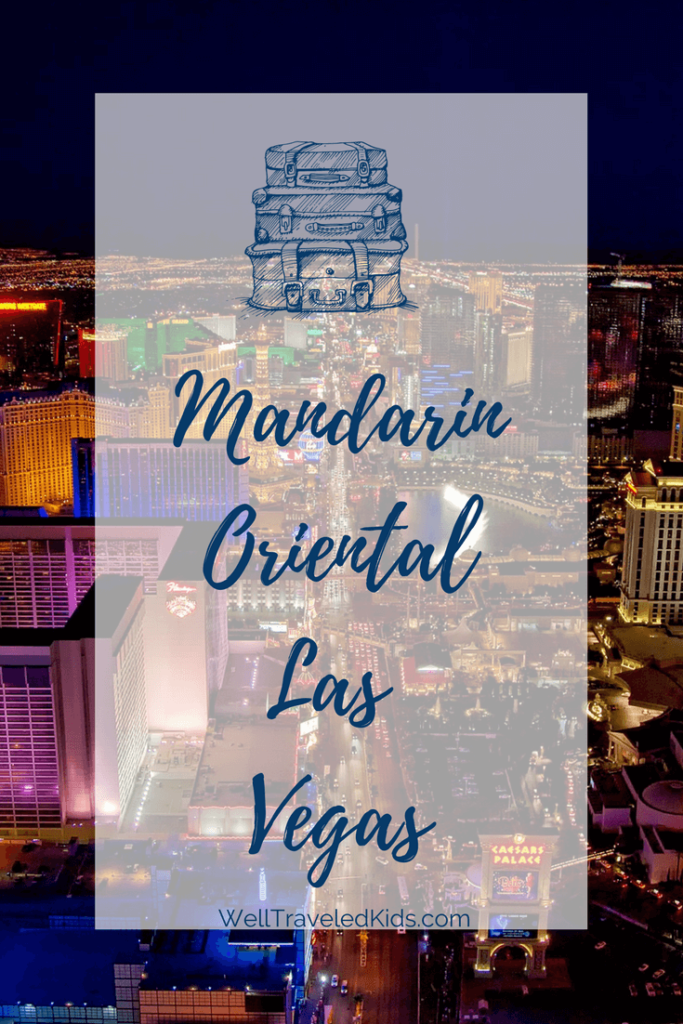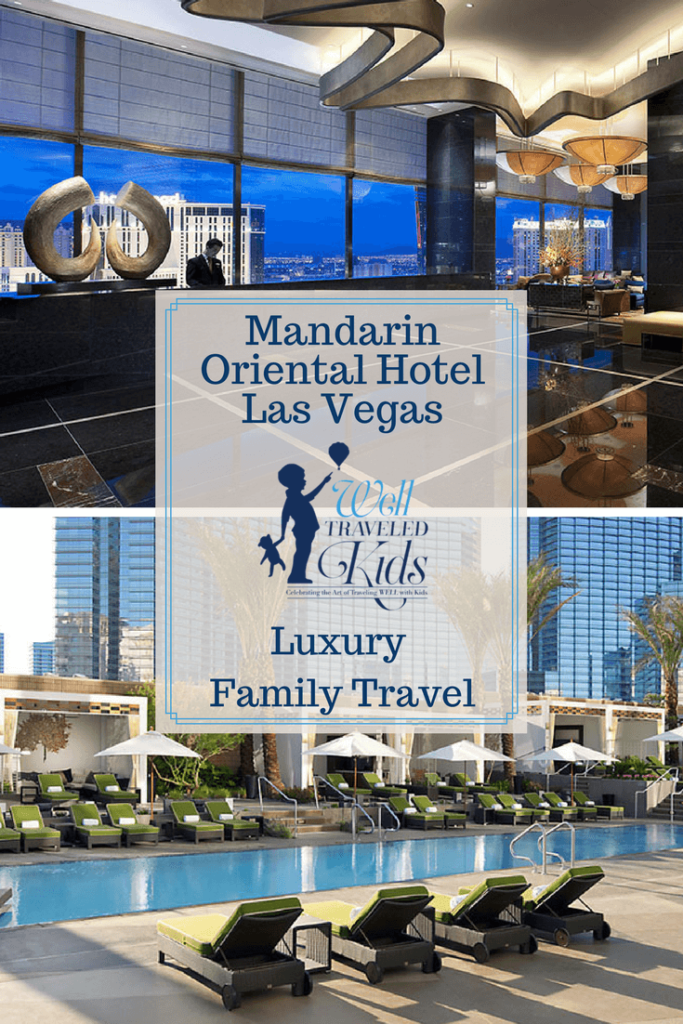 ---
Photo credit:Mandarin Oriental Las Vegas