We traveled to Ireland on our first multi-generational trip with our kids (ages 10 and 7), my in-laws and brother in law and partner to celebrate my father in law's 75th birthday. Our family has Irish roots and we researched our ancestry before the trip, surprising my father in law with an ancestry book for his birthday.
Ireland with Kids
For our family, the idea of an overseas trip lasting longer than a week was daunting. How would the kids do? Could we extend our travels for two weeks? Would everyone still be sane at the end? Here are some tips on how we did it – successfully!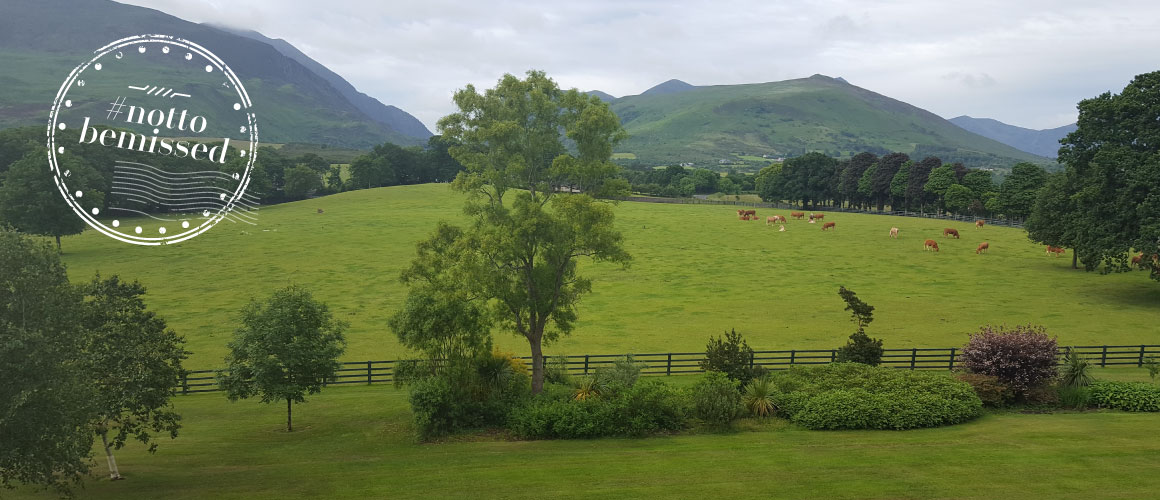 Air travel:
I took some time researching planes and connections, and I made two crucial decisions that paid off big for the kids. First, we chose a connecting flight within the U.S. versus Europe. This allowed us to take the overnight flight to Europe at a later departure time of 9 p.m., ensuring the kids would get a decent night's sleep. Second, we chose a plane based on seating configuration. We wanted two seats for my husband and me with two seats immediately behind us for the kids. This allowed everyone to be close to a window and made sleeping easier. Friendly tip: We paid for choice seats, and those seats didn't sell out. The kids each got an extra seat around us to lay down and sleep.
In the city:
The Westin Dublin proved perfect for our stay. We chose connecting rooms for ourselves and the kids, and loved the extra touches, such as the glamping tent and milk and cookies at bedtime. The location was right near a stop for the Dublin Bus Tour – Hop on, Hop off, which certainly beat walking. It also came with a free airport transfer, which was perfect. We used the bus to get around Dublin and see all of the sites. On our first day, we booked the Dublin Viking Splash Tour so we could see Dublin from land and water. And bonus: everyone enjoyed sitting down because we were still getting adjusted to the time change. It was entertaining and exciting! Both were #nottobemissed.
Ask an expert:
In researching our trip online, I found Jody Halsted's website (www.familyrambling.com and www.irelandfamilyvacations.com), complete with invaluable articles and tips. She recommended hiring a driver, and we chose the superb Ireland Chauffeur Travels, which specializes in family tours. Our driver picked us up at our hotel, and our group of eight got to travel together for the day in a luxurious mini-bus. Our driver tailored the tour to our needs and it was perfect. I highly recommend this if you are intimidated by driving yourself in Ireland.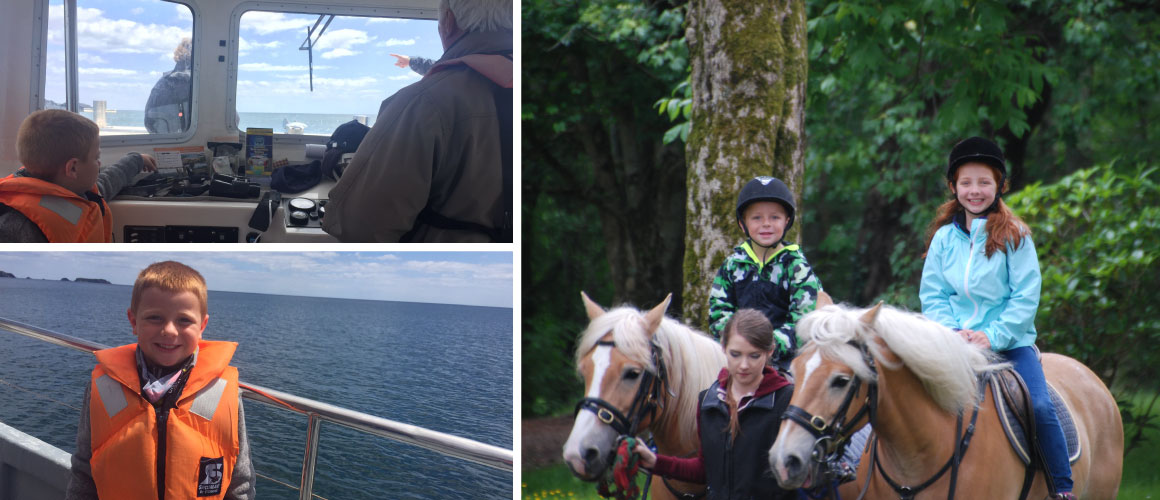 Local adventures:
One thing that was high on our "must-see" list for the family was whale watching. Nic from Whale Watch West Cork was truly an expert—informative and entertaining. He taught us about the ocean mammals we might see and told us what signs to look for. The kids loved it, and we were lucky to spot minke whales, humpback whales, basking sharks, and a huge pod of friendly dolphin.   
We also visited the Cliffs of Moher, another stop on our "must-see" list.  This is the no. 2 sight in the country (behind the Guinness Storehouse), and the Visitors Centre was almost as great as the Cliffs.  There were interactive displays, a 3-D movie, a great café and Murphy's Ice Cream, which had just opened. The Cliffs of Moher were #nottobemissed.  
Another highlight of our trip was a night at Bunratty Folk Park. We chose the Corn Barn dinner for a night of traditional Irish dancing. The food and entertainment were great. We enjoyed it so much that we came back the next day to enjoy the folk park and tour the castle.
Family hotels:
At the advice of Jody, we chose to stay slightly off the beaten path, and that was a fabulous decision! West Cork was great for exploring sites without tons of tourists. We stayed at the Inchydoney Island Lodge & Spa, and the views of the Celtic Sea from our suite were incredible. They offer family rooms, which are a rare find in Ireland, but we opted for the space of the suite with two rollaway beds for the kids. The kids loved running on the beach at low tide, and they also got to swim in the indoor pool. There was also a family play room with video games and children's toys, which would be nice for younger kids.  If you wanted even more space, Inchydoney offers self-catering rooms, which we didn't need for our short stay, but looked wonderful.  
In West Cork, we found Rineen Fairy Woods and the Dromberg Stone Circle. The kids loved finding fairy houses along the beautiful hike. Another heavy tourist stop in Ireland is Killarney National Park. We stayed at The Dunloe Hotel, about 10 minutes from Killarney. They offered family rooms (about the size of two full rooms), which was perfect and offered gorgeous views of the fields and horses. The kids enjoyed a ton of included activities, such as the adventure playground (they loved the zip line) and riding the horses at the stables. The grounds were great for exploring the Dunloe castle while the kids completed a scavenger hunt, but the highlight was definitely the Dunloe horses, which will not be forgotten by my kids. They will be closing for major renovations at the end of the summer and I can't wait to see it when it is complete in 2018.  
How can you go to Ireland and not stay in a castle? That was one of my #nottobemissed adventures for this trip. Dromoland Castle Hotel in County Clare was our last stop before flying out of Shannon airport.  This was a perfect location to explore northwest Ireland. Dromoland Castle offered five-star service, a huge list of activities, and wonderful history (read more about our stay). Our stay was exceptional and a wonderful way to end our adventures in Ireland!
---
Considering a similar trip to Ireland with Kids? Pin this for later!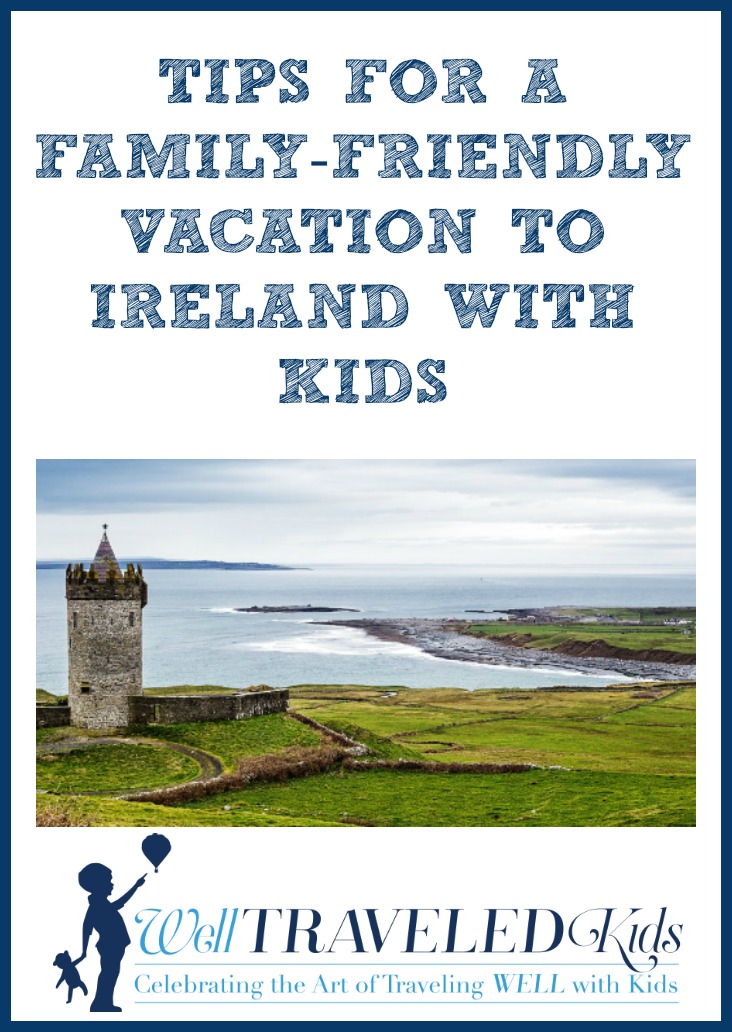 ---
Photo Credit:
Ireland
,