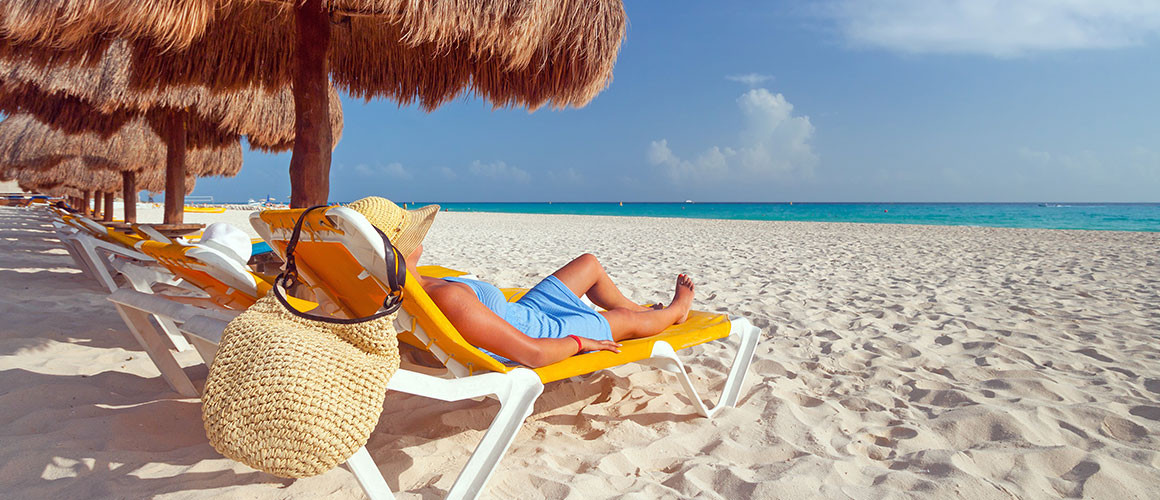 ---
Living in Chicago where the winters are cold and snowy, my family looks forward to traveling someplace warm each year for the winter holidays. For us, Mexico has always been a great place to travel for a vacation filled with sunshine. Why Mexico? Lets start with the fact that it's a quick and direct flight from Chicago…and when traveling with our kids, that is a huge plus! For our 2014 winter holiday break all of us had been counting down the days to escape to Mexico. My husband, Adam, and I were excited to get away from work and into the warm weather while my kids were eager to get on a plane and go on an adventure!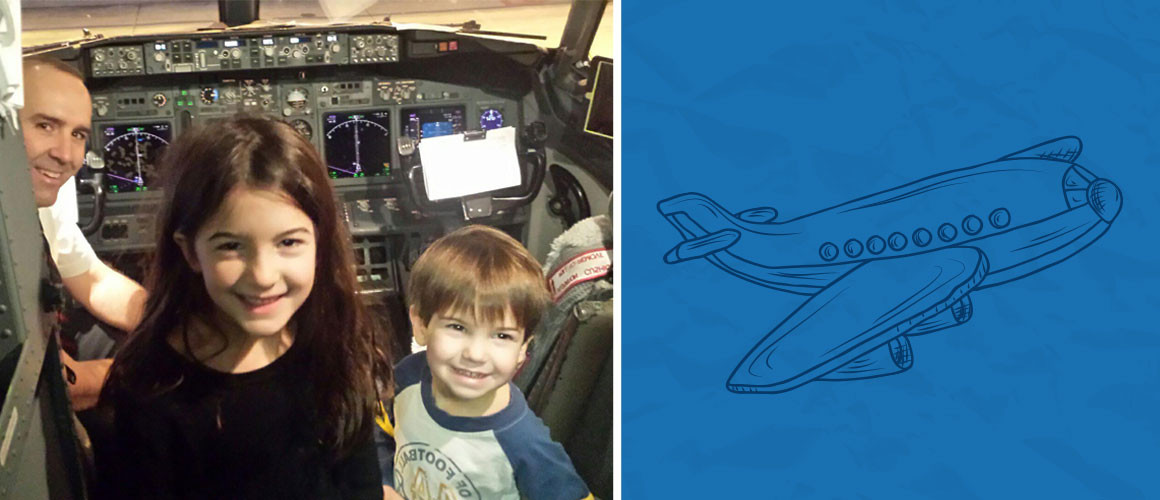 ---
Before takeoff, the kids got to sit in the cockpit on the plane and meet the pilots. That was super fun for them and a nice 10-minute distraction. The flight was pretty easy since, of course, each of their backpacks were packed with their iPad games and movies, coloring, a small magnetic hangman and go fish games and a million snacks! Coming prepared when you are traveling with your kids is vital and makes everyone happy!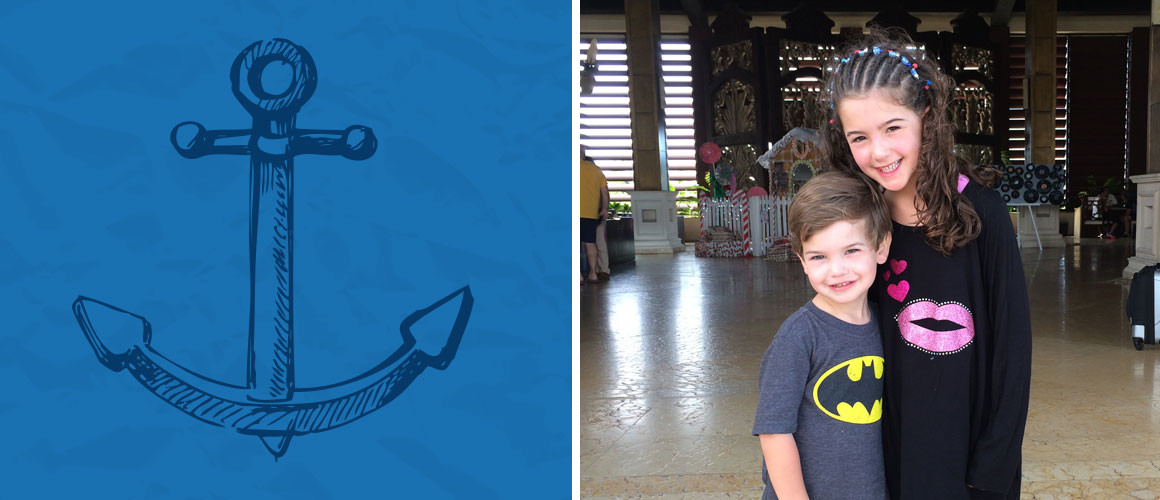 ---
In addition to the delightful sunshine and short flight time we love traveling to Mexico because you can get a luxury vacation for a great price! There are a ton of exceptional resorts to choose from in Mexico so when thinking about this years holiday break, we choose Riviera Maya!
The kids were so excited to celebrate Hanukkah this year in the warm weather. I packed up 7 presents for each child…one for each night we were traveling. This may sound like a pain to pull off but actually it was super easy! I choose smaller gifts like lip gloss and sun glasses, teenage mutant ninja turtles and water guns. The kids loved coming back to our suite from a long day in the sun and swimming in the pool to sing Hanukkah songs, light the menorah, and open a fun present.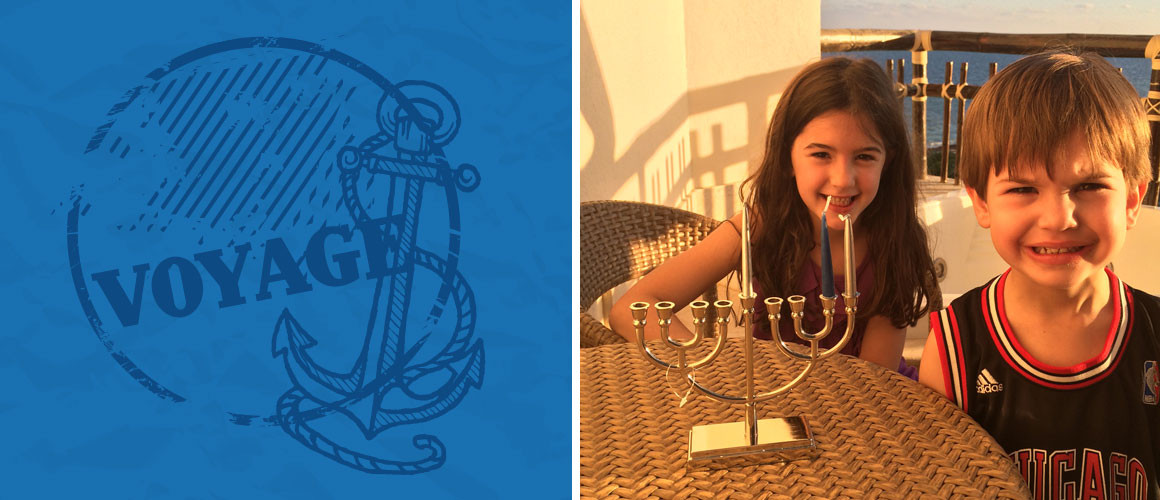 ---
After an early morning of traveling, we were happy the ride to the hotel was only about 20 minutes.
I am extremely well traveled…I have been traveling for work for over 15 years and have been to many of the most luxurious hotels around the world. I typically do my homework on a hotel before booking however I was so busy at work that I trusted my travel agent and went with her suggestion. With only a few months planning, we were thrilled to get a very reasonable all-inclusive deal at the Dreams Riviera Cancun Resort in Riviera Maya, Mexico.
Upon arrival to the resort, I was immediately shocked as the drive into the resort is less than attractive. There is no grandiose entrance like many similar resorts in Cancun. The hotel is situated in the middle of a small town and they were doing quite a bit of construction outside the hotel with cement trucks lining the streets. We entered the gates and I was pleasantly surprised that once you are on the grounds, the property is quite lovely. The hotel lobby was decorated beautifully. We were greeted immediately with a smile and ushered to the "VIP lounge" for "VIP check-in". The check-in was smooth; we were given our keys and asked to wait for a bellman to meet us to escort us with our bags to our room. At first glance, the room was really nice. Clean, updated and had a beautiful view of the water. However, I quickly came to realize the room was only 450 sq. feet and did not have a dresser and only very little counter space in the bathroom. The closet has a tiny area to hang your clothes with 3 shelves for our things. With 2 adults that admittedly brought too much clothes, a 7 year old fashionista, and a 4 year old with plenty of "stuff"…we simply had nowhere to put our things! This room would have been absolutely fine if it were just my husband and I, but it was very tight for the 4 of us.
As the kids were checking the place out, I tried every which way to shove our clothes into every nook and cranny in the room but just couldn't make it work. I called down to the front desk to ask if there were additional rooms available that might be larger as we were willing to pay extra however they informed me they were at capacity. She was very nice and let me know she would check with the manager and call me back. I assumed we were going to have to make due so I put all that aside and we decided to celebrate the 2nd night of Hanukkah on our balcony.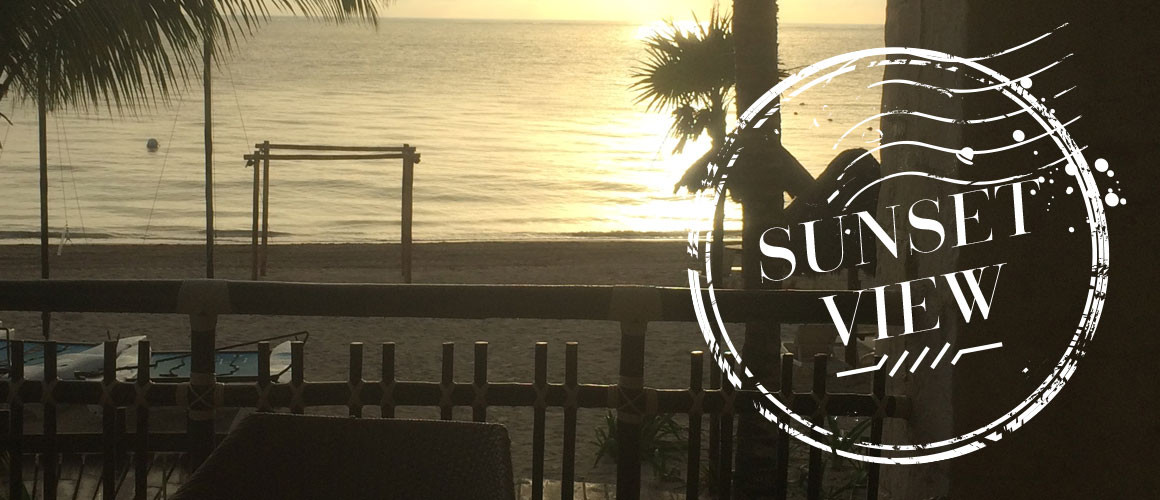 ---
Luckily, the Director of Sales called our room and offered us a free upgrade to the Governors Suite since she knew I would be blogging about our vacation. We were thrilled and gladly took her up on her offer! After packing up with utter excitement, we moved to the new room and it was amazing! A kitchen, family room with pull out couch, a very large master suite and gorgeous spacious bathroom! The best part was a large deck with a plunge pool, Jacuzzi and 4 steps down to the beach!! We were thrilled!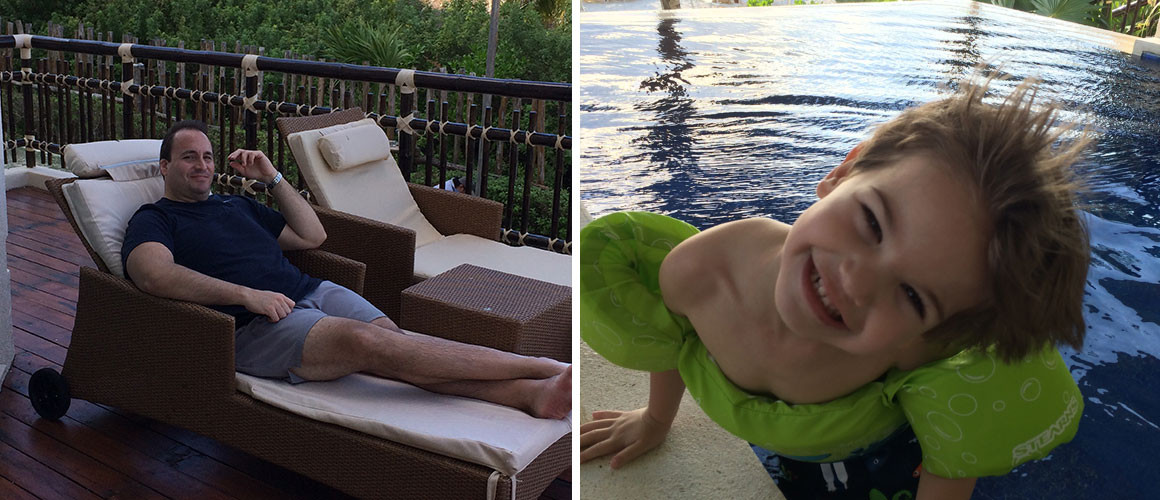 ---
Let's talk about the Dreams grounds which were beautiful and all well maintained. There were 4 pools…a shallow one for the toddlers which was outstanding (pictured here), a very shallow one for ping pong (pictured here), a larger pool with a basketball net and an infinity pool with a swim up bar. The pools were a bit cold for my taste but the kids loved every minute of it. The staff cleaned the pools and surrounding area every morning and had warm towels available that we loved. Here is a picture of Payton enjoying some ice cream under a warm towel. There were ample places to grab chairs although we did come out pretty early in the morning to secure our preferred spot in front of the shallow pool. The service was good at the pool and we loved being able to sit poolside with a cocktail while our children played. The drinks had minimal alcohol so we had to tip more to get a decent drink but we got the hang of it by day 2! They even had coconuts with lemonade (at least I think that is what it was!) for the kids.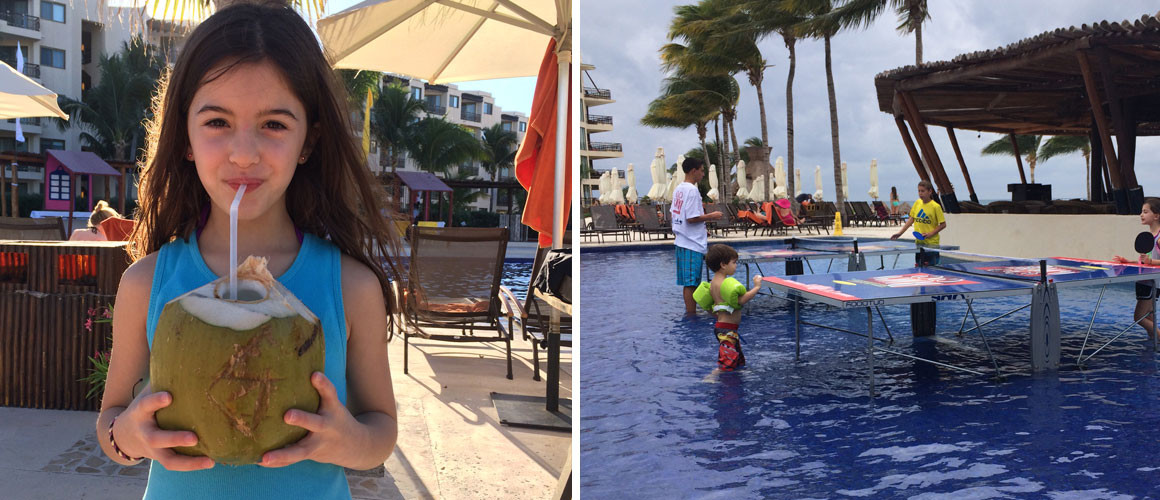 ---
Fun music played at the pool each day and they had a few games for the older kids in the other pool. They had food and ice cream cones for the kids starting at 10am every day – very convenient. The beach at the property was really fun. They had an awesome playground in the sand and Chase my 4 -year -old loved it!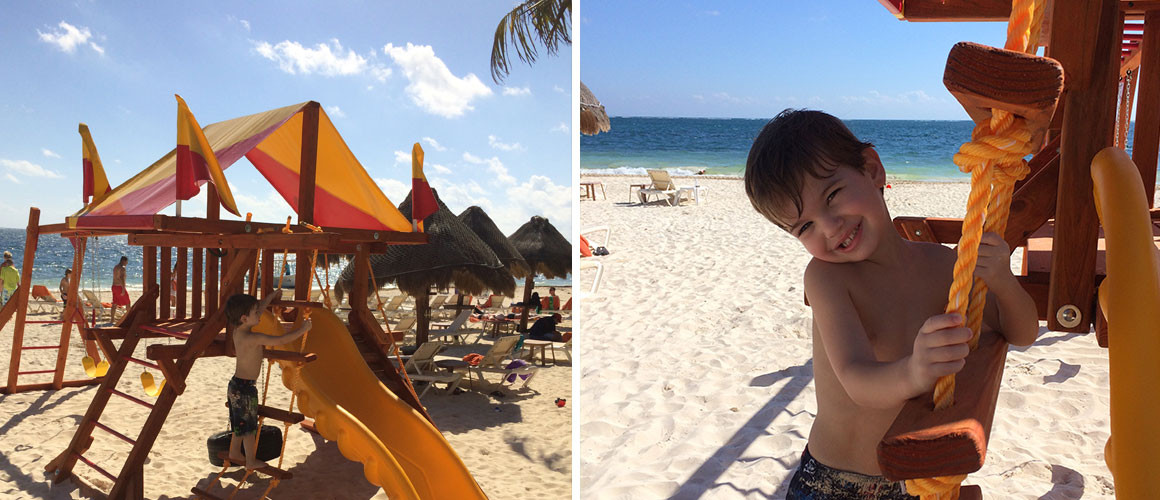 ---
It was great to have another option for play besides swimming all day. The sand was clean and pretty. They had a few hammocks, a beach bar and volleyball net. My extended family also was staying there and my nieces took my kids in the ocean…They had a blast! The hotel offered a few water activities however most days it was way too windy to go out on the water. A bummer but the kids didn't know the difference.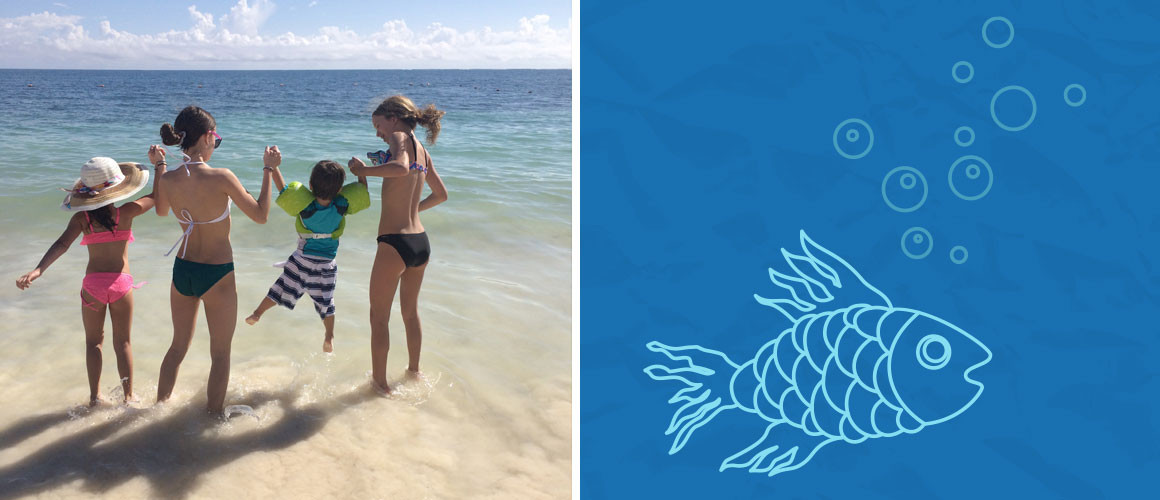 ---
Overall, we got what we enjoyed our sunshine and relaxation and celebrating Hanukkah in a warm climate. The resort could definitely make a few improvements though. For instance, our mini bar was less than impressive. The preferred club package we booked stated an "upgraded mini bar". I can't imagine what the regular mini bar had! It was nice to have a kitchen however it had NO utensils or glassware at all. Minor details I realize but would just be a nice add. Lastly on the room front, throughout the week, we would come back to our room to the stench of paint or wood stain. We came to find out they were painting the presidential suite next to us that week. I might suggest in the future that the hotel consider painting during off-season. Definitely not ideal but we were not in the room much so it really didn't affect us. All that said, we were very happy with our suite upgrade and excited for an amazing vacation with the kids! I would recommend this hotel for other families looking for a great deal on a winter escape. Although not as luxurious and high end as I usually prefer, the resort offers a good bang for your buck!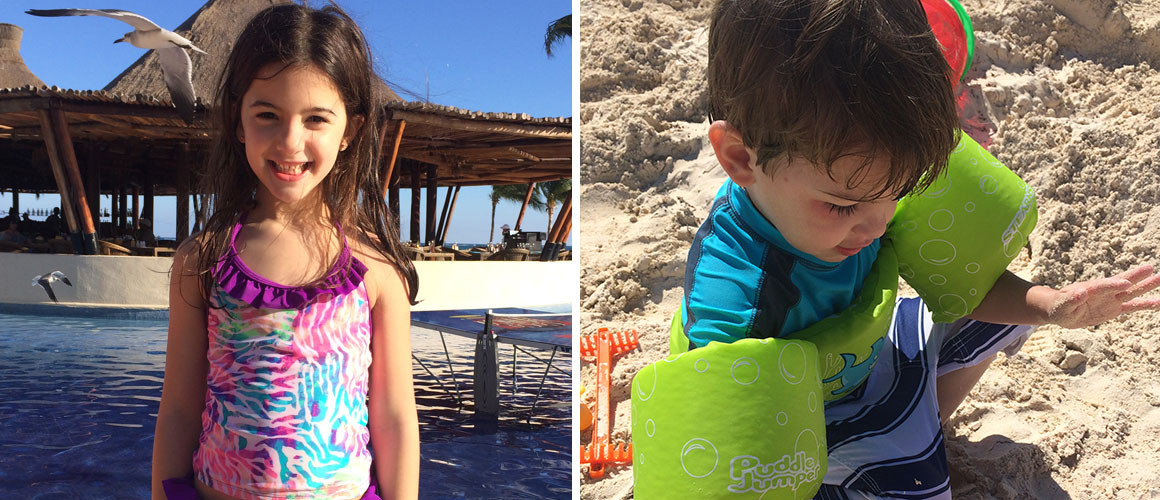 ---
Thinking back now that we are home, this was a very memorable Hanukkah holiday spent in beautiful weather, with family and relaxing in the sun. I can't wait for next year!