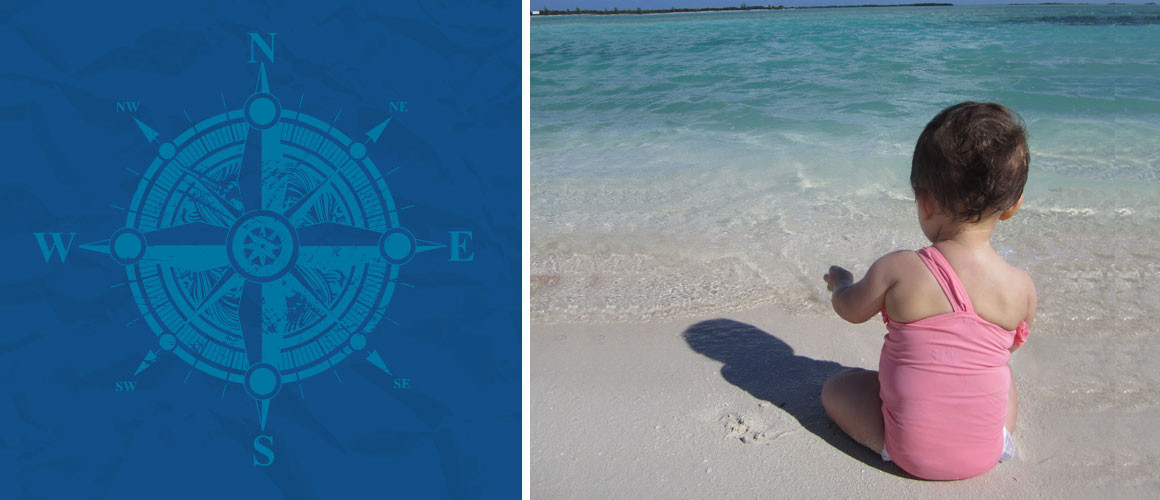 ---
Over the New Year's Holiday, we took a vacation with my entire extended family.  This included eleven of us from my 2-year-old daughter to her grandparents in the Cayman Islands. Grand Cayman was a perfect destination for a large family winter escape. Seven Mile Beach in Grand Cayman is beautiful! My husband and I have been a handful of times as a couple but this was the first time we were able to bring our little Miss M. and she fell in love with all there was for her to enjoy.
The Beach: Like all toddlers she is curious and loved the soft white sand.  She had so much fun building sand towers, castles, making holes and burying her legs. She could spend all day in the sand and the water going back and forth if you let her.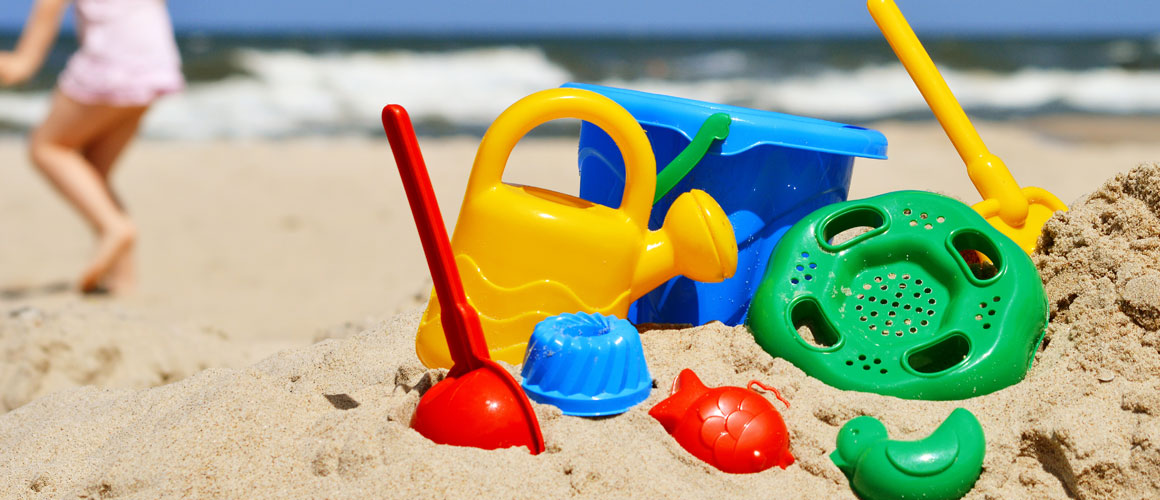 ---
Our Hotel:
We stayed at
Grand Cayman Beach Suites
in a two-bedroom suite. A suite is a must for us when traveling because little Miss M. goes down for a nap from 1-3pm and to bed between 7 and 7:30pm. In order to have a child that travels
well
and is happy, we always are sure keep to her nap and bedtime schedule. This makes the world of difference with her wellbeing! Of course, while she naps we do not want to be sitting in a dark room for those hours so having a living room or at least a connecting second bedroom is extremely helpful. On this trip, our room also had a huge balcony where the rest of our family was able to come and hang out after we put M. to bed. We were able to order in food and have the ten of us comfortably eat and hang out as a family without disturbing M's sleep.
Finding Fun Activities for the Whole Family to Enjoy: While traveling with a large group where ages range from 2 to 70 can be fun, it can have challenges as well. Luckily, on Grand Cayman Island finding activities for everyone to enjoy was not too difficult of a task. We decided it would be fun for everyone to swim with the dolphins at the Dolphin Cove. Miss M. was too young to swim with the dolphins so I stayed on the side with her out of the water. This didn't hinder her experience. Everyone had a blast! M. LOVED watching the dolphins exclaiming: "Ahhh the dolphin kissed daddy!" "The dolphin jumped up high in the sky!" "Grammy is riding the dolphin!" Dolphin Cove was very accommodating and even let us put M in the water so she could pet the dolphin and we could take a family photo.  We have been back for weeks and she is still telling everyone about the dolphins. As part of the dolphin experience you get a free entry to the Turtle Farm; so we decided to go there after.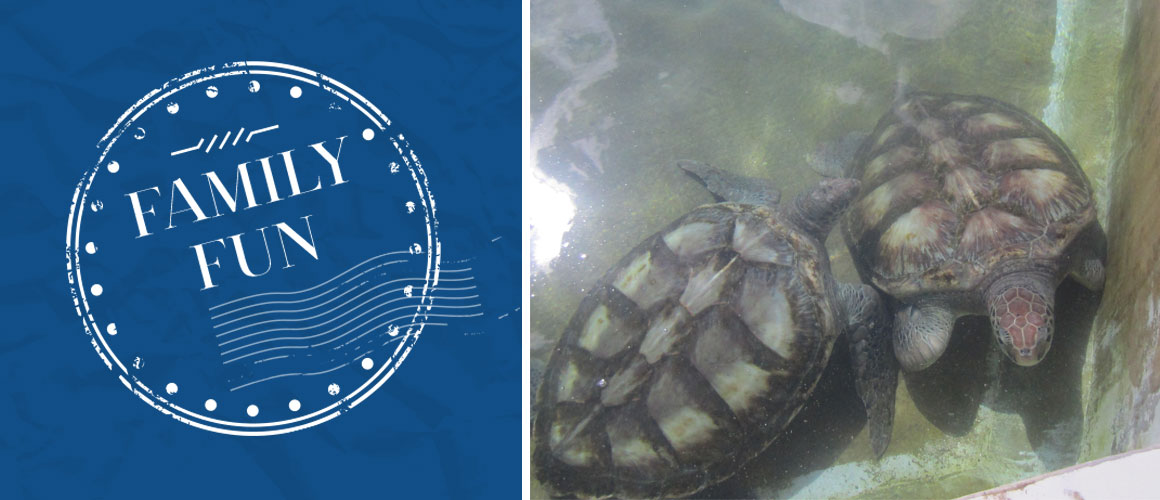 Again, everyone enjoyed themselves while connecting with nature watching the turtles. You are able to pick up and hold some of the turtles if you can catch them. Miss M. touched and was splashed by a turtle. She shrieked with joy and hasn't stopped telling people about her turtle experience.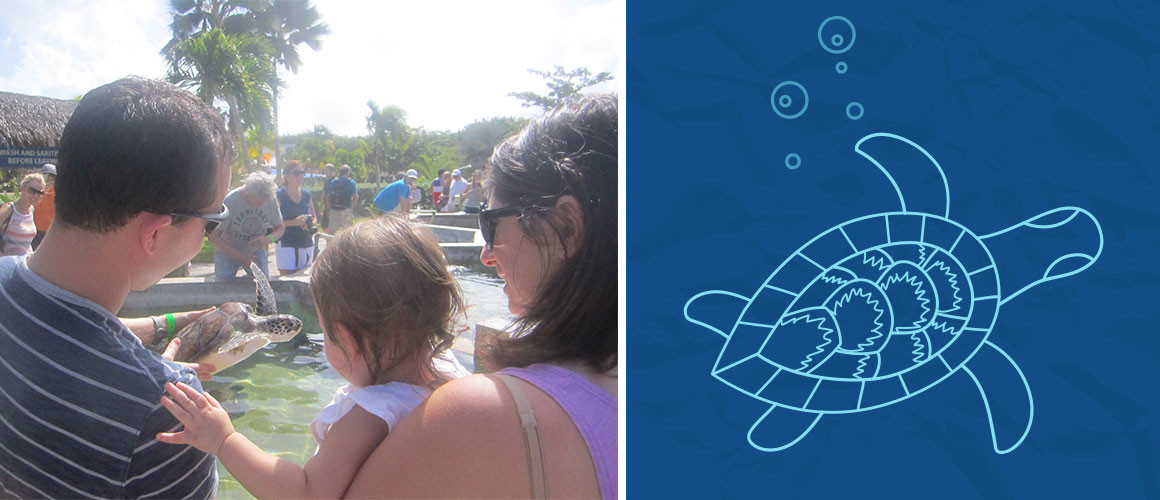 There was also a toddler play area with a small swing set and other jungle gym equipment which she loved playing on. We hope that as time goes by Miss M. will remember this vacation as she gets older.  I know the rest of the family will never forget how fun it was to share these amazing experiences and spend a week together in the warm sunshine on the beautiful beaches of Grand Cayman playing together!