Even the best family vacations can be a little chaotic sometimes. Self care is important. So important! Anyway, that's my justification for booking myself at some of the best luxury family resorts and book a few hours at the best spas while on vacation with my family. I've got to take care of myself before I can take care of everyone else, right?! And, if we're investing our time and money in a luxury travel experience, why not really do it up? Plus, nothing beats spending a little quality time in an ultra soft robe!
Incredible Spas and Kids Clubs make mom's vacation wishes come true at these Luxury Family Resorts.
Resort vacations are all about relaxing and getting far away from the work of everyday life. That's why I love it when we stay at some luxury family resorts that have an amazing kids club for my son Harry and fabulous spa for me. It means we all can have fun playing together on vacation and also plan a little bit of quality time apart too. I mean seriously, every mom deserves a little space to herself on vacation. And, it would be a shame to book a stay at one of the best family vacation resorts and not check out all of the amazing services offered.
Over my last 4 years I've written a lot about the top family hotels and resorts. I know that I've been extremely fortunate to have this job. I've reviewed so many marvelous luxury resorts that really cater to families. I have recommended these resorts over and over again as the best places for families to vacation. And each of my favorite hotels always includes an over-the-top spa experience and an amazing kids club! That's the perfect combination to have zero guilt about relaxing and pampering yourself at the spa while away on holiday with the family!
I've put together a list below of my favorite luxe family resorts with the BEST spas and kids clubs. This list is meant for parents to enjoy some peace and quite while the kids are living it up at the kids club. If you are looking to plan a vacation that includes some quality self-care and a little me time, you are going to love this best spas and kids clubs list!
Our List of Top Luxury Family Resorts with the BEST Spas & Kids Clubs
---
Sea Island Georgia
One of my favorite Luxury Family Resorts is Sea Island Resort. If you need to relax and get away from the everyday grind, a family vacation to Sea Island Resort is just what the doctor ordered. Sea Island is a private island off the coast of Georgia and is exclusive for resort guests only. It was love at first site for us when we arrived on our first visit to the resort in October.
Sea Island Resort has a list of activities a mile long for families to enjoy together. We had endless options to customize and create a luxury family beach holiday experience. Mostly we loved spending lots of quality family time together playing at the beach, riding the water slide at the pool, and experiencing the beauty of the island from a private charter cruise around the area. But, what really made our vacation complete was the amazing Camp Cloister and the marvelous Sea Island Spa.
Camp Cloister
Camp Cloister is really a special place for kids. Everyday there is different and they cater to kids of different ages so that each age group is doing something fun and age appropriate. During our stay they took Harry horseback riding, swimming the pool, they did a tie dye project, they watched a movie in the Camp's private movie theater and more! Harry loved every minute!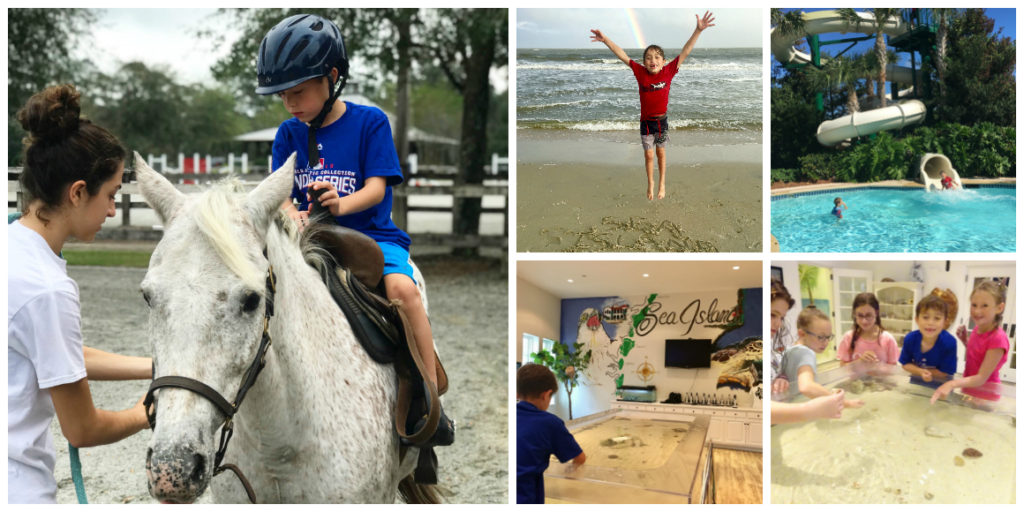 Sea Island Spa
Knowing Harry was having a blast out galloping around on his pony with his pals at Camp Cloister, I headed to the Sea Island Spa. I loved feeling of the spa with the mix of southern hospitality in a luxury relaxation space. The spa staff was so friendly and helpful offering to charge my phone, order me lunch, and bring me a glass of champagne all within the first few minutes of checking in.
I took my time examining the outside areas of the spa exploring the gorgeously landscaped labyrinth area and taking a dip in the mineral pool bath. Then I popped into the eucalyptus-infused steam room to help open my pores a bit before my HydraFacial spa treatment.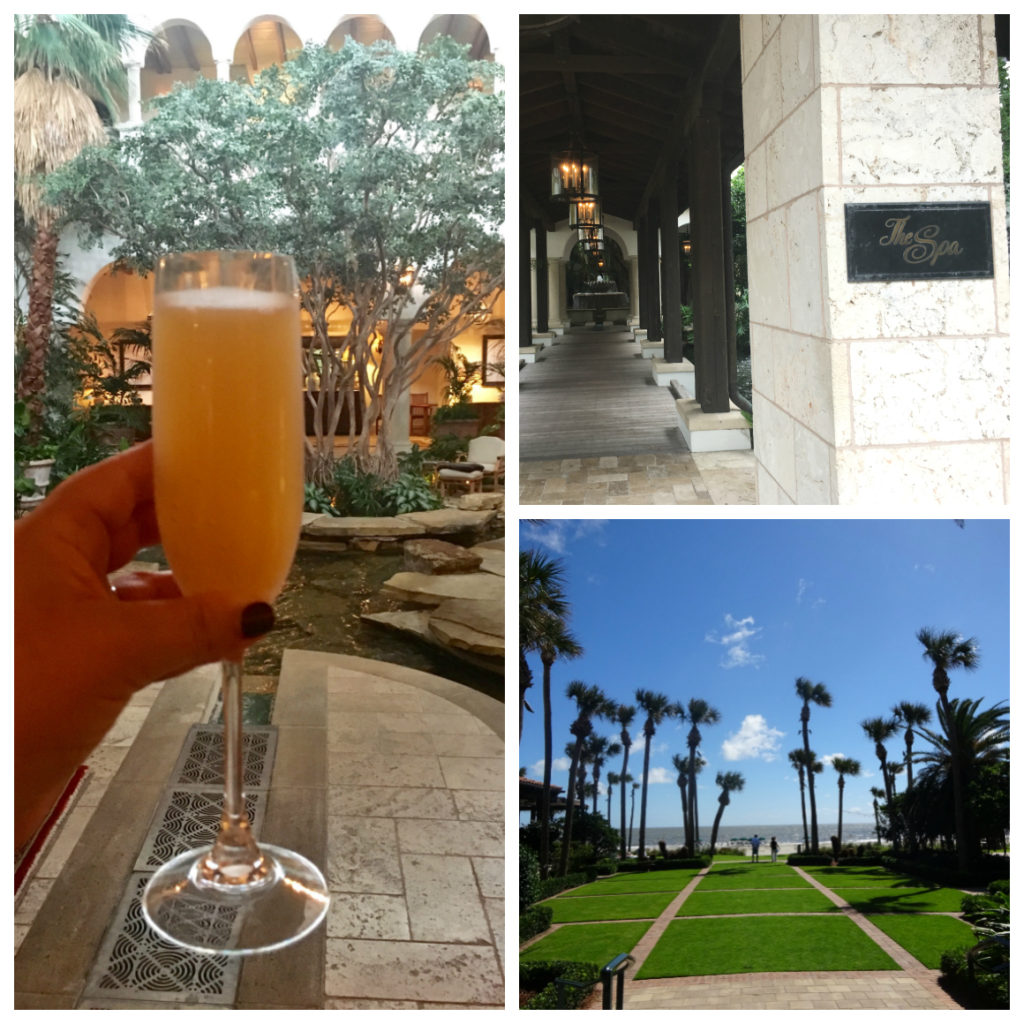 The HydraFacial treatment seriously transformed my skin. I swear my skin was so soft I glowed when I left!  The entire experience was exactly the tranquil indulgence every mom deserves!
Afterwards, I headed to the co-ed garden atrium, sipped some tea and read my book. It was total bliss!
Georgia on My Mind!
Harry and I both loved every minute of our afternoon activities that day. He had a blast making friends and exploring nature at Camp Cloister and I enjoyed some quality alone time and was grateful for the southern hospitality and total pampering. We can't wait to return to Sea Island!
Acqualina Resort & Spa Sunny Isles Beach
The Acqualina Resort & Spa is nothing short of outstanding in every possible way. We spent my birthday weekend at Acqualina this year and I fell totally and completely in love with this luxury beach resort.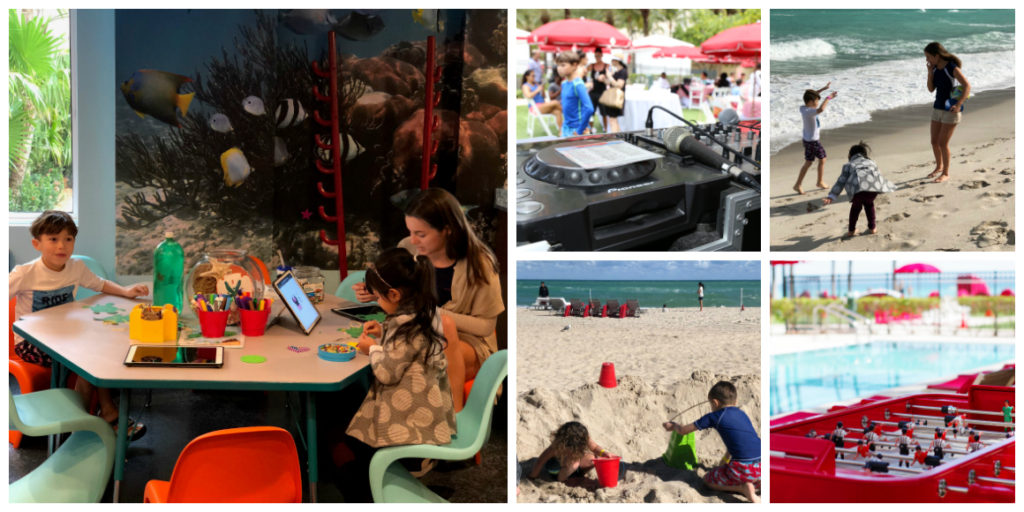 Acquamarine Kids Club
During our stay, my son Harry loved the kids club so much he would beg to go check himself back in even when we were enjoying fun family time at the beach and the pools. He loved playing on the beach with his new friends from Acquamarine Kids club. He didn't want to miss playing soccer on the soccer field or a good game of chess on the lawn with the amazing and nurturing staff. So, my husband and I didn't have any remorse about heading up to the spa relaxation areas while Harry was partying it up with his pals at the kids club.
Acqualina Spa by ESPA
Acqualina Spa by ESPA is a world class spa with every amenity. While Harry was having a blast in Acquamarine Kids Club, my husband and I loved relaxing together outside at the spa pool and whirlpool. It's a gorgeous quiet co-ed space with marvelous views of the ocean. Perfect for couples looking to shed their kids for a few hours!
We also each enjoyed a little alone time. I fell in love with the himalayan sea salt wall in women's relaxation room. And my himalayan sea salt massage treatment was incredible!
If you visit be sure to take advantage of the signature European heat experience areas. It's so refreshing and invigorating to do the circuit that includes a Finnish sauna, a crystal steam Room, ice fountains, and an experience shower that includes cool arctic and warm caribbean mists.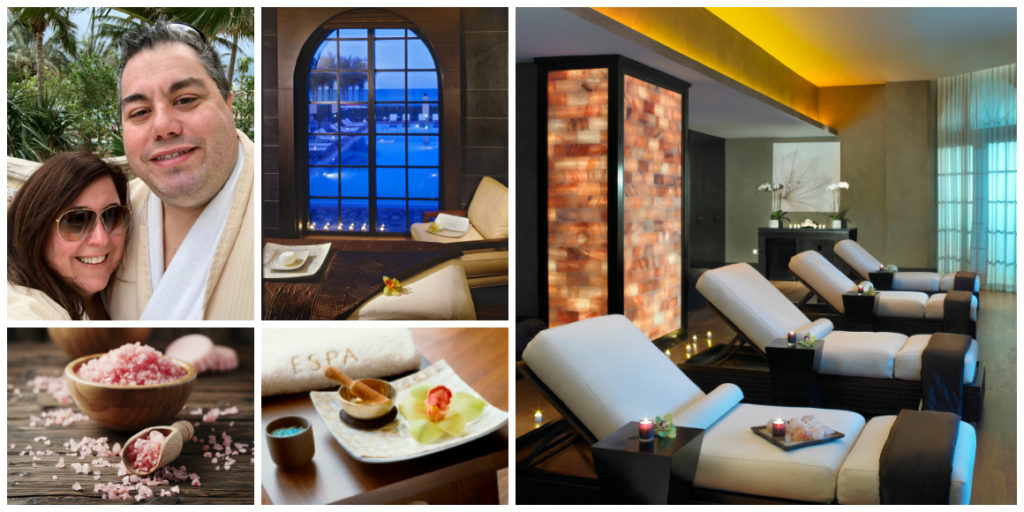 The service at the spa is incredible in every way. I was especially impressed with the service I experienced at the front desk. When I was checking out I was looking for an ESPA moisturiser product that they had sold out of right before my visit. They bent over backwards to make it up to me and they made me a huge sample for me to take to my room to get me through my stay.
Take Me Back to Acqualina!
We all had a great vacation and really enjoyed a little time away from each other playing at the kids club and relaxing at the spa. I can't wait to return to Acqualina Resort & Spa and neither can Harry!
Eau Palm Beach
Staying at Eau Palm Beach is basically equivalent to being hosted at a fabulous party on the beach! The entire vibe of Eau Palm Beach Resort oozes fun in the sun. From the moment you are greeted with champagne at check in you will know you have come to the right place for a hip and happening Palm Beach holiday.
We all loved the whimsical interiors of the hotel decorated by the famous designer Jonathan Adler and the amazing beach views. One morning we took a break from building sand castles and splashing in the pool to each go do our own thing.
Aqua Nuts Kids Club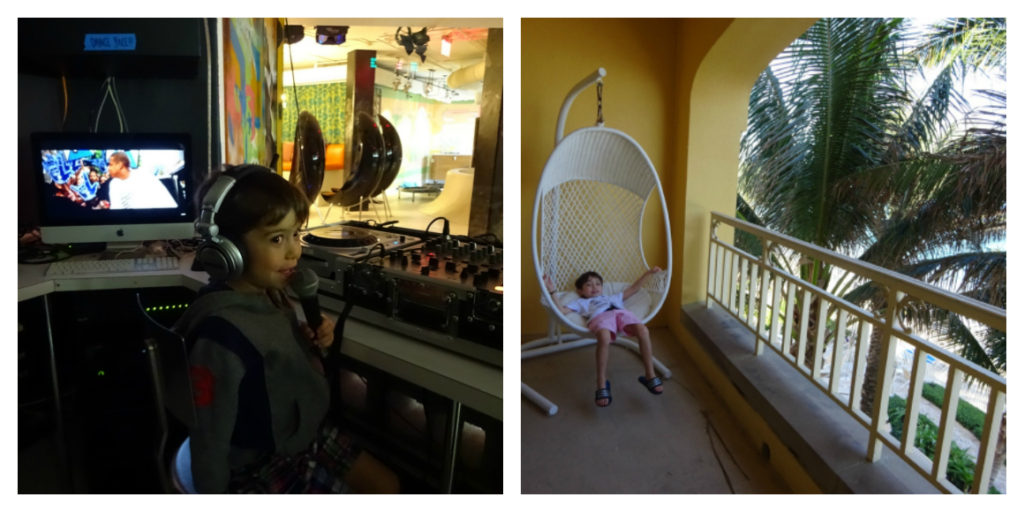 Harry was the only kid signed up for AquaNuts kids club that morning. I was a little nervous he wouldn't want to stay at first, but once he toured the truly awesome kids club he was sold! I was thrilled because that meant I would make it to my cherished spa appointment! He started out with DJ lessons and then moved on to playing dress up, games, and watching Star Wars with his AquaNuts pals. He was having the time of his life!
Eau Spa
Grateful that Harry was entertained, I headed over to Eau Spa for some serious pampering! I was delighted with the fabulous playful vibe of the spa, unlike any other luxury spa I've visited. The fun spa staff takes the motto of Play. Pause. Perfect seriously and makes sure each guest has a cheerful spa experience complete with honey, rubber duckies, swings, champagne, and cupcakes.
No description or photo of mine can do this spa justice.  You really need to enjoy a spa day experience to capture all of the fun details that make this award winning spa sparkle! I loved my custom body scrub and the water therapy circuit they recommended to make my skin extra soft. During my facial treatment, it was fun to custom select the theme. I chose the background music and lighting themes for the room making for a playful way to pause and relax while they made my skin gorgeous!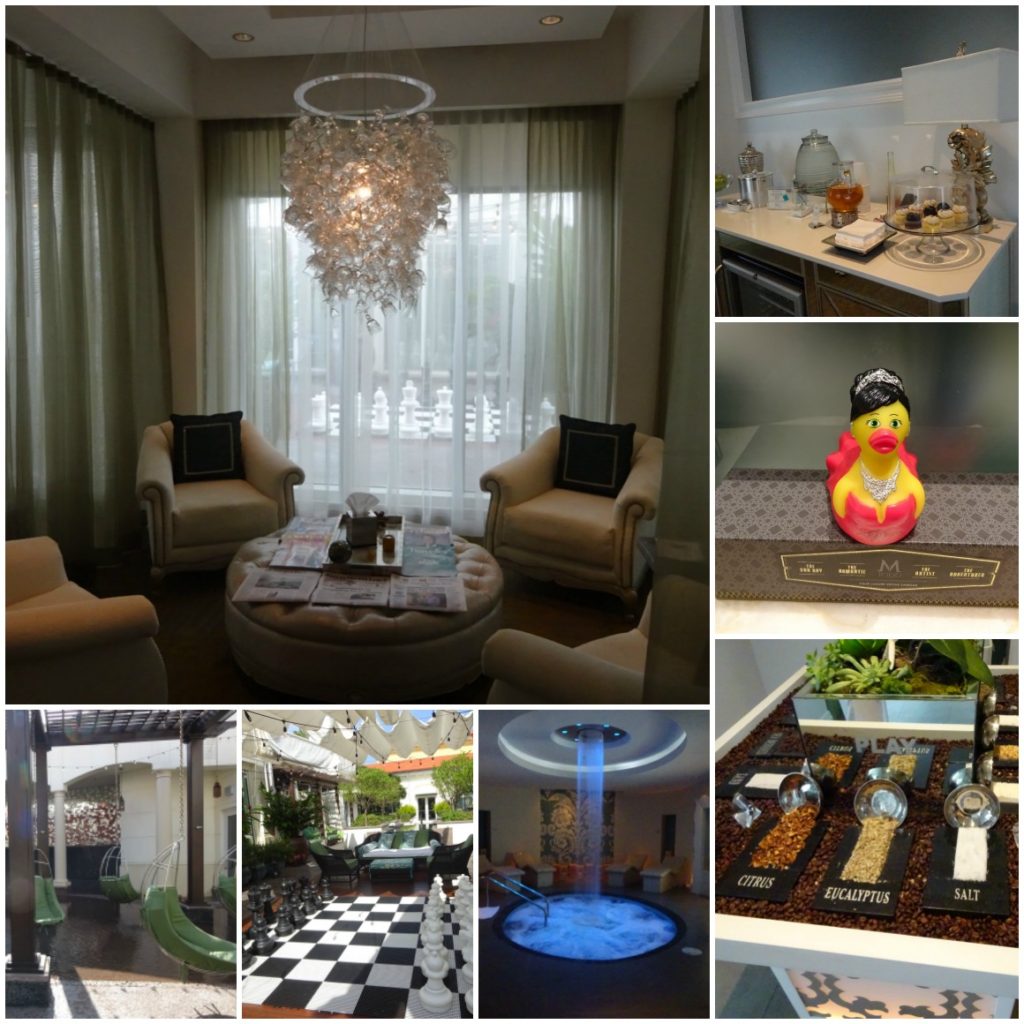 Ready for more Palm Beach Playtime!
My only regret of our fun family trip to Eau Palm Beach is that I could only spend one day at the spa. When we return I know Harry will be more than happy to spend another morning at AquaNuts while I go ahead on back to Play. Pause. & Perfect myself at Eau Spa!
Like this post? Pin it for later!