Disclosure: We received some of the Ft. Lauderdale recommendations below were discounted or complementary in return for review but the majority we have paid for ourselves time after time because we love them. In all cases, the opinions are my own. This list is really our absolute favorite must do list for Ft. Lauderdale with kids!
Ft. Lauderdale is a fun family travel spot with kids!
For years my family has been spending a week in Ft. Lauderdale every January to escape the Chicago cold winter weather. We love it! Nothing beats a fun family vacation with lots of beach time warming our toes in the sand. That's really how we spend most days in Ft. Lauderdale.
Even though we are mostly at the beach or the pool, we do have a list of fun family travel favorites that we are sure to hit on each trip to Ft. Lauderdale. I must admit, we are creatures of habit and pretty much do the same things each year. Mostly because these really our our favorites for our annual family adventure to Ft. Lauderdale. Take a look and let us know if you have any great spots we should add!
Top favorite fun family travel spots in Ft. Lauderdale with Kids: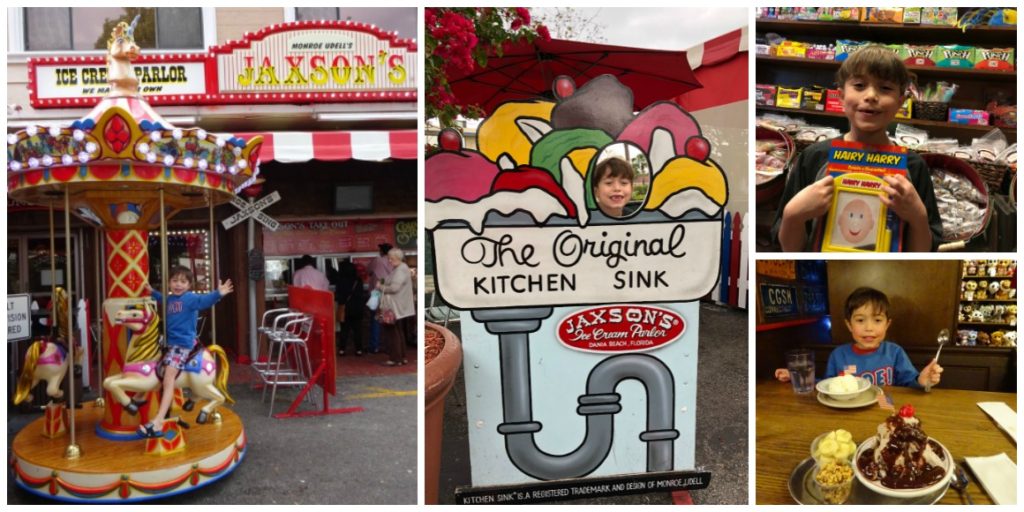 Best Old Fashioned Ice Cream Parlor:
No family trip to Ft. Lauderdale is complete without a stop at Jaxson's Ice Cream Parlour.  And we visit Jaxson's over and over again each time we return to Ft. Lauderdale. From the moment my son sees the kiddie rides and photo booths out front he gets super excited because he knows exactly where we are. Inside surrounded by memorabilia we always grab a delicious lunch followed by the world's best old-fashioned ice cream. The food is always yummy and the ice cream is even better! Finally, on the way out we love to pick some nostalgic candies, grab our fortune from the Zoltar machine and my 7 year old always talks us into a new little toy.
Best Ft. Lauderdale Pirate Ship Cruise for Kids:
BlueFoot Pirate Adventures children's cruise is a must for little pirates in training. We had a blast setting sail on our high seas adventure with Captain Black Sparrow.  While at sea we learned some important pirate vocabulary, enjoyed a fun limbo dance, and discovered a message in the bottle that would lead to a lost key that could unlock a pirate treasure chest. Luckily nobody had to walk the plank that day! This cruise is worth every bit of your pirate booty, so be sure to plan ahead and make a reservation online!

Best Ft. Lauderdale Hotels for traveling with kids:
We have stayed at many luxe Ft. Lauderdale hotels over the years including the Marriott, W Hotel, The Atlantic, The Conrad, and the Hilton. All were very nice spots and you can't really go wrong with any of them if you are looking for a great beach hotel.
Hilton Ft. Lauderdale Beach Hotel Review:
In our many visits to Ft. Lauderdale the hotel we book most often is the Hilton Ft. Lauderdale Beach Resort. We like the location and that the hotel offers huge suites that are set up like ocean view apartments with a full kitchen and multiple bathrooms. The Ocean front two bedroom suites have enormous balconies that overlook the beach and are the perfect place to hang out and enjoy the coastal views. And, they offer fun kids programming like a scavenger hunt, smoothies by the pool, inflatables, and daily poolside activities. I also love to head down the the firepits at the Hilton's S3 restaurant to enjoy cocktails and appetizers at sunset!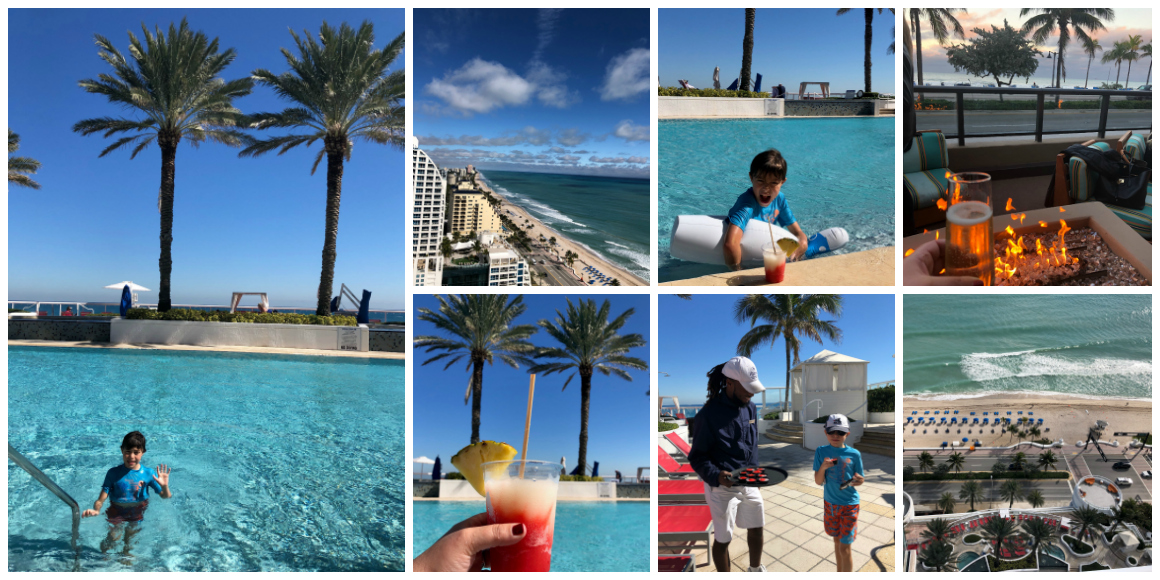 Best Hotel Babysitter for a Vacation Date Night:
We love fun family travel to Florida. And, everyone has a great time when we incorporate a date night into our luxury family beach holiday.
Luxury family resorts across Florida agree that Sitters In A Second, Inc. is the most trusted hotel babysitter for families. I've hired hotel babysitters from Sitters In A Second, Inc. in Ft. Lauderdale while staying at both the Conrad Beach Resort and the Ft. Lauderdale Hilton Beach Resort.
We've  had amazing experiences with the sitters they have sent to us. My son Harry is always excited to see his sitters arrive because he knows that means it's play time for him! The sitters they send are like camp counselors who come over for a fun night of play. I always request babysitters who are swimmers so that they can take Harry swimming, play games at the resort, walk on the beach, or just have fun playing games in the room.
Each time he has a different sitter, but Harry knows he can trust them all the same. It's obvious to him that they are there to have fun when they arrive in their logo polo that looks the same in every city that we've hired them:  Miami, Boca Raton, Palm Beach, Orlando, Laguna Beach and San Francisco.
Every parent deserves a fun vacation date night out in Ft. Lauderdale. Trust Sitters In A Second, Inc. to make it easy and stress-free so you can relax and enjoy your vacation.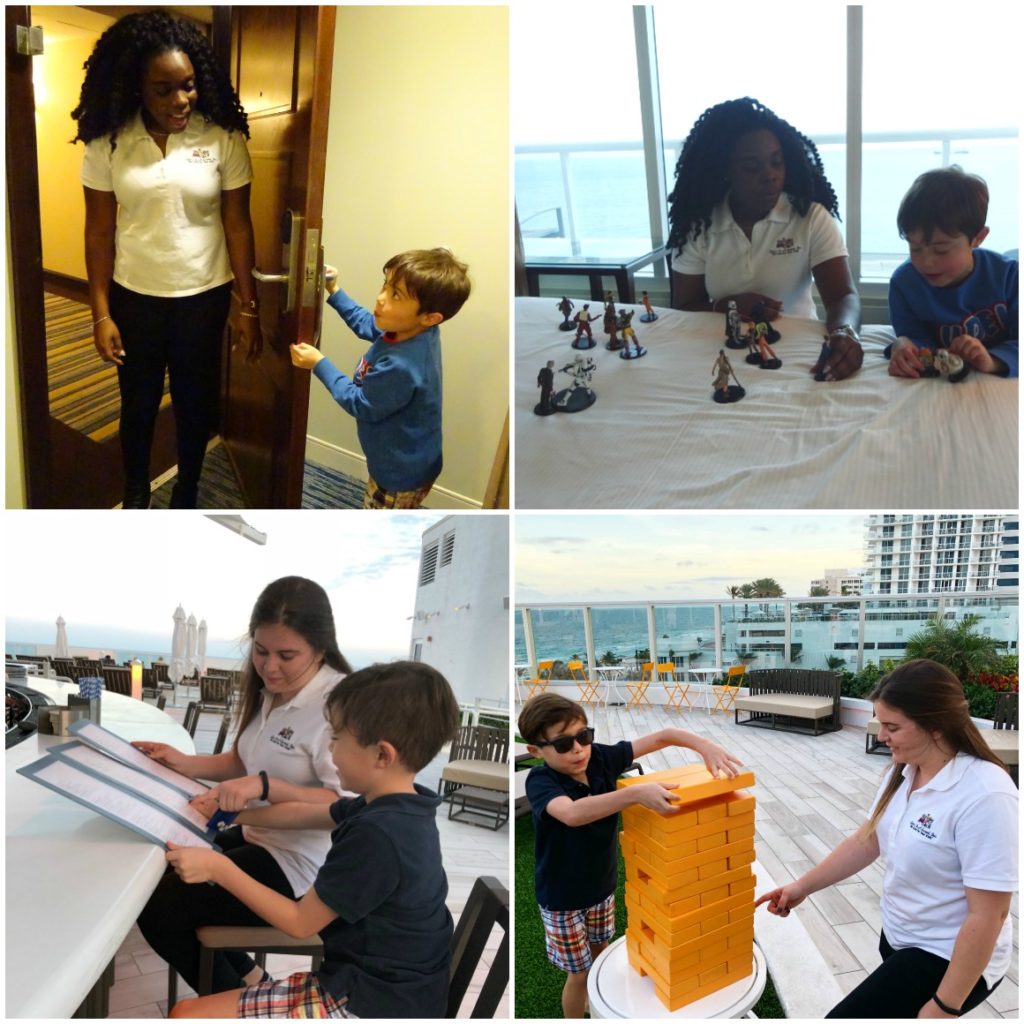 Best Beach Pizza:
Nothing beats a beach picnic with a fresh hot pizza from Primanti Bros! I grew up outside of Pittsburgh and love grabbing a fresh pizza and taking it to the beach! The restaurant is a small walk up counter with a few tables inside, and is famous for their sandwiches. I like the sandwiches too but I highly recommend their New York style pizza to go!
Best Family Activity:
The best family activity you can enjoy in Ft. Lauderdale is to go for a boat ride! Ft. Lauderdale is dubbed the yachting capital of the world, so it's a super fun place to go for a boat ride and admire all of the amazing yachts. Rent a boat, go for a ride on the water taxi, or sign up for a dinner cruise. Just get out on the intercostal and enjoy!

Best Family Waterfront Dining:
There are lots of great restuarant choices in Ft. Lauderdale, but the one we like most on the water is Coconuts. We love to sit on the patio and enjoy a delicious causal meal with great atmosphere.
Best Family Dinner Spot:
Our favorite family dinner spot is Louie Bossi's Ristorante Bar & Pizzeria. We have visited both the Ft. Lauderdale location and the Boca Raton location and we just love everything about this classic Italian restaurant, and its super family friendly. We like to go early and eat at the tables in the bar during happy hour for half price pizza and drink specials. For dinner we move to a table and enjoy the best calamari, meatballs, garlic bread, and pastas we've ever had! If you like Italian food you can't go wrong at Louie Bossi's!
Best Date Night Dinner Spot:
I hope you took my advice above and hired a hotel babysitter from Sitters In a Second, Inc. Now, book yourself a date night at Cafe Martorano. This Italian Restaurant by celebrity "Yo cuz!" Steve Martorano is outstanding and has an atmosphere like no other! Go for the heavenly Italian dishes and stay for the energetic and sexy atmosphere. This is a date night you will always remember!
Best photo spot: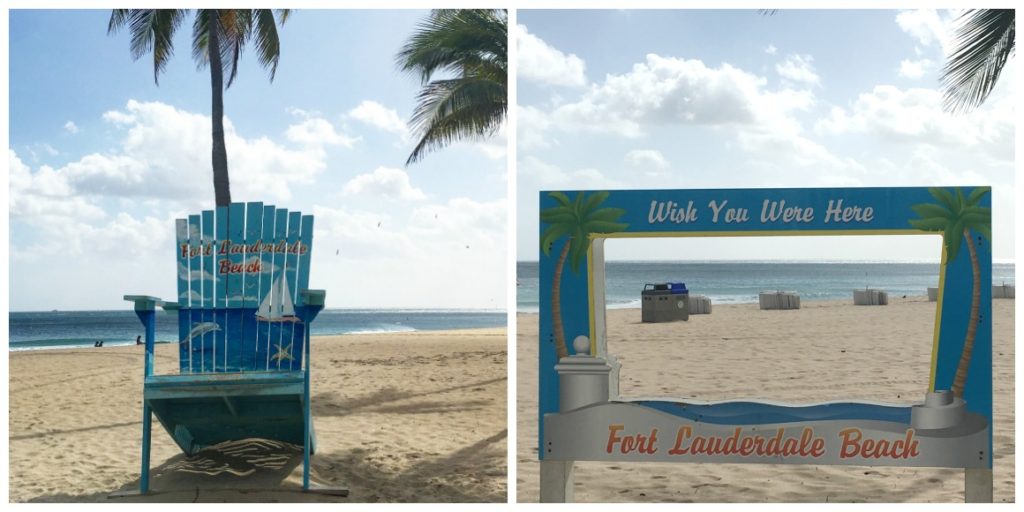 When you are staying in Ft. Lauderdale it's worth it to take a walk down the beach to the giant beach chair. It's the perfect spot to take a photo to send back home!
Best Way to feed the birds in Ft. Lauderdale:
On our most recent trip to Ft. Lauderdale we took an impromptu ride over to visit Flamingo Gardens Botanical Gardens and Everglades Wildlife Sanctuary.  We had a great time exploring the gardens and feeding the birds. We learned about the importance of the sanctuary and the care they give to wild animals and birds who wouldn't survive in the wild due to injuries. If your kids love up close animal experience and feeding beautiful birds Flamingo Gardens is a fun afternoon adventure!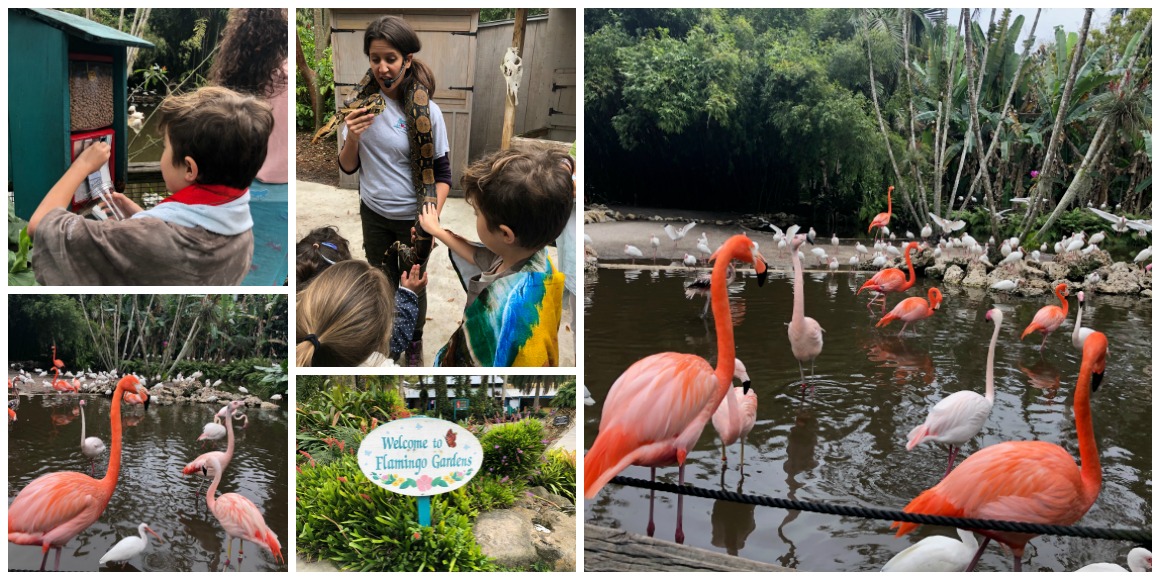 Best Family Entertainment After Dark:
We live in Chicago where there are no longer drive in movie theaters. So, one of our favorite family night's out is to head over to the Drive in Movies at the Thunderbird Drive-In theaters. It's super fun to pull the car up and all enjoy a movie together. A little golf cart drives around to deliver snacks or you can fill your car with your own!
 
 Pin it for later!