A Luxury All-Inclusive Vacation!
What can a cruise guy do with his family when not doing a cruise?  Of course, the next best thing to a floating resort…a luxury all-inclusive resort.  
Our choice for this years Spring Break was the Dreams Playa Mujeres Golf and Spa Resort.  A brand new resort in the Playa Mujeres community, about 15 minutes north of downtown Cancun.  This glistening 502 all suite resort opened in November of 2016, and is Dream's premier property at this writing. This resort is managed by the AM Resorts chain.
When entering the resort up its long circular driveway, guest are greeted with champagne for adults and lemonade for the kids and a view to die for from the top of the property.  The beholder can see all the resort pools and the sea in the distance, right from the open air lobby.  We were escorted to the Preferred Club check-in private area, and greeted with snacks and more cocktails.  Once checked in, we were taken to our Preferred club junior suite room with an Ocean View.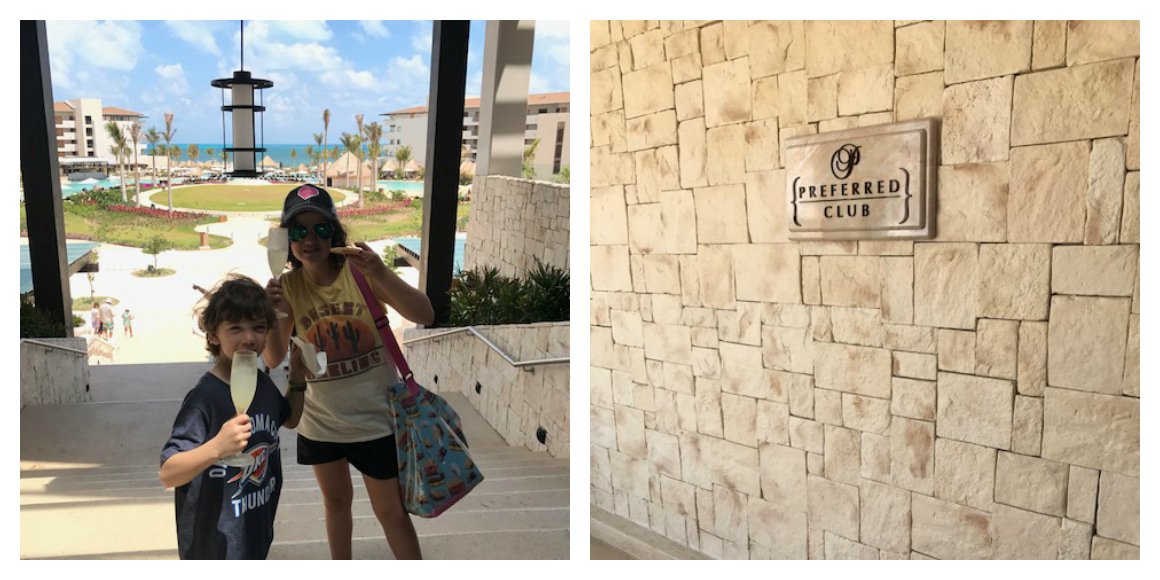 The Rooms
Most if the rooms at the hotel are junior suites.  The junior suites range in size from 602-624 square feet.  Each has a separate sitting area, bed space, large bathroom with separate lavatory room, and a large veranda with a hot tub(basically a bathtub with jets).  
The rooms were extremely comfortable, and our family of 4 felt like we had plenty of space to spread out.  The rooms are serviced twice daily, although we did have to call a few times to remind the staff of our turndown service.  The other rooms in the hotels range from Master Suites of 1162 square feet, Two Bedroom Villas at 1580 square feet, and some larger suites up to a Presidential Suite of 8866 square feet.  I saw a few rooms, and it seems that most rooms, even some of the garden view rooms, do have some sort of view of the ocean.  
The rooms were very luxurious, had stocked mini-bars, a Nespresso machine and snacks replenished daily.  The difference between the regular and Preferred Club rooms are a little in size and amenities.  The Preferred club rooms include access to a lazy river, private check-in and check-out, food presentations in the club during the day, special area on beach, and some other miscellaneous items.  We found the Preferred club a great upgrade and would do it again, when staying at another dreams.
The Resort
The resort, being new, had freshly planted foliage, bright white paint, and really seemed to be completed.  We noticed no construction in the resort.  The pools are this resort's main highlight.  A water paradise.  65,000 square feet of pools, spread over 3 levels, with 2 infinity pools, entertain not only the young at heart from morning to night.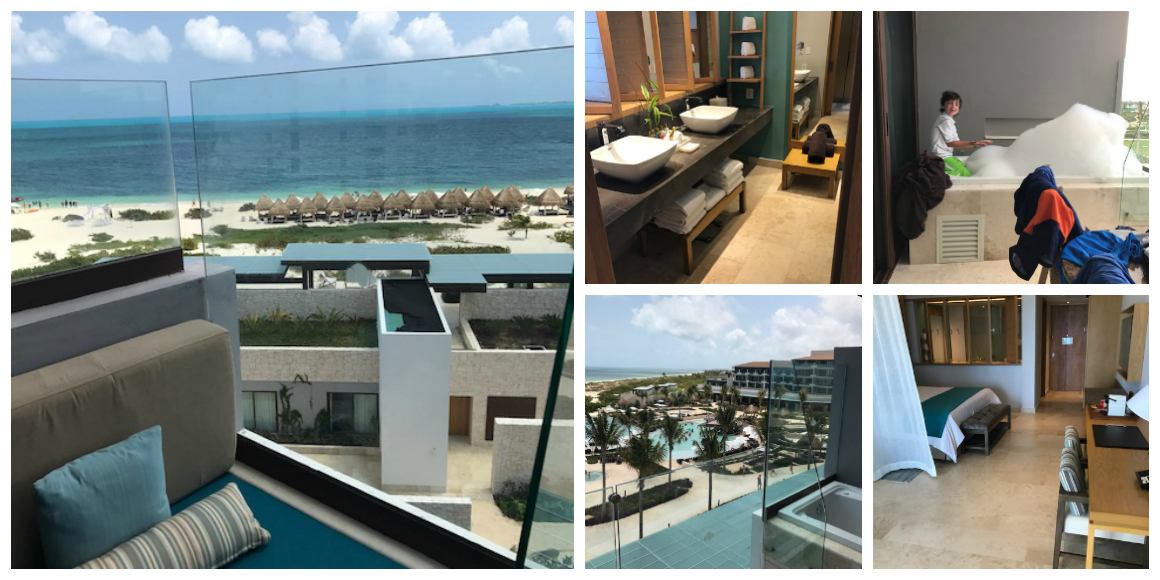 Cassandra is the wonderful woman who services everyone at the pools, and treats all guest like family members.  She knew all of my family members, including myself, by name by the end of our first day.  The beach has Bali chairs and cabanas.  We loved spending the end of our day, cuddled up on the Bali bed, watching the waves crash into the shore.  The resort also has 2 water slides, a lazy river, spa and a myriad of dining selections.
The Food
All-inclusive means all-inclusive at the Playa Mujeres resort.  Top Shelf premium alcohol, food, food and more food, and not to forget the delicious desserts.  
The World Cafe is the resort's buffet and serves breakfast, lunch and dinner.  There are stations for each meal which have custom food available.  Ranging from sushi, to omelettes, to fresh smoothies to carving stations, there is a choice for everyone.  Maris is a Fish restaurant which also serves breakfast ala carte to Preferred guests.  The food was tasty for dinner and lunch, and the breakfast was an experience.  The kids loved it with the special pancakes and waffles.  
Tides was fast food hamburgers & hot dogs.  It was nice to have a quick food alternative, and it was quite good.  Our second favorite, which we ate at twice was Fusion.  The Hibachi was almost as good as our Stateside hibachi restaurants. The chef also put on a sensational show.  The second night we ate at Fusion, we ate a la carte off the menu.  The menu was very limited, but what we did have to choose from had an abundance of taste.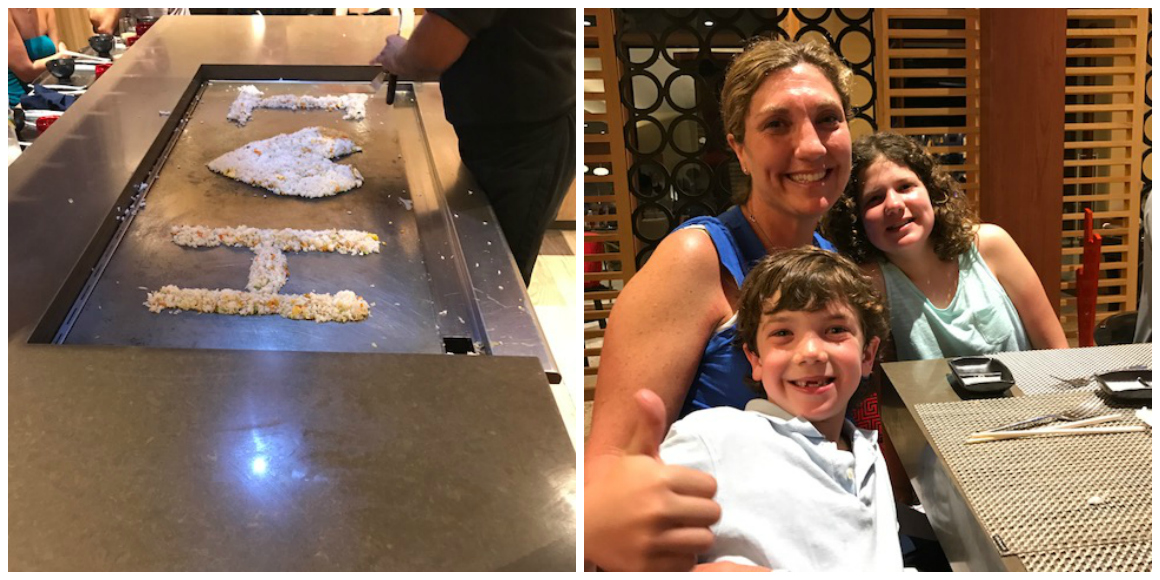 Gaucho was fantastic, and our favorite.  A Brazilian steakhouse with the salad buffet.  We had properly cooked meats and were also able to try some cuts of meats which we never had tried before.  We loved it, and the service was the best of all the restaurants.  Mezes was a Mediterranean restaurant with a unique menu.  Food was fair.  We did not experience L'Etoile (an adults only French experience) and Tres Colores (Mexican), or Thats a Wrap (carry out salads).  Dolce was a fabulous dessert and ice cream parlor.  We frequented this establishment and yum, I miss their treats.
The Kids Club
Our kids did not participate, but we did get to visit, and I was extremely impressed.  The 3-12 year old club is called Explorer's Club.  It is situated next to the Lazy River and is an indoor/outdoor space.  The parents had sign kids in and out, for security.  The club itself was very bright, and had electronic gaming systems, a theater to watch performances and movies, a kitchen, and outdoor play area, arts and crafts, and lots and lots of games.  All the parents and kids we asked about their experiences said the kids loved the program.  Many of the parents said they could not get their kids to want to leave the area.  The 13-17 year olds had Core Zone.  I Wanted to play in there.  They had a rock climbing wall, a trapeze, Electronic Gaming systems, movies, a kitchen, snack bar with non ac=alcoholic drinks.  It looked like a blast.  Again we got very positive feedback when asking about the club.
The Daily Entertainment & Activities
The wonderful, and I mean wonderful entertainment staff, Julio, Luis, Hector and Felipe, kept this resort rocking.  These guys hosted dancing in the pool, exercise classes, food demonstrations.  
We attended the sushi demo.  My kids Samantha and Grant got to make their own sushi, and the staff helped them every step of the way.  The entertainment staff hosted live shows, almost every night.  While some shows were better than others, these guys made sure all guest were having fun.  They works their hearts out!!  Our favorite show was the evening beach Fire Show.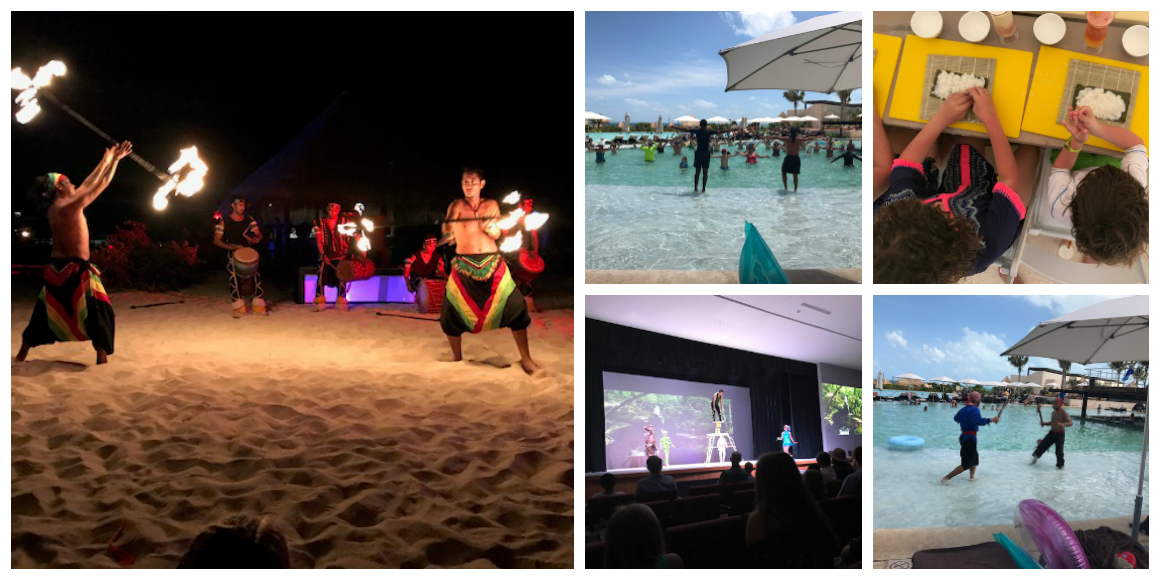 The kids got to participate, sans the fire, and had a blast.  The shows may not be cruise quality, but these guys made them funs and entertaining.  Julio led Grant and I on a bike tour through the Playa Mujeres community.  
We saw alligators and animals, but my little guy's favorite part of this trip was meeting a monkey, shaking his hand and feeding him.  When we walked into the monkey's habitat, this little monkey came running up to us to greet up to this home.  I am smiling just writing about it.  
Some other activities where the water slides, which were fast and fun. The Lazy River was a nice break from the pool every day.  Our family did take a day trip to Isla Mujeres.  It is a 15 minute ferry boat ride to this little island refuge.  We rented a golf cart and drove around the island.  It was very quaint and scenic.  We absolutely loved the visit.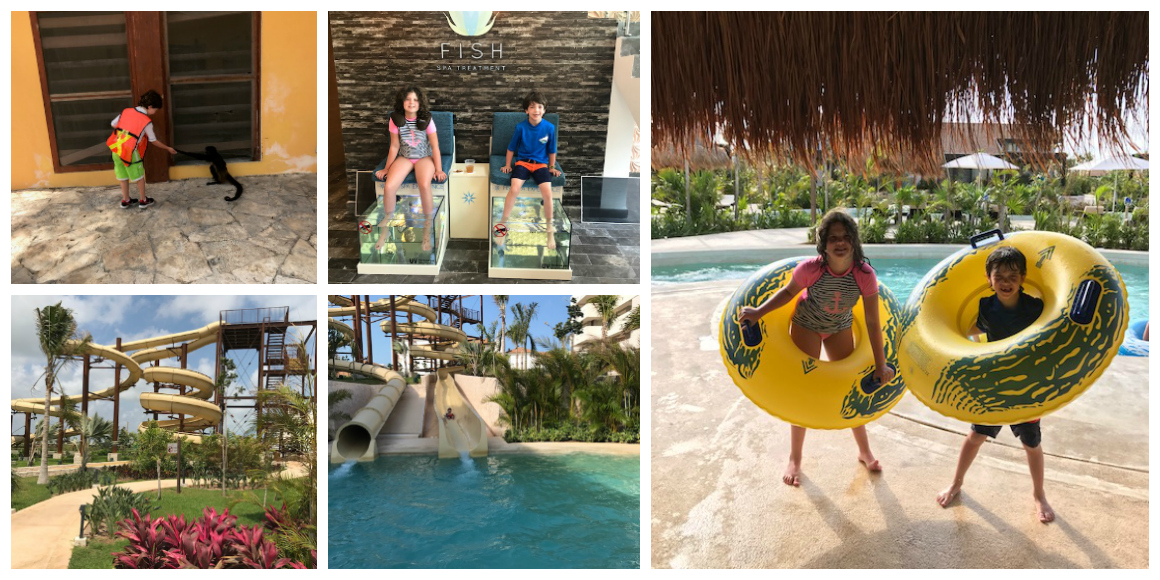 A Great Vacation All in All 
We loved our first experience with an all-inclusive resort.  Dreams is definitely a great way to do a family friendly all-inclusive.
There were only a few issues.  The service was extremely spotty, which could be due to the fact that the hotel was new.  There was a lot of waiting for drinks and in some restaurants we waited a very long time between courses.  The only other issue was that the menus were very limited, not offering very wide variety.  I think this could easily be corrected by offering more of a selection.  
This is a higher end all inclusive resort with all the amenities you'd expect. This resort is stunning and I am sure with time, the service and food will be up to par, where it should be. We loved it enough to say next spring we will do an all-inclusive again.
---
Planning a luxury all-inclusive vacation to Mexico? Pin this luxury all-inclusive resort review to save it for later!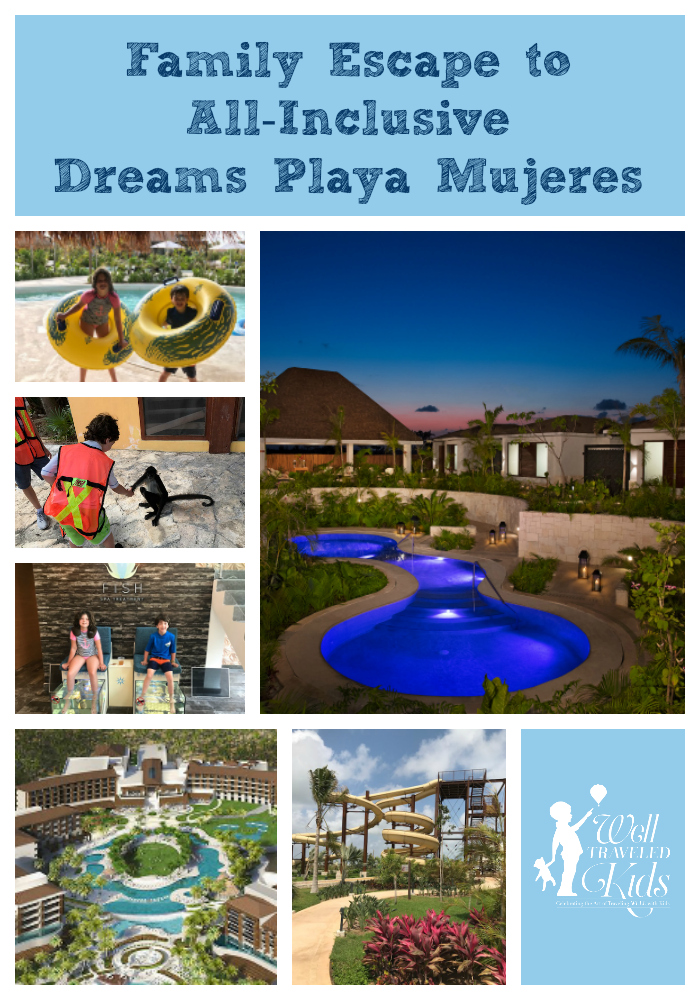 We paid for our trip on our own dime and I chose to write about it.  I was not compensated by the Dreams Resort for this review. All opinions are my own.
---
photos compliments of Dreams Playa Mueres