Disclosure – I received complimentary tickets to Monuments by Night and Madame Tussauds for purposes of review. Both experiences were fantastic and I would gladly pay to go back. All opinions are my own.
---

  Is Washington D.C for Little Kids?
Do you remember how old you were the first time you visited Washington D.C? I'm not sure of my exact age the first time my family road tripped to D.C. but I do recall my parents taking my sisters and I when we were little girls. I have fond memories of racing up the steps on the Lincoln Memorial and posing for photos in front of White House where President Reagan was living at that time. 
I've been fortunate to experience D.C. many times over the years. It's become one of my favorite cities to explore. Washington D.C is a city that always leaves an impression with each visit, so I couldn't wait to take my 7 year old son Harry on our long weekend trip.
As a first grader, I wasn't sure if Harry would understand the significance of visiting our nation's capital. He's too young to comprehend much of anything about government or politics, and hasn't learned much history yet either. I wondered if there would be good activities in Washington D.C for little kids.
Preparing kids to visit D.C.
For his first visit, I prepped him by watering down some history and government lessons so he could have a little taste of beginning to understand the significance Washington D.C. has to us as Americans.
In my excitement for our adventure, I made a long list of stops around town I wanted to make and places that I wanted to show Harry. It was funny to see what little tidbits interested him and what topics went entirely over his head as we tooled around town for a few days of sightseeing.
Not everything we visited was a hit for my little guy, but many of our stops have left the lasting impression I'd hoped for when I planned our vacation.
Here's our  Top 5 Favorite Activities in Washington D.C. for Little Kids
---
Wander the Smithsonian Museum of Natural History 
Because the Smithsonian Museums are free we visited several on our trip. The Smithsonian Natural History Museum was by far Harry's favorite. We got up close and personal with butterflies, tranchulas,  mummies, dinosaurs, the Hope Diamond and more. This museum has endless exhibits kids can easily understand and fall in love with, so it's fun to spend time roaming the halls.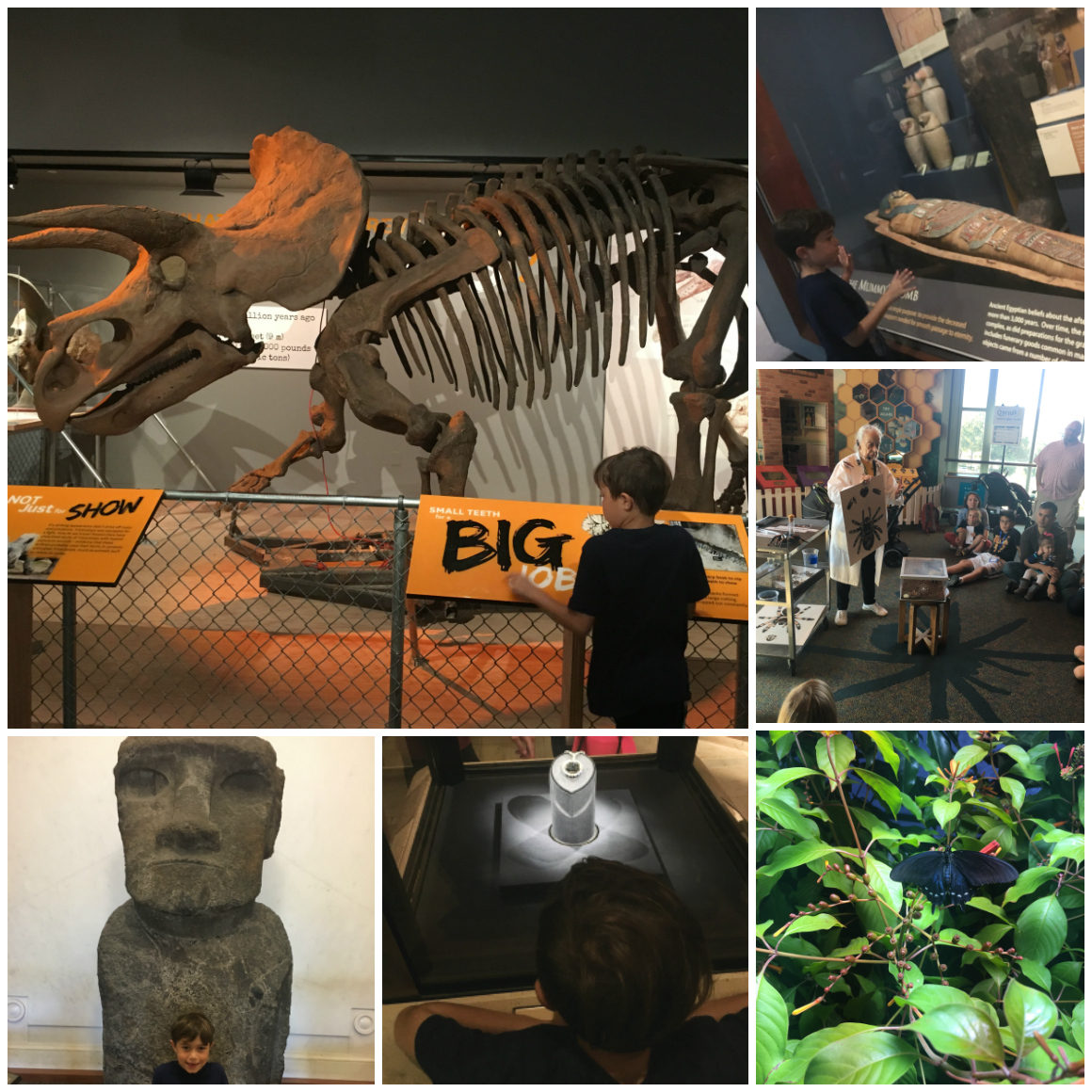 Run Up and down the fields of the National Mall and ride the Carousel
My kid can only take so much time in a museum, but he loves to run and play all day.  He had a blast spending time on the lawn of the National Mall and Memorial Parks running on the green fields. Between museum visits we stopped for a popsicle and a ride on the Carousel which shared a nice piece of Civil Rights history and was a fun break before heading to another museum.
Learn what it takes to achieve flight at Smithsonian National Air & Space Museum
Harry loved meandering the National Air & Space Museum seeing real life spaceships, rockets and laughed hysterically when we spotted an authentic spaceship toilet. His favorite area was the kids wing on the first floor where he played with the hands on experiences for kids. And of course the highlight was spending his money in the gift shop on astronaut ice cream and other cool kid sized space exploration gear.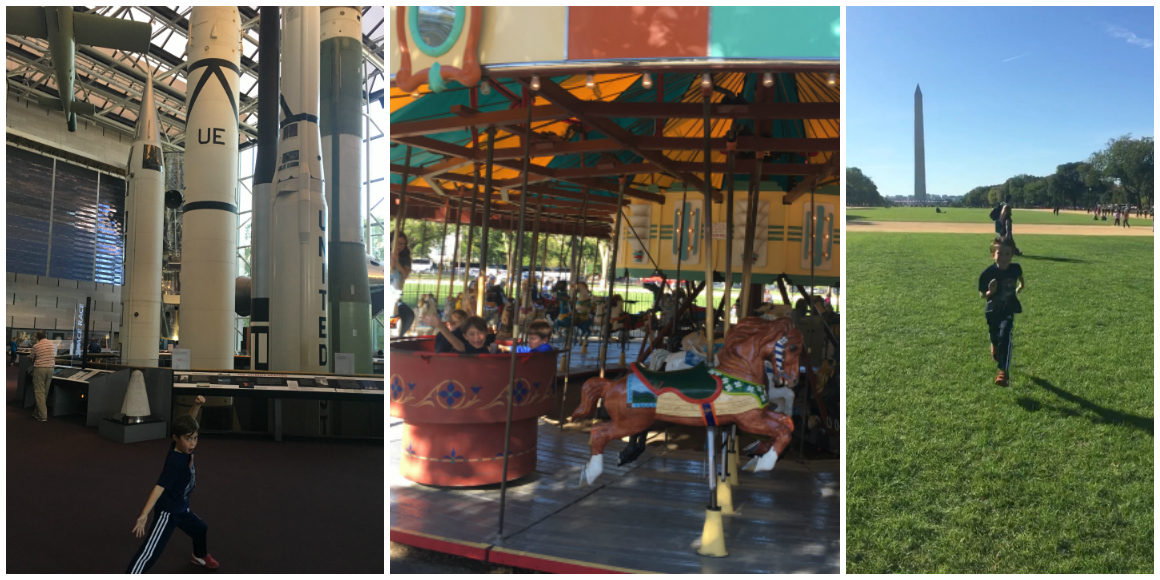 You haven't seen Washington till you've seen it at night with the Monuments by Moonlight Tour
I love to see the monuments all lit up at night and knew that Harry would enjoy watching the city come alive after dark. So, I booked us on a Monuments by Moonlight Trolley Tour that turned out to be a blast. We boarded our trolley after dinner and were treated to amazing views and lots of fun tales as we explored the city by open air trolley at night. Our driver delighted the crowd with stories about the monuments, the history of D.C and the buildings of significance we passed as we whizzed around town after dark.
As a 7 year old most of the historical context went above Harry's head, but he absolutely loved seeing the monuments at night and taking selfies at each one. His favorite part was counting the stairs while running up to the top of the Lincoln Memorial. ( Just like I did with my sisters so many years ago!) That's for sure one of the absolute best activities in Washington D.C. for little kids!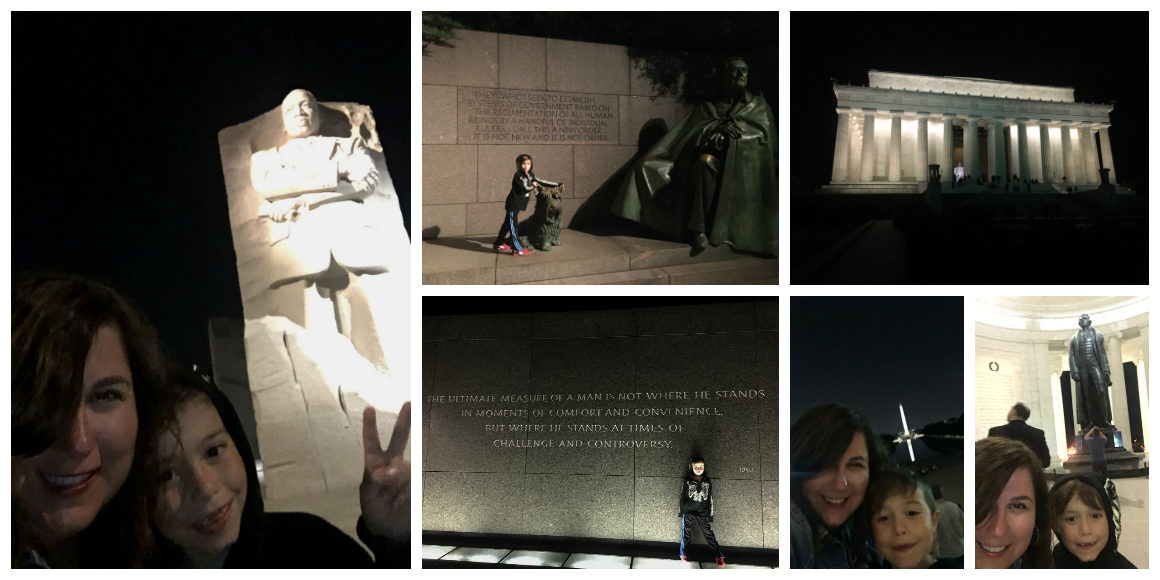 Experience the magic of Madame Tussauds Wax Museum D.C.
Harry's absolute favorite stop on our Washington D.C. weekend trip was our visit to Madame Tussauds Wax Museum. After visiting the National Smithsonian museums where the good stuff is behind glass it was a breath of fresh air to find an interactive experience where kids can feel a part of the action. Harry pretended to cross the Potomac with George Washington, dodge bombs in the Battle of the Bulge, introduce Dr. Martin Luther King Jr. on the steps of the Lincoln Memorial, make friends all 45 presidents, take a bullet for Abe Lincoln, have a seat in The Oval Office, the White House Press Secretary, dress up like Uncle Sam, strike a pose with his favorite celebs and cast his hand in wax to preserve his memory. I recommend this stop as a must for anyone visiting Washington D.C. for Little Kids!
We had a blast together exploring D.C. as a family. It was great finding so many activities  in Washington D.C. for little kids. As Harry gets older I look forward to many future opportunities to visit and dig more into all Washington D.C has to offer for kids!
Click the images below to save to Pinterest: