The Best Vacation Birthday Partys are Poolside Cabana Parties!
Families everywhere are looking to reunite after being separated to celebrated missed birthdays. One special way to experience celebrating birthdays together on vacation is to throw a luxury resort poolside cabana birthday party on vacation. Here are some of my picks for the best luxury resorts with awesome poolside cabanas perfect for throwing an epic cabana birthday party!
The Best Luxury Resort Pool Cabanas for throwing an Epic Pool Party!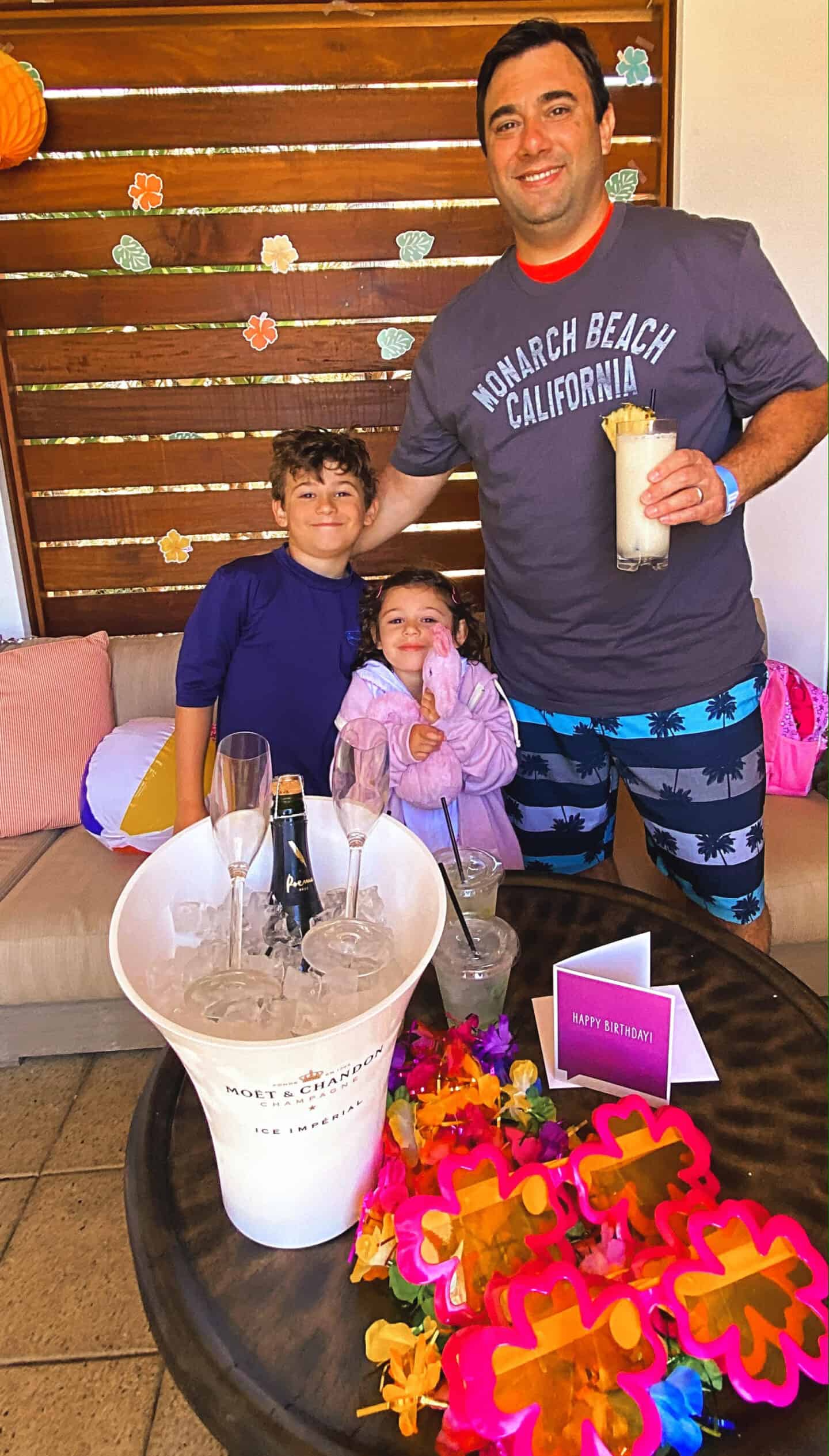 Luxury Cabanas at the Waldorf Astoria Monarch Beach Resort
Experiences make the best gifts! Last week my VIP client wanted to throw a big birthday celebration for her husband and kids while on vacation in Laguna Beach to make up for all the birthdays missed in lockdown. So, I booked her stay at Waldorf Astoria Monarch Beach Resort and worked behind the scenes with my VIP contacts at the hotel to arrange for a custom-decorated cabana birthday party to surprise her family! They absolutely loved partying poolside and celebrating together.
If you are interested in booking a fabulous stay at Waldorf Astoria Monarch Beach Resort, email [email protected] to learn about my VIP hotel perks, the Waldorf Astoria Monarch Beach 4th night free offer, and booking a fabulous poolside cabana during your stay!
Palm Beach Cabana Day
The Breakers Palm Beach
The Breakers Palm Beach is the quintessential luxury South Florida family retreat. I celebrated my birthday at the Breakers a few years back and partied in one of their poolside bungalow cabanas. I absolutely loved every minute and always highly recommend the bungalows to my clients.
The newly redesigned bungalows are the perfect daytime escape. Outfitted with beach-inspired furniture for endless relaxation, their 25 bungalows range from 300 to 400 square feet and are ideal for up to six guests.
Complete with a picturesque ocean view, the poolside bungalows include a dedicated concierge to meet your every need, lounge area with living room furniture and dining table, full bathroom with luxury amenities and shower, refrigerator stocked with complimentary non-alcoholic beverages, exclusive food and beverage service, a flatscreen TV and more!
The Breakers is currently offering a 6th-night free promotion! If you are interested in booking a wonderful stay with my VIP perks email [email protected] and I will make sure and book you a fabulous poolside bungalow during your stay!
Beverly Hills Poolside Cabana Life
The Beverly Hills Hotel
The Beverly Hills Hotel is home to my all-time favorite pool scene. Celebrities and socialites have been partying poolside at the Beverly Hills Hotel for over 100 years and today staying at the Beverly Hills Hotel is as magical as ever.
For the full Beverly Hills experience I recommend booking one of the 11 private poolside cabanas, each named after a popular area of Los Angeles including Brentwood and Hollywood. These VIP cabanas come with lots of extras and are the perfect spot to see and be seen! I recommend ordering the famous McCarthy Saladthe famous McCarthy Salad for everyone to enjoy poolside!
Email me today at [email protected] and book your super fun stay at The Beverly Hills Hotel with VIP perks, upgrades and I will also take care of booking your fabulous poolside cabana!