After hearing so much about Berlin's reputation as a hip international city with a happening nightclub scene, our family was so pleased to discover that Berlin is also a great city to explore with kids.  Our family spent four nights in Berlin and found so many fun things to do.  We can't wait to return – of all of the places we've visited in Germany, Berlin is our family's favorite!
 TV Tower:  Berlin's

Fernsehturm

on Alexanderplatz is Germany's tallest building and is visible from almost anywhere in the city.  

Visiting the TV Tower

was a highlight of our family's trip to Berlin.  Head up the extremely fast elevator to the 203-meter high observation deck, and be treated to 360-degree views of the city.  This is a great place to begin a tour of Berlin with a bird's-eye view of the entire city.  Helpful displays all along the observation deck point out the most important Berlin sights, near and far.  At peak times, the lines to buy tickets to enter the TV Tower can be very long.  If you'd like to plan ahead and avoid the wait, you can buy Fast Track tickets online at.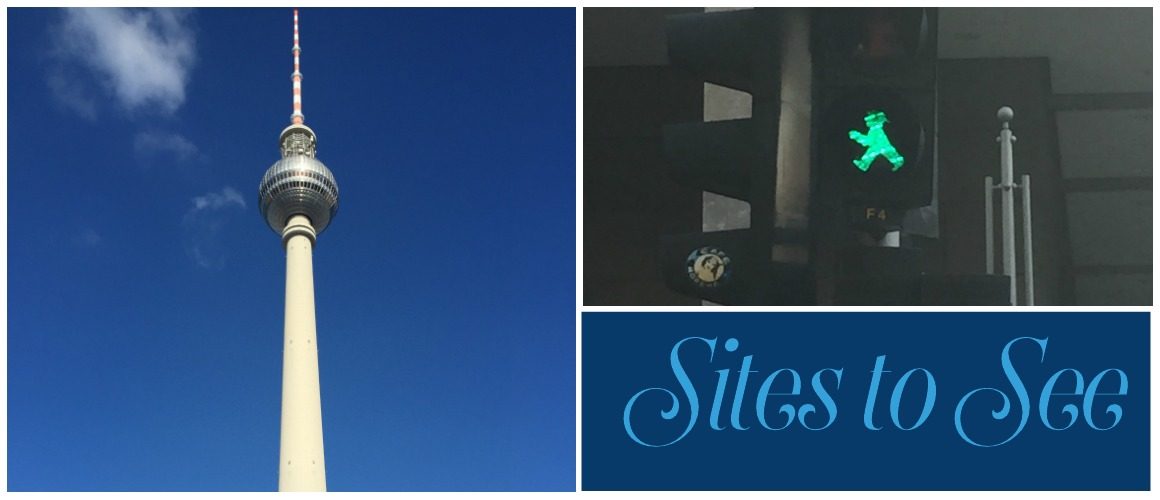 Find the Ampelmann:  

Ampelmann means "traffic light man"

in German and is something of a Berlin mascot.  This little guy originated in East Germany and these days can be found all over Berlin.  There are even souvenir shops throughout Berlin dedicated to the Ampelmann and its cult status.

Visit an unparalleled chocolate shop:  

Fassbender & Rausch near Berlin's Gendarmenmarkt

is a chocoholic's heaven.  Inside is a huge assortment of individual chocolates, truffles, and pralines from chocolatiers that have been producing chocolate in Berlin for over 150 years.  What makes this shop even more unique is the collection of huge chocolate sculptures on display, many of which depict famous Berlin landmarks.  Upstairs is a café that is known for its customizable hot chocolates.

 Blow bubbles in the Gendarmenmarkt:  After getting your chocolate fix at Fassbender & Rausch, cross the street to stroll through the

Gendarmenmarkt

, which is arguably Berlin's most magnificent square.  While parents marvel at the architectural ensemble of the French Cathedral, German Cathedral, and Concert House, kids can make bubbles in the square with the help of street performers.


 Bear spotting:  We found cute bear statues welcoming us with open arms all over the city of Berlin.  Our kids never passed up a photo op with one of these bears!  The bear is a city symbol of Berlin and is featured on its flag and coat of arms.  

The Buddy Bear movement

began as a street art project back in 2001, much like the cow parade in New York City, and the bears have now become an integral part of Berlin's cityscape.  When we allowed the kids to pick a Berlin souvenir during our visit to the famous KaDeWe department store, they each chose a small Buddy Bear to take home with them

 Climb up the dome at Berlin Cathedral:  

The Berlin Cathedral

sits on Museum Island in the heart of the city.  Though this imposing Baroque structure was severely damaged during WWII, it has been restored to its original grandeur.  After checking out the interior of the church, we climbed the 270 steps to the viewing platform that encircles the dome and were once again treated to a 360-degree view of the city.  Once we got our fill of the heights, we headed back downstairs and out to the beautiful green lawn in front of the church.  While the adults took a little breather and did some people watching, the kids blew off steam with a good old-fashioned game of chase.
 Find a festival:  If there's one thing we've learned while living in Germany, it's that a festival is never very far away.  It is not uncommon to stumble upon a local festival while visiting any given German city on a weekend.  We visited Berlin over a German holiday weekend and lo and behold, when we got to Brandenburg Gate there was a festival celebrating German reunification.  What a perfect way to take some time out from touring and enjoy a little German hospitality.  Bonus: The swings in front of Brandenburg Gate provided a unique photo op!
 Berlin Wall Memorial:  Though Berlin has flourished in recent years as an international city with rich cultural opportunities, it is of course impossible to ignore the city's history.  Be prepared to answer frank questions from the kids about Germany's dark past.  My kids had seen the metal plaques on the ground throughout the city bearing the inscription "Berliner Mauer 1961-1989," and we had explained to them about the wall that used to divide East Berlin from West Berlin and some of the reasons why it was erected.  A visit to

the Berlin Wall Memorial and Documentation Center

was perfect for adding more context to this story in a way the kids could understand.  Our kids were fascinated with the stories told throughout the exhibits, particularly since there were special sections written especially for children. Once finished in the documentation center, visitors can go upstairs and outside for a view of the intact wall, and see for themselves just how far this city has come.

 Stroll a neighborhood – Prenzlauer Berg:  One of our favorite ways to get to know a new city is to take some time outside of the city center and explore a neighborhood.  After visiting the Berlin Wall Memorial, we walked to the nearby neighborhood of Prenzlauer Berg.  This leafy, trendy, residential neighborhood is full of cafes, boutiques, and charm galore.  We spent a couple of hours exploring, found a great little Vietnamese place for lunch, then caught the tram back to our homebase in Berlin Mitte.
 East Side Gallery:  

The East Side Gallery

is a 1.3-km stretch of the Berlin Wall along the Mühlenstraße and the world's largest open-air mural collection.  The murals, which contain messages of politics and peace, originally went up in 1990, though some of them have been restored over time.  This outdoor gallery is a must see!  Visiting the East Side Gallery was a huge hit with our family and provided some pretty awesome selfie opportunities.
Photos courtesy of Emilie Huck
Click the image below to save it to Pinterest: