Disclosure: I was hosted by the Iron Horse Hotel as a part of a luxury travel press trip to Milwaukee. All opinions are my own.
---
Luxury Travel & Milwaukee Style:
Headed to Milwaukee and not sure where to stay? Families who dig luxury travel and stylish accommodations book rooms at the award‐winning Iron Horse Hotel. This luxe boutique hotel has been awarded Trip Advisor's Certificate of Excellence and is ranked among Condé Nast's favorite hotels, so it's not to be missed for families looking for a warm welcome in Milwaukee.
I was psyched to visit this boutique Milwaukee hotel last month on my own, and loved it so much that I'm already planning a return with my family to see the best of what Milwaukee has to offer. For families, the Iron Horse Hotel offers either adjoining rooms or a room with two queen beds.
Click here for the Top Dining Spots for Foodies in Milwaukee
Families who really appreciate design, space, and luxurious amenities would love this hotel. Read on for my favorite moments and takeaways from this unique and gorgeous boutique hotel.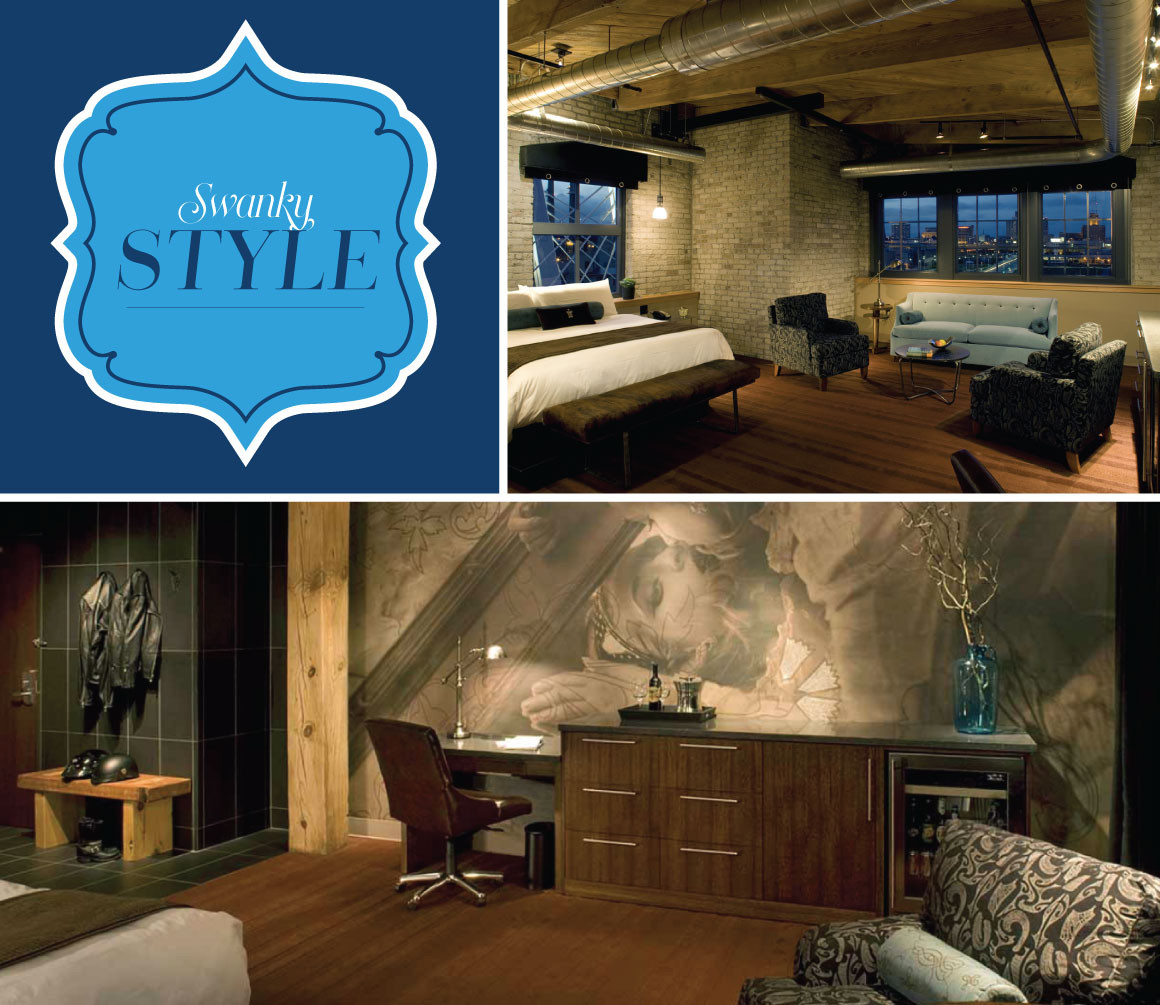 Stylish décor: The moment you walk into the Iron Horse Hotel, you pick up on a really sophisticated and sexy Midwestern vibe. Custom wooden and metal furniture mix with luscious leather pieces—all either commissioned from local artists or found at antique stores. The hotel focuses on bringing local elements of Milwaukee, the Midwest, and America all together, creating an approachable luxury feel unlike any other luxe boutique hotel I've visited. One of the most iconic pieces of art greets visitors in the lobby, a giant American flag created completely out of denim by local artist Chuck Dreyer. Motorcycle enthusiasts will love the super cool Cook Custom chopper also on display in the lobby.
Click here to read the Ultimate tips for a Milwaukee Road Trip with Kids
Local focus: The hotel has 100 rooms, each large, loft‐style, and a little different from the rest. I loved the exposed beams and pipes, which were original to the building and lend a warm, sexy loft vibe. The hotel went the extra mile in the rooms by keeping the fixtures and furniture local to Milwaukee and Wisconsin. There are Koehler fixtures in the bathrooms, and the mini bar is amazing, full of local treats—from craft beers and custom crafted cocktail mixes and local spirits to hand‐crafted chocolates from Milwaukee's own Indulgence Chocolatiers.  The Aparium Hotel Group, which owns the hotel, has a passion for celebrating everything local—art, food, fixtures, and furniture. Every room showcases locally crafted molten metal art above the bed, in a nod to the old days of factory workers.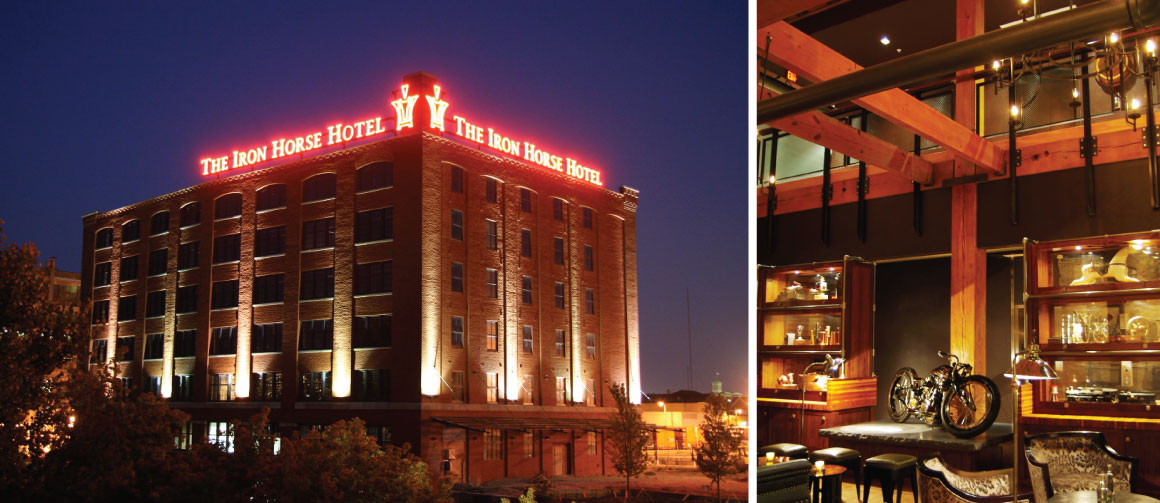 Historical significance: Originally, the Iron Horse Hotel was an old mattress factory built in 1907. The Aparium Hotel Group acquired it, and evolved the space into a luxury loft style boutique hotel, attracting everyone from families to modern business travelers and motorcycle enthusiasts for its design and style. The name Iron Horse has two meanings: It's what Native Americans called the locomotive, and also what modern Americans call the motorcycle. In homage to both, the Iron Horse Hotel combines the two. This comes across in the little details throughout the hotel specifically in the lobby, which has an expansive vaulted ceiling adorned with custom chandeliers made of iron and bulbs that sit on top of motorcycle gears; the tops are Native American spear tips.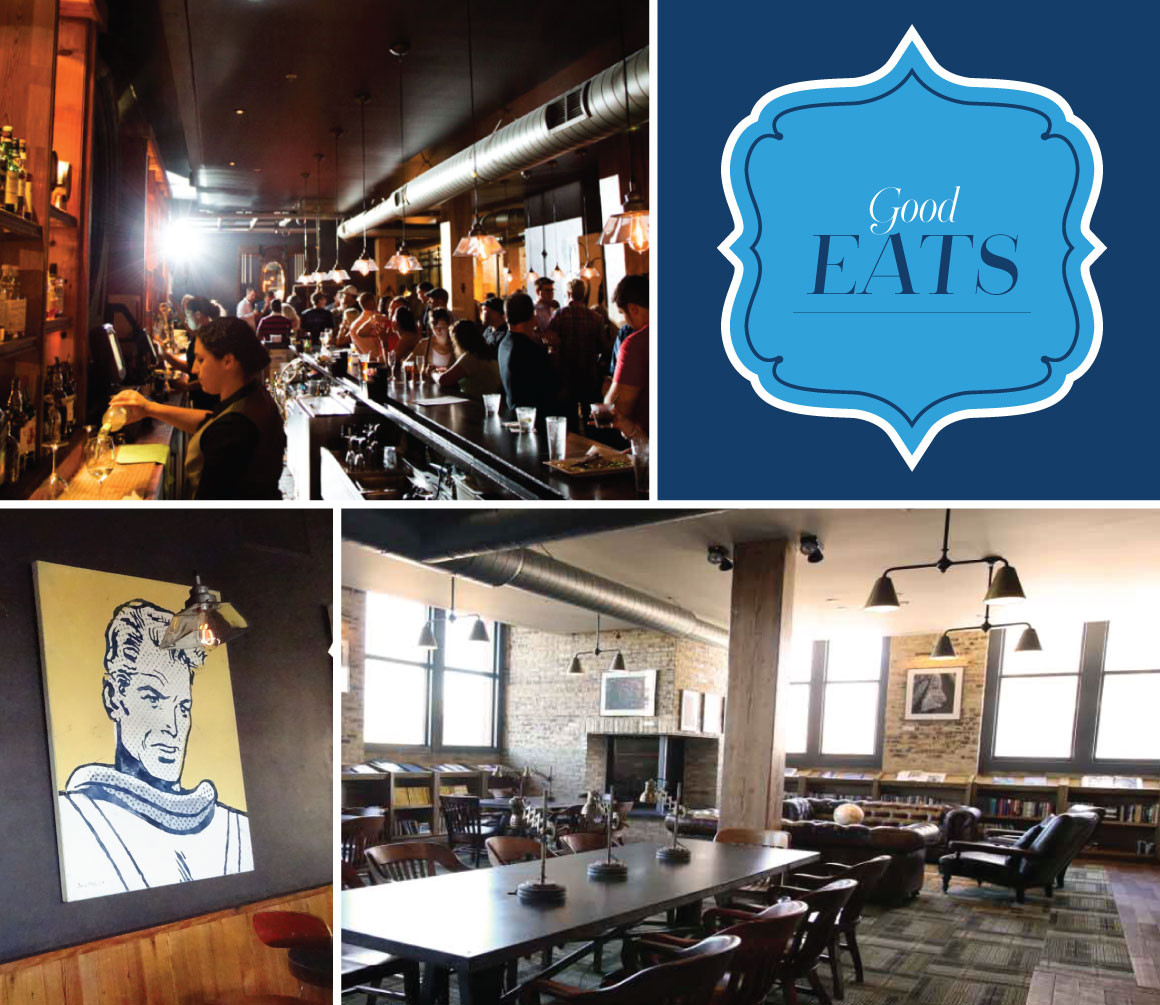 Locally Inspired dining: I was amazed that a 100‐room boutique hotel would have so many options for dining. The Iron Horse Hotel's main restaurant, Smyth, is inspired by the old‐fashioned art of blacksmithing; even the restaurant's name highlights how the word was spelled in the old days.
The menu at Smyth is all sourced locally, and meant to be a modern twist on the food that blacksmiths would come home and have for dinner. It primarily features small plates, entrees, and salads that you can order individually or share with the group. Chef Bradford Shovlin has developed a delicious menu with seasonal fare, and although the restaurant doesn't have a printed kids' menu, the chef has no problem creating anything for your kids upon request to make the whole family happy.
The Iron Horse Hotel also has a classic Milwaukee bar, Branded. The developers went to great lengths to make Branded feel like a warm bar you'd want to hang out in, and locals responded in force. A local artist created prints of comic superheroes on the walls, and the food itself consists of awesome cheese curds, great burgers, and a specialty cocktail list (I highly recommend the Tokyo Mule).
The hotel's breakfast spot is called The Library. Sit among amazing antique furniture and books while you try a delicious Wisoconsin kringle and breakfast sausage (the best I've ever had). The menu also offers healthy kale smoothies—something for everyone.
Bring your pooch: The Iron Horse Hotel is unique in that they allow dogs of any size to enjoy a stay. They even offer dog treats and your pup will be welcomed with a special welcome sign in lobby with your dog's name on it. You definitely can tell that they are a very k9‐friendly hotel—with an in‐ room dog dining menu, info on local dog parks, and (when the weather cooperates) a dog‐friendly patio called The Yard. (Dog owners take note: There is a $75 pet fee per room.)
Top­-notch service: Ambassadors at the Iron Horse Hotel are truly ready to serve you. I found it especially interesting that the person who valets your car or takes your luggage might be the same person who checks you in and takes you to your room. It's a seamless process. These ambassadors also act as concierge, recommending enticing local restaurants, bars, and entertainment. The Aparium Hotel Group really empowers the people who work for them, and it stood out that everyone at the Iron Horse Hotel is there to serve you however they can.
Location: Located in the hip Walker's Point neighborhood, the Iron Horse Hotel is close to the 3rd Ward where the Milwaukee Public Market is, as well as boutiques, restaurants, and bars. It's a very foodie‐friendly area. The hotel is also located right across the bridge from the Harley‐Davidson Museum, which is definitely worth a family visit. It's not far from downtown and convenient no matter what kinds of sightseeing you want to do or plans you want to make.
Click here to read 6 Reasons to visit the Harley-Davidson Museum 
The Aparium Hotel Group behind the Iron Horse Hotel clearly has a passion for bringing a local feel to their hotels, and that passion shines through in the constant mix of locals who frequent the hotel and hang out for the vibe and community as much as the hotel guests. Feel part of Milwaukee—and part of history—with a family stay at this stylish hotel.
---
Photo Credits: ironhorsehotel.com, gnawmilwaukee.wordpress.com, www.archdaily.com, feequus.com, www.jsonline.com, www.luxuryaccommodationsblog.com,