disclosure: Thank You to Mont Tremblant for a wonderful ski adventure, Moment Spa for a fabulous massage, and Aventure Neige for an unforgettable tubing experience! These were all complimentary for purposes of review. As always, all opinions are my own.
You left Florida in winter to go to Canada on a family adventure?
Everyone thought we were crazy. Why would we leave the 80 degree sunny weather in south Florida to fly to Montreal in March?  I mean, they had a point. But, that was our spring break plan. Fly to Montreal and then drive ninety minutes north to Mont Tremblant for the perfect family ski vacation.  I happened upon Mont Tremblant when researching ski vacation ideas.  From the East Coast, it would be easier to get to with a direct flight, staying in the same time zone, lower elevation, and we would not have to pay the prices of going out west.  Seemed like a great fit for a family adventure! So what did we think? We loved it!
Here's everything we loved and recommend for a family ski vacation at Mont Tremblant!
Ski School at Mont Tremblant–
The kids loved ski school.  They had a great instructor and we were able to request her for the subsequent days.  I also loved the adult group "refresher" half day lesson. Our family group had some beginners and some more advanced skiers, and everyone found the mountain to have what they needed with many choices of well-groomed runs.  A few of the skiers in our group had skied on the East Coast of the US before with mixed experiences on conditions. They were pleasantly surprised by the quality of the skiing conditions at Tremblant. We also lucked out with sunny weather to top off the great ski conditions!
Mont Tremblant Lodging choices for families-
We found so many lodging choices from full service hotels to condo style hotels, which is exactly what we wanted.  Sommet des Neiges fit the bill for us – 25 yards to the base of the gondola, next to ski school for the kids, ski lockers, and a spacious unit with a full kitchen (choose from 1, 2 or 3 bedrooms). Although I have a strict "no cooking" rule on vacation, it is nice to get breakfast made before ski school drop off, and have snacks for after skiing.  We also enjoyed the hot tub après ski. Although it didn't have an indoor pool or other amenities, we were right in the heart of the Pedestrian Village, which was wonderful. I loved that the ski school and lift tickets that I booked online with my lodging (through the Tremblant website) were all waiting for me at check in. How convenient!  
Location, location, location…
In the heart of Pedestrian Village in Mont Tremblant, we were close to ski school (most important to our group; we don't like to lug ski equipment too far), many restaurants and other activities.  The Village had tubing and ice skating that, unfortunately, closed right before we arrived, as well as other activities for non-skiers such as an indoor water park and laser tag. We couldn't get our kids off the ski mountain to try these, but it was great to know we had choices.  Also on our day of arrival, we appreciated that the ski rentals were located directly next to Sommet des Neiges, making it very convenient.

Relaxing Experience at The Fairmont Tremblant Moment Spa
Every ski vacation must involve a trip to the spa. I took an afternoon to myself at the Moment Spa at The Fairmont Tremblant, conveniently located in the Pedestrian Village.  It was perfect! I loved everything about my time enjoying the luxurious spa. I have been to a lot of spas, and what made the Moment Spa stand out was the Neuro Spa chair that you got to relax in before or after your treatment while looking out at the mountain.  You can also enjoy the indoor heated pool after your treatment. It was an amazing escape for a little me time!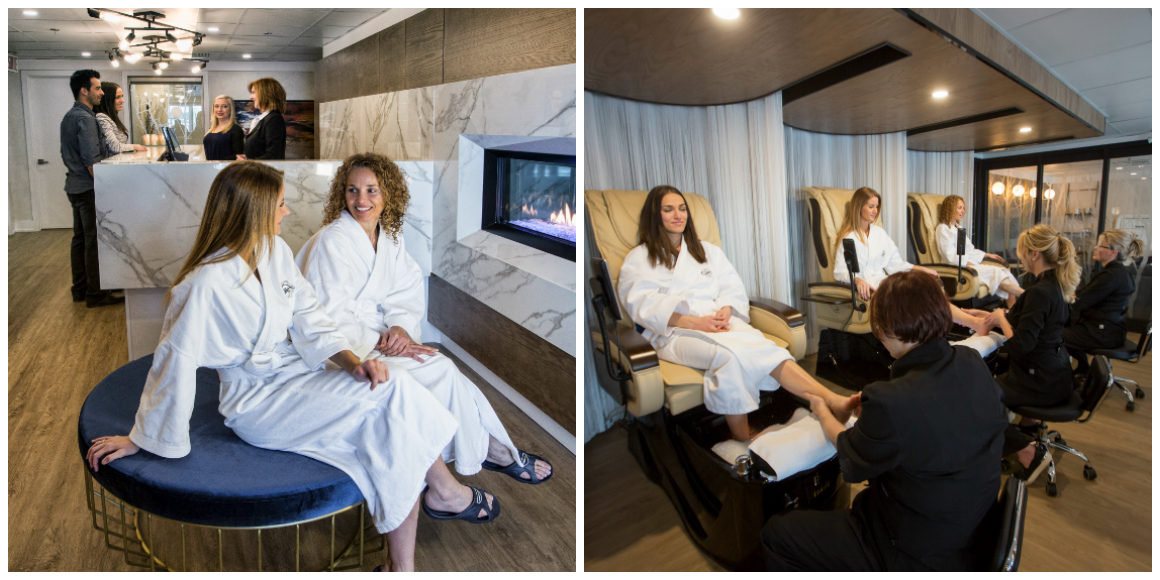 Mont Tremblant Unique dining experience
We ended our trip with a ride on a snow groomer to Le Refuge for a wonderful dining experience!  Watching the sunset from the refuge, and enjoying delicious cheese and chocolate fondue, could not have been more perfect.  It was a unique dining experience we will not soon forget!
Mont Tremblant Tubing fun
We ventured off site to the town of Mont Tremblant for an afternoon of tubing fun at Aventures Neiges.  It was a 15 minute cab ride and the kids loved it.  Even the five year old in our group could go tubing herself, or hook up her tube with her sisters or friends.  And the onsite restaurant provided good lunch choices so the kids could get as most tubing in as possible (and beer and wine for the adults…).  This tubing adventure was #nottobemissed.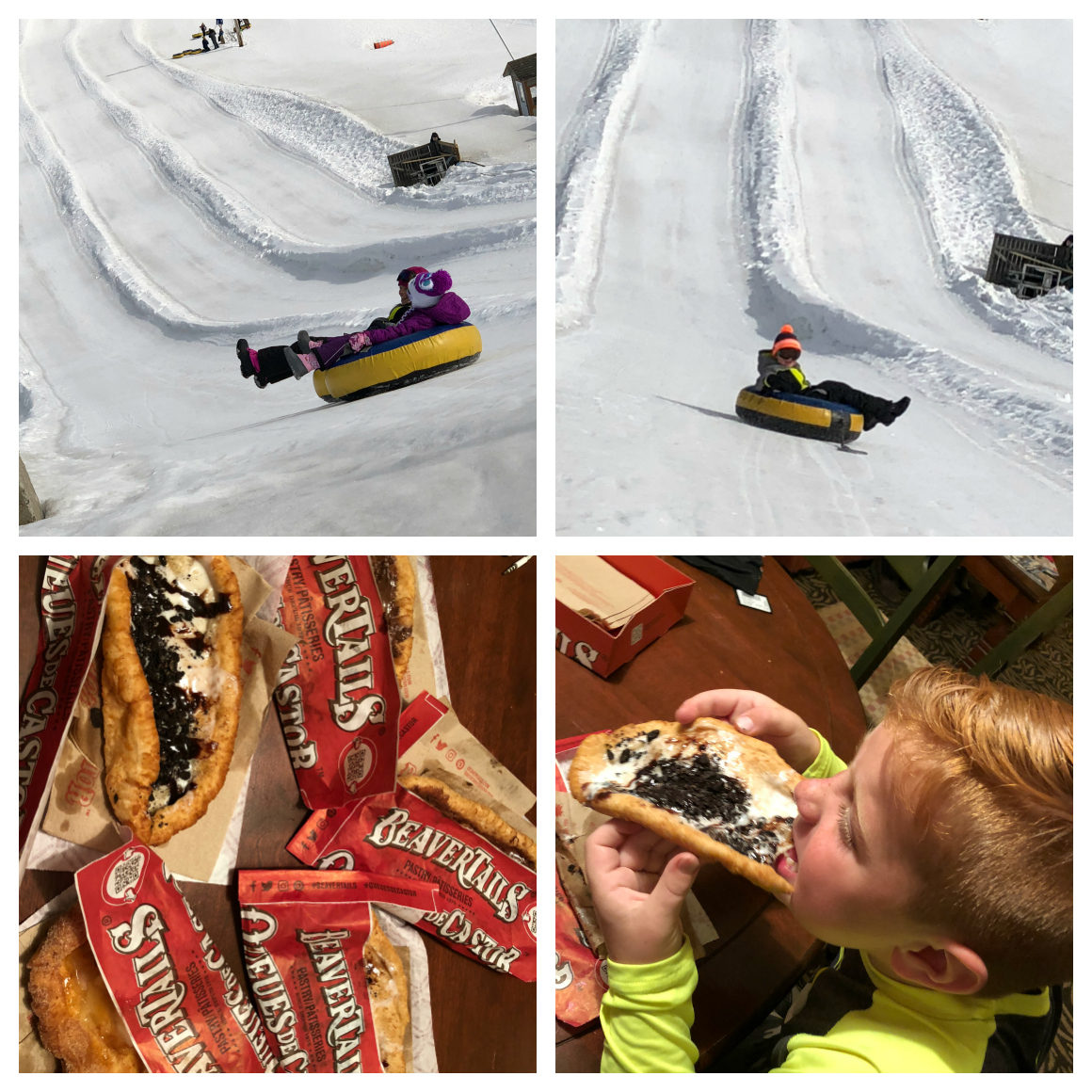 We recommend Mont Tremblant for a great family adventure!
Mont Tremblant was the perfect family vacation! Don't forget to get a maple stick and enjoy a beaver tail while you are there!  Where is your favorite place to go for a family ski vacation?
Like this post? Pin it for later!