As a travel writer, I always like to explore new and different destinations. But somehow, we return to Hawaii over and over again. Of all the Hawaiian islands, our favorite island is Maui.  I love how Maui has a little bit of everything that makes the Hawaiian Islands magical. From lush tropical rainforests along the road to Hana, beautiful beaches in Wailea and fun nightlife in Lahaina, Maui has it all! Maui is also super family-friendly, and we've found so many things do to in Maui with kids over the last 10 years of visits. In the last 12 months I've visited Hawaii 3 times and I spent  3 weeks in Maui. I'm thrilled to report that even when traveling in a pandemic, Maui is the perfect destination with kids!
Since we've been to Maui so many times, I am often asked for my top recommendations on where to stay, where to eat, and places to see. Here's my personal Best of Maui list of favorites for families. This is a list I have edited and added to and shared with many friends over the years. On our last trip we added a few new activities to our list of favorite things to do with kids and I'm sure I will continue adding on each year.
Read on for my top recommendations of things to do in Maui with kids!
Click here to connect with  Sarah at Well Traveled Kids Travel to book your Maui family vacation with special Preferred Partner VIP perks , pricing and upgrades!
 Where to Stay in Maui with kids? What are the Best Luxury Resorts for families?
Four Seasons Resort Maui is the ultimate luxury getaway for families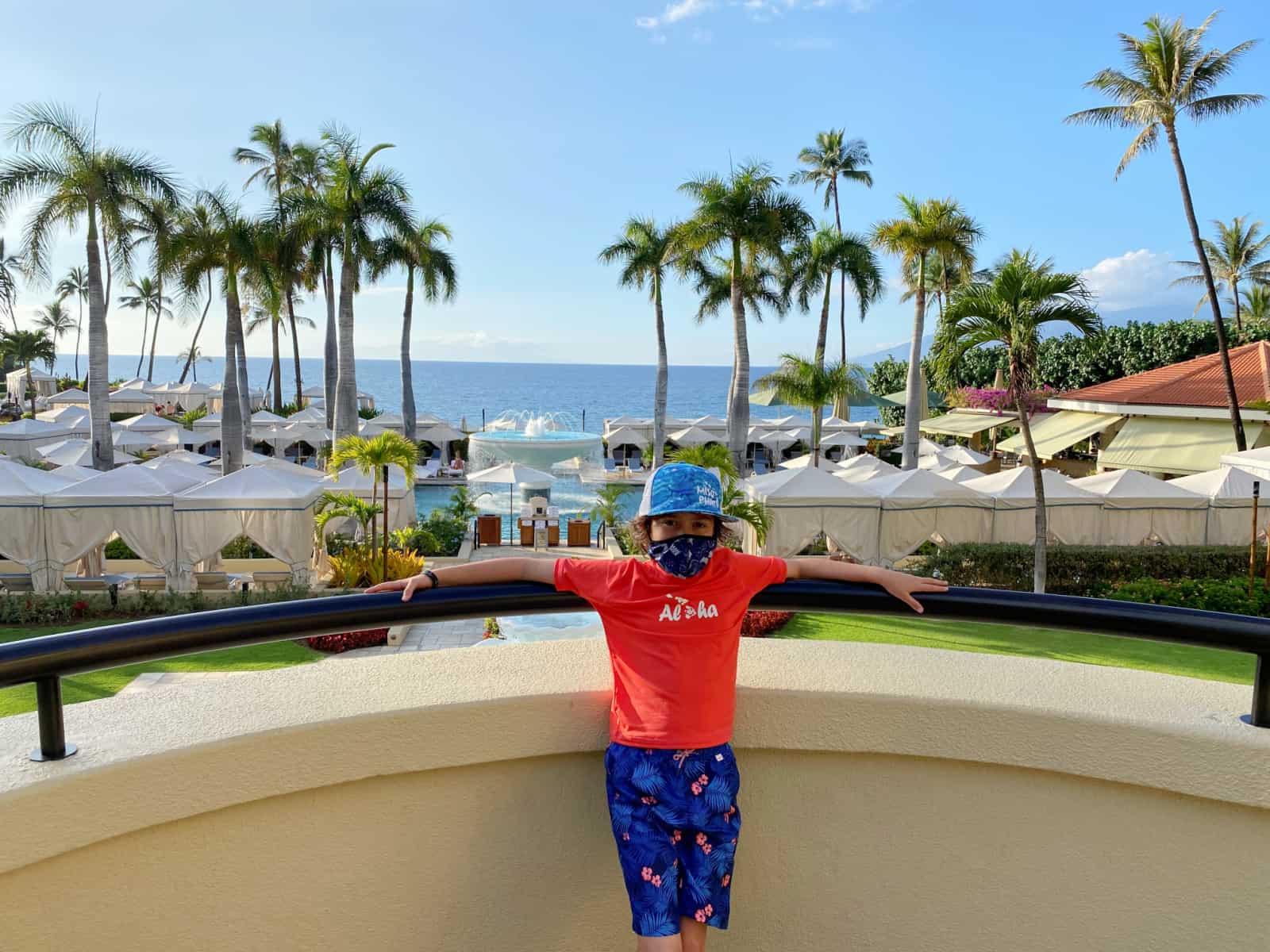 Here's 5 reasons we love recommending Four Seasons Resort Maui for Families
Health and Safety are a huge priority at Four Seasons Resort Maui.  The team at Four Seasons Maui has implemented the highest safety standards for their guests. Their focus is on providing a safe and comfortable environment for guests without sacrificing the resort's world-class service and amenities.
Expect a true 5-star luxury experience. During our pandemic visits we experienced the same unparalleled luxury that I've come to expect from Four Seasons Resort Maui in the past, even better. Honestly, the super friendly staff spoiled us rotten for 5 nights. I wish I could have stayed FOREVER! If you are looking for the most luxurious Maui resort experience it is without a doubt Four Seasons Resort Maui.
Four Seasons Resort Maui is the only resort on Maui that doesn't charge a resort fee. And there's so much to enjoy, complimentary kids club, awesome pools, beach, restaurants, shops, the spa, gym, game room, room service, twice a day maid service, nightly live music, EVERYTHING FUN IS JUST FOR YOU! Be sure to enjoy all your favorite signature Four Seasons services including hula dancing, lei making, sunset ceremonies, and thoughtful touches like complimentary poolside treats and more.
I recommend Four Seasons Resort Maui for families of all sizes.  Families with babies and toddlers need only pack a stroller and a car seat because the resort has everything else you need. Families with babies can request cribs, microwaves, an extra fridge and they will all be set up complimentary in your room.
LOCATION LOCATION LOCATION! Four Seasons Resort Maui is an oceanfront sanctuary. Wailea Beach is my favorite of the best Maui beaches and it's perfect for kids of all ages with soft sand and the waves are usually mild. It's complimentary to be set up at the beach with plenty of lounge chairs with umbrellas. Families can spread out together and relax in one of 81 complimentary cabanas that face either the ocean or pool. There are also six luxury cabanas at the adults-only serenity pool and four elevated ocean-view cabanas with personal lawn space near the fountain pool that can be reserved in advance as early as you book your room reservation.
Click here to connect with  Sarah at Well Traveled Kids Travel to book your Four Seasons Reservation with special Preferred Partner VIP perks , pricing and upgrades!
Ritz-Carlton Kapalua is the best luxury hotel for easy social distancing

Here's 5 reasons we love recommending Ritz-Carlton Kapalua for Families
Ritz-Carlton Kapalua is an enormous 54-acre luxury property nestled within the 22,000-acre Kapalua Resort so it's very easy for families to naturally social distance from one another while enjoying the luxury accommodations and grounds of the gorgeous resort. Everything on the property is squeaky clean thanks to the Ritz-Carlton Kapalua Commitment to Clean Program. It's clear they're focused on keeping their guests healthy and safe without sacrificing the luxury guest experience.
Ocean Front residences are the perfect accommodations for families looking to spread out and enjoy a fabulous Hawaiian vacation together in paradise with all the comforts of home.
Beach life is the best at Ritz-Carlton Kapalua. Kapalua is home to one of Hawaii's largest nature preserves with two marine sanctuaries. Kapalua Beach has been ranked the #1 beach in the USA and Kapalua is home to 6 beaches that are easy to access while on property.
Golfers will love Ritz-Carlton Kapalua for the 2 gorgeous championship golf courses. Kapalua is home to the PGA TOUR's champions-only tournament and we were fortunate to be staying on property in January for this event and see first hand the gorgeous course images we'd admired on tv watching the tournaments from home!
LOCATION LOCATION LOCATION! Ritz-Carlton Kapalua is a truly secluded island escape on Maui's northwest shore. Guests have the benefit of being away from it all and just a 15-minute drive from Kaanapali beach and Lahania town for nightlife or drive along the northwest shore sightseeing and hike down to the blowhole with the kids!
Click here to connect with  Sarah at Well Traveled Kids Travel to book your Ritz-Carlton Kapalua Reservation with special Preferred Partner VIP perks , pricing and upgrades!
Wailea Beach Resort Marriott is the best bang for your buck in Maui!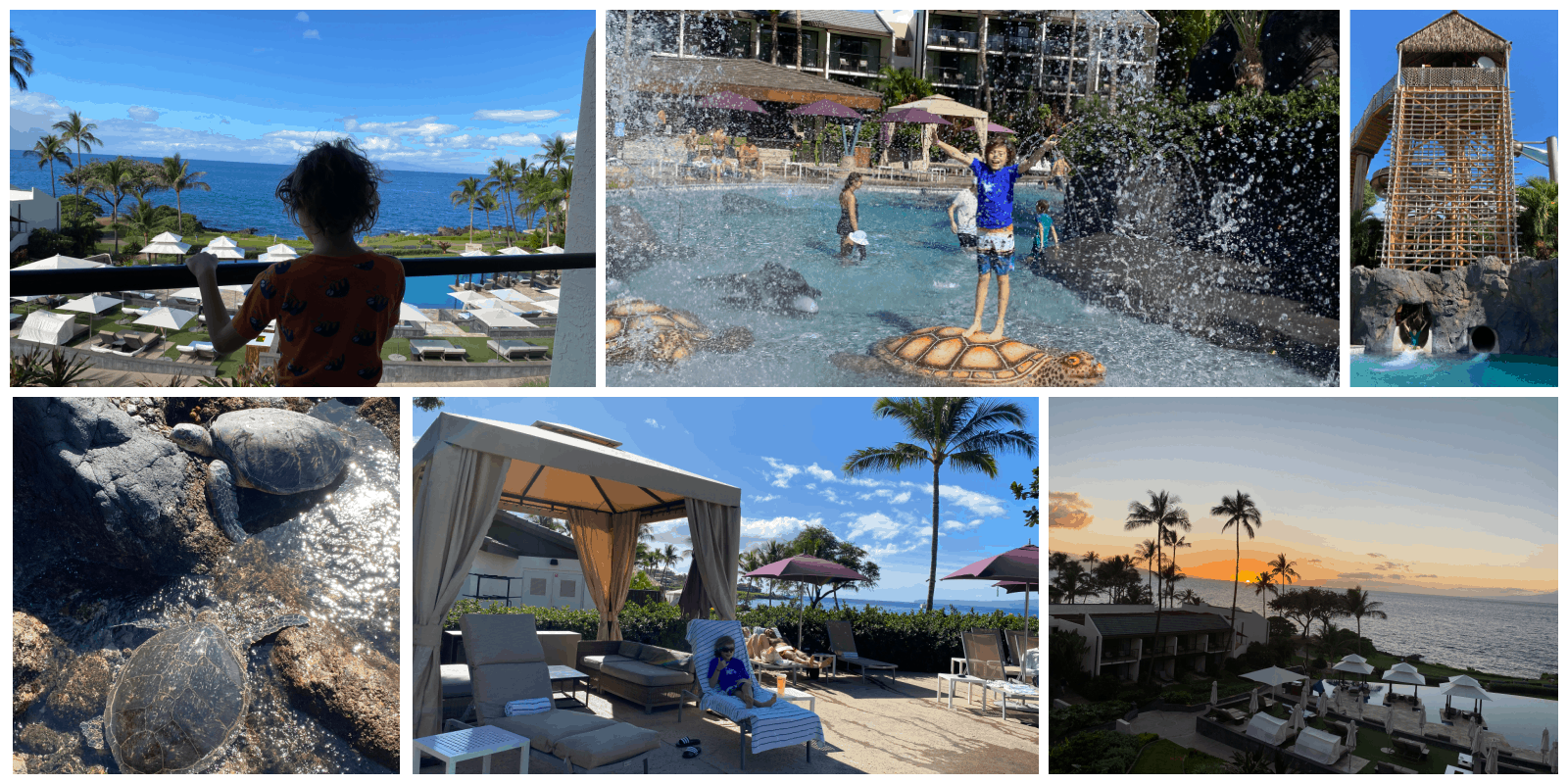 Here's 5 reasons we recommend Wailea Beach Resort Marriott for Families.
Awesome pools for everyone! Kids will love that Wailea Beach Resort Marriott is home to 4 of Maui's most Epic water waterslides, waterfalls and splash pad at the Nalu family pool. The whole family will enjoy the two new oceanfront Ohi Pools with hot tubs & cabanas. And adults over 18 will love relaxing in the Maluhia Serenity Pool.
We think Wailea Beach Resort is the best bang for your buck because it has the closest rooms and suites to the beach of any Wailea Beach hotel. All rooms and suites have been recently renovated and families will love booking oceanfront suites with large lanais to enjoy gorgeous Maui sunsets together. The service is amazing throughout the hotel so guests feel like total VIPs.
Home to 2 great Maui restaurants. Kapa is a poolside restaurant that also delivers to the pools. We loved the poolside menu at Kapa so much that we went back for lunch when we stayed down the beach at other hotels!! HUMBLE MARKET KITCHIN by Roy Yamaguchi is terrific for dinners. We scored an outside table and enjoyed a gorgeous sunset with our delicious meal.
Kids will love the family gameroom with video games, pool and shuffle board. Parents will love the Mandara Spa for the best massages on the island!
LOCATION LOCATION LOCATION! Wailea Beach sits right on both Wailea Beach and the quite more intimate Ulua Beach. The hotel is directly on the Wailea Beach walking trail and right next to the Shops at Wailea. We spotted Giant Sea Turtles right off the shore next to the hotel everyday. The only Wailea Beach Starbucks is located in the Wailea Beach hotel lobby which is a big bonus for coffee-addicted guests like me.
Click here to connect with  Sarah at Well Traveled Kids Travel to book your Wailea Beach Resort Marriott Reservation with special Preferred Partner VIP perks , pricing and upgrades!
Grand Wailea is perfect for kids who love waterslides!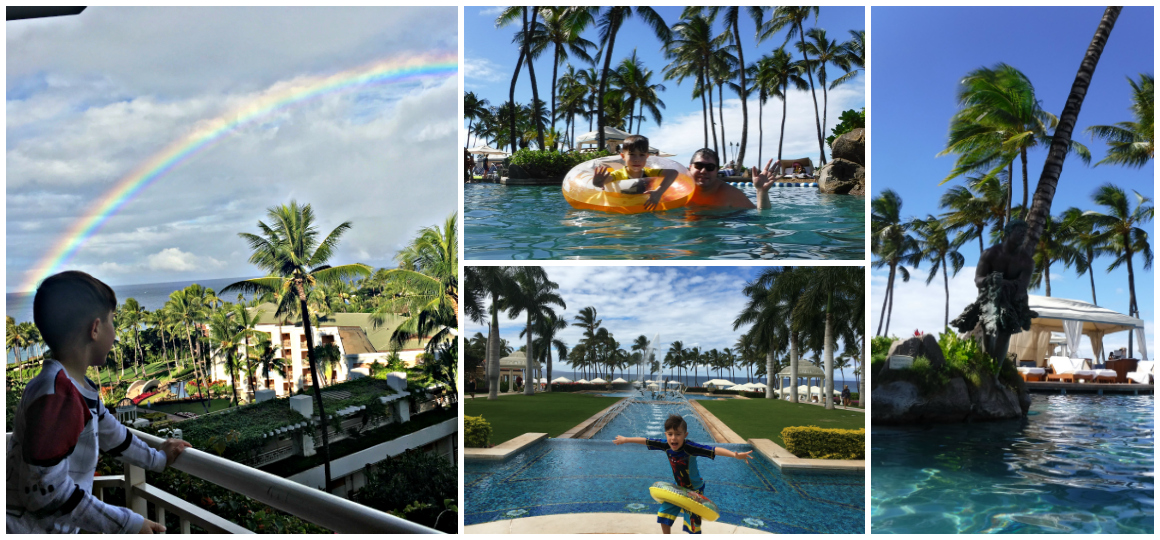 Here's 4 reasons we recommend Grand Wailea for Families in 2022.
Grand Wailea is the best place to stay in Maui with kids who love waterslides.  My son loves the chain of pools connected by water slides and the Lava Tube water slide. Sadly when we visited during covid the world's only water elevator up to the top pool wass closed. However, the whole family will have a blast following all of the water slides and lazy river around the resort.
Spa Grande is perfect for spa lovers with treatments inspired by Eastern, Western and Hawaiian influences. Sadly, during my pandemic visit the termé hydrotherapy circuit is closed.
The grounds of the resort are beautiful to walk around and explore as a family. The beach walk behind the hotel is something we do on every visit, and we can never get enough of the unique spirit of this Hawaiian hotel. Often as we walk along the beach walk we will spot whales spouting out in the distance!
If you want your family stay experience at Grand Wailea to be a luxury one you will want to book rooms in the Napua Towers. The Napua rooms offer a club experience and include breakfast and nightly cocktails and appetizers. We were very impressed with the way Napua was run during Covid by offering everything individually wrapped.
Click here to connect with  Sarah at Well Traveled Kids Travel to book your Grand Wailea Resort Reservation with special Preferred Partner VIP perks , pricing and upgrades!
Fairmont Kea Lani for families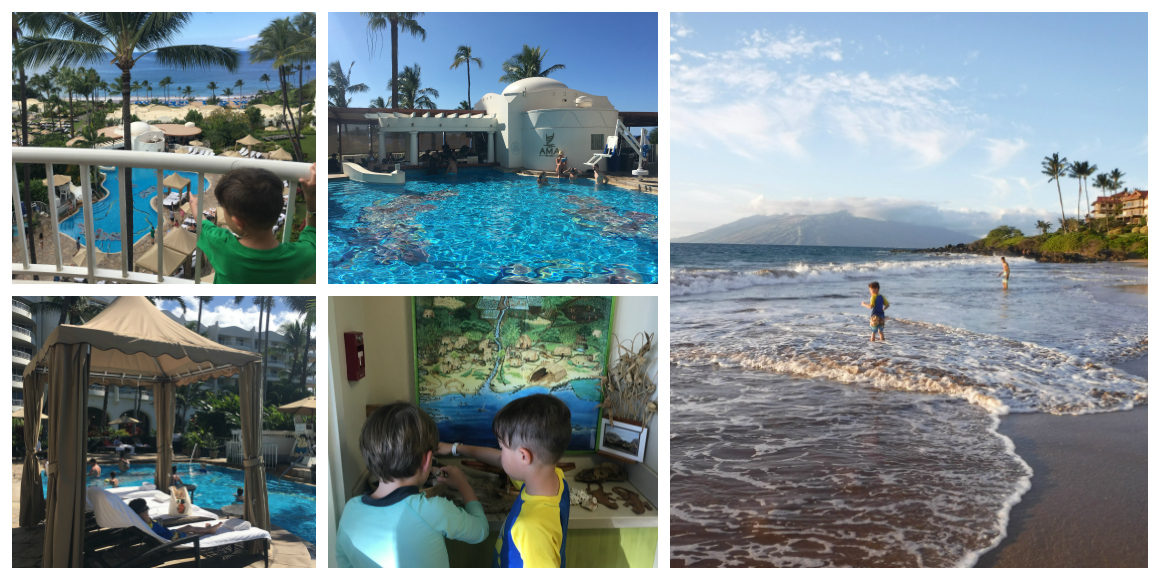 Here's why we recommend Fairmont Kea Lani for Families in 2021.
For families seeking a more laid-back, smaller hotel experience in Wailea Beach, I recommend the Fairmont Kea Lani. We did not stay there in 2021 but stayed in 2019 and fell in love the swim-up bar, waterslide and the free kids' club at Fairmont Kea Lani. I've booked lots of lcients there during the pandemic and everyone says it's still a wonderful place for familes! You can't beat the pristine beach at this hotel either! It's the perfect secluded spot to let kids play and watch the sunset. Families will appreciate that all rooms at the Fairmont Kea Lani are suites, giving you a bit of extra room to spread out. One of our favorite hotels Nick's Fishmarket is located in the hotel making it convenient to enjoy a fantastic meal on the property!
Click here to connect with  Sarah at Well Traveled Kids Travel to book your Wailea Beach Resort Marriott Reservation with special Preferred Partner VIP perks , pricing and upgrades!
Where to Eat in Maui with kids?
As much as we love relaxing on the beach or in the water, Maui is definitely a foodie destination for our family. Over the years, we've curated a list of our favorite places to eat in Maui, and always try to find new places to add to the list as well. YELP has been a huge positive for us in the islands. We've tried awesome local restaurants , dives, and food trucks for lunches that we never would have known about! I do recommend having dinner reservations lined up for most nights, because its a small island and things fill up quickly in peak season. We use Open Table for most of these restaurants. 
Here's our list of our favorite kid-friendly Maui Restaurants of 2021
Mama's Fish House: Not far from the airport, Mama's Fish House is usually our first (and last) stop every time we visit Maui. I recommend reserving a table for two hours after you land. My advice is to ALWAYS make advance reservations.  We book our flights and accommodations then we book our Mama's reservation for two hours after we land! This gives you time to claim your bags and get your rental car. (Things move slower on the islands, so this takes about an hour). Mama's menu is fresh caught and different each day but  the same for lunch and dinner, so either meal is great. If you are celebrating anything special, such as a birthday, be sure to note this in your reservation, and ask for a table by the window so you can enjoy the gorgeous ocean views. If you arrive early, be sure to enjoy a walk on the beach and take in the beautiful scenery. I'd also recommend booking a reservation at Mama's for your last meal before catching a flight home. It's THAT GOOD that you will want to eat there more than once!! Everything served at Mama's Fish House is fresh caught and menu items are listed along with the names of the fisherman and where the fish was caught on Mama's daily menu. I recommend starting with a Mai Tai and some of the yummiest chunkiest macadamia nut crab cakes I've ever had. If the macadamia nut crusted lobster & crab stuffed mahi-mahi entree is on the menu when you visit that's my all time favorite! For dessert I love the Maui pineapple upside down cake…SO GOOD!
Sansei Seafood Restaurant & Sushi Bar: We love to drive up to Kihei for the sushi at Sansei Seafood Restaurant & Sushi Bar Restaurant. There's also a location in Kapalua, but it's a further drive from our hotel Wailea. We've been to both locations and the food is outstanding at both Maui Sansei restaurants.The menu at Sansei Restaurant is really terrific. I highly advise starting with some saki, ordering up our two favorites the Panko-Crusted Fresh Ahi Sashami roll and Matsuhisa Style Miso Butterfish, and any sushi rolls and specials your server recommends. On our most recent visit this month we tried the Japanese calamari salad and Sansei's Shrimp Dynamite – both were terrific! Be sure to save room for the fried ice cream for dessert- its delish! 

Last time we visited Sansei they were running a promotion on Saturday nights where they offered 50% off the menu, and karaoke from 10pm to midnight. They also had an early bird special at 5pm for half off the sushi menu when we visited last time. 50% off delicious sushi is an amazing deal!! (I recommend calling ahead to confirm they still do this and are offering it when you plan to visit!) Even though it's mostly an adult crowd, we've always taken our kid and seen other families there having a blast. If you are dining at the normal, non-discounted times you can easily make a reservation on Open Table.  

Honokowai Okazuya Restaurant and Deli: this is a total dive spot, but it's some of the best fish and Asian food we've had in Maui, not to mention, the best bang for your buck! The strip mall spot is open for lunch and dinner, and you can even take it to go if you want to bring it back to your hotel pool. The fish sampler is a great choice, and I love the Ono in lemon caper sauce and the Blackened Seared Ahi.
Merriman's: 

A beautiful restaurant, and a great place for a fancy dinner. Everything at Merriman's  is farm to table and delicious. P

lan to arrive before sunset because it's a gorgeous place to have a drink and watch the sunset. Everything on the menu is sensational and they have a great kids menu too.

Ferraro's Bar e Ristorante : When staying in Wailea, we like to follow the beach walk down to the Four Seasons hotel and have lunch at the poolside restaurant Ferraro's Bar e Ristorante. Da Cheeseburger is outstanding, and their bartenders make the BEST EVER forzen 

Mai Tais served in fresh pineapples!

Monkeypod Kitchen: With two Maui locations, in Wailea and Ka'anapali, it's one of our favorite places to eat in Maui. Nothing beats starting off with an appetizer of poke tacos, a Monkeypod Mai Tai or a cold beer from Maui Brewing Company. The Ahi Tuna with mashed potatoes is my go-to meal at Monkeypod, and you can't leave without trying the strawberry pie 

for dessert – sooooooo good!!!!!! 

Slappy Cakes Maui: Amazing breakfast place where you make your own pancakes right on your table. It's really fun for kids, and naturally, my son Harry loves it! We always visit at least once when we're on Maui.
Leilani's on the Beach: In the Whaler's Village, this is a great spot for lunch, happy hour or dinner on the beach. Don't miss the Hula Pie for dessert…it's legendary!
Ululani's Hawaiian Shave Ice: You can't visit Maui without treating the family to some Hawaiian Shave Ice. Our favorite is Ulani's because they shave it so thin it's like eating flavored snow. Try adding a little ice cream to the bottom – you will thank me later!
Lappert's Hawaii: With several locations including Whaler's Village and Lahaina, we always make several stops for Hawaiian homemade ice cream. They make their own waffle cones and ice cream, and it's all delicious. They also have DOLE WHIP!!!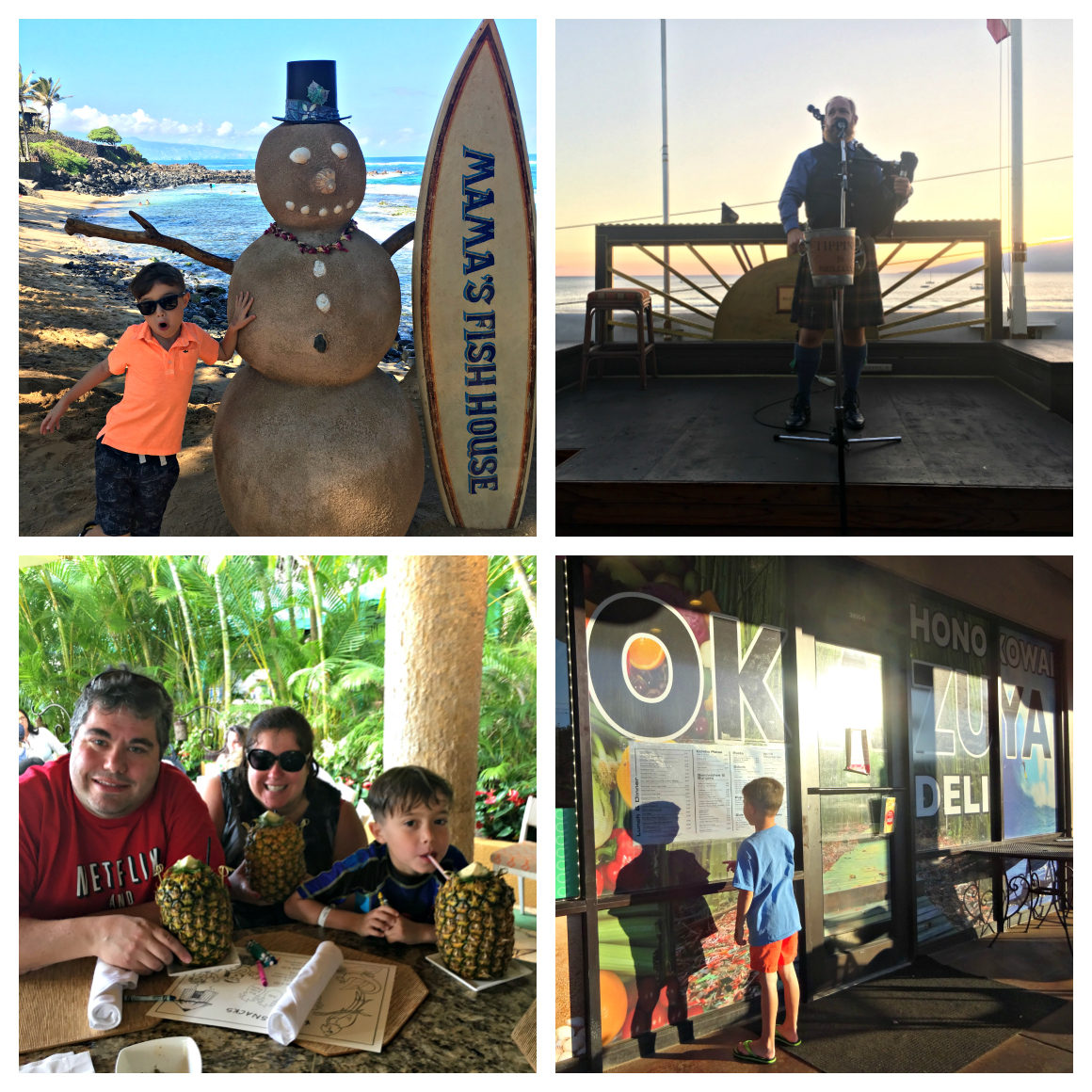 Things to Do in Maui with Kids
There are so many things to do in Maui with kids, you'll soon see why we keep coming back! Before you go, grab a copy of Maui Revealed: The Ultimate Guidebook. It's the absolute best Maui guidebook for reliable tips on what to do. It has great recommendations on drives, beaches, waterfalls, restaurants etc. This guy's never steered us wrong for sightseeing or restaurants or stuff to do. Here's our list of faves!
Snorkeling: Plan a morning or afternoon family snorkel trip. We had a great time snorkeling on the Four Winds II afternoon snorkel adventure to Coral Gardens. The Four Winds II boat was great because not only could the whole family snorkel but they also have a glass bottom room, a water slide and offer snuba. We especially liked this boat because the afternoon snorkel offers a freshly grilled bbq lunch and open bar too. On the way back we had time for a little whale watching and got lucky to see a few whales!
Beaches: t

here are so many

amazing beaches in Maui for kids

its worth leaving your hotel to explore. That's the best way to meet locals and maybe even learn to surf. 

If you go to Wailea during the day you should really walk on the beach walk that goes behind all the hotels and go sink your toes in the sand a bit.
Whale Watching: If you are visiting from December- April be sure to book a

 whale watching excursion. Our absolute favorite Maui whale watching tour is the 

Whale Watching trip with the Pacific Whale Foundation

. If you visit Maui in winter, plan this for early in your trip in case there is a weather cancellation. This way, you'll still have time to re-book before you go home. For the best luck book a morning trip when the water is usually much more calm than the afternoon.

Luau: In my opinion the Old Lahaina Luau is the best luau in Hawaii. As soon as you have your travel dates, decide which night you want to attend the Old Lahaina Luau and make reservations ASAP. The luau grounds are amazing, and they have all kinds of Hawaiian props and photographers ready to take awesome pics of you and your family. The drinks are amazing, too! I'm not a huge fan of authentic luau food, but the show is the best and so worth it!
Lahaina Town: plan an evening to stroll around Lahaina town. There are lots of cool shops and galleries, bars and restaurants. One of our favorite stops is the rooftop bar at Fleetwood's on Front Street. About 30 minutes before sundown, grab a seat and a drink for their sunset ceremony. Every night, they will have either a Scottish bagpiper or a Hawaiian 

kumu 

performing. (On Saturdays, they have both performers, so we recommend going on a Saturday if you can.)
Road to Hana –  This ride is amazing and totally worth doing if your kids are into hikes and scenery. My husband and I have enjoyed the trip twice before kids and loved every minute. We took my son when he was 3 and he got carsick and passed out. It wasn't  much fun with him so miserable. I'd honestly only recommend this trip for families with older kids who are up for beautiful scenery, a long winding ride, and lots of awesome hikes!
Shopping:
When we stay at Grand Wailea that we always walk the beach walk down to visit The Shops at Wailea. It's a mall with all sorts of designer shops.  Our favorite place to shop in Maui is at Whalers Village in Ka'anapali Beach.

More Maui Travel Tips for Families
Just a few more tips as you begin to plan your Maui family vacation:
Car Rental: You really want a car to be able to explore Maui at your own pace. As soon as you have your flights, make sure you reserve a car as prices go up as it closer to your arrival date.
Plan to stop for groceries and snacks upon arrival!  Pop into Wal-Mart, Target, Safeway or Costco before you head to your hotel. These stores are all near the airport, and are a great place to stock up on water and snacks before heading to your resort.  You'll save a ton of money by shopping here, rather than the resort communities. Your hotel will most likely have a fridge, so it's nice not paying out the nose for water and food all day, every day. These shops also have some of the best souvenirs, often the same ones you see in the resort gift shops, for much lower prices.
Don't over-schedule!
Despite all the amazing things to do in Maui with kids, my best advice is: don't over-schedule! It's great to just enjoy an island day and see where your day takes you. Make sure you leave some slack in your schedule to just enjoy your vacation. 
Like this post? Pin it!