---
Ever taste a cookie so delicious you're still fantasizing about it a week later?
Last week we stayed at the Loews Chicago and experienced their Snowed Inn package. The best part of the package is that it includes fresh cookies baked by Executive Pastry Chef Claire Crenshaw. One bite of the warm Gingerbread Chocolate Chip cookies and I was in love­! This instantly became my new favorite Winter cookie! Seriously these are the BEST EVER gingerbread milk chocolate chip cookies!
Lucky for me, the cookies were delivered with a recipe card for these scrumptious Gingerbread Chocolate Chip Cookies so that I could go home and bake Claire Crenshaw's outstanding cookies again and again! When we returned home the first thing I did was warm up the oven and start baking!
I've made them 6 times since our stay and I promise this recipe is legit! The cookies I baked tasted like the ones delivered to our warm room at the Loews Chicago Hotel overlooking Navy Pier. These BEST EVER gingerbread Chocolate Chip Cookies are perfect to make when you are staying in to watch a movie.
My son Harry loves to help me make cookies in our kitchen. I think one of the things he likes best is using the milk chocolate chips. Funny how those tend to disappear into his mouth!
I'm sharing this recipe with love from the Loews Chicago Hotel. Not into baking? Book yourself a room under the Snowed Inn promotion and taste the goodness delivered to your room with hot cocoa!
Here's the recipe for the BEST EVER Gingerbread Chocolate Chip Cookies: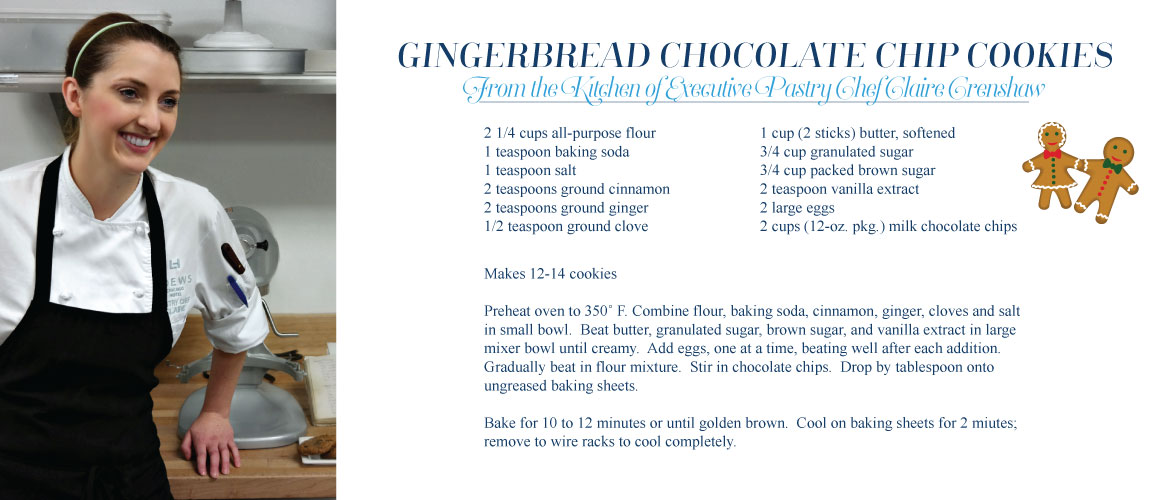 ---
Want to remember this recipe for your holiday baking? Pin this for later!