Where to stay in Maui with kids
We travel often, and try to visit new places all the time, but one place we return to at least every other year is the Hawaiian Island of Maui. It's our favorite island in Hawaii!
One of our favorite spots in Maui is the Wailea coast. Over the years when deciding where to stay in Maui with kids, we've stayed at several luxury beach resorts in Wailea. We love the beaches there and we've found that its often sunny in Wailea even when other areas of the island have rain.
I was always curious about the Fairmont Kea Lani because I know several people who stayed there on their honeymoon and on family vacations. Everyone I know that stays there raves about the resort as a great place to stay in Maui.
On our last trip, we decided to decided to spend one night at the Fairmont Kea Lani to see how we'd like it for future vacations. Although our stay was brief, we really had a fun family adventure at this hotel.  It perfectly matched our preferred travel style of luxury oceanfront Maui beach life.
Here are five of the many reasons we can't wait to return to the Fairmont Kea Lani on our next Maui family vacation.
Fairmont Kea Lani is an All-Suite & Villa Luxury Resort
Unlike other Maui hotels we've stayed at, all the rooms at the Fairmont Kea Lani are either suites or villas with oceanfront views. These giant rooms are perfect for families who want a little extra room to spread out. We fell in love with our enormous bathroom and the huge lanai overlooking the pool and the ocean. Overall, we just loved the luxury Mediterranean vibe of this Wailea hotel. Oh and the Birthday treats were fun too!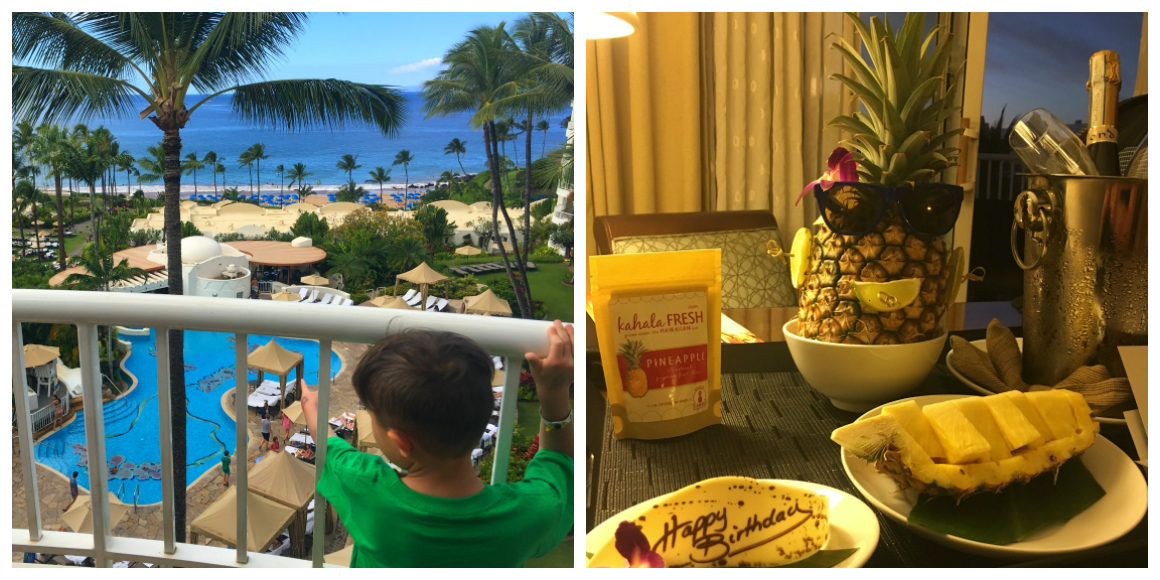 Fairmont Kea Lani's Prime Location in Wailea
We love that the Fairmont Kea Lani is connected to the Wailea beach walking path, but it's at the end of the boardwalk, so the beach is very secluded compared to other Wailea hotels. This makes for an amazing beach family vacation because there are fewer people competing for space at the beach. The quiet cove setting makes for an incredible sunset experience, and the mornings are so peaceful. The beachwalk gave us easy access to many of Wailea's best attractions and restaurants, but the hotel will also shuttle you around Wailea in their Escalade fleet if you don't feel like walking!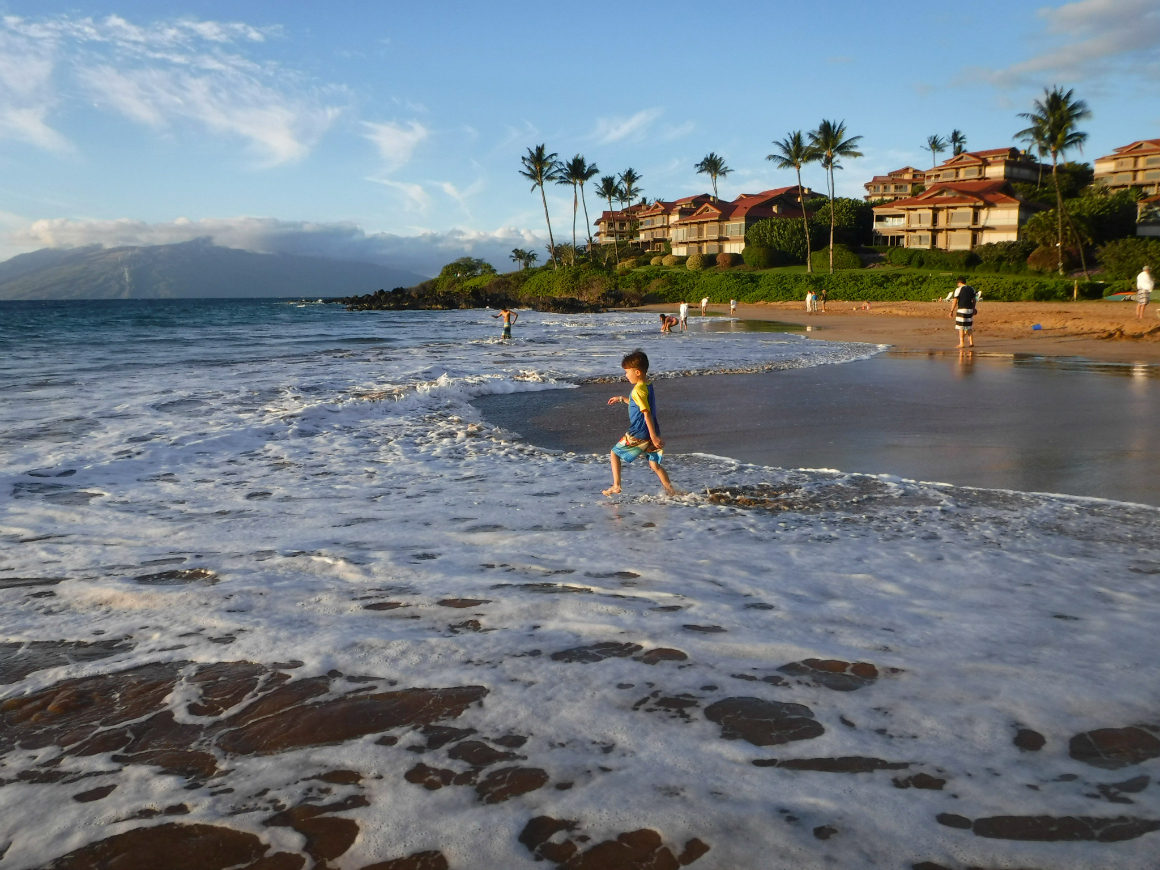 Fairmont Kea Lani Has an Amazing Pool Scene
The Fairmont has three pools spread across the property. We love than the main pool has a waterslide connected to other pools. The 140-foot water slide is exciting enough for adults, but safe for little kids. Having a waterslide at the resort provides enough fun for the family, without a crazy waterpark experience. The pools at Fairmont Kea Lani offer a relaxing pool scene. There is tons of pool seating, plus seating on the lawns. We visited in the busy season and it never felt super crowded.
We had a cabana by the pool which I highly recommend. Our cabana was by the waterslide, so we could keep an eye on our kid, and he could stop in for a treat or rest between rides on the waterslide. The Fairmont also has an ultra relaxing adults only pool, which I recommend if you put your kids in the complimentary kids club.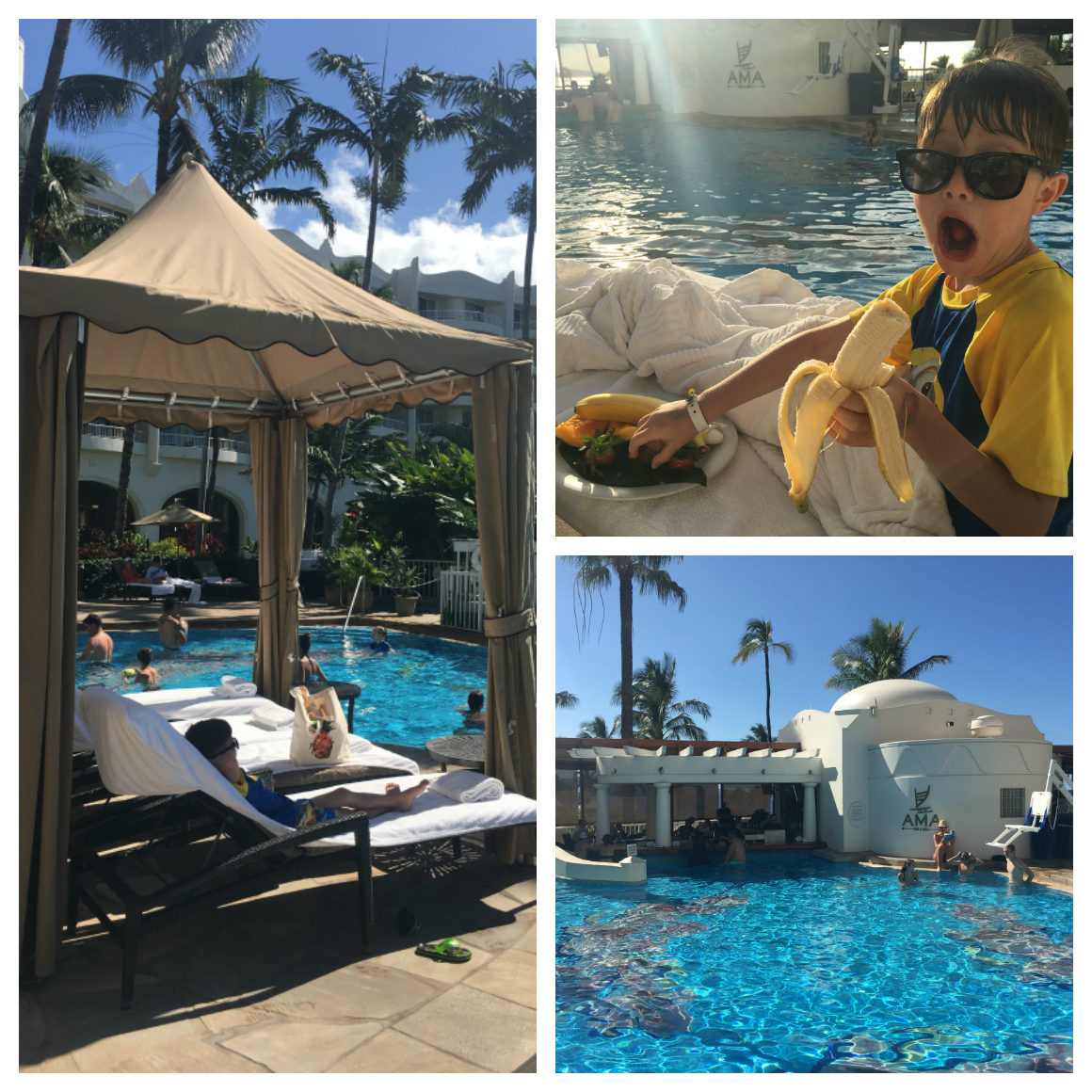 Keiki Lani Kid's Club at Fairmont Kea Lani
Access to the 1500 square foot Keiki Lani Kid's Club is included in the daily resort fee for children ages 5-12. You can choose a 1/2 day session, in the morning or afternoon. On Saturday nights, Keiki Lani Kid's Club has popcorn and pizza night, which allows the adults to have a romantic dinner at the hotel restaurant, Ko.
Harry loved the kid's club here! They did a ton of arts and crafts, plus beach time, all supervised by a great staff. He made friends he played with at the pool later. As a parent, when the kid's club is included, it just makes your vacation that much more relaxing to have a little break and  so wonderful that you don't have to pay extra for some downtime.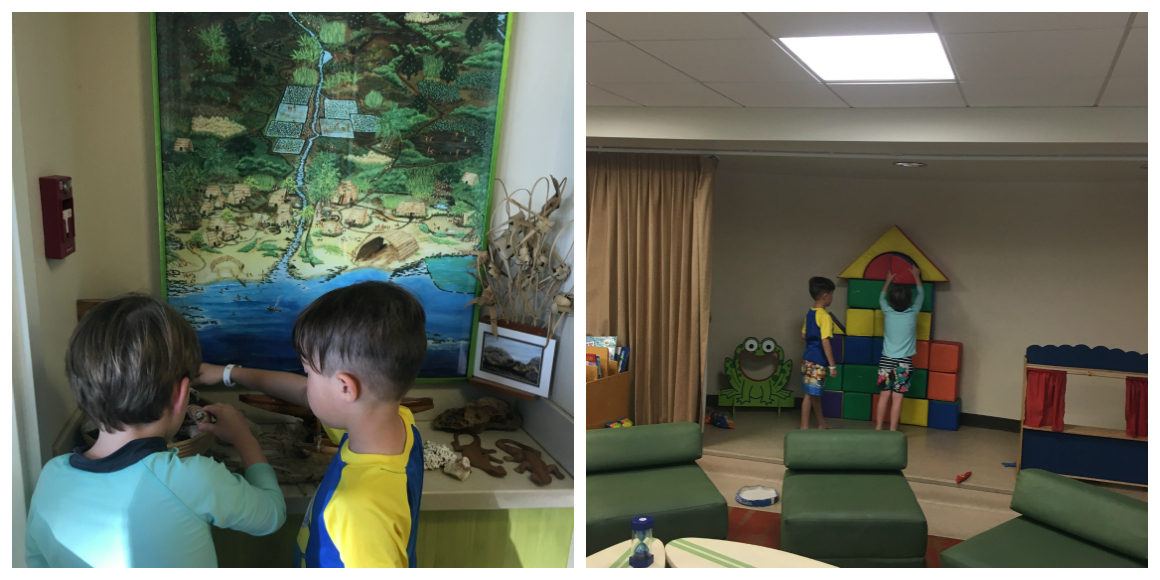 Excellent Service at Fairmont Kea Lani
Last but not least, we really felt like the Fairmont Kea Lani staff went above and beyond to make our Maui vacation unforgettable. From the moment we checked in, we felt like like valued guests and part of the family. They met us with leis and POG (passion fruit orange guava juice.) From the Keiki Lani kid's club staff, to the pool attendants; everyone we interacted with was extremely friendly. The top notch service at this Wailea hotel makes it an easy decision for us to return to the Fairmont Kea Lani on our next Maui family vacation.
---
So many reasons to book a return stay!
Our one night adventure at this hotel was enough to prove that we will definitely look to plan a longer stay here next time we are in Maui. On our next visit, I look forward to experiencing the Award-winning Willow Stream Spa. I'd also love to book a villa since those are down closer to the beach.
We love going out for memorable vacation dinners. So, I also will plan to enjoy a few meals in some of the hotel's many restaurants on our next stay. They have a Nick's Fish market, which we love in Chicago, plus several other unique Hawaiian restaurants to choose from. These are just a few reasons why we can't wait to return to the Fairmont Kea Lani in Wailea.
---
Planning an upcoming Hawaiian vacation? Want to remember where to stay in Maui with kids? Pin this for later!