We have spent years exploring the U.S. from coast to coast as a family. My husband and I recently decided to take our four kids, ages 5 to 13, in our first international family vacation. We started small, with a short, 2.5-hour flight to from Chicago to Cancun. A Cancun family vacation offered a great opportunity to use our brand new passports. We chose an an all-inclusive family resort, with a day trip to Mayan ruins near Cancun, at Chichen Itza.
Chichen Itza Tour
The real appeal of the trip for me personally was the opportunity to visit Chichen Itza, one of the New Seven Wonders of the World. Chichen Itza is one of the most famous Mayan ruins in the world, and was once one of the greatest cities ever built in the Western Hemisphere. Built around 1000 AD, Chichen Itza was once the center of a vast empire that used astronomy, advanced mathematics and delightfully gruesome religious rituals. (Sure to appease the video gamer in your group!) Yes, my need to continually educate my children also played a small, but vital role in choosing Cancun for our family vacation destination. Conveniently, our Chichen Itza tour bus left right from the resort lobby.
Why Visit Chichen Itza?
Breathtaking ruins from 600-1200 AD in varying architectural styles
Sneaky, but fascinating, lessons in math, astronomy, history, and native cultures
Your kids will then beg you to go see all of the other Wonders of the World. Yeah! Excuses for more trips!
We had a blast and it showed me that going somewhere new and historically significant with
your kids can be awesome!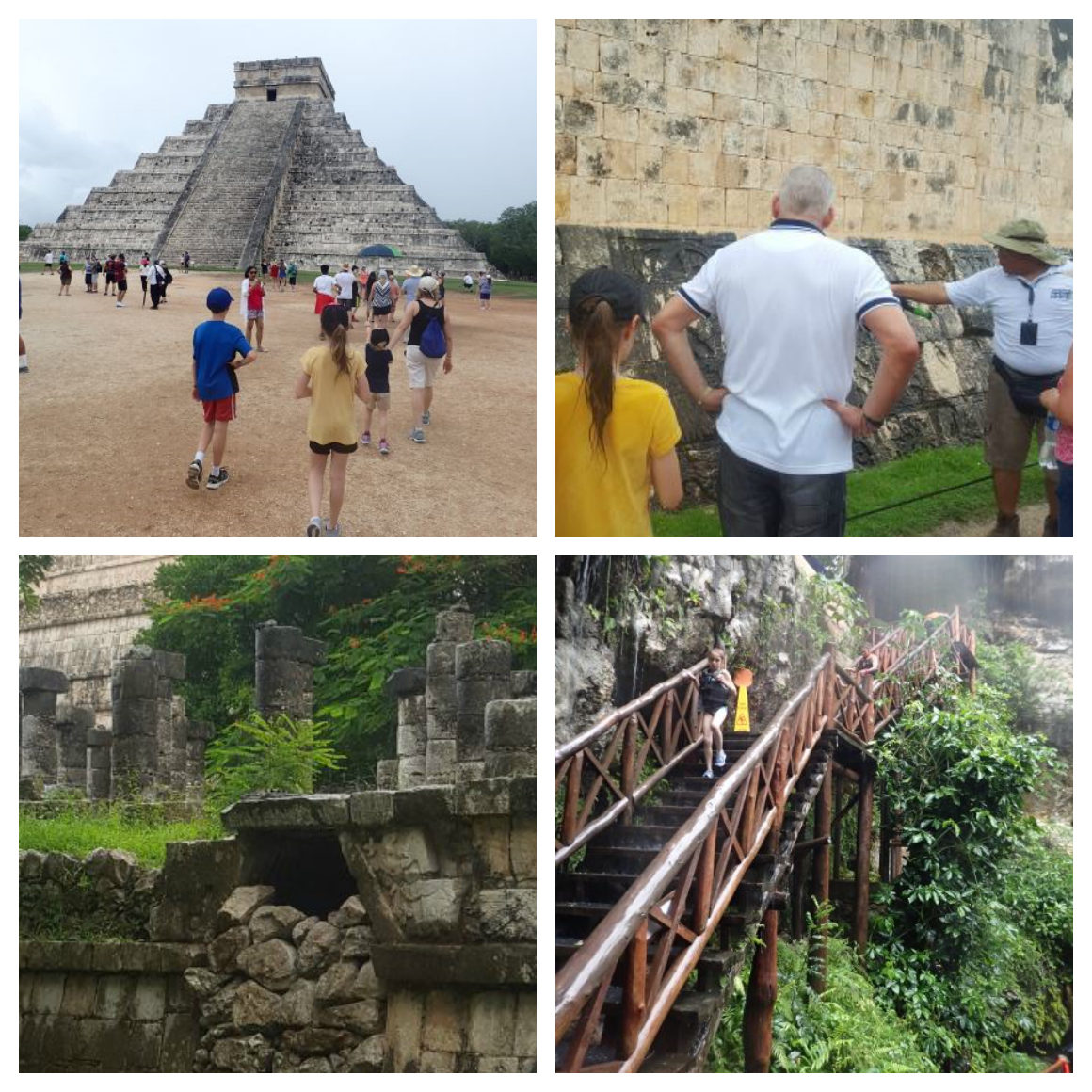 What to Expect on a Chichen Itza Tour
Knowing what to expect on a tour can be crucial, especially when traveling with children. Here's what you can expect on a Chichen Itza tour from your Cancun resort.
A long, relaxed air conditioned bus ride on a nondescript highway through lush vegetation
Blazing hot, humid temperatures, unless it is raining
Crowds of tourists, and equal numbers of locals attempting to sell questionable
souvenirs to the tourists
A great meal of authentic Mexican cuisine in a charming setting with glass bottle sodas (Mmmm… Mexican Coca-Cola with real sugar!)
Refreshing dip in cenote (beautiful rainforest sink hole) or exhilarating multi-story
platform leaps (with life vests thankfully provided for all)
What to Bring on a Chichen Itza Tour
Since Chichen Itza is a long day trip from Cancun, you'll want to be prepared for the day! Here's what I recommend you include in your backpack:
Small Towel
Bathing Suit
Ziploc or dry-bag for valuables
Disposable Ponchos
Sunscreen
Hats
Bottled Water
Comfortable shoes for hiking
Granola Bars & Snacks
Books or Magazines to entertain the kids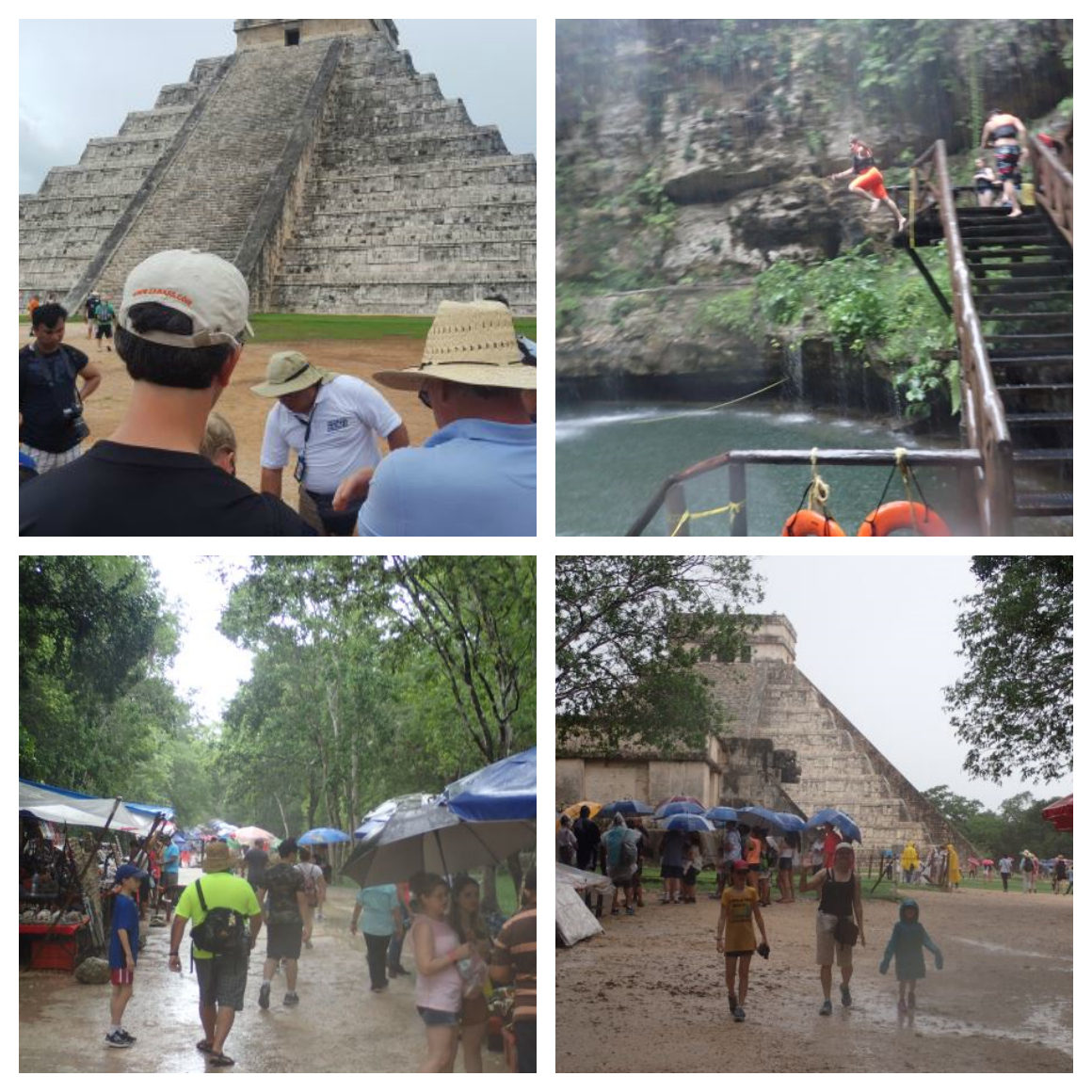 Cancun All-Inclusive Family Resort
There are many luxury All-Inclusive resorts to choose from in Cancun and Riviera Maya that make for an easy day trip to Chichen Itza. We stayed at Moon Palace Resort, an all-inclusive family resort on the Riviera Maya. We paid for our own trip and our rooms. The resort was beautiful and the staff attentive. We enjoyed the opportunity to spend time with our kids sailing, Flowrider surfing, wakeboarding, playing in the pools and exploring numerous restaurants to appease my voracious foodies. Not to mention the kid's clubs that my children never wanted to leave!
---

Planning a family trip to Cancun? Pin this Cancun day trip and Chichen Itza Tour for later!