Laid-Back Low Country Fun 
Hilton Head continually wins awards for best beaches, best resorts, best island. It came as no surprise to me that Travel & Leisure named it a top destination again in 2016.
With so many accommodation options on the island, it's hard to choose where to stay and in what way to stay (traditional hotel, condo rental, beach house rental?). For a recent vacation I zeroed in on The Sea Pines Resort—a massive parcel of land offering accommodations for every taste and budget. My sights were set on a well-maintained condo, in a great location, with a view that would give us a sense of place. I wanted a place where we could easily stretch out for a week with our 2 kids.  
At Sea Pines, I found what I was looking for.
In order to get a good idea of Sea Pines Resort, you first need to understand just how big it is. Interestingly Sea Pines Resort consists of many sub-properties.  It is slightly confusing but we stayed in the main part of Sea Pines.
It's a private-entry property, which means that people staying there may come and go while any guests pay $6 to enter. Initially I found the charge off-putting, perhaps even snobby. What I quickly learned is the money generated from guest fees is used to pay for the care of the landmass, which is thousands of acres.  
Sea Pines Resort was defined and designed in the 1960s as a community that would meet many needs. It has houses, townhouses, condos, and even hotels and time-shares within its boundaries.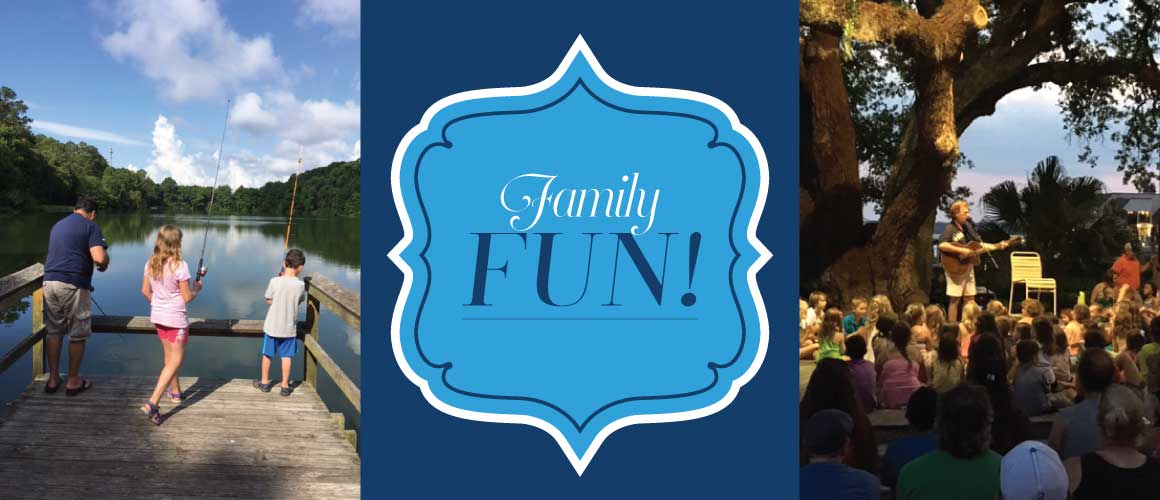 Sea Pines Resort also boasts miles and miles of well-maintained walking and bike paths. It has golf. It has tennis. Recently, Sea Pines Resort spent millions of dollars to create a luxurious beach house, complete with a restaurant, event space, café, retail, and pristine bathrooms and changing rooms. This beach house is for the use of all people staying on the Sea Pines property. I don't believe I've ever been on a cleaner, more well-maintained beach. Even on a crowded day, there was not one scrap of paper, glass, or debris in the water or on the sand.  
Sea Pines also has Harbortown, a kitschy manufactured "town area" that offers some good dining and shopping options, a very well-used boat harbor, an iconic lighthouse that is actually not a lighthouse (it's just a dressed up viewing platform), and pretty much anything a visitor might need. There's also South Beach, home of the famous Salty Dog Café, a Hilton Head institution. Even if you don't eat there, you'll end up buying a t-shirt there!
When I imagined a visit to South Carolina, I imagined Live Oak trees draped with Spanish moss.  Sea Pines is lush beyond lush and has a tremendous amount of natural Low Country beauty.  Hundreds of its acres are protected forest preserve. Wow!  
So when I phoned a Sea Pines reservationist, I was fortunate to connect with a woman who had worked there for more than 30 years. She helped me review a dozen prospective properties based on my criteria, and we settled on a unit with what seemed to be a decent view.
On arrival, I was amazed at just how perfect our condo was. It was very well maintained and dead center of the Harbortown harbor, where we could watch the pleasure craft come and go on a daily basis. We rented bikes through Sea Pines Resort for $37/bike for a week and enjoyed cruising to the beach, to the horse stables, and along the many shaded by-ways within the resort. As we rode, we enjoyed spotting alligators, all types of sea-birds, chameleons, dolphins, and even a shark!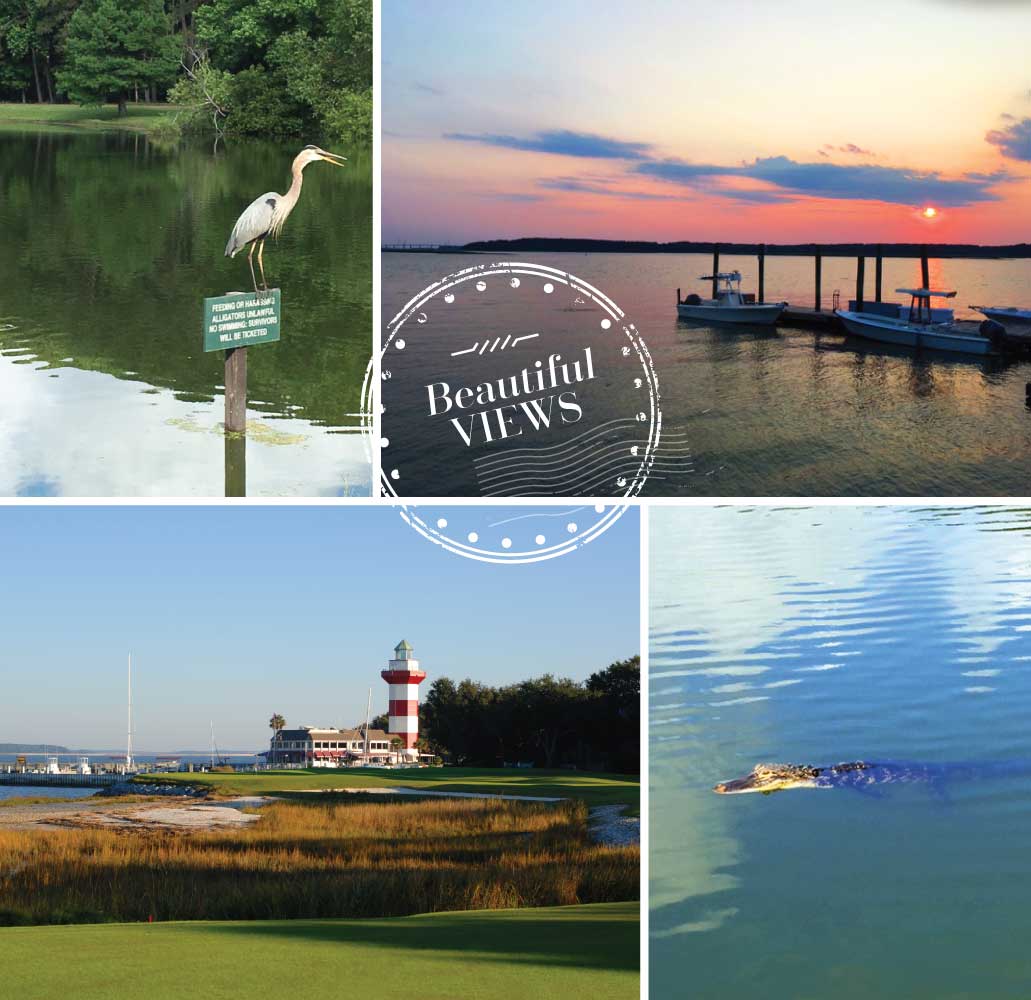 I came away from the experience certain that we will return.
Here are a few insights to help a first-time visitor have a great experience.
Book your trip so it spans Saturday to Saturday.

We didn't know this was a big deal on Hilton Head, but it is. Our trip spanned Tuesday to Tuesday, and this limited the total selection of condos we could consider. (Though it was hard to believe the entire island turns over and refreshes itself on Saturdays.) Our off-pattern schedule was tricky, yet Sea Pines Resort offered a number of excellent units for our consideration.

If you rent a condo, plan to enjoy your kitchen for breakfast and maybe some lunches

.  This saved a lot of time and money. There are many fantastic grocery stores around the island area. Exactly outside the Sea Pines Resort main gate is a deluxe Harris Teeter Store. It had everything we needed, including a good pharmacy that came in handy when our daughter got an insect bite that became very irritated.

Rent bikes.

Biking around Sea Pines is a blast. The cruiser bikes are in excellent condition and can be outfitted with a handy basket and young child trailer. There are plenty of clean helmets available as well. The bikes are delivered to and picked up from a bike rack at the building where you rent. It could not be easier to have access to a fine form of fitness and recreation.

Schedule an activity at Sea Pines Resort.

We enjoyed a fishing adventure at Lake Joe, where guides helped our kids learn to bait their hooks and work on catching a fish from small piers over the water's edge. Some people in our group were able to catch a fish; however, in some instances, the alligators were proving their skill and got the fish off the hook before it could be brought to land. The fishing program was exciting and surprisingly challenging. Our kids loved it. There are also boat rides where guides will show visitors alligators, boat cruises on the Intracoastal Waterway, and much more.

Go horseback riding.

The Lawton Stables at Sea Pines Resort

offers a free petting zoo complete with a mellow deer who loves to be pet and many other sweet animals.  Lawton Stables also offers pony rides for kids under 7 and full trail rides through the Sea Pines Forest Preserve. This is a perfect way to feel the richness of nature and enjoy learning about the history of the area. Many years ago, for example, Hilton Head Island was primarily used to grow rice. Who knew?

Make the most of the brand new Beach House.

 Sea Pines Resorts spent a minor fortune to make the beach house fantastic.

The food at Coast is very good

. We especially liked the lobster roll and fresh seafood tacos. The beach is also just phenomenal. The sand is hard-pack so bring chairs or rent them from Sea Pines Resort. There are also very well maintained changing areas, wash areas and facilities that make going to the beach truly relaxing and delightful.

Make time to watch a Gregg Russell show.

 In the summer,

Gregg Russell is an institution on Hilton Head

. For 38 years, he has entertained visitors under a massive Live Oak tree at Harbortown. His show is a mix of sing-a-long, talk show, and comedy with a central focus on all the little children who come to visit. I'm not kidding when I say generations of families have enjoyed his show. And judging by the 100+ kids sitting on the wood stage under the tree each night, I know this to be true. Gregg Russell entertains the kids with his silly, well-known songs, and the many kids come to the show ready to perform their favorite tune. Somehow the carrying-on never becomes too serious or showy, and the down-home feel of it makes this quite possibly the most family-friendly show we have ever seen. We found ourselves attending the show night after night to enjoy the music, Gregg Russell's ever-so-sweet repartee with the little children, and the chance to feel an off-shore breeze blow through the gorgeous tree that shades this hand-made experience.

Enjoy the Sea Pines pool.

There's a large pool available to everyone staying at Sea Pines Resort, which offers a nice contrast to the beach—especially when kids want to jump and play. Adjacent to the pool is a small snack bar offering sweet treats, simple lunches, beer, wine, and more.  

Play a round of world-class golf.

Guests at Sea Pines are also invited to take a golf lesson or play a course. No matter your skill level, there's a golf option available. We didn't get to golf on our trip; however, we did ride many bike paths through the most beautiful courses.

Get on a boat.

Harbortown harbor has many boating options. You can buy seats on a sunset sail, a nature sail with music led by Gregg Russell, or charter a fishing excursion.  We were fortunate to have friends on the island with a boat, and they gave us a fabulous tour of the Intracoastal Waterway where we saw more dolphins than I could have ever imagined. We lunched on Daufuskie Island and rented golf carts there so we could explore from end to end. Don't miss this special place!
The Low Country of South Carolina is quiet, lush, teeming with nature, and all of it is there for you to discover. We absolutely loved our time on Hilton Head and promise to return to this magical place. Once just farmland, it is now an internationally acclaimed resort destination.
Our visit to Sea Pines Resort was not discounted.  We paid market rates for our accommodations
---
Planning your first family vacation to Hilton Head? Pin this for later!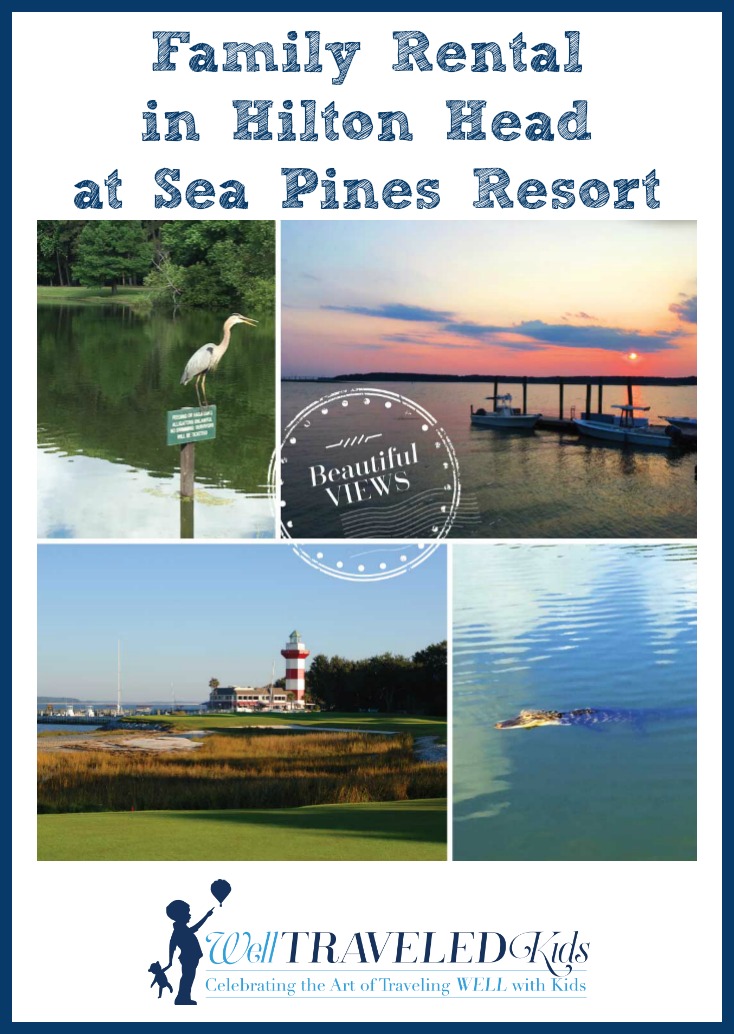 ---
Photo Credits:
SeaPines
,
Jon Davenport Art